Emerging Blossoms and Tonga Samurai XV Set for Charity Rugby Match
---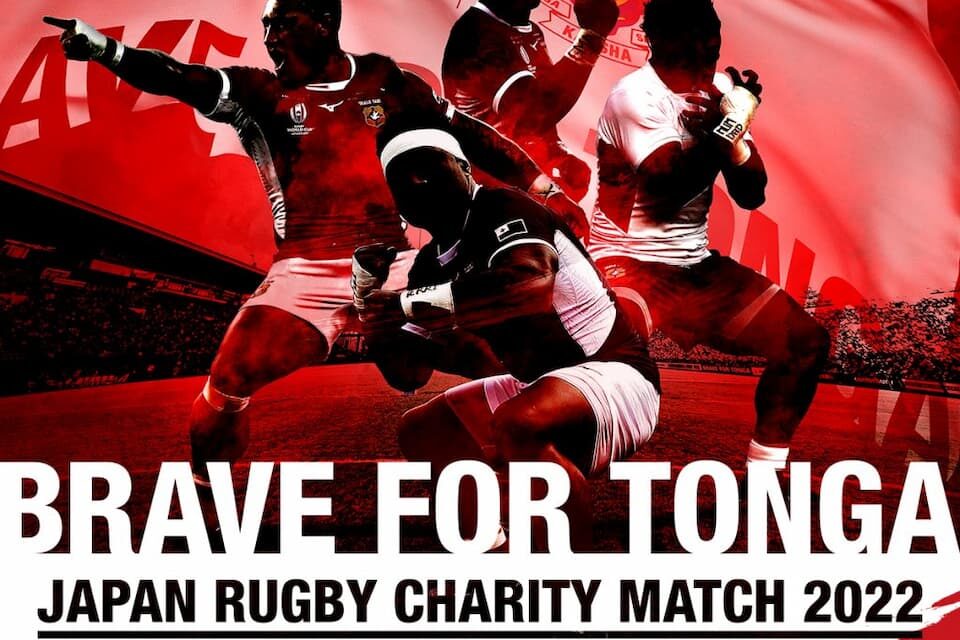 The JRFU national development (Emerging Blossoms) and Tongan Samurai XV squads have been confirmed ahead of the charity match team being played on Saturday, June 11th, with the game set to be streamed free online.
The charity match will raise funds "for those affected by the recent tsunami and underwater eruption in the Kingdom of Tonga" said the Japan Rugby Football Union.
We first published about the match in April 2022 which sees the Tonga Samurai XV featuring players from Tonga or with Tongan heritage playing in Japan Rugby League One take on the up and coming Japanese players "Emerging Blossoms".
William Sinali Latu, Coach of Tonga Samurai XV said of his team "With such great Tongan talent across League One, we had a hard time selecting this final squad. We have brought together a team combining both veterans and younger players, and they will be led Kubota Spears' Captain, Sione Vatuvei.
Most of the players have lived in Japan since either high school or university, and many of them have the potential to represent Japan in the future. Every player will participate with a passionate desire to help in the reconstruction efforts back home in Tonga and out of respect and gratitude to their adopted home of Japan."
For the Japan national team and National Development Squad (NDS), the 34 player squads feature nine and 18 uncapped players in the Brave Blossoms and NDS squads respectively it was announced by the JRFU.
Nine players were unavailable due to injury, and the NDS playing as the Emerging Blossoms will act as a "feeder squad for the national team" adding player depth and providing opportunities for the next generation of Brave Blossoms.
The NDS will form the bulk of an Emerging Blossoms team set to take on the Tonga Samurai XV confirmed the JRFU.
Image Credit: JRFU
Image Credit: JRFU
Emerging Blossoms v Tonga Samurai XV
Saturday 11 June 2022
Prince Chichibu Stadium, Tokyo, Japan
Kicks-off: 13:00 JST
How to watch Emerging Blossoms vs Tonga Samurai XV
the JRFU has announced that the match between the Emerging Blossoms and the Tonga Samuray XV will be live-streamed for free on the JRFU YouTube channel.
"We're very pleased to announce that Saturday's charity match will be available globally from our Japan Rugby TV YouTube channel!"
Japan Rugby Union Test Matches 2022
The men's XV Brave Blossoms team will be playing Uruguay and France in June and July. Atsushi Sakate and Yutaka Nagare were announced as the co-captains of the 2022 squad.
June 18 – Japan vs Uruguay – Chichibunomiya Rugby Stadium, Tokyo
June 25 – Japan vs Uruguay- Kitakyushu's Mikuni World Stadium, Kyushu
2 July 2022 – Japan vs France – Toyota Stadium, Aichi
9 July 2022 – Japan vs France – National Stadium, Tokyo
20 November – France vs Japan –

 Stadium de Toulouse
Asian Rugby News 2022
---
Trending Now