Asian Teams Fail to Qualify for Tokyo 2020 Rugby 7s in Monaco
---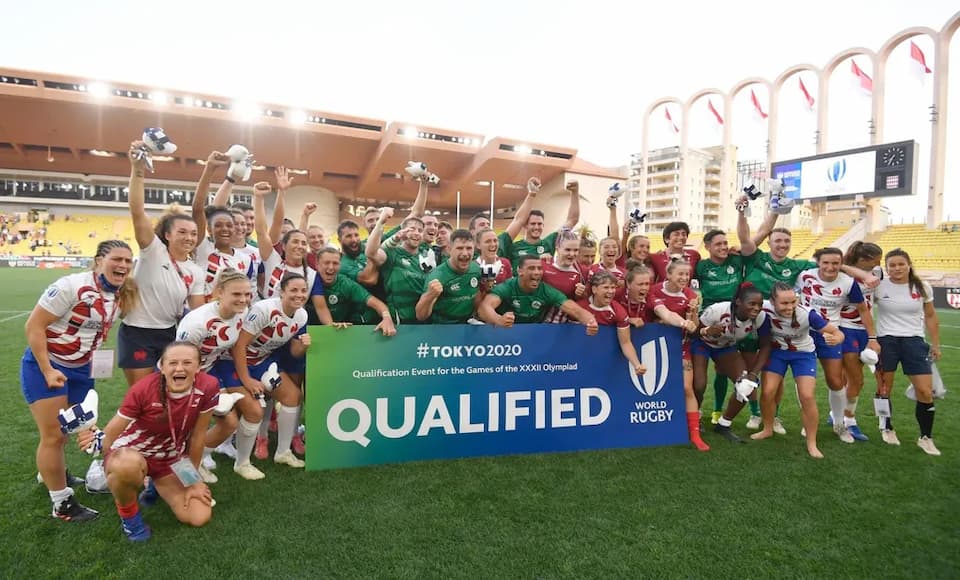 Neither the Hong Kong men & women, nor the Kazakhstan women 7s rugby team managed to qualify from the Monaco Repechage tournament for the Tokyo 2020 Olympic Rugby 7s. All three teams did make the playoffs but were put away by far superior teams from Europe.
Tokyo 2020 Olympic Rugby 7s Qualifiers
The Women's draw saw both Hong Kong and Kazakhstan battle to reach the two finals, but they were both out-powered and outclassed by France and Russia respectively, who march on to Tokyo in July 2021.
Russian captain Alena Tiron said "I'm incredibly happy, I can't hold my tears. We were chasing it for many years and we have achieved it."
Both Asian rugby 7s teams should be proud for reaching the finals at the Monaco Repechage but the gulf in class in the finals was plain to see.
This does raise again some questions about the standard of competition within Asia versus teams from stronger regions. Hopefully, the teams can prepare their qualifying for the Sevens Rugby World Cup being held in South Africa in 2021.
The Kazakhstan women's sevens team, although full-time professionals, had a strong power game but they also displayed poor discipline at the tournament.  They also ran some great lines in some of the games. They sadly picked up some late injuries and we hope the players recover quickly.
The Hong Kong ladies played well against other non-tier one teams, and at least on day one, displayed great skills and speed. Against France, they simply couldn't match the French speed, skill or power.
Iain Monaghan said "As a team, we proved to ourselves that we can come through the hardest of circumstances and compete. To be in a final in our first tournament back, and to be eight minutes away from the Olympics will fuel a lot of ambition for the next Olympic and Rugby World Cup cycles I'm sure.
"It is also a great testament to Asian rugby to have two teams in the finals competing with the World Series teams. It shows that we can achieve a lot if we continue in the direction we are heading,"
What was disappointing was how flustered the HK team was when they were under pressure as they threw many poor desperate passes and lacked composure against physically larger players. Lessons will be learned but the players return to Hong Kong with much-needed experience and playing time.
Hong Kong Women Sevens Results
Hong Kong 31-10 Colombia
Hong Kong 19-12 Madagascar
France 55-0 Hong Kong
Hong Kong 24-5 Argentina
Final 2:  France 51-0 Hong Kong
Kazakhstan Women Sevens Results
Kazakhstan vs Jamaica (bye Kazakhstan awarded win)
Kazakhstan 12-0 Tunisia
Papua New Guinea 10-17 Kazakhstan
Kazakhstan 29-21 Tunisia
Final 1: Kazakhstan 0-38 Russia
All of the Women's results can be seen on World Rugby.
The Hong Kong Men came through the group games unbeaten on day one, before losing to France. They still qualified to the semifinals but played a very good Irish side and couldn't match the clinical finishing and speed of the Irish 7s rugby team.
In the final for the men, Ireland took on France for the single qualifying ticket up for grabs and won 28-19 to secure their spot for the Tokyo Olympics 2020.
Ireland captain Billy Dardis said"It's just bizarre.  You dream of doing something really special, and that's playing rugby. It's incredible what we've done just over a number of years. It's absolutely incredible."
Hong Kong Head sevens coach Paul John added, "We met the two best teams in the tournament and I think it showed the difference in that step up to playing against an Ireland or a France.
Hopefully, we can get more international competition now, and prepare for some very big tournaments at the end of the year with the Asian series and Singapore and Hong Kong Sevens."
Hong Kong Men Sevens Results
Hong Kong vs Uganda* (see Update – bye HK awarded win)
Hong Kong 31-5 Jamaica
Hong Kong 26-15 Chile
France 36-5 Hong Kong
Semi-Final: Ireland 28-5 Hong Kong
All of the Men's results can be seen on World Rugby.
Tokyo 2020 Olympic Rugby 7s
The men's Olympic competition will take place from 26-28 July 2021, with the women's tournament following on 29-31 July 2o21. All of the games will take place at Tokyo Stadium, the venue for the opening match of Rugby World Cup 2019.
World Rugby News 2021
---
Trending Now