HSBC France Sevens 2023 – NZ Claim the Double and Women & Men Crowned Series Champions
---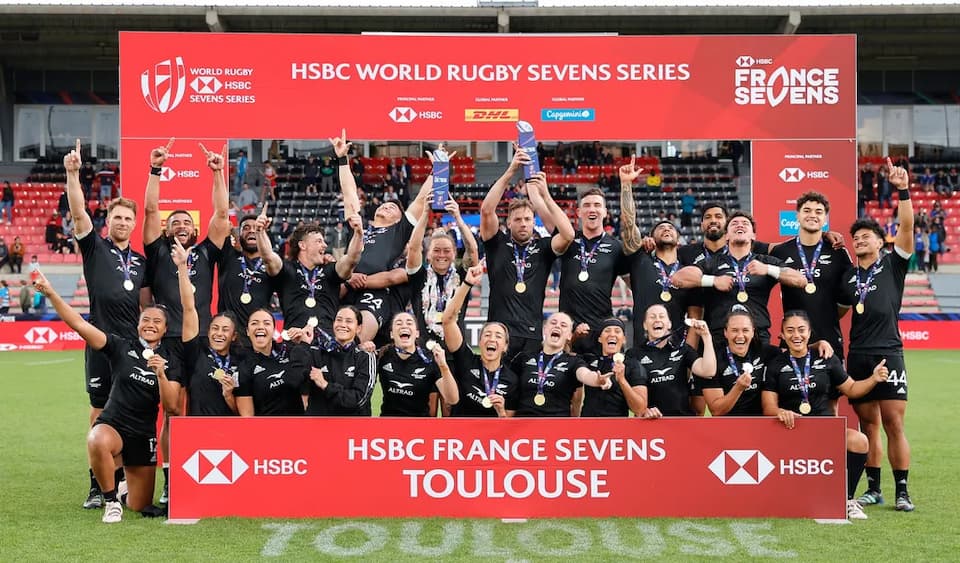 New Zealand Black Ferns Women and the NZ Men did the double in Toulouse at the France Sevens 2023 and both have won their respective 2023 HSBC World Sevens Series in France. While this was the final women's round and penultimate men's round, we learned more about relegation, Olympic Qualification and other permutations.
The Black Ferns won their seventh HSBC World Rugby Sevens Series title in ten years but had to work hard to overcome the USA in the final. This was their sixth straight cup title to close out HSBC World Rugby Sevens Series 2023.
Meanwhile, the New Zealand men also had to come from behind to beat a very powerful Argentina to claim their first HSBC World Rugby Sevens Series title since 2020.
The Australian women beat hosts France 33-7, while the French men overcame Canada 28-12 to claim respective bronze medals. The Canadians will still be playing for Core Series survival in London next week.
The French fans were lively at times over the weekend at the Stade Ernest-Wallon, although it was far from a sellout. Both the French women and men made the semifinals in front of their home support, but the NZ women beat the French in their semifinal, while the French men also lost to NZ in their SF.
NZ Rugby said online "A huge congratulations to the All Blacks Sevens and Black Ferns Sevens players and support staff for a knockout weekend in Toulouse, which resulted in an incredible competition and series win for both teams! The All Blacks Sevens have five wins under their belt and will go on to play in the final competition in London next week.
The Black Ferns Sevens finish the series with an outstanding six consecutive wins. Both teams have qualified for the 2024 Paris Olympic Games, which is a true testament to their grit, composure, and clinical finishing. It was a big weekend for player, Tim Mikkelson, who played his 100th game for New Zealand, and Niall Guthrie (née Williams) who stepped onto the pitch in her Black Ferns Sevens jersey for the final time."
Ireland Women qualified for the Olympics 2024 – the first time they have done so!
Fiji & Argentina Men qualified for the Olympics 2024, joining hosts France and Series Champions New Zealand.
Japan Men are relegated from the HSBC World Sevens Series.
Canada men upset Australia to clinch first semi-final berth since HSBC Canada Sevens 2021 in Edmonton.
Uruguay, Kenya, and Canada will join the relegation battle in London with Challenger Series winner Tonga – only one will secure core status for next season.
The final men's Paris 2024 Olympic qualification spot is up for grabs at next weekend's finale of the HSBC World Rugby Sevens Series in London.
Argentina Coach Santiago Gómez Cora said "Happiness is our first feeling, pride on the work done and joy at knowing we'll have an extra month off," he said of not needing to go through the regional qualification process. This shows that you are allowed to dream. We are happy with where we are, but we will chase more."
Japan Sakura Women's Sevens
The Japanese women have performed well this season and have improved as the series has gone on. They achieved their best performance by reaching and then winning the 5th place final in France. They also achieved their best-ever finish in the Series overall, ending up in 8th place.
Japan 12-19 GB
Japan 14-26 Fiji
Japan 33-5 Spain
Cup QF Japan 7-29 NZ
5th Place SF Japan 14-5 GB
5th Place Final Japan 14-0 Ireland
Japan Men's Sevens – HSBC France Sevens
Japan Men were again disappointing and were winless through the pool stages in Toulouse, officially finishing 15th among core teams and confirming they had been relegated from the Series for next season. The two heavy defeats against Australia and Ireland showed how far off the pace they have been this season.
Japan 5-49 Australia
Japan 12-28 Samoa
Japan 0-66 Ireland
Japan 5-17 Uruguay
Japan 28-12 Germany
13th Place Playoff Japan 12-33 Kenya
You can see all of the fixtures and results for the women here and the men here.
The women's HSBC World Rugby Sevens Series 2023 Award winners were also announced after the finals in Toulouse – see here for more details.
Rugby Sevens News 2023
---
Trending Now