HSBC LA Rugby Sevens 2022 Pools
Posted On August 25, 2022
---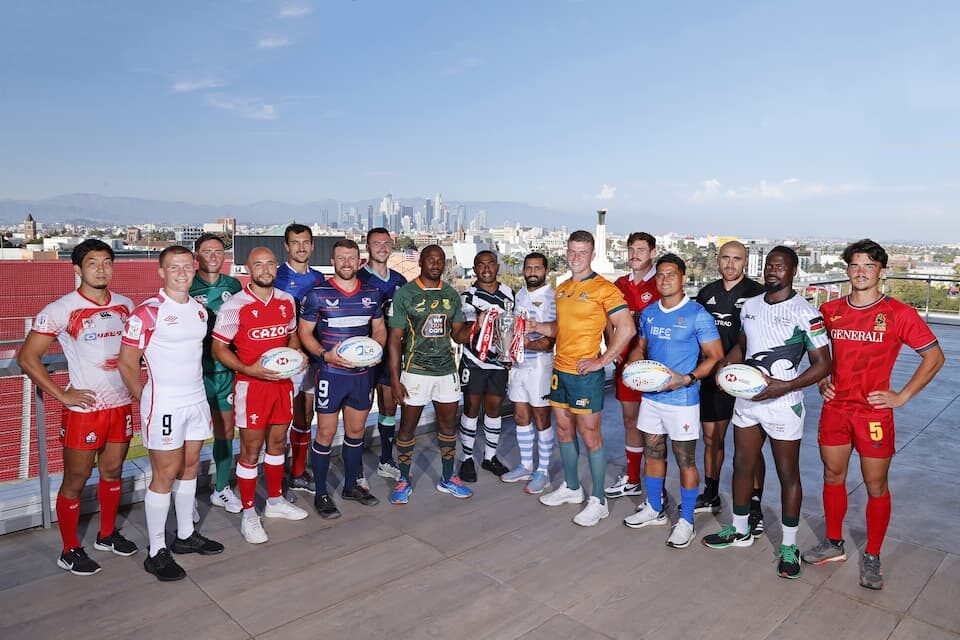 The HSBC World Rugby Sevens Series head to Los Angeles on August 27th and 28th which will determine the Men's champions for this season, with several contenders still in the mix to win.
South Africa, Australia, Fiji and Argentina all have a chance to win the 2022 Series title and World Rugby Chairman, Sir Bill Beaumont, said: "We are very excited to see the HSBC World Rugby Sevens Series return to Los Angeles. After such a thrilling tournament at the beginning of 2020, we know that fans will be eager to fill Dignity Health Sports Park once again to see the very best players in action.
The 16 team captains lined up at the famous LA Memorial Coliseum – scene of the 1984 Olympic Games – this past week knowing that if South Africa (who recently were in sublime form to win the Commonwealth Games Gold) make the final in LA, they will secure the 2022 World Series weeks away from hosting the Rugby World Cup Sevens 2022 in Cape Town.
In total, 16 national men's rugby sevens teams will be playing HSBC LA Sevens 2022 – USA, England, Scotland, Ireland, Wales, France, Spain, Canada, Argentina, Kenya, Japan, Australia, Fiji, Samoa, New Zealand and South Africa.
The tw0-day tournament will also feature an international food, music & drink festival at the Dignity Health Sports Park.
In addition, a grassroots community rugby tournament, The Los Angeles Invitational, will take place on the outer fields around the stadium, involving 300 community teams playing in co-ed divisions; youth, high-school, college and adult clubs.
HSBC World Rugby Sevens Standings
Each team's end-of-season total is calculated by taking their best seven results from across the year. That means South Africa, who won the first four tournaments of the 2022 Series, currently leads the way on 124 points, while Australia are two points behind and Argentina is a further four adrift.
Fiji is fourth on 104 points but the system in place in 2022 ensures that they retain a shot at claiming a fifth men's Series crown despite missing the tournaments in Malaga and Seville at the start of the year.
A silver or gold medal performance for the Blitzboks in August would give them a points tally that would secure them the Series.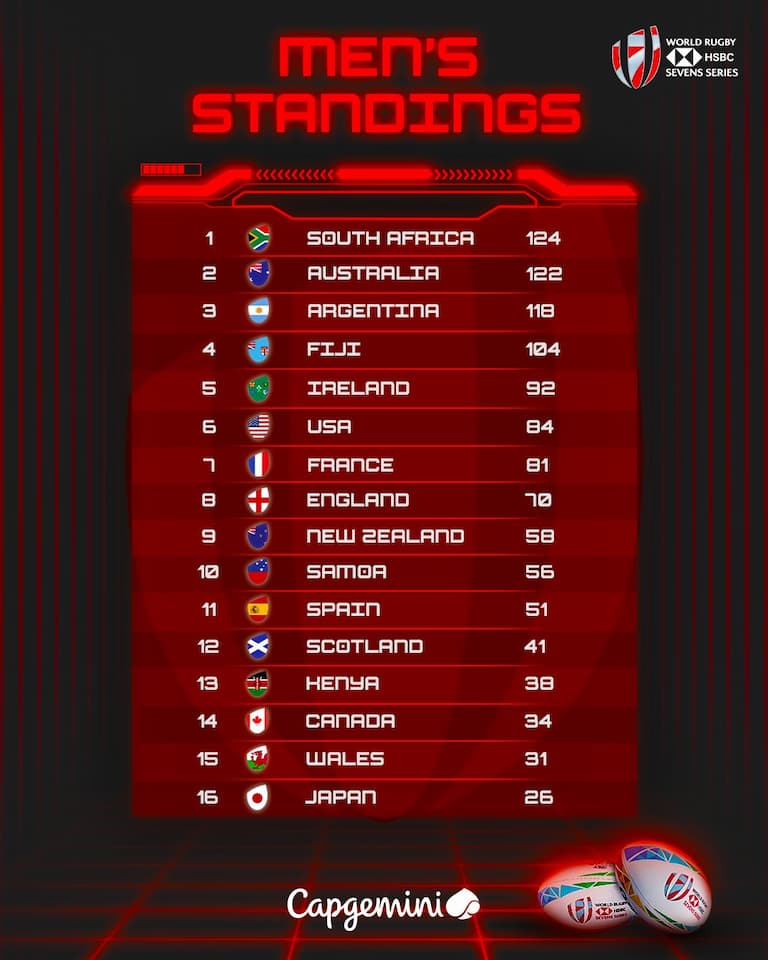 Current HSBC World Rugby Sevens Standings:
South Africa 124
Australia 122
Argentina 118
Fiji 104
The HSBC LA Sevens 2022  is expected to draw over 45,000 international rugby fans.
HSBC LA Sevens 2022 Pools
Pool A
Australia
Spain
Argentina
Japan
Australia Sevens coach John Manenti said: "The Aussie men have never won the World Rugby Sevens Series – so this is a rare occasion for the squad.
"You never know how many chances you will get in your career to achieve something like this, so everyone is determined to really go out there and take the opportunity."
The Japanese squad will have a break after this tournament as they did not qualify for RWC Sevens 2022, and will next play the first of three rounds of the Asia Rugby Sevens Series at the end of October 2022 in Thailand.
Pool B
New Zealand
South Africa
USA
Canada
South Africa captain Siviwe Soyizwapi told World Rugby: "We have to keep our own standards and not worry about our opponents. We had an up-and-down season, but we learned from all those mishaps and came back stronger. This is one more go and another opportunity to finish the season the way we started it way back in Dubai. We know what the level is to win tournaments, it is now up to us to make sure we reach that this weekend."
Pool C
Fiji
Ireland
France
Wales
Pool D
Samoa
England
Scotland
Kenya
The match schedule can be found here.
How to watch the HSBC LA Sevens 2022
Beaumont said of the USA, "We know that there is a huge appetite for rugby in the USA, and with the USA now hosting Rugby World Cup 2031 and 2033 and LA set to host the 2028 Summer Olympic Games, there's no better opportunity than the HSBC LA Sevens for us to show the world what rugby in the USA is all about."
The weekend's rugby sevens will feature broadcast coverage across multiple NBC platforms, including live television coverage on NBC Sports.
Rugby sevens fans can watch the action via live stream on World Rugby digital platforms including www.world.rugby, YouTube and Facebook (in countries where there is no national broadcaster covering the event.)
Sevens Rugby News
---
Trending Now