HSBC World Rugby Sevens 2020 schedule
Posted On August 11, 2019
---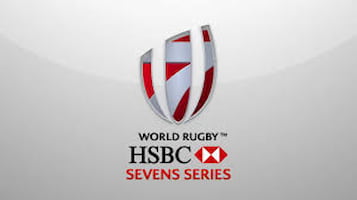 The HSBC World Rugby Sevens 2020 schedule was released this past week, including the dates and venues for the Women's and Men's legs.
In March we outlined the plans released by World Rugby for the men's and women's World Series until 2023. Importantly this included some new venues, and a record number of events; 6 in total, will see the two series combine at the same venue.
In Asia, Hong Kong will feature the men and women from April 3-5 2020, while Singapore will host the Men's Sevens from April 11-12 2020.
Update: Due to the COVID-19 (Coronavirus pandemic, many tournaments have been affected.) Stay up to date on this article.
2020 HSBC World Sevens Series
There are a number of key takeaways from the new schedule released for 2020.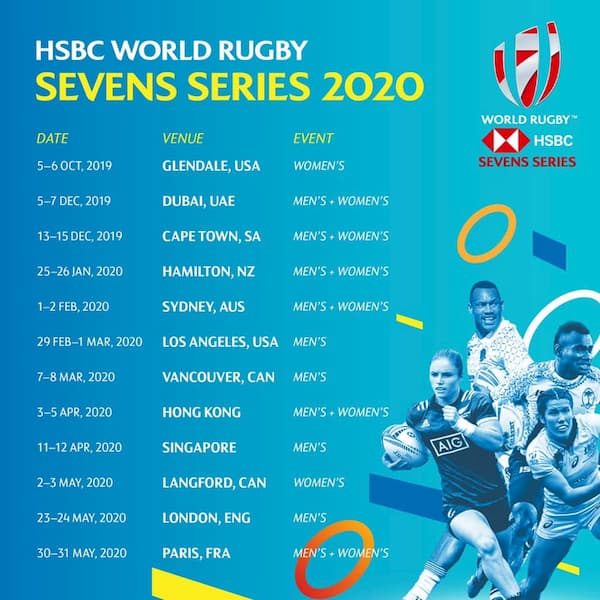 Women's competition increases to eight rounds
Six tournaments will be combined men's and women's events
Los Angeles has now been announced as the location for USA men's tournament, replacing Las Vegas.
Fiji won the men's 2019 season while the New Zealand ladies are the Women's champions. In terms of newly promoted teams, the Irish Men join in 2020 as well as Brazilian Women.
The women's series will begin in Glendale, Colorado, USA on 5-6 October 2019.  The Men's series will kick off in Dubai, UAE on 5-7 December which will also see the Women's Series join for the first of 6 combined events.
New location: Los Angeles, USA
Los Angeles will host the two-day event at the home stadium of the MLS side, LA Galaxy and the NFL's LA Chargers. The venue, the Dignity Health Sports Park in California, is the same venue set to host rugby sevens at the LA 2028 Olympic Games. The USA leg was previously held in Las Vegas.
You can read more about the 2020 7s rugby season here.
HSBC World Rugby Sevens Series 2020 schedule:
Updated due to COVID-19 impact
5-6 October, 2019: Infinity Park, Colorado, USA – women's standalone event
5-7 December, 2019: The Sevens, Dubai, UAE – combined men's and women's event
13-15 December, 2019: Cape Town Stadium, Cape Town, South Africa – combined men's and women's event
25-26 January, 2020: FMG Stadium, Hamilton, New Zealand – combined men's and women's event
1-2 February, 2020: Bankwest Stadium, Sydney, Australia – combined men's and women's event
29 February – 1 March, 2020: Dignity Health Sports Park, Los Angeles, USA – men's standalone event
7-8 March, 2020: BC Place Stadium, Vancouver, Canada – men's standalone event
10-11 October, 2020 (new date): National Stadium, Singapore – men's standalone event
16-18 October, 2020 (new date): Hong Kong Stadium, Hong Kong – combined men's and women's event
TBC (postponed) 2020: Westhills Stadium, Langford, Canada – women's standalone event
TBC (postponed): Twickenham Stadium, London, England – men's standalone event
TBC (postponed): Stade Jean-Bouin, Paris, France – combined men's and women's event
27 July-1 August, 2020: Tokyo 2020 Olympic Games, Tokyo, Japan
2020 Olympics 7s rugby
2020 is a very important year as the Olympics in Tokyo, Japan, will see the top nations compete for sevens rugby Olympic glory, with Fiji for the men and Australia for the women, the current champions.
The one year mark to the 2020 Olympics sevens rugby was held on July 26th 2019. To date, 15 7s rugby teams have qualified for Tokyo 2020, 8 men's teams and 7 women's teams.
Asia 7s rugby qualification
Japan as a host nation will automatically have its men's and women's teams participate in 2020 while the Asian qualifying tournaments will take place in November 2019. Hong Kong and China will be the favourites for both the men and women.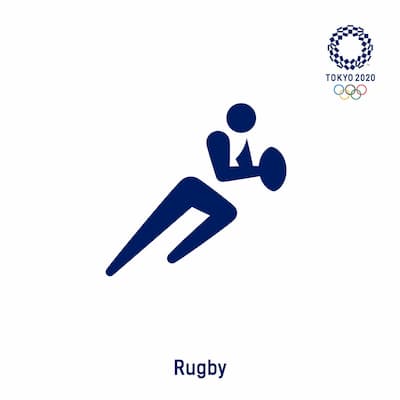 Women's 7s
Venue: Guangzhou, China
Date: 9-10 November 2019
Men's 7s
Venue: Incheon, Korea
Date: 23-24 November 2019
You can read about all the Asian 7s national team tournaments here.
---
Trending Now