Interview: Federation of International Touch Incorporated Board Director Topy Xu
Posted On February 24, 2022
---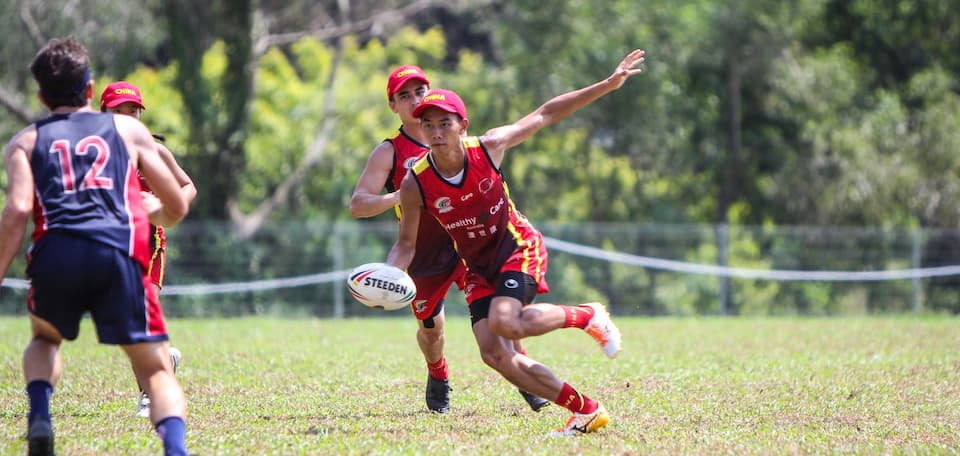 We spoke with FITI Board Director Topy Xu, who hails from China and was recently appointed in his new position with the Federation of International Touch Incorporated Limited Company.
William (Bill) Ker, the FITI Secretary-General, who recently did not stand for re-election after serving for 27 years, told us that following the most recent FIT Incorporated AGM, an updated FIT Constitution was overwhelmingly voted in by the National Touch Organisations (NTOs) – which includes the implementation of the new FIT Limited Company.
Bill said of Topy, that he brings a broad knowledge of the Asian region, especially China where he has worked to introduce the game of touch. Bill was recently one of three individuals inducted as a FIT Life Member.
We wanted to hear more from Topy about the growth of the game regionally and globally, and how the FIT Limited Company will be part of that process.
Federation of International Touch Incorporated – Topy Xu
Topy, you are part of the new board at the Federation of International Touch (voted in at the end of 2021) and tasked with taking the game forward into the post-COVID era. What are some of your and the board's key goals and challenges?
Our primary goal for 2022 is to restart international and regional touch events globally, such as the European Championships and Asian Cup.
As always, our mandate remains to support all our member nations to grow touch in their countries and regions, especially our newest members such as Lebanon, who joined us in February.
(The West Asian country is FIT's 48th-member nation and the 13th NTO from the rapidly expanding Asian region.)
As an emerging sport, we seek ways to expand our human and financial resources to grow the sport globally.
As a newly elected FIT board member, my personal goals include growing Touch in Asia. Asia is a strategic market for FIT in terms of economy and population, and it seems a natural step to accelerate the growth of Touch in this region.
As I also have an extensive business background in China, another goal for me is to bring more Chinese commercial resources and corporate support to FIT to accelerate Touch's global growth.
Can you tell our readers a bit more about your role in the new Federation of International Touch Incorporated Company, of which you are the Board Director – and your own background in the sport?
As the co-founder and General Secretary for China Touch Association since 2013, I'm delighted to be the second-ever member of the FIT Board from Asia after Alex Tsang from Hong Kong. My top priority is to reach out to all our member nations, and I'm excited about giving back to the game.
My three key roles in the new board are:
Member relationships
Commercial partnership development, and
To grow touch in Asia
My background in the sport started when I was the Captain of the South China Agricultural University rugby team from 1999-2004. I started to promote touch in South China when I was in college. I then founded Guangzhou Hualong Touch Rugby Club in 2004.
My other career highlights include being selected as part of the first China team to go to the Touch World Cup in 2015. I also brought the first China Youth Team to the Youth World Cup in 2018 in Malaysia and followed that up by bringing the first Chinese Women's and Mixed teams to Touch World Cup in 2019.
(Editor- There are several new board members – Michael Abromowitz from Switzerland, England's Mark Croston, Australians Aaron Jones and Peter Topp, and Topy Xu.)
Growth of Touch Rugby in Asia – Federation of International Touch Incorporated
In particular in Asia, how are you hoping to develop and grow touch rugby? Do you have any data on the number of federations or players participating in the sport?
To develop touch in Asia, we are aiming to establish an Asia Touch Association to ensure we all share the same vision and key goals for growing the sport and to support each other in the region. As an extension of this goal, we will aim for more regional competitions and fixtures such as an Asian Cup.
We have 13 federations in Asia, and we estimate there are around 20,000-30,000 touch players in Asia.
Touch Rugby in China
Can you give us insights on the China Touch Association (of which you were a long-term president) and the popularity of the game in China?
China Touch Association was established by a group of ex-pats and Chinese living and playing touch in Shanghai in 2013. Then we developed our committee to grow to a team of 13 people who helped promote and organise touch events in different cities in China.
About 20 cities in China currently have regular touch activities, and over 5,000 participants play touch regularly. The main hubs of Touch in China are still Shanghai, Beijing, and Guangzhou, which host different tournaments and leagues annually.
As co-founder of China Touch Association, and since 2013, participation numbers under Topy there alone have grown from under 500 to more than 5,000 players.
In the middle of 2021, China Touch Association became an official body under China Rugby and Football Association – how will/is that impacting the sport?
This announcement was great news, not just for China Touch but also for FIT!
With this change, I am sure that touch in China will get more government support and endorsement in the future. We expect more school programs and more national and regional official competitions with different ages and levels in the coming years.
And actually, we just launched our first official national touch competition in 2021. With such a significant population starting to play touch, we believe that it's not beyond the reach of Touch to become an Olympic sport in the future.
Topy also added on the FIT website that "This announcement is big news for Touch in China because it means that the sport can now compete in the China National Games in 2025 hosted in Canton and Hong Kong along with other sports such as Rugby Sevens. 
It also means that any Sevens players who miss selection may try out for Touch. This situation will help China Touch grow its pool of elite players as many Sevens players are almost fully professional. This level of athlete will potentially make Chinese teams more competitive at major global Touch tournaments such as Asian and World Cups."
You mention the Olympics, and I have seen in a recent FIT article that Olympic sport recognition is a goal – how will the board go about achieving this?
We haven't finalised all our global development strategies yet, but to achieve our goal, accelerating the growth of Touch in Asia should be one of our key strategies.
Developing Touch Rugby
How can groups or touch players trying to get develop the sport in their respective regions get support from FIT (such as coaching courses, referee training, tournaments etc)?
We know that in some countries there are issues between rugby union federations running the sport and in others, touch rugby (through National Touch Organisations ) is run separately.
FIT has representatives in different regions to support local groups and players who need coaching, refereeing or tournament to play. They can email the representatives for any help they need. Contact details are also available from our website at https://www.internationaltouch.org.
As I played both sports, I can see how Touch can help rugby players improve and maintain their passing skills and still enjoy them if they get injured playing the 15-aside code or retire.
Touch also helps develop many junior and women players for rugby union and rugby league. There are varying models enabling Touch to grow in different countries, but I don't think Touch and rugby union are competitors as we share some skills and rules.
Unlocking the Commercial Potential of Touch Rugby
What are some of the innovative ways the sport can be grown in a commercial sense to unlock more global corporate support for the sport?
Touch is a sport all about participation. Even a single Touch tournament can easily attract over 100 players of differing ages and genders playing simultaneously.
Touch is a perfect sport to keep the younger generation connected with family units getting smaller and smaller globally. I am sure there will be a lot of social apps or mobile phone brands interested in partnerships with Touch in the future.
Touch Rugby Asia Cup 2023
On growth and tournaments, you mentioned plans to hold an Asian Cup (which was scheduled to take place in China before the COVID disruptions took place) – is this still going ahead?
Yes, there are still plans to hold an Asian Cup in China in 2023 but we are still working through some logistics.
Touch World Cups
Finally, are there any updates on the delayed Youth Touch World Cup and the next Touch World Cup?
England is hosting the Youth World Cup in July 2023. But for the Touch World Cup in 2024, we will call for hosts and make a final decision within this year.
We would like to thank Topy for his time to do this interview. You can also read more about his background and plans on the FIT website, and follow their Facebook here.
Touch Rugby News
---
- Advertisement -

Trending Now