Inferno Sports is the new Federation of International Touch (FIT) ball supplier
Posted On August 27, 2020
---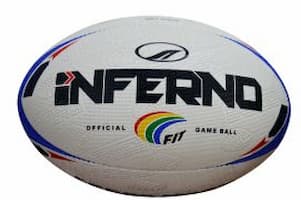 After running an official tender process and inviting proposals from five major rugby ball manufacturers, Inferno Sports has been endorsed as the official Touch Ball supplier by Federation of International Touch (FIT).
FIT new touch rugby ball supplier
Inferno Sports will act as the new ball supplier until 2024 said FIT this week. Bill Ker, Secretary-General of FIT, said, "This agreement will cover the use of Touch balls for international events such as World Cups, regional tournaments such as the European and Asian Cups and test matches.
"The FIT Board took into consideration the importance of each manufacturer's ability to supply National Touch Organisations with balls at an attractive price as well their ability to meet advised delivery dates."
Inferno Sports
Inferno Sports designed and manufactured trial balls which were assessed by FIT players to be an excellent shape size and weight. "Two sizes were supplied and trialled under wet and dry playing conditions and from individual feedback received the slightly smaller size ball has won the day," said Mr Ker.
Inferno Sports has confirmed it can personalise their Touch balls to meet the individual advertising and sponsorship needs of local and national associations.
Federation of International Touch tournaments 2020 postponed
Some of the key FIT events had to be rescheduled or postponed in 2020 due to the ongoing COVID-19 pandemic:
In agreement with the host nation, China, the 2020 Asian Touch Cup was postponed. This is due to be rescheduled in 2021.
In agreement with the host nation, the Philippines, the 2020 Asian Club Championships was cancelled.
The Trans Tasman series between NZ and Australia was called off.
European Federation of Touch postponed the 2020 European Championships and cancelled the 2020 European Junior Touch Championships.
At the time in March 2020, FIT said: "We will not endorse any international series to occur for the remainder of 2020 until further notice and we will continue to review the situation for events being planned for 2021."
Touch rugby news Asia
---
Trending Now