Japan Rugby League One 2022-2023: JRLO Round 9 Preview
Posted On February 24, 2023
---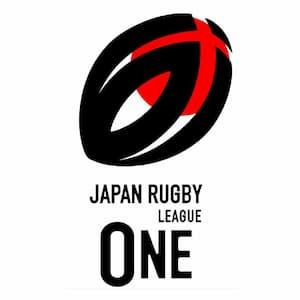 JRLO Division 1 – Round 9
Saturday 25 February 2023
All times shown are Japan Time (JT)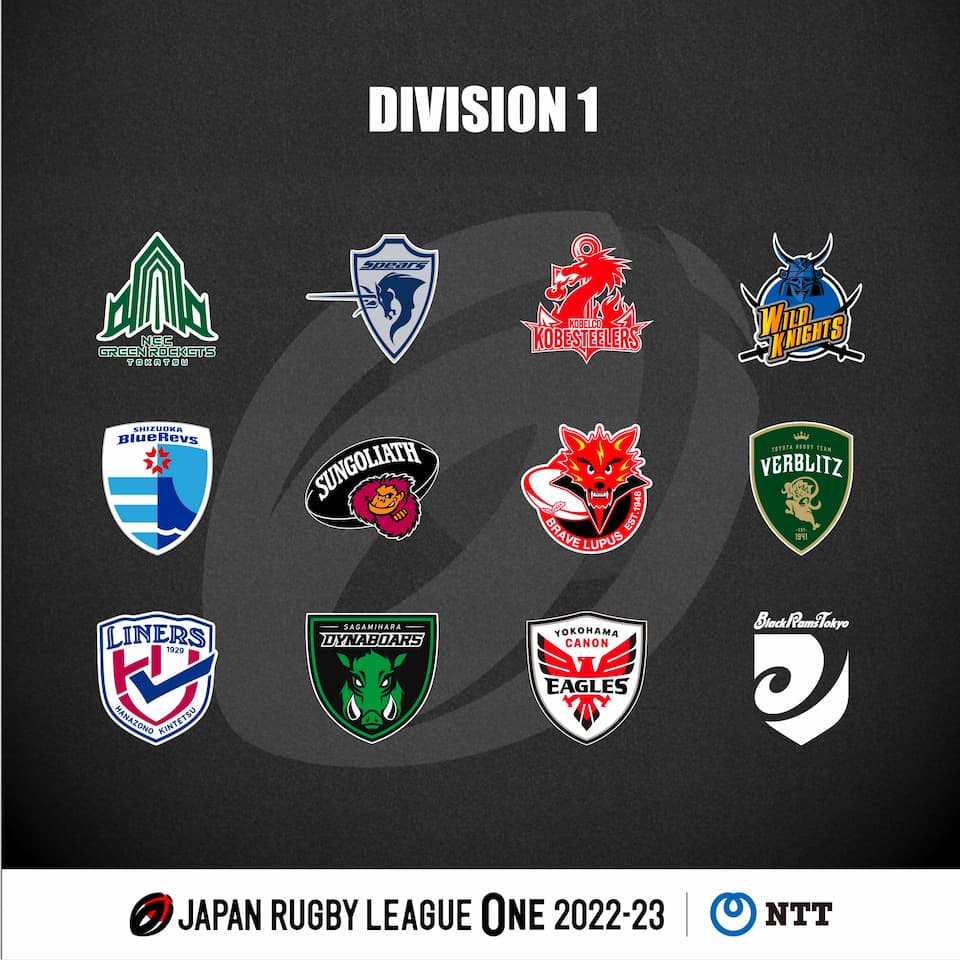 Ricoh Black Rams Tokyo vs Hanazono Kintetsu Liners – Komazawa Olympic Park Athletic Stadium, Tokyo, 12pm
The Ricoh Black Rams Tokyo have had a tough run of four losses which saw them take on Saitama Wild Knights, Kubota Spears Funabashi Tokyo Bay, Yokohama Canon Eagles and Tokyo Suntory Sungoliath but they take on the Liners at home who have yet to record a win this season (and carry a points against of -298).
Black Rams' Australian coach Peter Hewat and his side will want to improve upon their set-piece which faltered last weekend: "Our set pieces didn't work, and we couldn't create a flow," Hewat explained. "I told the team that their effort, their continued fighting, and their defence defending their try line were excellent. I'm really proud of the attitude of fighting so hard for each other."
Kintetsu lost to the Wild Knights last weekend and coach Yoshitake Mizuma said "The team is definitely moving forward, so we will continue to stick to the small things and do our best to help us win.
He added: "There were many players who tried to do something by themselves [in earlier matches] by making forced passes and playing without responsibility, but in this match [against Saitama], we were able to play our role and the next player connected [with] the ball. I think we can appreciate that we are making progress in that regard."
Kubota Spears Funabashi Tokyo Bay vs Toshiba Brave Lupus Tokyo – Edogawa Athletic Stadium, Tokyo, 12pm
The Kubota Spears beat the Mitsubishi Heavy Industries Sagamihara Dynaboars last time out and retained their undefeated record.
Frans Ludeke's men have impressed, scoring the most points in the Division 1 JRLO league, but have been a bit loose in defense – conceding an average of 22 points per match.
Meanwhile, the free-scoring Toshiba Brave Lupus Tokyo come into this match off the back of two losses (even though they scored 82 points in the two lost matches. This weekend's game is their second last against the current top four in the JRLO. The Brave Lupus have also lost their last three against the Spears  but need wins to be in contention for the Divisions One playoffs.
Toshiba coach Todd Blackadder will want a better functioning lineout from his squad and said "We couldn't get seven lineouts. If that happens at this level, we won't [don't] have a chance to play our game." The side also sees the return of All Black centre Seta Tamanivalu for this weekend's game.
Shizuoka Blue Revs vs Tokyo Suntory Sungoliath – Yamaha Stadium, Iwata (Shizuoka), 2.30pm
The Shizuoka Blue Revs have only notched up two wins this season, but feel like ehty should have more, and will face a third-placed Tokyo Suntory Sungoliath at home at the Yamaha Stadium.
Current co-captain and Springbok Kwagga Smith, will want his team to hold onto the advantage if they get ahead on the scoreboard.  They were ahead 29-15 to Kobe last Sunday before losing.
While Shizuoka has won just one of three  matches at home this season and have missed too many opportunities this season. "We've created chances, we are [not] taking them," Smith told media. "I think it is a problem of personal skills and execution ability, which leads to the fact that we are missing tries. However, I don't think we are the same team as last year. We are improving steadily. This is evident in the fact that we have conceded fewer goals [tries] than last year."
Sungoliath are unbeaten in seven since the opening day loss to Kubota and are averaging 37 points per match and after a close win with no foreign players fielded last week, Director of coaching Kiyonori Tanaka said "Learning while winning these games will be a great asset for the team in the future. I think it was a good game for us."
Toyota Verblitz vs Yokohama Canon Eagles – Paloma Mizuho Rugby Stadium, Aichi, 2.30pm
Verblitz is finding its stride and will want to follow up on last weekend's win over NEC Green Rockets Tokatsu against the Eagles.
Steve Hansen's men have shown encouraging signs and even though they sit lower in the league than expected (9th) they are pushing for a semi-final playoff spot.
Yokohama Canon Eagles coach Keisuke Sawake has helped get his team to fourth position on the ladder, and are ten points ahead of their hosts, there are still seven qualifying games to go!
Springbok fullback Willie le Roux played at flyhalf last week which added to the attacking options for Toyota's side, while backrowers Kazuki Himeno and Pieter Steph du Toit dominated the breakdowns.
Steph du Toit will have Springbok teammate Faf de Klerk in his sights, with the scrumhalf a key cog in the Eagles' attack that has scored 43 tries, second only to Kubota.
Sunday February 26
Mitsubishi Heavy Industries Sangamirha Dyanaboars vs NEC Green Rockets Tokatsu – Prince Chichibu Memorial Stadium, Tokyo, 12pm
The Green Rockets, with one win in eight, travel to a faltering Dynaboars but neither side has a win over the last four weeks so everything is up for grabs.
The Dynaboars are holding onto the seventh position on the ladder and the 11th-placed Green Rockets will both want to avoid a slip into the relegation battle.
The concession of 160 points in the last three outings represents a dramatic drop in defensive standards after Mitsubishi conceded just 119 across the first five games.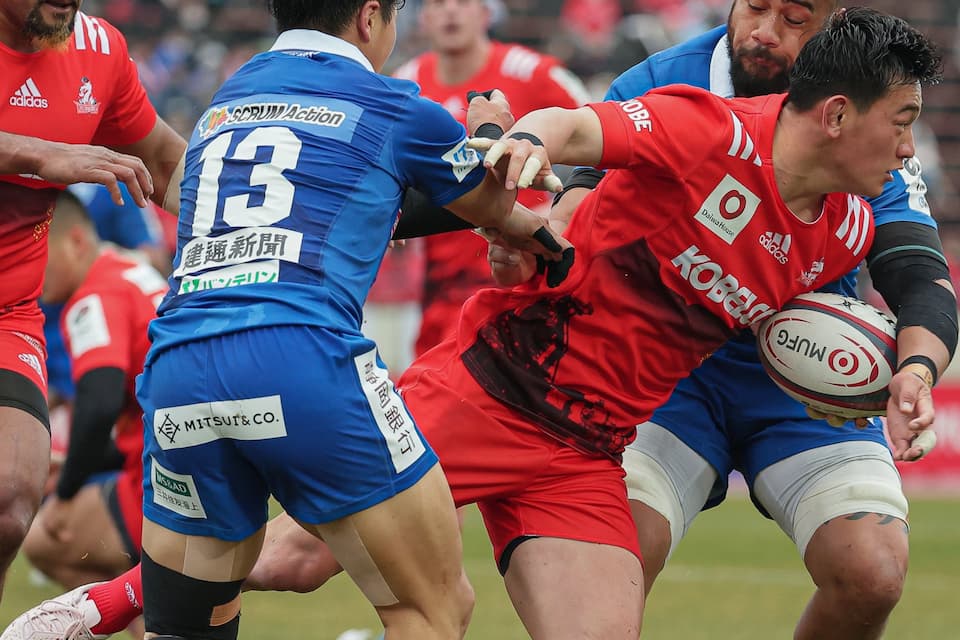 Kobelco Kobe Steelers vs Saitama Panasonic Wild Knights – Kobe Sports Park Universiade Memorial Stadium, Hyogo, 2.30pm
Saitama Panasonic Wild Knights are now on a 40 games unbeaten stretch going back to the 2018 semi-finals, and the defending champions' biggest challenge of late will be this weekend's Kobelco Kobe Steelers, who held them to a 13-13 draw in 2021.
Since then,  Kobe has since lost twice to Saitama, but only by a collective 10 points, which included an 82nd minute
try during a 41-37 loss.
Wild Knights will have Wallaby winger Marika Koroibete (who was rested last weekend) and Springbok inside centre Damien de Allende (back from paternity leave) who are both set to play this Sunday.
Meanwhile, Kobe star, 22-year-old flyhalf Seungsin Lee, will square up against Japan Brave Blossoms team mates from 2022 in the form of Rikiya Matsuda and Takuya Yamasawa. Kobe is still likely to be without injured All Black Ngane Laumape.
JRLO Round 9 – Division 2
Sunday February 26
MIE HONDA HEAT v KAMAISHI SEAWAVES RFC at Mie
Honda host Kamaishi and previously put 75 points on the Seawaves on Christmas Day, and will want maximum points on Sunday as they keep up the pressure on Urayasu who lead the Second Division.
The Seawaves have won three matches since the Christmas day loss, they have conceded 64 points at each of the Shuttles and Urayasu during their last two trips south from Kamaishi.
TOYOTA INDUSTRIES SHUTTLES AICHI v URAYASU D-ROCKS at Aichi
The top-of-the-table Urayasu D-Rocks head to Toyota Industries Shuttles Aichi ine one of two Sunday Division JRLO fixtures.
Johan Ackerman's star-studded visitors will play just their second game in a month and should see the return of fullback Israel Folau after he missed two matches. He has amassed 5 tries in his three appearances so far.
The last time out between these two, the Urayasu thumped the Shuttles 55-16 on Match Day #3.
The Shuttles had made an encouraging start this season, winning their opening two matches but in their last match were also hammered 46-24 by Mie Honda Heat.
The withdrawal by the Hino Red Dolphins from its scheduled tie with the Shimizu Corporation Koto Blue
Sharks saw the four points for victory awarded to the Blue Sharks by default.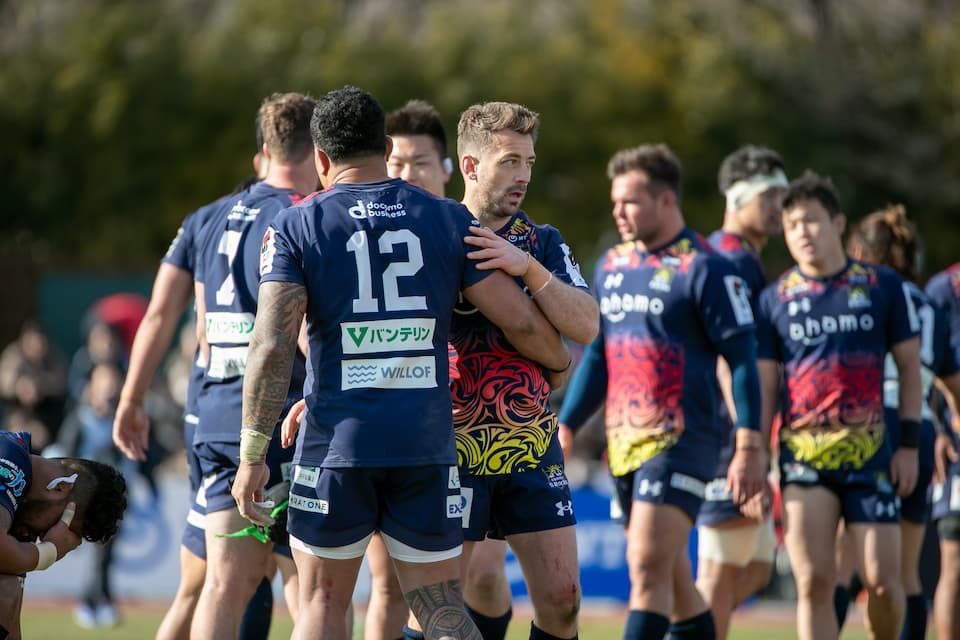 JRLO Round 9 – Division 3
Sunday February 26
KYUSHU ELECTRIC POWER KYUDEN VOLTEX v NTT DOCOMO RED HURRICANES OSAKA at Kagoshima
The top two teams in JRLO Division 3 meet on Sunday as Kyushu Electric Power Kyuden Voltex host NTT Docomo Red Hurricanes.
In the previous match between these two, NTT Docomo Red Hurricanes pipped 22-18 Voltex on the opening weekend in Osaka (their only loss this season).
Since then, this weekend's hosts have scored 30-points+ in each of their five straight wins, while the Red Hurricanes have also only lost once this season – to the Wycliff Palu-coached Akishima Water Gush in Tokyo.
JRLO News 2022-2023
---
Trending Now