Japan Rugby League One 2022-2023: Round 7 Preview
Posted On February 2, 2023
---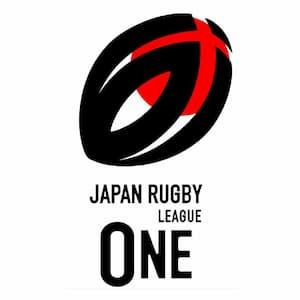 JRLO Division 1 – Round 7
Saturday 4 February 2023
All times shown are Japan Time (JT)
Yokohama Canon Eagles vs Ricoh Black Rams Tokyo  – NKH Spring Mitsuzawa Stadium, Kanagawa, 2.30pm
Ricoh Black Rams Tokyo will be hurting after not making the most of last weekend's opportunity and coming back from being 24 points down to not beat Kubota, but with a matchup against Eagles in Kanagawa, the home team will be kicking themselves for their own end-of-the-game mishap which cost them a win against Saitama Panasonic Wild Knights.
Although the Black Rams will feel unlucky to find themselves 9th on the log, the Eagles will be looking to overcome their own frustrations, with Yokohama coach Keisuke Sawake saying "A while ago, the team might have been satisfied with the performance (to run the Wild Knights close), but not now."
Toyota Verblitz vs Kubota Spears Funabashi Tokyo Bay – Paloma Mizuho Rugby Stadium, Aichi, 2.30pm
This matchup should be an intriguing gone, with the unbeaten Kubota Spears Funabashi Tokyo Bay heading to Nagoya to face Toyota Verblitz, who just broke a five-game losing streak last weekend against Kobelco Kobe Steelers.
The Kubota coach Frans Ludeke will ensure his side is ready to face a team captained by South African Pieter Steph du Toit. The home side conceded a hattrick of yellow cards against Kobe last week (a season total of six) but they still managed to claim a 38-24 victory.
Spears Wallaby flyhalf Bernard Foley, the competition's leading point scorer with 72 after adding 20 last week, will be looking to add more to his tally, while Malcolm Marx starts at hooker for the visitors and will face national compatriots Steph du Toit and Willie le Roux (who is on the bench).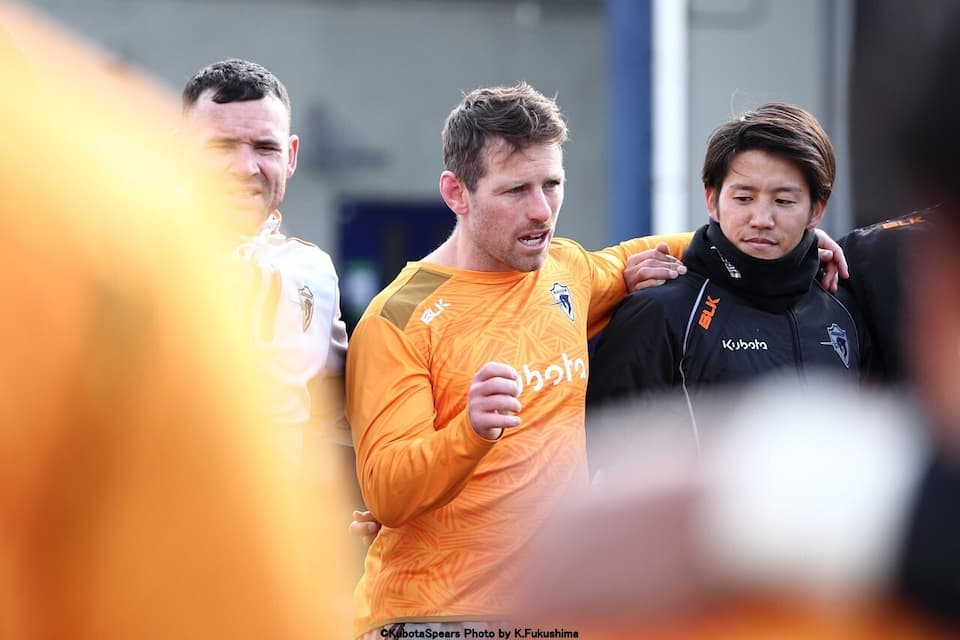 Sunday 5 February 2023
Mitsubishi Heavy Industries Sangamirha Dyanaboars vs Kobelco Kobe Steelers -Sagamihara Gion Stadium, Kanagawa, 12pm
This Sunday's midday clash sees a mid-table matchup which could see either Kobe or the Mitsubishi Heavy Industries Sagamihara Dynaboars snap a losing streak. Kobe has lost its last three on the trot, while their hosts have a draw and a loss from their past two matches.
The Dynaboars dream start to the season of three wins in the first four rounds came to a stutter of late, and last week was a heavy defeat to Sungoliath.
Kobelco Kobe Steelers season also hit a wall and things seem to have gone downhill since losing All Black midfielder Ngane Laumape. Last year's co-leading try-scorer Rakuhei Yamashita was back with a brace of tries, but the team went down regardless. Head coach Nick Holten didn't hide from Kobe's shortcomings after the game, saying
his side had no excuses.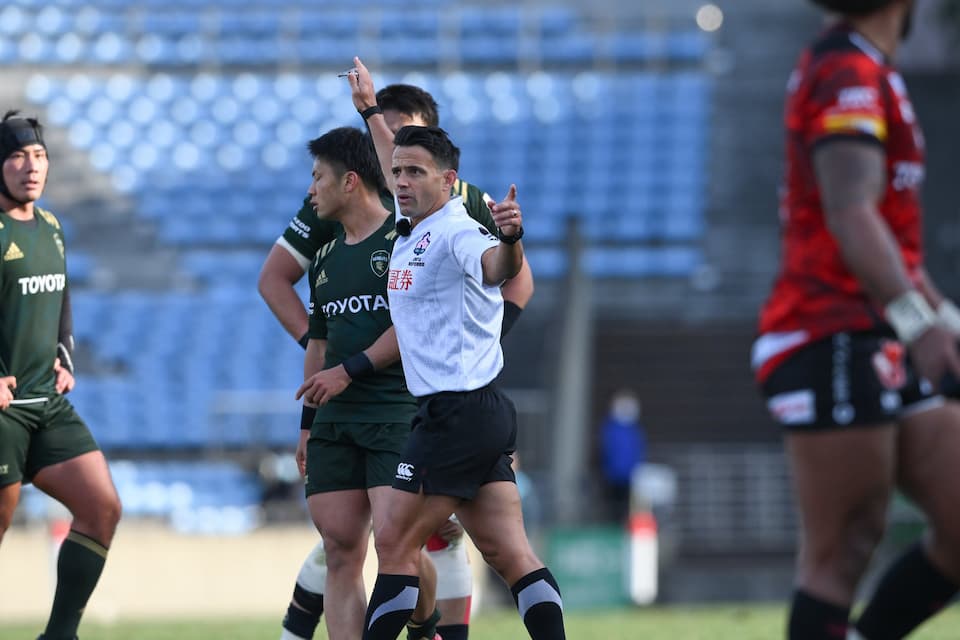 Toshiba Brave Lupus Tokyo vs Tokyo Suntory Sungoliath – Prince Chichibu Memorial Stadium, Tokyo, 2pm
The game of the weekend? Toshiba Brave Lupus Tokyo and Tokyo Suntory Sungoliath is a match steeped in history and rivalry and will impact the Division 1 log.
Semi-final opponents last season when Suntory came out on top, Sungoliath has had the upper hand over recent years, with a 73-5 win in the final edition of the Top League, a standout.
The visitors saw the return of outside backs Kotaro Matsushima and Tevita Li last weekend, along with the All Black Aaron Cruden at flyhalf.
Brave Lupus coach Todd Blackadder used part of last weekend's game to withdraw his senior players from the firing line, allowing the backup players to get much-needed game time. Second-row Warner Dearns and former Brave Blossoms' skipper Michael Leitch are on fire at the moment too.
Suntory has averaged 45 points per game through a five-game winning run, while Toshiba has run up 123 points during the past two matches but the defence might be the key. Sungoliath has conceded just 115 points so far this season, and Brave Lupus 107 – tight margins indeed.
NEC Green Rockets Tokatsu vs Saitama Panasonic Wild Knights – Kashiwanoha Park Stadium, Chiba, 2.30pm
Wild Knights visit an NEC Green Rockets outfit that is struggling for confidence, and an inability to rack up points, with just 19 scored through their last 240 minutes of play.
In the coaching boxes, two former Wallaby coaches will go head-to-head with Saitama head coach Robbie Deans (Australia 2008-13) facing Green Rockets Tokatsu Director of Rugby, Michael Cheika (Australia 2014-19).
The Wild Knights beat the Green Rockets last season, and following last weekend's win over Yokohama, Deans will be hoping for them to keep building on this undefeated streak, even though they are only the sixth-highest try-scorers in the competition. The side does have the best defensive record in the league though.
Cheika, and supervising coach Rob Taylor, have seen their team slump to five defeats, with far too many halves yielding no points scored. NEC have the second-worst penalty concession rate in the league (88); so its not looking great on Sunday
Hanazono Kintetsu Liners vs Shizuoka Blue Revs – Higashiosaka City Hanazono Stadium, Osaka, 2.30pm
Shizuoka's first win of the season last weekend should give the Blue Revs optimism as they visit Will Genia's battling Hanazono Kintetsu Liners in Osaka.
Kwagga Smith's side was pleased with their defensive work during the 21-0 win over the Green Rockets last week, but need more wins to escape the relegation zone and coach Horrikawa Takanobu acknowledged his side isn't as
clinical executing attacking opportunities as it needs to be.
Kintetsu has a poor defensive record, conceding tries at an average of nine per outing (56 in six games) but they are able to score points, managing 34 against NEC and 36 at Kobe at the start of the season.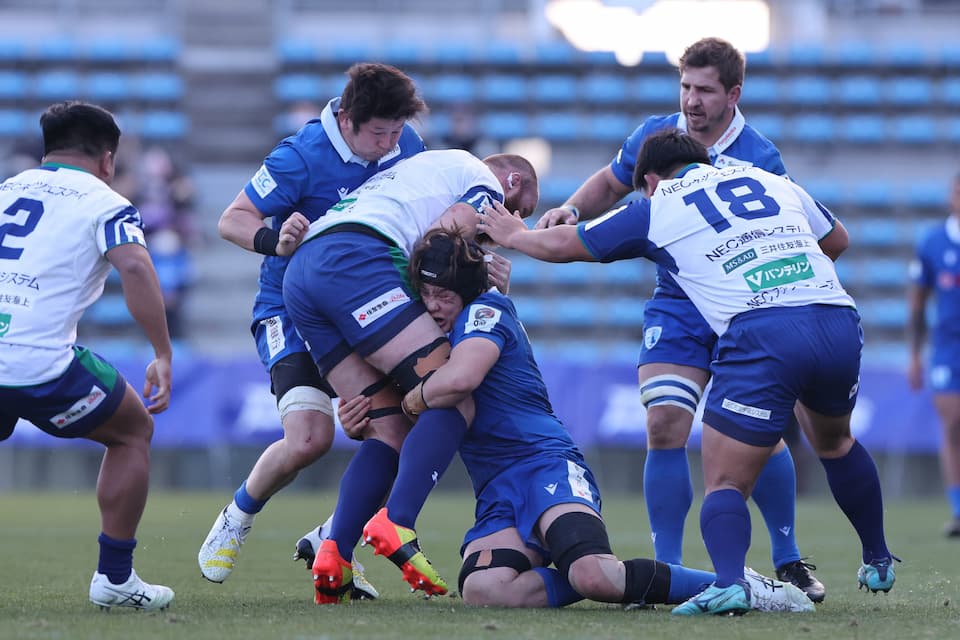 JRLO Division 2 – Round 7
Saturday 4 February 2023
HINO RED DOLPHINS v SHIMIZU CORPORATION KOTO BLUE SHARKS at Tokyo
Urayasu D-Rocks remain runaway leaders in Division 2 and have a bye this weekend.
Saturday's match sees the Hino Red Dolphins chasing their second win when they host bottom-of-the-ladder
Shimizu Corporation Koto Blue Sharks.
Sunday 5 February 2023
MIE HONDA HEAT v TOYOTA INDUSTRIES CORPORATION SHUTTLES AICHI at Mie
Mie Honda Heat hosts Toyota Industries Corporation Shuttles Aichi on Sunday and both sides having lost only to D-Rocks, and separated by just one point on the competition ladder, there is much to play for.
Pablo Matera's Heat had a bye last weekend while the Shuttles had a massive 64-14 win over Kamaishi. The side has not had French test lock Yoann Maestri since the opening round, while England counterpart James Gaskill is yet to appear.
JRLO Division 3 – Round 7
Saturday 4 February 2023
Kyushu Electric Power Kyuden Voltex host the Mazda Skyactives Hiroshima on Saturday, and will look to go top of the log. Their only loss was against NTT Docomo Red Hurricanes who have a bye.
KYUSYU ELECTRIC POWER KYUDEN VOLTEX v MAZDA SKYACTIVES HIROSHIMA at Fukuok
Sunday 5 February 2023
Former Wallaby backrower Wycliff Palu's Kurita Water Gush Akishima can also make a move on the standings as a
a home win over the Chugoku Electric Power Red Regulions would lift the Tokyo-based club into the third spot in the 3rd Division.
KURITA WATER GUSH AKISHIMA v CHUGOKO ELECTRIC POWER RED REGULIONS at Tokyo
Japan Rugby League One News
---
Trending Now