New Zealand HSBC World Sevens Series 2023 Hamilton Pools
Posted On January 17, 2023
---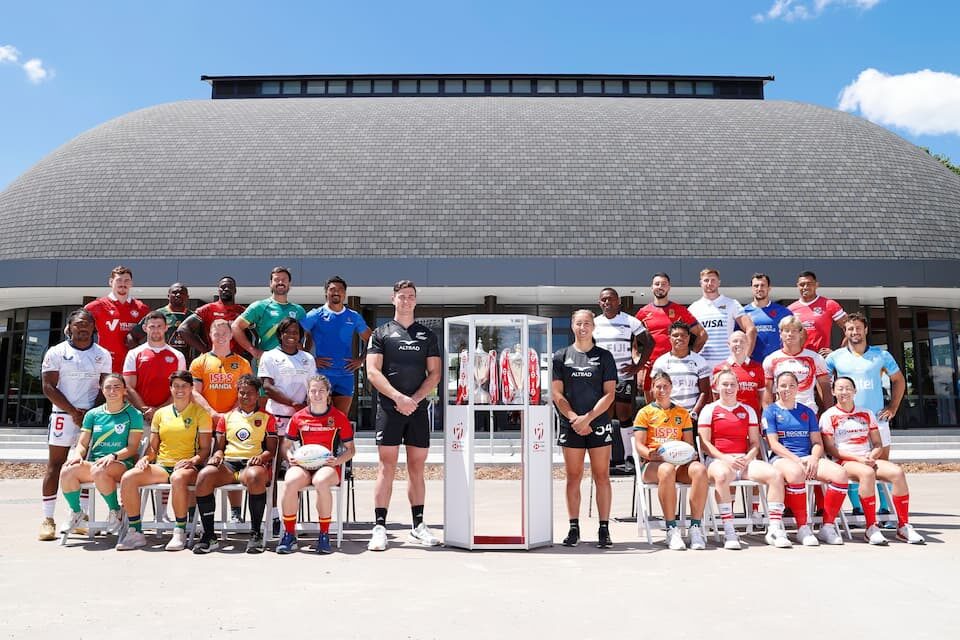 The HSBC World Rugby Sevens Series heads to Hamilton, New Zealand for the first event of the 2023 calendar year, with the 12 Women's and 16 Men's teams in action from 21-22 January.
Feature Photo Credit: Mike Lee – KLC fotos for World Rugby
The organisers previously announced that the 2023 edition of the tournament which has been on New Zealand's sporting calendar for more than two decades, will see the addition of a second playing field next to FMG Stadium Waikato to enable the full men's and women's draws to be played.
Fans will be able to access both fields with party zones, family zones, circus rides, as well as a wide array of food all part of the organisers' plans.
Although there has been no official confirmation from World Rugby which 7 hosts will have the sevens events for the new structured season after this year, all of the media reports suggest this could be the last time Hamilton hosts the Sevens.
New Zealand Rugby confirmed World Rugby would not be choosing New Zealand in World Rugby's decision to "remodel" the series into combined men's and women's tournaments, to be played in seven yet-to-be-disclosed countries from late 2023.
The 2024 Paris Olympic Qualifications have also added incentives for all teams this season. World Rugby Chief Competitions and Performance Officer, Nigel Cass said "With Paris 2024 Olympic Games qualification on the line this season for both men's and women's competitions, we know the action will be fierce at FMG Stadium Waikato from the opening match on Saturday morning to the final whistle on Sunday evening."
Women's Sevens Pools – Hamilton 7s 2023
Hamilton is the third stop on the Women's HSBC 2023 World Series and Australia and New Zealand are tied at the top of the standings after winning titles in Dubai and Cape Town respectively. USA and France lead the rest of the teams in the race for the top four crucial for 2024 Olympic Qualification.
The women's pools in New Zealand see the host and Cape Town, as well as Olympic champions New Zealand, drawn in Pool A alongside Great Britain, Fiji and invitation team Papua New Guinea.
Black Ferns Sevens head coach Cory Sweeney said "To be back playing in a World Series event on our whenua since 2020 is incredibly exciting. The team has been looking forward to competing on home turf, in front of their whānau and fans. It's going to be a memorable weekend for all of us, especially the players who will be taking the field for the final time in Hamilton,"
Series defending champions Australia are in Pool B with France, Canada and the Asian representation Japan.
The USA will be aiming for their third straight podium finish in Hamilton and are in Pool C with Ireland, Brazil and Spain.
Pool A
NZ
GB
Fiji
Papua New Guinea
Pool B
Australia
France
Canada
Japan
Pool C
Men's Sevens Pools – Hamilton HSBC World Sevens Series 2023
The 11-stop men's HSBX Sevens Rugby Series is co-led on points by Samoa and South Africa in the standings as we move to Hamilton, closely followed by New Zealand and USA.
The men's pools for the action at the FMG Stadium Waikato, Hamilton sees new Series leaders Samoa in Pool A together with Pacific Island neighbours Fiji as well as France and Kenya.
Hosts New Zealand are in Pool B with Great Britain, Australia and invitation team Tonga. All Blacks Sevens head coach Clark Laidlaw said "Teams will be looking to build towards Olympic qualification, so we have to hit the ground running on day one. The players can't wait to get out on the field at FMG Stadium Waikato and put on their best performance in front of a big home crowd one last time. We are looking forward to it."
In Pool C, the USA, Uruguay, Ireland and Japan will battle it out.
South Africa co-Seroes leaders (behind Samoa on points difference) are in Pool D with Argentina, Spain and Canada.
Pool A
Pool B
Pool C
USA
Uruguay
Ireland
Japan
Pool D
South Africa
Argentina
Spain
Canada
Where to watch the Hamilton HSBC World Sevens Series 2023?
World Rugby confirmed that the sevens can be watched via live stream on World Rugby digital platforms including www.world.rugby, YouTube and Facebook in countries where there is no national broadcaster covering the event.
Sevens Rugby Tournaments and News
---
Trending Now