China Women and Hong Kong Men Win Asia Rugby Sevens Series 2022 Titles
Posted On November 28, 2022
---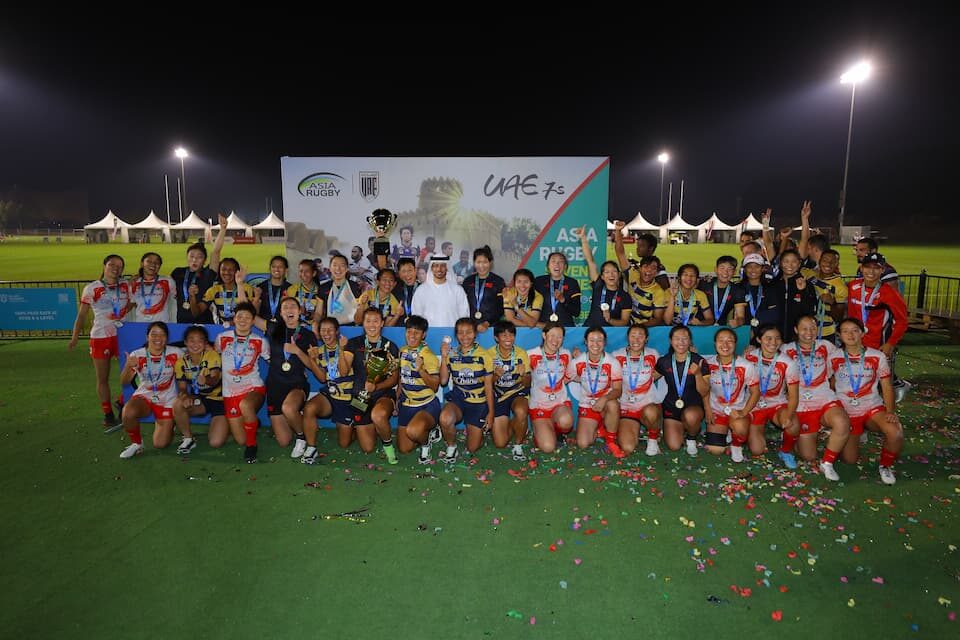 China Women and Hong Kong Men win the Asia Rugby Sevens Series 2022 titles as they both claimed the final third leg in Al Ain in the UAE to confirm their respective championship titles.
(All photo Credits – Asia Rugby)
Hong Kong sevens coach Jevon Groves said "We used all 21 of the senior players in the squad this Series and everyone got a true opportunity, which is great for the team as a whole."
The HK side was immense through the three events in Bangkok, Incheon and Al Ain, not losing a single match and with one draw. They twice had to beat host nations in the final (Korea in Incheon and the UAE in Al Ain.)
The Chinese ladies were also incredible and their title race with Japan was so evenly matched across the three events, with the Chinese winning in Bangkok and in the UAE, while the Sakura 7s picked up gold in Incheon. The China team had not conceded a point in Al Ain until their Cup final match!
Asia Rugby President Qais Abdulla Al Dhalai said "Congratulations to Hong Kong Rugby Union men & China women teams for winning the Asia Rugby Sevens Series – UAE leg & ultimately crowned Champions of the entire series 2022".
Asia Rugby Sevens Series 2022 – Leg 3 Al Ain Preview
Women's Final Standings – Asia Rugby Sevens Series 2022 – Leg 3
It was the same two competitive foes in the Women's Cup final as China and Japan Sakura 7s have played each other in all three finals of the ARSS 2022, but it was the Chinese who prevailed in Al Ain, which also saw them pip the Japanese to the Series title.
In 2021 it was Japan who won the title with a closely fought 14-12 win in Dubai but the Chinese ran out 21-14 winners in the third leg in 2022 to claim their revenge, and cap an excellent series under new coach Fijian legend Osea Kolinisau.
Sayo Yasui from Japan ended the tournament as the top try scorer with six, while Balzhan Koishibayeva from the Kazakh Nomads was the top points scorer in Al Ain with 37 points. The JRFU posted online "Congratulations to China on the win and well done Sakuras for an amazing performance throughout!  See you next weekend for HSBC7s World Series in Dubai!"
Thailand for the third straight event claimed bronze and cemented their third place on the 2022 Series standings, leapfrogging HK and Kazakhstan compared to their 5th place finish in 2021. The Thais have been excellent in the ARSS 2022 but failed to beat either China or Japan across the events but are deserved of their bronze finish.
Hong Kong women's seven's cup chase lost steam in a 31-0 loss to a strong China side in the semi-finals and Thailand proved too strong for Hong Kong in the bronze medal play-off, winning 24-10.  HK have struggled to beat the Thais, Japan and HK and 4th was a fair result for the team which has seen plenty of new caps this season.
Kazakhstan, who also have seen many new young players play this Series, will be disappointed again with a 5th place finish, after beating the Philippines 17-0 in the UAE. They have their sights set on the Asian Games in 2023 and have added squad depth but as one of the few fully professional teams in the Series, will need to find their form quickly.
The Philippines have struggled but will be happy to finish ahead of Malaysia and Sri Lanka after waiting for so many years to play in the top Sevens Series in Asia. One of the coaches commented that a change in strategy might see the squad select more home-based players moving forward so the team has longer periods of time in camp together.
The Malaysian women, much like their men, have really struggled in the top 7s Series in Asia. The teams seemed to have fallen off since the 2019 SEA Games heroics and will need to rebuild to stay in the top tier.
The Women's final standings in the Asia Rugby 7s series #3 leg in Al Ain, UAE:
China
Japan
Thailand
Hong Kong
Kazakhstan
Philippines
Malaysia
Sri Lanka (Did Not Play)
China 21-14 Japan (Cup Final)
Thailand 24-10 Hong Kong  (Bronze Match)
Khazakstan 17-0  Philippines (5/6th – Plate Final)
Malaysia Rugby (7th)
Sri Lanka 8th
Men's Final Standings – Asia Rugby Sevens Series 2022 – Leg 3
Hong Kong were a standout team in the Asia Rugby Sevens Series 2022 and won all three events, claiming gold in the UAE by beating the hosts who were in their first Cup Final. HK didn't lose a match across all three events this Series and has now qualified for the qualification tournament (Challenger Series event) for the HSBC World Rugby Sevens Series which will take place in 2023.
HKRU said via their HK Sevens FB page "A lot to celebrate over the Asia Rugby Sevens Series and a great way to end our year of 7s rugby. A clean sweep for our men, winning 3/3 championships, we capped new debutants and celebrated a half-century for Alex McQueen!"
The UAE who fielded a young team throughout the Series, although they might be disappointed with not winning their first gold at home, were excellent value over the three legs and probably surpassed expectations and beat professional outfits Japan, China and South Korea in the ARSS 2022.
Hong Kong sevens coach Jevon Groves said of the final "We were good in patches, but we made it difficult on occasion. The boys really stepped up in the end.  UAE gave us a real challenge. They were in their first final and at home, it was an emotional moment for them, but I think we controlled the ball well when it counted."
Max Denmark was his usual powerhouse self and has cemented his place as possibly the most feared men's sevens player in Asia, scoring 8 tries over the weekend (and 17 across two legs) which included a hat trick over Japan in the UAE. Groves added, "Of course, Max is only one of 12 or 13 players, and this was a team effort here and across the series, but the three tires he scored against Japan were excellent and it is fantastic to have a player like that in  the squad, he is a real point of difference for us."
The bronze match was played between the Japanese and the Chinese men, with the Japanese winning 33-21. They fielded a much-changed team for the third event in a row as they now head to the Emirates Dubai 7s next weekend. Simon Amor will have team selection headaches and it's uncertain how they feel about the campaign overall. The Chinese men improved as the Series went on, but there is much for Head Coach Ollie Phillips to ponder ahead of the 2023 Asian Games in China – an event they will be desperate to do well in.
South Korea was disappointing in Al Ain, and their challenge to HK at the top faded away quickly and the team found themselves competing for 5th place against a physical and feisty Phillipines side. Even the men's tournament's top scorer Jeongmin Jang (with 9 tries) could not help them avoid defeat as the Volcanoes from SEA prevailed. They added another feather to their caps as they have beaten fully professional sides this Series, with wins over Japan in Incheon in the second leg and Korea in the UAE. The Phillipines ran out 24-19 winners, turning around a big deficit and forcing the game into a golden point decider to secure a memorable win.
Sri Lanka came into this third leg hopeful after doing surprisingly well in Incheon but they lost all three pool matches on day #1 and came up against a Malaysian side who have struggled all Series for 7/8th place. The Sri Lankans were too strong and they had plenty of pace too to put away the SEA side 26-12.
The Men's final standings in the Asia Rugby 7s series #3 leg in Al Ain, UAE:
Hong Kong
UAE
Japan
China
Philippines
South Korea
Sri Lanka
Malaysia
Final Match Results:
Hong Kong 21-5 UAE (Cup Final)
Japan 33-21 China (Bronze Match)
Philippines 24-19 South Korea 5th/6th – Plate Final)
Sri Lanka 26-12 Malaysia (7/8th)
You can see all of the results from the weekend here.
We will wait for Asia Rugby to publish the official Series Standings and the permutations. There is still no clear answer on promotion to the Challenger event in 2023 (nor relegation) and we have asked World Rugby to respond on this too.
Asian Rugby Sevens Tournaments
---
Trending Now