PRFU Luzon Rugby Cup 2022 – Championship Division 3rd Leg & Juniors Touch Rugby Festival 2022
---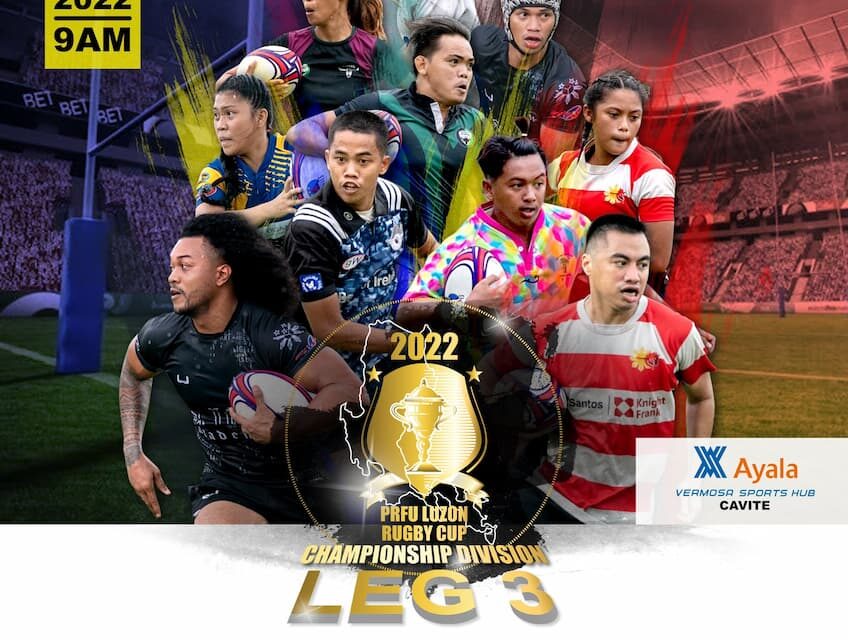 The 2022 PRFU Luzon Rugby Cup – Championship Division's 3rd leg and the Juniors Touch Rugby Festival is being played on Saturday 11th June 2022 at the Ayala Vermosa Sports Hub.
PRFU Luzon Rugby Cup 2022 – Championship Division 3rd Leg
The Philippines Rugby Football Union confirmed that six men's teams & four women's teams are playing in the third & final leg of the 2022 PRFU Luzon Rugby Cup Men's and Women's Championship Division.
The PRFU adds that these divisions (featuring mostly Philippine-heritage players) aim "to help foster the development of the local talent and provide a pathway to play the country's most experienced players."
In the Men's Championship Division, La Liga 1 team won the first two legs of the season however their La Liga 2 clubmates will aim to unsettle them after losing the previous final in leg #2.
The other sides are the Albay Bulkans, Subic Jets, the Mavericks, and Manila Kalabaws.
In the Women's Championship Division, the SKF Makati Mavericks have already secured back-to-back trophies in the first two legs and will face up against the Clark Jets, Eagles RFC, and the Manila Rogues.
In this PRFU Return to Play season, the 7s season is due to start in August 2022.
PRFU Luzon Rugby Cup – Championship Division 3rd Leg Schedule
Juniors Touch Rugby Festival 2022 – Luzon
The Ayala Vermosa Sports Hub will also host Luzon-based age-grade teams who will also be playing in a junior touch rugby festival organised by the PRFU and ChildFund  Rugby.
Three U18s girls teams and three U11s boys teams will play touch rugby games against each other on Saturday, with the Eagles RFC, SKF Makati Mavericks, and Bulacan Bombers entering u11s teams for the juniors festivals.
In the girls u18s division, the Albay Bulkans, Bulacan Bombers, and SKF Makati Mavericks Baabaas have entered teams.
The PRFU and ChildFund Rugby recently announced the launch of a New Club Champions Project. The partnership between the two launched in 2016 to implement the Pass It Back program and has since supported young players to learn and develop essential life skills through rugby.
Only fully vaccinated COVID-19 individuals and those who have completed their Health Declaration forms will be allowed to enter the venue.
Gates will open at 8:00 am for all local rugby supporters to join – The entrance is free.
Asian Rugby News 2022
---
Trending Now