Rugby World Cup 2023 Signs Capgemini and Facebook Partnerships
Posted On September 7, 2021
---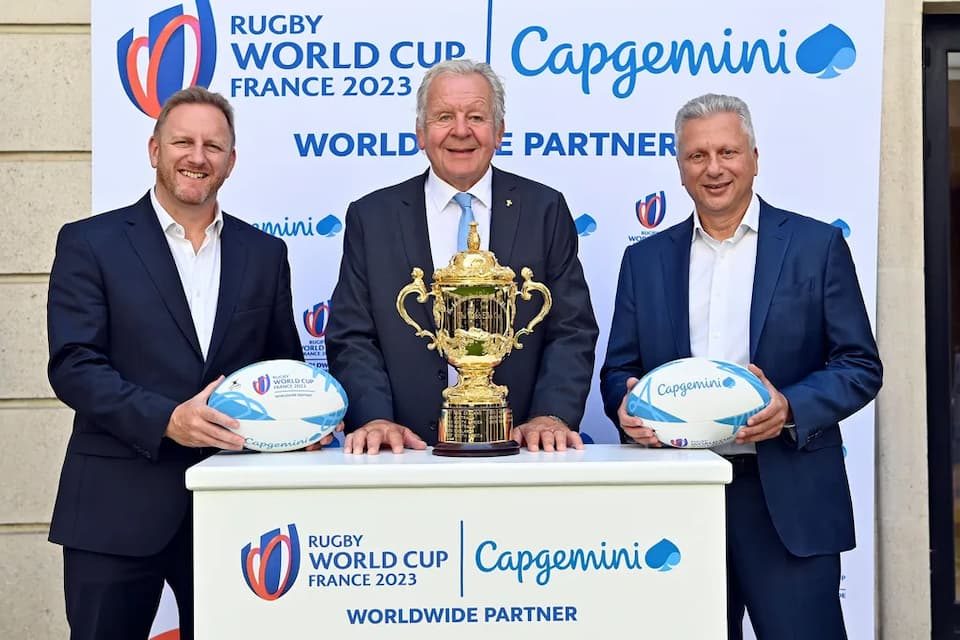 World Rugby and Capgemini announced they have signed a RWC 2023 worldwide partnership for the tournament in France, while Facebook has been appointed as the Official Social Media Services Supplier of Rugby World Cup France 2023.
RWC 2023 and Capgemini
The partnership announced in September 2021, ensures Capgemini will also become World Rugby's Global Digital Transformation Partner. The statement from World Rugby said, "Capgemini will harness its innovation and technology expertise to enrich the tournament experience for millions of fans in stadia and viewing via broadcast and digital platforms."
World Rugby Chief Executive Alan Gilpin said: "With two years to go until France 2023 kicks off, we are in great shape. Preparations are on track. Our Worldwide Partner commercial programme is attracting new partners like Capgemini and we are confident that it will be the most impactful and sustainable Rugby World Cup ever staged and a spectacular celebration of rugby and its values in the sport's 200th year."
Capgemini will be the presenting partner of the men's and women's World Rugby Rankings and the World Rugby Team of the Year at the World Rugby Awards.
Capgemini is the fourth Rugby World Cup France 2023 Worldwide Partner confirmed, following Societe Generale, Mastercard, and Asahi.
Capgemini will be one of six Worldwide Partners for Rugby World Cup 2023 in France.
Facebook and RWC 2023
RWC France 2023 and Facebook have also announced a partnership on September 7, 2021, and Facebook will be the Official Social Media Services Supplier of Rugby World Cup France 2023.
This is the first time Rugby World Cup has had an Official Social Media Services provider and as an Official Supplier, Facebook will "support the tournament's mission of making Rugby World Cup France 2023 a moment of sharing and celebration across all regions in France and around the world", said World Rugby.
Some of the services Facebook will provide are AR photo filters, LIVEs and other social shares to capture the global sporting event for rugby fans.
Facebook will provide free digital training to 3,000 young apprentices as part of Campus 2023.
Claude Atcher, CEO of France 2023: "We are extremely proud to welcome Facebook as the Official Social Media Services Supplier of Rugby World Cup France 2023……Facebook represents the biggest virtual stadium in the world and this collaboration will allow us to be even closer to Rugby fans and offer them new innovative experiences."
Two Years Until RWC 2023
On 8 September 2021, World Rugby will celebrate two years to go to the opening match at Rugby World Cup 2023 between host nation France and New Zealand at the iconic Stade de France with a special online Facebook event.
This special show will be live-streamed exclusively on Facebook on 8th September at 18:00 CET on the Rugby World Cup France 2023 Facebook Page (Facebook/RugbyWorldCupFrance2023) or on the Facebook page – Facebook (Facebook/FacebookFrance)
The show will feature special guests and personalities such as Dan Carter, Sébastien Chabal, Lénaïg Corson, Yves Camdeborde, Antoine Dupont and many others.
Rugby News Asia
---
Trending Now