What Is The Future Of Rugby In Afghanistan?
Posted On September 6, 2021
---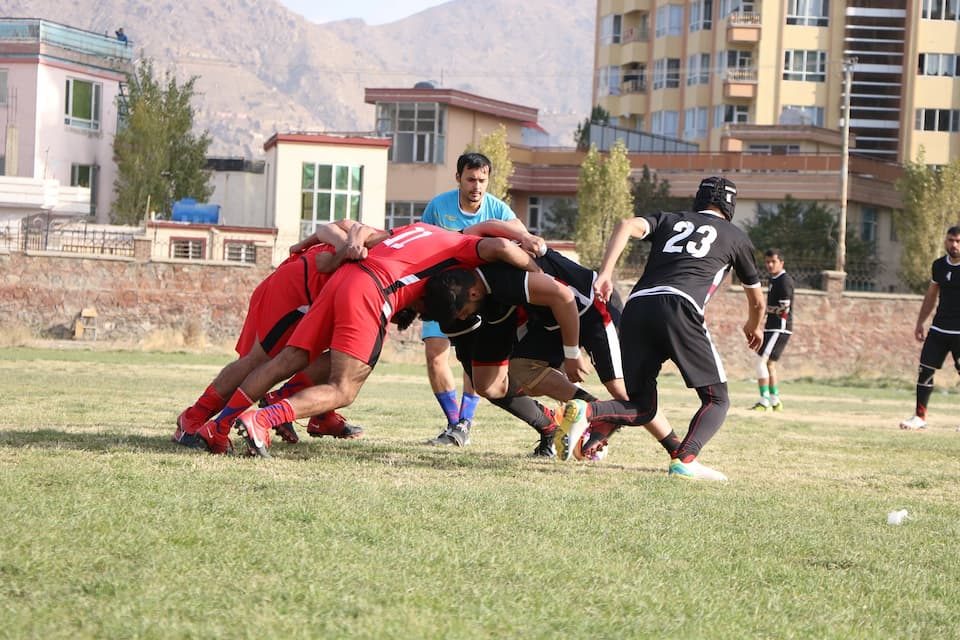 The recent turmoil in Afghanistan has raised a number of issues for the short and long term future of the country. The Afghanistan Rugby Federation has steadily grown the sport, with more teams, competitions, age groups, and genders playing the sport. We wanted to find out about the state of the game and how positive those involved are about the future of rugby in Afghanistan.
Sabir Slaimankhel is the national Afghan rugby coach and player, while his brother Omar Slaimankhel is captain of the Afghanistan 7s side. The two are part of four brothers who represent the national rugby team!
After a series of WhatsApp exchanges, we managed to organise an online interview with Sabir, who from his home in Auckland, New Zealand, discussed the precarious situation in Afghanistan, how the Slaimankhels got involved with rugby in the country, and on his optimism about rugby in Afghanistan.
You are currently outside of Afghanistan – how did you get into rugby and how did you land up in New Zealand?
"Me and my brothers all played rugby in the back garden growing up in Auckland. Over lunchtimes and in the house. We were naturally gifted with genetics but it was also a passion we had."
Auckland has been Sabir's family home since the 1990s when the Slaimankhels moved to the rugby-crazed nation as refugees. The family fled their home in Afghanistan during the nine-year Soviet invasion and were among the five million Afghans who fled initially to find safety in Pakistan.
"We came to NZ in 1994 via my uncle who was an orthopaedic surgeon and he helped our family get over here. I was four years old – when you are young you are happy with everything. As you get older you get to appreciate things more. I have been going back and forth to Afghanistan from New Zealand and over the years and I am increasingly grateful for everything."
Omar Slaimankhel – Afghanistan's first pro rugby player
Omar Slaimankhel's rugby career has seen him represent junior rugby for Auckland and the Blues before signing a two-year contract with the Warriors in the NRL (National Rugby League). This probably means Omar was the first Afghan to become a professional league and rugby player.
Omar on his rugby roots: "We (the brothers) did all our schooling and footy in Auckland – We are all products of Auckland Boys Grammar School, which as many people are well aware of, is a huge rugby union school which over 50 All Blacks have attended. (This includes current AB players Akira and Rieko Loane).
My brother Zakir and I moved to Sydney to play rugby league and currently are living here with our families."
Sabir Slaimankhel –  Rugby Journeyman: NZ, Canada, Sri Lanka, Japan, Afghanistan
Sabir has been a journeyman of sorts in rugby – the fabled adventures of a few rugby players who have been able to travel and experience the world through the sport. He has previously played in Canada, Sri Lanka, Japan, and Afghanistan.
Sabir had also been a competitive weightlifter but played premier rugby in Otago after joining their Academy straight after leaving the prestigious Auckland High School. He played for the Highlanders U19 and U21 over two years and then ventured to Canada to play sevens rugby.
At one point, he was going to permanently move to Canada and possibly could have aspired to play for the national team as Sabir was offered a contract to play club rugby in Canada. "It never worked out. I kind of got homesick as I was away from my family and I was quite young. So I came back to Auckland and everything just fell into place."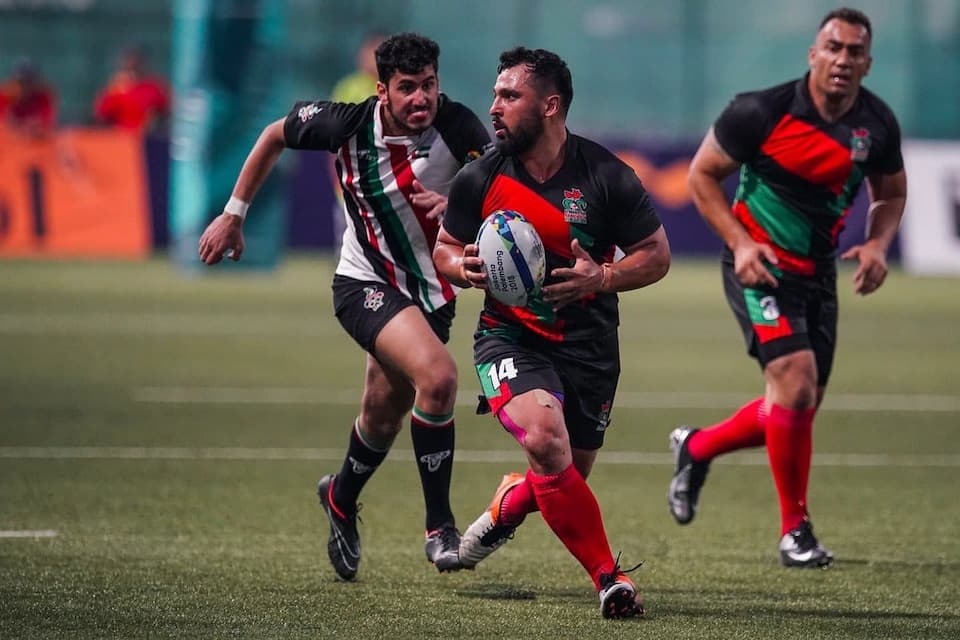 The next move took Sabir to Asia, "Rugby is HUGE in Sri Lanka. Schoolboy rugby is massive and people didn't know that until recently as they are getting a lot of imports (players from overseas). When I was there, I played the Carlton Super Sevens series (the competition featured ten domestic Sri Lankan franchises and is now the Dialog Colombo Sevens) and there were a lot of Fijians.
I was at St Thomas College, which was the biggest rugby school in Colombo, and was the Rugby Development Officer, and Strength & Conditioning Coach for their 1st XV for nearly two years."
He reflects fondly on his time in Sri Lanka "It was really really good. It was so cheap and the people were really nice. You get a lot of the foreign boys, I played a lot of rugby with the Pacific Island guys, so I got on really well with them. Sri Lanka was very very enjoyable."
After his time in Sri Lanka, Sabir signed a professional contract to play in Japan with his brother Omar at Honda, but he didn't enjoy his time in Japan as much after all the time away from his family. "I didn't really like it towards the end as it was so isolated for me.  I enjoyed the rugby and playing there but I missed the halal food and there was no mosque – it got lonely but I enjoyed the opportunity – I didn't really care about the money."
(Read more about Ben Gollings' time in Sri Lanka).
Rugby in Afghanistan
"The current situation in Afghanistan is up and down and after so many years of conflict we hope it improves for everyone, and we can use rugby and sport as a unifying force" says Sabir.
Sabir started getting involved with Afghanistan Rugby Federation (ARF) in 2012 and introduced his three younger brothers to play with them. The ARF was advertising they were looking for Afghan passport holders abroad to play, so he contacted them. After his Japanese Honda rugby contract ended, Sabir and Omar were open to playing for the national Afghan team.
"We have been trying for so many years to grow the game in Afghanistan, and at the beginning, it was so tough as there were so many challenges as it was a new sport."
Sabir was shortly thereafter installed as the Afghanistan national 7s coach. "Once I got involved in rugby, well, there were so many tribes for example, and for me, I don't care where you are from, if you are a good player I'm going to select you. So we implemented that from the start. When I started there were players in national teams that should not have been there.'
Sabir speaks highly of the current ARF leadership though. "The ARF President (Haris Rahmani) and Vice President (Dr. Ajmal Wardak) have been doing a great job since they have been involved over the past few years and it's helped bring Afghanistan rugby up a level."
On tribal issues in Afghanistan, Sabir said: "To be honest, I have not seen any issues among the team, everyone is disciplined and respectful and well mannered to each other. 
When it comes to sport, it brings everyone together. There were rugby clubs being set up in different provinces just before the pandemic so there was a lot of good work going on in Afghanistan. Asia Rugby was helping drive that with our ARF President and Vice President."
Asian Games 2018 
One of the key milestones was the national Afghan rugby team playing their first international tournament at the 2018 Asian Games. The men's sevens tournament was held in Jakarta, Indonesia, and ran from 30 August – 1 September 2018.
"This was huge for us and we also played really good footy against some of the best sides in Asia," said Omar. "We also managed to finish 9th after just missing out on the quarterfinals by points differential. We had a few big wins as well and I'd say that's the first time Afghanistan rugby was known to be this good. 
We had big wins against Pakistan, Indonesia, and the United Arab Emirates."
The Slaimankhel brothers usually fly in from Australia and NZ for the national Afghan team tournaments. "We had five players based in Afghanistan, one from Sweden, one from the Netherlands, and four of us brothers, and our cousin from New Zealand." 
"We trained in our respected countries leading up to the Games and would share training videos in our group chat to keep each other accountable as well as motivated. It was my first time meeting the players from overseas and we all clicked automatically and played some great footy there", added Omar.
Olympic 2020 Qualifiers – Rugby 7s
"The tournaments the Men's 7s team did play were mainly done with no funding, training camps, or physios – we literally had nothing. Not even strapping tape at the Olympic Qualifying tournament in 2019. But we beat Chinese Taipei, and teams we lost to like Singapore and Korea (the eventual winners). had much better funding and preparation." said Sabir.
"We have all the ingredients but not quite the full squad of 13-14 to play at that level but we have guys coming through, we just need more playing time.
In recent years a lot of new teams were being formed in Afghanistan, and we are looking at young guys coming through as well as foreign players."
Afghanistan Rugby Federation – Full Asia Rugby Member
There was a period of little international rugby for the Afghan teams but from 2018-2020 the Afghanistan Rugby Federation did a lot of work to gain their Full Membership with Asia Rugby in 2020.
Omar says of the membership: "It was an awesome achievement for us as that is what we had been working hard on for eight years. Our president Haris Rahmani has done a great job with the other Afghan players in promoting the game, making it bigger and organising local competitions for clubs and schools for both men and women. 
Rugby is growing in Afghanistan, as you are well aware they are very strong people, and rugby in a way does suit their way of life, always fighting to get better and make themselves and their country proud."
He adds, "In regards to facilities, Afghanistan is still a very poor country and definitely doesn't have the funding at the moment to build the game as quickly as we would like. We are constantly looking for that so we can build the game much faster.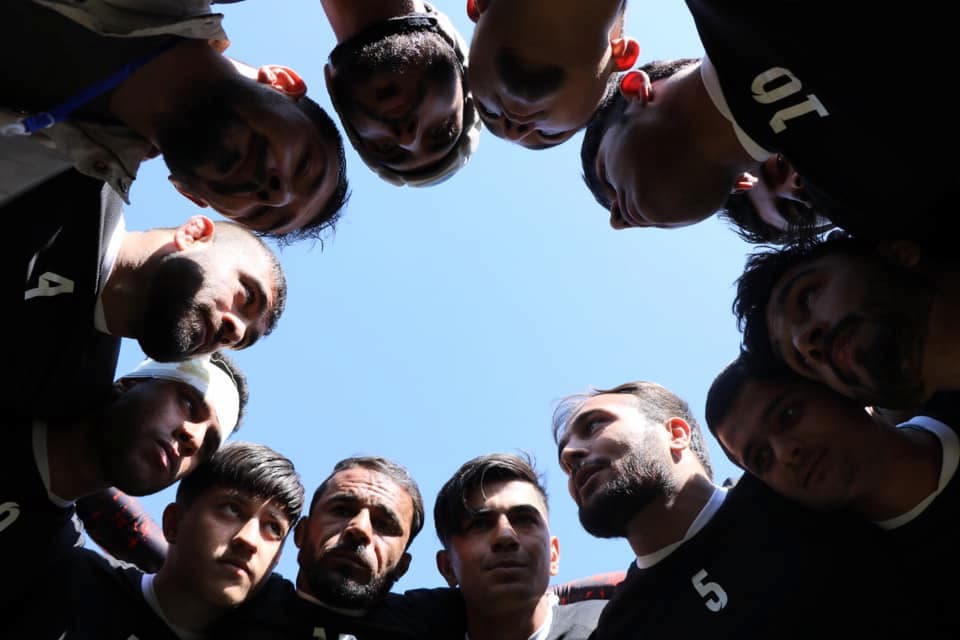 So like I said, getting full Asia Rugby membership was a huge honour and it showed that the hard work we have put in is paying off."
Sabir adds to his brother's concerns: "The biggest challenge in Afghanistan was not having a ground to train on. We would pay from our own pockets to look and secure training grounds.
If you look at cricket in Afghanistan, they got so much help from the ICC (Internationa Cricket Council). We didn't have anything and we tried looking for private sponsors and we secured a few."
Like in many Asian nations, sports often receive funding from their national Olympic committees which secure international funding and backing.
"The Afghan Olympic Committee has only so much to spread across all the sports, and have to spend it wisely. Rugby is quite new to the country (Afghanistan) but like every sport in Asia, and with rugby, other nations like Chinese Taipei, Singapore, and even Thailand – are putting money into the sport. So even before the current situation, in Kabul, we still don't have a rugby ground but there is so much land there!
Sport is the best thing in the world to bring people together. Just look at the greatest example of Rugby World Cup 1995 in South Africa." 
See more about snow rugby in Afghanistan.
Future of Afghan Rugby
Haris Rahmani is the president of Afghanistan rugby and the face of the sport in the country. The Federation is still operating despite the recent political change in the country with the Taliban regaining control in August 2021.
Omar said the goals of the ARF remain the same: "Right now it's just growing the game in the country and putting it in as many schools as possible, as well as clubs for competitions. The more people we get playing it, the more it's out there for the whole of Afghanistan to see."
Asian Games 2022
Sabir spoke of their ambition of playing at the upcoming Asian Games. "We were supposed to play in Uzbekistan in October 2021 in the new Asia Rugby Trophy Series but with a few of us unable to leave Australia and NZ, and the current situation in Afghanistan, I can't see the team playing this year. Our main goal is to get to the Asian Games in China in 2022.
Omar agreed: "We are focussing on getting in as many training camps and competitions as possible to prepare ourselves for the Asian Games in China 2022. That will come down to the funding we will have, as it is hard sometimes to join competitions because of the lack of funding."
"Ideally, we would like more tournaments and use them as a stepping stone towards next year. If you play one tournament a year it's not going to cut it. So our main focus for next year is the Asian Games and we need more players for the national team. We will do our best to enter that," said Sabir.
"We will have to look for sponsors and financial support – we have done so much work over the past ten years it will be such a waste if we don't keep it going.
We need more help from World Rugby with playing facilities & financial support – please don't leave us stranded and help us get to the tournaments. We have full membership with Asia Rugby and we don't want that to go to waste."
Anyone that is able to support with training camps, or other resources please get in touch with them via the Afghanistan Rugby Facebook Page.
Diversity of Rugby in Afghanistan
Sabir said that there were more rugby tournaments taking place in Afghanistan for the youth, men, and women players.
Women's rugby had started recently in Afghanistan."There were more players playing, at a social level, but they were improving.
For the women, historically they were not involved, but in recent years they were allowed to play and more were getting involved in all these other sports, not just rugby" said Sabir.
On the recent evacuation of Afghan women and girl football players, Sabir said: "Let's be realistic, if anyone was living in a third world country and the plane was offering to take you to America or Australia for free, with no visa required, no need for a passport, and a new opportunity, I reckon I would be the first to get in line. It's about taking opportunities and it's up to each person if they want to stay or not."
"We can't predict the future with what will happen. Everything changed so quickly in Afghanistan over a matter of weeks recently. I think some things can be blown out of proportion but sports will not play a factor in the change in politics in Afghanistan. I hope everything goes back to normal in a few weeks. I heard the football team is back to training already" said the optimistic national rugby coach.
I have spoken to my brothers and we have said we will do what we can to make sure rugby in Afghanistan continues. We want to keep playing for and flying the flag for Afghanistan.
I think the situation in Afghanistan will improve. Everybody loves sports, so hopefully, it can help play a positive role in Afghanistan."
We did ask if Asia Rugby and World Rugby has been supporting the ARF over the recent weeks but Sabir wasn't sure. We reached out to both Asia Rugby and World rugby to comment on the situation but neither organisation wanted to make an official statement. 
It was also suggested to consider approaching the NZRU for support but this has to be channelled through the ARF and Olympic Committee. (The NZRU recently followed the Afghan Rugby Federation on social media channels).
Rugby News 2021
---
Trending Now