Rugby World Cup "Webb Ellis" Sri Lanka Trophy Tour 2023
Posted On February 17, 2023
---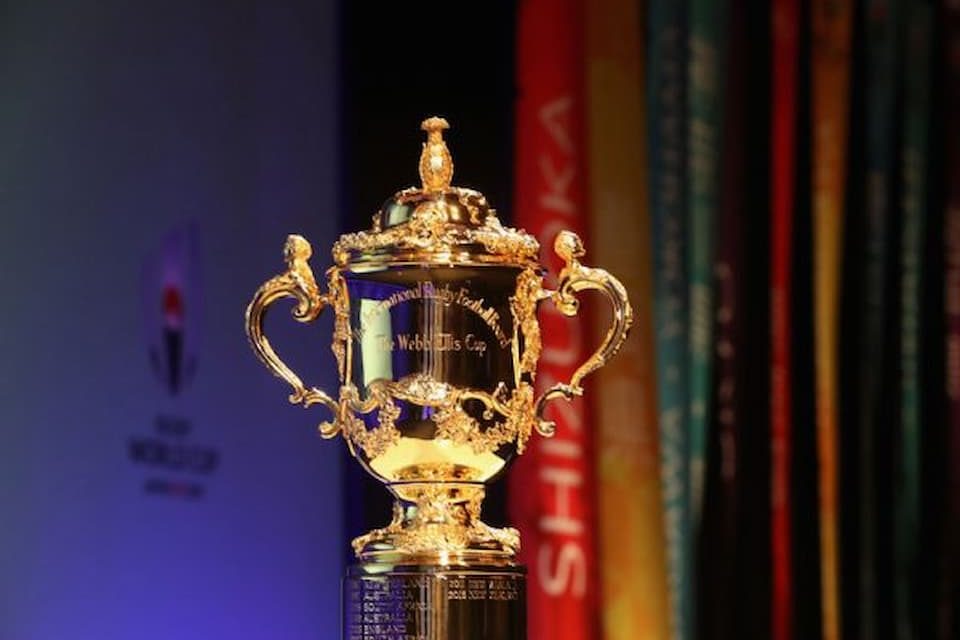 The Webb Ellis Sri Lanka Trophy Tour 2023 is scheduled to be shown to the public this weekend from 18-22 February, sponsored by Mastercard, but the publicity tour is only casting more unsavoury light on the current issues with Sri Lankan rugby and its duel with the Sports Ministry.
We have written previously about the now long and drawn-out political battle between the SRL (Sri Lanka Rugby), the country's Sports Ministry and Asia Rugby, which to be honest seems to be a battle of power and egos.
The famous Webb Ellis Trophy is heading to Sri Lanka which should be celebrated, instead, the political rugby standoff is being played out in the public spotlight, with sponsor Mastercard and the Ministry of Sports of Sri Lanka "shunning the sports' local body Sri Lanka Rugby (SLR) from being part of its scheduled events" claimed the themorning.
The SLR & its President Rizly Illyas have been banned to be involved in Asia Rugby events by the regions governing body, but he still is involved with rugby in the country. Sri Lanka also recently confirmed it would be sending Rugby 7s teams to the Asian Games 2023 later this year in China (which is an Olympic Committee event and not an Asia Rugby event.)
Rizly Illyas, told The Daily Morning Sports: "Many parties are of the opinion that this event will be done as the initiative of Sri Lankan Rugby. The current rugby administration was suspended by a gazette issued by former Sports Minister Namal Rajapaksa. As this gazette wasn't revoked, Asia Rugby suspended SLR. This suspension pertains only to Asia, therefore, we are permitted to participate in the Olympics. Even now, the World Rugby Union is referring to things like rugby law amendments with regard to us.
In reference to the Webb Ellis trophy tour, he said "SLR has not been invited or given the opportunity to get involved in hosting the cup. But everybody thinks we are involved in the organisation of the cup."
The National Sports Council has facilitated the cup tour to Sri Lanka, with the Sri Lanka Rugby (SLR) not invited to take part. Mastercard is a worldwide partner of the Rugby World Cup 2023.
Rugby World Cup Webb Ellis – Sri Lanka Trophy Tour 2023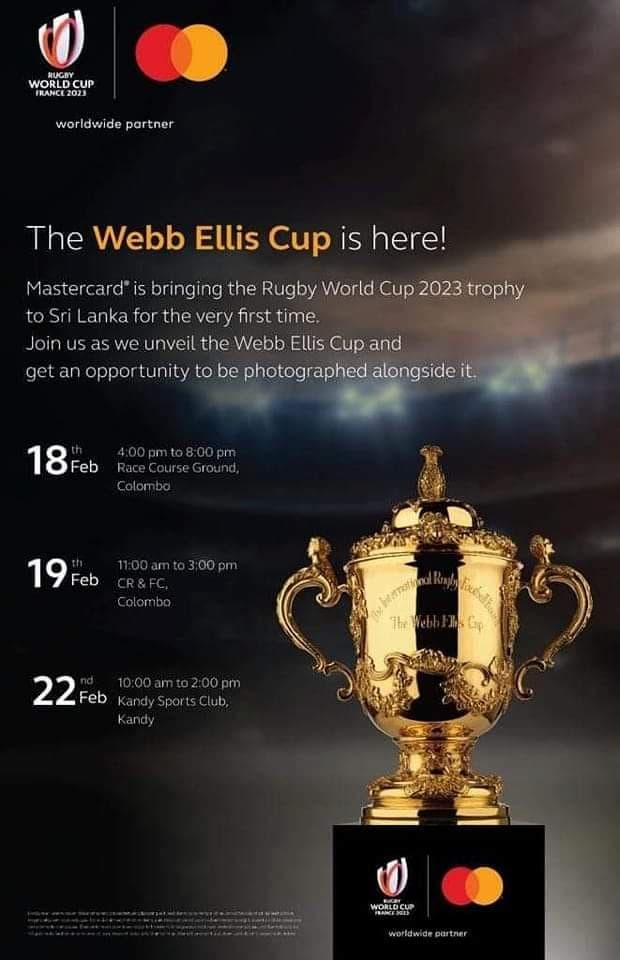 The Rugby World Cup will be on display for public viewing in Colombo and Kandy this weekend:
Race Course Grounds –  Saturday 18th February 2023 from 3 p.m
CR & FC grounds – Sunday 19th February 2023
Open to public viewing at Longdon Place from 11 a.m. to 3 p.m.
Nittawela Sports Club (Kandy SC) – February 22 from 10 a.m.
It was also suggested Mastercard has also planned two private functions on 20 and 21 February 2023.
Asian Rugby Events 2023
---
Trending Now