Surin Super Rugby Tens V 2019
Posted On October 23, 2019
---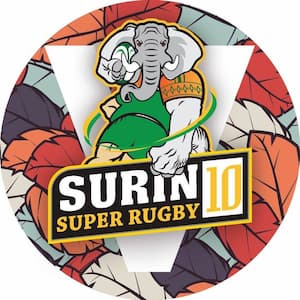 The 5th annual Surin Super Rugby Tens 2019 is taking place from November 30th December 1st. There are 16 men's teams already confirmed for the two-day social rugby tournament in Thailand.
Rugby Teams playing Surin Super Tens 2019
The team listings were published in Thai so we are not entirely sure of all the rugby teams who have entered. The full list is below:
สโมสรรักบี้ฟุตบอลทหารอากาศ (four-time champions)
 สโมสรรักบี้ฟุตบอลกองทัพบกภาคที่ 2
Pattaya Panthers

Samyan Ranger

ทีมรักบี้ฟุตบอลนายเรืออากาศ ชุด A
ทีมรักบี้ฟุตบอลมหาวิทยาลัยเทคโนโลยีราชมงคลอีสาน วิทยาเขต สุรินทร์
สโมสรรักบี้ฟุตบอลกองทัพบก
ทีมรักบี้ฟุตบอลนายร้อย จ.ป.ร.
ชมรมรักบี้ฟุตบอลมหาวิทยาลัยขอนแก่น
ชมรมรักบี้ฟุตบอล จ. อุบลราชธานี
ทีมรักบี้ฟุตบอลนายเรืออากาศ ชุด B
ชมรมรักบี้มหาวิทยาลัยการกีฬาแห่งชาติ วิทยาเขตชัยภูมิ
The Brutal Elephant
Kokea Rugby Club
Surin Rugby Club
ชมรมรักบี้ฟุตบอล มหาวิทยาลัยอุบลราชธานี (Ubon Ratchathani University)

There are a number of popular tens rugby tournament in Thailand. You can see more about the Surin Super Rugby Tens on their FB page.
Date: 30 November – 1 December 2019
Venue: Surin, Thailand
More rugby tournaments in Thailand and SEA
---
Trending Now