Thailand Women's 7s Rugby "Have That Belief" Says Head Coach Lote Raikabula
Posted On October 26, 2022
---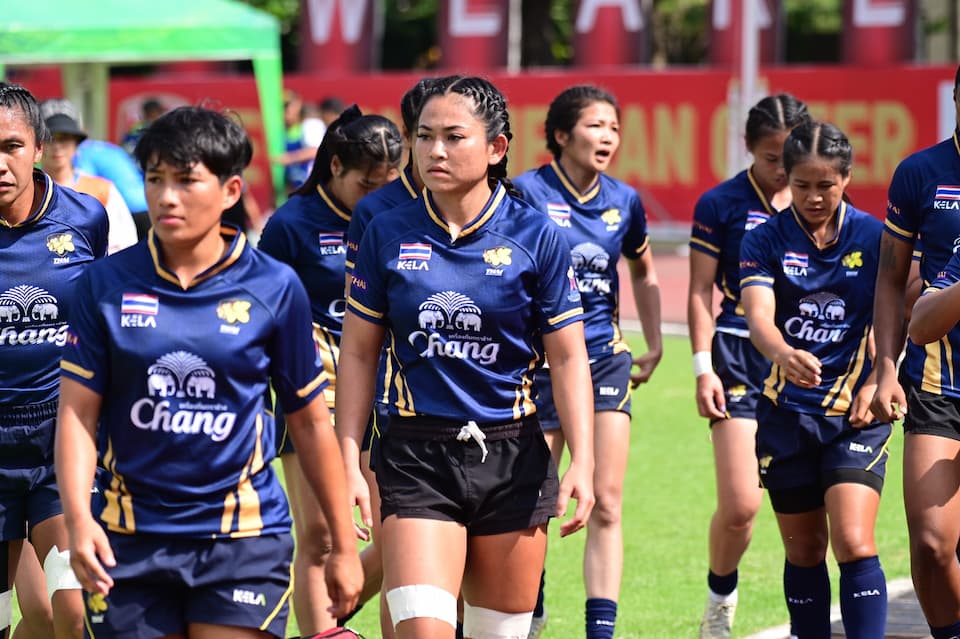 After the Thailand Women's 7s rugby team secured third place in Bangkok at the Asia Rugby Sevens Series 2022 this past weekend, the stadium's energy was electric and the fans were still making raucous noise when we caught up with a beaming Head Coach Lote Raikabula. 
The Thailand Rugby Union President joined senior TRU officials, the women's coaches and the playing squad off-field in a huddle in what seemed to be an impassioned meeting full of emotion – the women's team had knocked over Kazakhstan in the group stages, pushed Japan all the way, lost more heavily to (eventual Cup champions) China in the Cup semi-final, before and defeating Hong Kong 10-0 for third place.
For the past 12 months, coaches from all of the countries we spoke to had been voicing their concerns over the threat the Thai ladies were posing under their Head Coach Lote Raikabula, and that the top tier of Asian Women's 7s rugby was going to be fiercely competitive – the first leg of the ARSS 2022 proved that to be true.
Lote Raikabula –  Man on a Mission
The Fijian-born but former New Zealand rugby sevens player was hugely successful when on the field in his playing days. He participated in many HSBC World Series events and won a Rugby World Cup Sevens title as well as two Commonwealth Games gold medals.
As a coach, he previously was in Sri Lanka at Trinity College Kandy, one of the nation's powerhouse rugby schools but has been with the TRU for a few years now, as Head Coach of the Thailand Men's and Women's 7s Team along with being Director of Rugby for the union.
We asked Lote how much the win and results mean to him in Bangkok:
Lote: "It's just that belief that we can compete at the top level. The challenge for us is the competition and just to get game time and to compete in the Asie Series against the likes of China and Japan who are just back from the Rugby World Cup Sevens.
That's why it was quite emotional which you can see. Yesterday we just lost narrowly to Japan – so that belief is why I'm so stoked, and they (the players) believe we can do it and really fight."
And you beat a strong Kazakhstan team too, the results have been fantastic. All year I've heard these other coaches talk about Thailand as a threat and now the results have come to fruition. But the challenge now is to continue this in the next two rounds of the Series.
Lote: I think this tournament has taught the players a good lesson and I will use this weekend as a means of being grounded.
We saw after that good win over Kazakhstan, we played Japan and we were not switched on in that first half. We came back well in the second half, but that's sevens rugby – it was too late. So, we will use situations from this tournament as lessons to remain grounded.
The biggest positive for me moving into the second leg of the Series in Korea is that we can fight, we can really fight to compete.
It's awesome for women's rugby and for Asian rugby that we are in there spoiling the party, so it's good.
Thailand's Women's 7s Goals – ARSS 2022
Lote speaks with a smile, he coaches with one too. It's partially his Fijian way but underneath is a player and coach that is looking to win, and he is coaching the national teams in a country where he knows rugby is not widely popular.
"For us, that first game against Kazakhstan was huge. We have been preparing well but we targeted that match and for the Series to finish third here means we want to maintain the same level and finish top three in the Asia Rugby Sevens Series 2022" said Lote.
Lote: "The other goal was – well you can see behind us in the stands (he turned his head slightly to glance back and received loud cheers) – There are a lot of children and a lot of schoolkids and we want to grow the game!
I said to my coaching staff last night that with the way the girls played, they changed some of these girls' lives (who were watching). For them to see the way they play and believe that women can play like that. You know we don't have the same number of players (compared to the top teams) so I'm glad they played so well and now there are girls watching who will be thinking 'I want to try the game of rugby!"
And the atmosphere has been really amazing this weekend, especially when Thailand was playing. How much did the team manage to use that energy?
Lote: "Oh, definitely and we are so grateful that they turned up in the numbers they did. You know it's not a big rugby country but the fans really helped the girls.
Even in this match, we were up 10-0 (against Hong Kong) in the end but just before they were right there and could have scored against us and won the game.
"The fans had the girl's backs and definitely brought us over the line. So it means a lot."
Finally, what are the main takeaways you think the team needs to improve upon before the next two legs?
Lote: Lots of areas. One was the individual preparation to know whether they are switched on or not. The other one is our defence – you can see in that match against China they forgot about our system and were worrying about the opposition individuals too much. 
In attack, we can do more in the middle and try to tire out the defence rather than just go wide too early.
These are all areas we can work on in training but I'm glad that at a tournament like this, they can really see how tough it is and how important it is to be switched on.
Thailand Women's 7s Rugby Squad – Bangkok ARSS 2022
Uthumphon Liamrat

Thanatphon Wandee

Passorn Jangjood

Panphatsa Jaicharim

Jirawan Chutrakul

Rattanaporn Wittayayuth

Pannarai Chaimongkol

Thanapor Thanapor

Nantyapor

Wanree Meechok

Jeeraporn Phibunnanon

Raksina Nawakaew
Women's Final Standings – ARSS 2022 Bangkok – Leg 1
China
Japan
Thailand
Hong Kong
Kazakhstan
Malaysia
Philippines
The Asia Rugby Sevens Series second take takes place in Korea from 12-13 November, with the final leg in the UAE from 26-27 November 2022.
All of the results of all of the women's games from Bangkok can be found here.
There are thousands more photos from the weekend – please visit the Rugby Photo Thailand FB Group.
Asian Rugby Tournament News 2022-2023
---
Trending Now