Asia Rugby Sevens Series 2022 – Leg 1 Bangkok Preview
Posted On October 19, 2022
---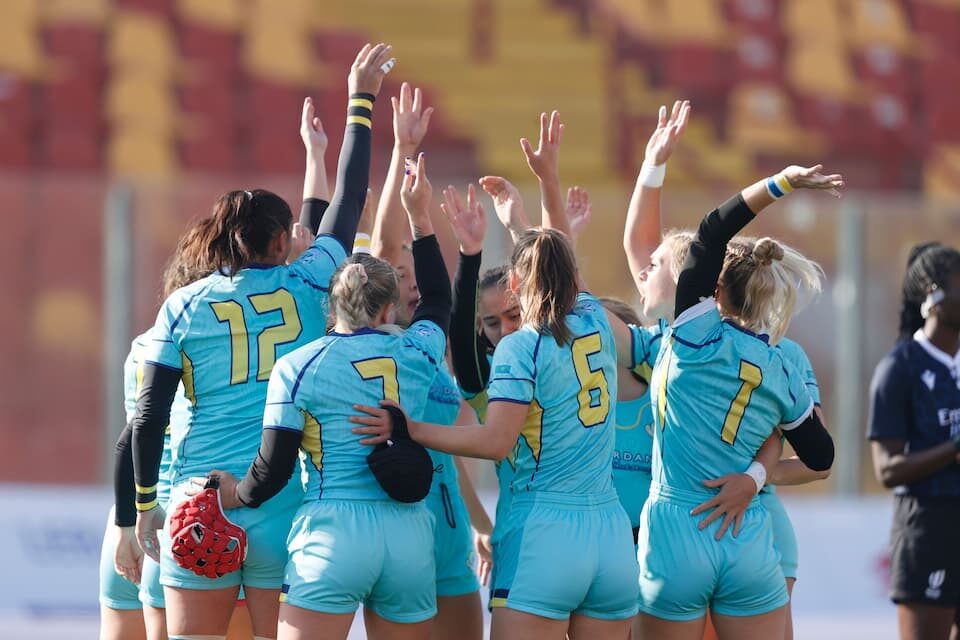 The Asia Rugby Sevens Series 2022 gets underway with the first leg being played in Bangkok, Thailand from October 22-23 with seven women's and men's teams involved. 
(Updated info, team news and match schedule – October 21 2022)
Asia Rugby said "Sri Lanka Rugby currently remains suspended. Consequently, neither the country's men's nor women's teams will be able to participate in the Series till the suspension has been lifted." There have been few updates on when the issue will be resolved by the governing body – but we have been informed the women and men's will be allowed to play the 2nd and 3rd legs,
Reports in Thai rugby media suggested the Thailand Rugby Union is hoping to host Rugby World Cup 7s in 2026 (unconfirmed in English) – World Rugby has also not made any announcements for a future RWC Sevens with a decision on the completion not likely until the end of 2023 they said in Cape Town.
The top two-placed teams in the women and men from the ARSS will head to the Challenger Series event next season. In the case of the men, this includes the Japanese Men, so if they finish in the top two it will be them + next top 2 teams.
Asia Rugby Sevens Series 2022 Teams & Pools – Leg 1 Bangkok
The pools for the Bangkok tournament were based on 2021 rankings but with only seven teams in each competition first leg, there will be byes for some groups.
Women ARSS 2022
Japan Sakura Women Rugby 7s
The Japanese women are also playing in the HSBC World Sevens Series this season after winning the Challenger event in Chile earlier in 2022. The women's series doesn't get underway until December 1-3 2022 at the Dubai Sevens followed by the Cape Town leg from 9-11 December 2022. This means the Sakura 7s will be playing five two-day sevens events over the course of eight weekends!
Sakura Women's Sevens Head Coach Takashi Suzuki told us at the RWC Sevens 2022 that he wants his hard-working squad to learn to have more fun when playing and to be able to maintain their concentration "so finding that balance and getting it right is important."
A number of players will be on debut said the JRFU, including Hanako Utsumi, Yuki Sue, Miho Matsunaga and Yasui Sayo – they will be hoping to be part of the team that will defend the Asia Rugby Sevens Series title for Sakura 7s.
Squad:
Hanako UTSUMI – YOKOHAMA TKM
Mei OHTANI – Rissho Univ./ARUKAS QUEEN KUMAGAYA
Marin KAJIKI – JSDF Physical Training School
Chiaki SAEGUSA – Hokkaido Barbarians Diana
Yuki SUE – MIE WOMEN'S RUGBY FOOTBALL CLUB PEARLS
Michiyo SUDA – Otemon Gakuin VENUS
Atecayumi BATIVAKALOLO – Nagato Blueangels
Wakaba HARA – Tokyo Sankyu Phoenix
Yume HIRANO – Nagato Blueangels
Miho MATSUNAGA – YOKOHAMA TKM
Sakura MIZUTANI – Tokyo Sankyu Phoenix
Sayo YASUI – MIE WOMEN'S RUGBY FOOTBALL CLUB PEARLS
Hong Kong, China and Kazakhstan are the chasing pack after Japan, and they all saw action in 2022 from events in Europe, the Challenger event, as well as the RWC Sevens 2022. However, there has been a long gap between matches for some of the squads with HK last playing at the Algarve Sevens.
Hong Kong Women Rugby 7s
HKRU Coach Iain Monaghan said "The girls are really excited and keen to see the hard work of a long pre-season come out on the pitch against the best teams in Asia. We have had a productive 12-week build-up and we want to see that hard work come out in the way we play."
Chloe Chan, Jess Eden and Chan Tsz-ching are also included alongside a trio of players on debut after impressing on the summer tour – Cherly So Yee-kei and 18-year-olds Julia Mba Oyana and Georgia Rivers.
Monaghan concluded, "We want to showcase ourselves as a young playing group on the series, and to play an exciting, competitive, and ruthless brand of rugby, and to put ourselves in a position where we can be playing in the final game for the trophy."
Hong Kong Women's Sevens Squad: (*first sevens cap)
Melody LI Nim-yan (Capt)

Natasha OLSON-THORNE (Capt)

NAM Ka-man

Stephanie CHAN Chor-ki

Chloe CHAN

CHAN Tsz-ching

CHONG Ka-yan

Jessica EDEN

POON Hoi-yan

Julia MBA OYANA*

Georgia RIVERS*

Cherly SO Yee-kei*
China Women Rugby 7s
China Sevens Rugby Women's Coach Osea Kolinisau regrets some wasted opportunities in Cape Town at the RWC Sevens 2022 and wants his team to be more clinical "It's about playing a lot of rugby and tournaments and fixing the little mistakes and not converting the opportunities. I don't think it's big changes but these mistakes we make and learn from can only come from playing live competitive games."
The Philippines (PRFU), Malaysia, and Thailand are probably in the next tier, with the Thais the strongest contender and at home will be keen to do well with former NZ Sevens star Lote Raikabula still coaching the team.
Philippines Women Rugby 7s
The
PRFU
Women's team will be led by 2019 SEA Games coaches Fetala'i Taua'a and Andy Brown. The Union said "Coaches Fitz Taua'a and Andy Brown have named experienced members SEA Games silver medalists Helena Indigne, Aiumi Ono and Rassiel Sales in the team as well as investing in youth, naming debutants Janie Puig and Bhea Estacia into their first tournament after a strong local season for the SKF Mavericks."
Thailand Women Rugby 7s
The Thai women's team have been preparing for the home leg of the ARSS by sending a squad to compete in a tournament in Osaka, Japan. They are looking to improve upon their 5th place in 2021 and the coaches in Japan and HK are wary of the threat the Thai team pose.
The side is coached by Lote Raikabula – the former NZ 7s player.
Squad
Uthumphon Liamrat

Thanatphon Wandee

Passorn Jangjood

Panphatsa Jaicharim

Jirawan Chutrakul

Rattanaporn Wittayayuth

Pannarai Chaimongkol

Thanapor Thanapor

Nantyapor

Wanree Meechok

Jeeraporn Phibunnanon

Raksina Nawakaew
Malaysia Women Rugby 7s
Malaysia spent the weekend of 8-9 October playing a number of training matches against Singapore women (winning 3, losing 3 and drawing 1).
Malaysia Rugby confirmed the women's team in the week leading up to the sevens (see image below).
Women – Pool A
Japan
Kazakhstan
Philippines
Thailand
Women – Pool B
Hong Kong
China
Malaysia
BYE
See the full list of women's fixtures on the AR website.
Men ARSS 2022
It's tough to call the top men's rugby sevens team in Asia with Hong Kong, China, South Korea, and Japan in the top bracket but Hong Kong are the defending champions.
Japan Men Rugby 7s
Japan men will face the same challenges as their female counterparts as they are in the HSBC World Series and will compete in a number of tournaments from November to December 2022 (six tournaments over 8 weekends!).
The Japanese men also have a new head coach at the helm in the form of Simon Amor. The JRFU says it's a new-look squad with Yoshiyuki Koga, Takamasa Maruo and Koki Yakushiji set to make their debut.
Squad:
Ryota Kano (Meiji Yasuda Holly's)

Yoshiyuki Koga (Micoh Blackrams Tokyo)

Shotaro Tsuoka (JRFU/Coca-Cola Bottlers Japan)

Kazuma Nakagawa (Yokohama Canon Eagles)

Yoshihiro Noguchi (Secom Rugguts)

Taisei Hayashi (JRFU)

Moeki Fukushi (Hino Red Dolphins)
Takamasa Maruo (Tamariva Club)
Ren Miyagami (Toshiba Brave Lupus)
Chikara Morita (Tsugu & Co.)
Koki Yakushiji (Yokohama Canon Eagles)
Taichi Yoshizawa (NTT Docomo Red Hurricanes Osaka)
Both Hong Kong and Japan actually compete at the opening round of the 2022-2023 HSBC World Sevens Series which gets underway in Hong Kong from 4-6 November 2022 in between the first and second legs of the Asia Rugby Sevens Series 2022.
Korea and HK will look to build on lessons learned from the RWC Sevens 2022 in Cape Town, while China also is looking to build a fresh chapter with new head coach Ollie Phillips and Dan Norton & Tom Biggs as his assistant coaches.
Hong Kong Men Rugby 7s
Experienced HKRU Men's Head Coach Paul John will want his side to reach new heights after some mixed results over the past year and will be aiming to win the ARSS 2022.
The HK men at boosted by the return of captain Max Woodward who missed the RWC Sevens 2022. In addition, Mak Kwai-chung is set to earn his first sevens cap in Thailand and he said "This is my first senior selection and it means a lot to me, it is a big boost for my confidence and keeps driving me forward,"
Hong Kong assistant coach Jevon Groves said of Mak's debut "We have made three changes from the Rugby World Cup including bringing in 'MK'. He has been training particularly well and his ability at wing, and now transitioning into halfback, gives us added depth. I'm really pleased for him to have this opportunity and for him to showcase his speed and agility."
Groves said of the weekend "We are looking for consistency of performance this week. We are going into a bit of an unknown as we haven't played an Asian opposition for nearly a year now and there is always a lot of change happening in Asia Rugby, so we just hope to get that consistency of performance we are looking for; control the things we can control and get our own things right."
Hong Kong Men's Sevens squad:  Max WOODWARD (Capt.), Seb BRIEN; Mike COVERDALE; Max DENMARK; Liam DOHERTY; Cado LEE Ka-To; Alex McQUEEN; Pierce MACKINLAY-WEST; MAK Kwai-chung*; Alessandro NARDONI; Harry SAYERS; Russ WEBB (*first sevens cap).
Korea Men Rugby 7s
Korea Head Coach Charlie Louw told us recently: "They say that coaches are results-oriented but I wasn't….If we try our best and we learn every match we are still winners – It's when we give up and don't try and don't fight – that's when we become losers. That's the mentality I wanted to get across to that younger generation of players who are going to be the group we take to the Asia Rugby Sevens Series."
Squad
Kim Nam-Huk  *Taken from KRU FB (apologies for any incorrect translations)
Kim Won Joo
Nam Yong Min
Park Wan-yong
Yusung-yong
Yoo Jae-hyuk
Lee Jubong
Jang Jung Min
Jang Hyun-gu
Chae Min Sung
Ha Soo Hoon
Han Geon-gyu
Hwang In-jo
The Philippines, UAE, and Malaysia are likely to feature in the second bracket of teams in the men's competition but anything is possible in sevens rugby.
Philippines Men Rugby 7s
The Philippines confirmed the Men's team will have a new Head Coach – Kiwi Darryl Suasua – the union has been using more overseas bases heritage players since COVID and set up open days in NZ, Australia and the UK to attract a wider playing pool.
Suasua is the former Counties Manukau coach in NZ and he previously coached the NZ Black Ferns, winning a RWC Sevens in 2002.
The Philippines men's SEA Games gold medalist Tommy Kalaw Gilbert Co-Captain the team with Kai Ledesma Stroem of the Manila Nomads.
Rafael Philipps will make his debut this weekend.
UAE Men Rugby 7s
The domestic season only recently got underway in the UAE but the sevens team are coached again by Apollo Perelini who has been with the Union for many years. In 2021 the team played historic sevens matches against Israel.
Malaysia Men Rugby 7s
The Malaysian Men most recently competed at the Commonwealth Games 2022 in Birmingham – see their announced squad for ARSS 2022 (see below).
Muhammad Kamal Hamidi

Mohammad Daim

Mohamad Shah Izwan

Suhaikal, Eddie Ariff

Wan Azley

Muhammad Suhairi Effendi

Muhammad Harith Iqbal

Muhammad Azizul Hakim

Muhammad Azwan Zuwairi

Al Malek Fadh

Amalul Hazim
Men – Pool A
Hong Kong
China
Philippines
United Arab Emirates
Men – Pool B
Japan
Malaysia
South Korea
BYE
See the full list of men's ARSS fixtures on the AR website.
The second and third legs of the ARSS 2022 take place in Korea (November 12-13), and in Ajman, UAE (November 26- 27) respectively.
Match Officials – Asia Rugby Sevens Series 2022
Singapore Rugby Union has a number of match officials involved in Bangkok even if their national teams are not involved.
The Match Official Manager (George Danapal), Citing Commissioners (Chris Galea & Azhar Yusof), and Match referees Darroch Chua, Leow Wei Liang, Christabelle Lim & Just Wang are all from the SRU.
Christabelle Lim Mee recently officiated in Tunisia as part of the Asia Rugby & Rugby Africa Match Officials exchange program.
Jefri Mustafa from Malaysia Rugby was also selected as a Referee for the Asia Rugby Sevens Series 2022, and Matt Rodden and Craig Chan were selected from the HKRU.
Where to Watch the Asia Rugby Sevens Series 2022?
Asia Rugby confined that all three Sevens tournaments will be streamed live on their Facebook page and YouTube channel.
The times shown are the local Bangkok Times.


Asian Rugby Sevens News
---
Trending Now