Ollie Phillips – High Ambitions for China Men's Rugby 7s
Posted On October 21, 2022
---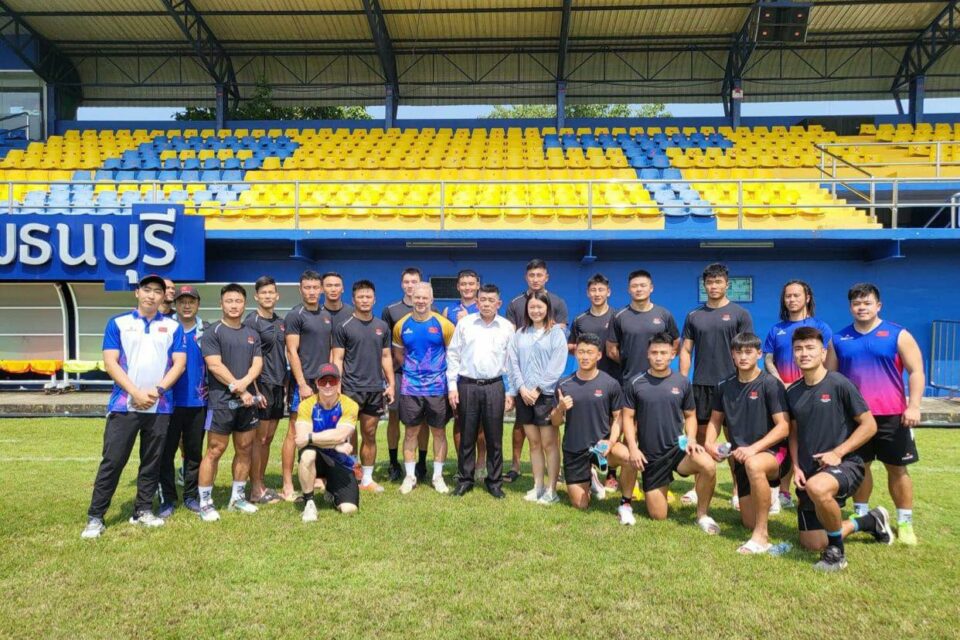 We spoke with new China Men's Rugby Sevens Head Coach Ollie Phillips as he was putting the side through their final preparations in Bangkok, the day before the key first leg of the Asia Rugby Sevens Series 2022.
(Feature Photo Credit  – NZESM)
The three-tournament series is important for the Asian sides as the top two teams will earn a crack at the Challenger Series in 2023, but it's also a milestone event in preparing for the Asian Games, Olympic Qualifiers, and possible HSBC World Series contention in 2023.
A number of the teams in Bangkok are fielding debutants on the field, but there are also new coaches this weekend and Ollie told us about the opportunities and learning curve his team have undergone.
Ollie Phillips on Coaching the China Rugby Sevens Team
Can you tell us how you landed the role with the China Rugby Football Association, as it was a bit of a surprise when it was announced earlier this year?
Ollie: Well the talk actually started in December last year (2021) as I was called to say China was interested in me taking over as head coach, and this was just before Christmas. Initially, we couldn't quite agree on an arrangement but in April of this year things were reignited and then things happened really quickly.
Within 6 weeks, the team was in the UK with us which was originally planned to be for two months but ended up being three months due to the COVID restrictions. The team played in the Super Series and some invitational sevens events and it moved on really quickly.
It's been enjoyable and I have been in China since August 27th but it's been a real whirlwind.
And you have a high-profile coaching team with you?
Ollie: Yes, I have Dan Norton as an Assistant Coach and Tom Biggs as the S&C (Strength and Conditioning) coach.*
I wanted to be able to bring an experienced S&C and Assistant coach with me and at the time I didn't know who they would be, and I was speaking with a few people. 
I caught up with Dan at the Seville and Malaga Sevens about what his plans were and the proposal grew arms and legs. He played in Vancouver and Singapore on the HSBC World Series and then joined us.
It's been a whirlwind for him too and transition into coaching and to do so in an entirely different language too! So it's been accelerated and quick but entertaining and interesting – and we are excited to be here in Bangkok.
*Dan Norton retired as a player in 2022 as the record holder for the most number of tries in the HSBC World Sevens Series. Tom is a former professional XVs player. Ollie himself is a former England 7s captain and World 7s Player of the Year!
What has surprised you with the setup at China Rugby – as they remain a bit of an enigma?
Ollie "So what's incredible is the infrastructure and facilities – they are extraordinary.  The facilities are some of the most incredible I have ever seen – it would dwarf anything in the UK Premiership in terms of what we have access to."
The players are all registered with their provinces and that's where the talent for the national team is drawn from. There is one major province – Shandong – that has a lot of talent but other areas like Beijing, Tianjin and others offer good players.
The biggest challenge we have now is the lack of competition, and with COVID, the players have had hardly any matches. And it's telling, as the only way you are going to get better at playing rugby – is by playing rugby and being in those competitive situations.
That is the challenge and we need to keep addressing it. In the time I have been in China, I have travelled to four provinces to see boys train – we picked a broader squad of 25 guys and we brought them in for a ten-day training camp. We then whittled that down to the 15 guys that are here with us in Bangkok.
There are things you could always have done differently in hindsight but so far I think we have a good squad, we want to put on a good show here and we have lofty ambitions. 
The key part is that it's the first step, but it's a big first step.
Importance of Asia Rugby Sevens Series 2022
And is a busy period as the Asia Rugby Sevens Series will take you to Korea and the UAE over 5 weeks.
Ollie: It's more rugby and travel than these guys have done in the last three years, and for some, in their lives – which raises challenges on and off the field.
We will be staying overseas for all of it as the ten-day quarantine if we went back to China after the events make it too obstructive.
How do you cope with that aspect – the cultural and language challenges?
Ollie: I have two awesome guys with us who are fluent in English and have a good knowledge of rugby which helps.
One guy was previously with Hong Kong Rugby Union and he is top quality with a coaching and analysis background too which really helps us. And we have a data analyst who is fluent in English and Chinese which is an enormous help.
But yes, sometimes things can still get lost in translation if you want to get a message across but that's part of my own development – to keep the messaging on point and concise. 
It's been great and from the personal and cultural development point of view – they have been major.
And the squad you have selected, what can you tell us about them?
Ollie: We have three debutants at least and there is a lot for these boys to learn but the only way we are going to teach them is to get them involved. 
With any professional sport, there is that careful balance of broadening and developing the squad strategically but you need to win, build favour, and momentum and that's off and on the field. But if it was easy, everyone would be doing it right (he says laughing).
Have you had much time to assess the opposition – you have Hong Kong, the Philippines, and UAE in your pool in Bangkok?
Ollie: Getting access to footage of the opposition is a challenge and HK is probably the easiest as they have been playing at events like the Rugby World Cup Sevens and Challenger Series. They will be the stiffest and most difficult opposition we will face. 
But I'm sure that the UAE will be in good shape under Apollo Perelini (former dual-code international and UAE Coach), and the Philippines will be a bit of an unknown entity – but to be honest, so are we.
We haven't played for a while but we need to understand the areas we can exploit and do what we are good at – I'm confident we can do well with a decent squad here.
We can't lose sight of the magnitude and importance of what we are doing – we have ambitions to be successful in qualifying for the Olympics and winning the Asian Games. In order for us to do that and be competitive, we need to have success here to build momentum and funding but also to open the gateway to compete in the Challenger Series (April/May 2023) and it could be a prelude to returning to the UK possibly for the Super Series in the middle of the year (June/July), then the Asian Games in September, and potentially Olympic qualification by November and World Series by the end of the year if we qualify.
The future landscape could look very different if by the end of the ARSS we are successful – and if we don't do well, the World Series and Challenger Series don't happen for us.
China Men are in Pool A in Bangkok – all of the matches will be streamed by Asia Rugby from 22-23 October 2022.
Rugby Tournament News
---
Trending Now