All Set For Rugby World Cup Sevens 2022 To Kick-Off
Posted On September 8, 2022
---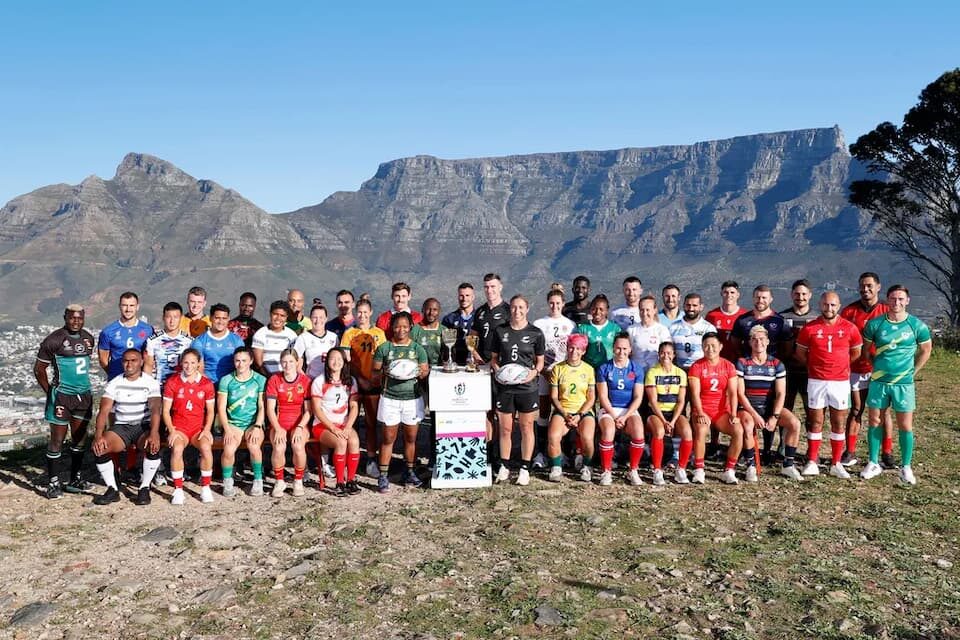 Are you ready for Rugby World Cup Sevens 2022 in Cape Town? All 40 sevens rugby teams are ready and the captains enjoyed a photo shoot with a terrific view from Table Mountain of the Cape Town Stadium for the event which will take place from 9-11 September in a unique knockout format which means every match is a must-win!
The 24 men's and 16 women's teams representing all six World Rugby regions will be competing. Asia, as we have been covering, is represented by the Korean and Hong Kong men as well as the Japanese Sakura and Chinese women.
World Rugby says that while Australian women and South African men are top seeds, New Zealand are reigning men's and women's world champions. However, if you add the recent HSBC World Series, Commonwealth Games, and Olympic Games in the mix, the field is wide open and there are bound to be some upsets with the knock-out format in play in the brutal and unpredictable game of sevens rugby.
Siviwe Soyizwapi, captain of South Africa men said: "To be double would champions [alongside South Africa Men XV] would be massive.  It would be great for the nation. We all know what rugby can do for our country. This our first home sevens rugby since 2019 here in Cape Town so as players and a team, the whole system is excited to run out there this weekend and represent our country.  We know how the crowd can get behind us and the fans will really make this tournament. As a team we are really excited."
150.000 Fans Expected for RWC Sevens 2022
The organisers are hoping for a record-breaking 150,000 fans to flock to Cape Town Stadium over the three-day event – Rugby Asia 247 is incredibly excited to be one of the few Asian media covering the tournament.
World Rugby Chairman Sir Bill Beaumont said: "Rugby World Cup in South Africa created one of the most iconic images the game has ever known.  Now for the first time since that unforgettable day in 1995, we are delighted to be staging another Rugby World Cup back in the rainbow nation as rugby sevens comes to Cape Town with 40 teams from all corners of the world in action.
This weekend players and supporters will create memories that once again shape our sport for years to come…. Played in a full, iconic stadium with a festive atmosphere, Rugby World Cup Sevens 2022 will be the perfect showcase for everything this vibrant sport has to offer."
Rugby World Cup Sevens 2022 Format
The 24-team men's competition kicks off the action on day one (Friday 9th September 2022) with a qualification round involving teams seeded from nine to 24. The winners of the qualification round will progress to the round of 16 where they will take on the top eight seeded teams, while the losers will go into the Bowl competition which will decide positions 17 to 24.
South Korea will take on Wales first with the winner of Match 6 taking on Fiji later on day one. Hong Kong will play Uruguay and the winner of that Match 7 will face Australia later in the day.
The 16-team women's tournament, which also kicks off on Friday, starting with a round of 16 knock-out matches based on seedings on the first day of competition.
China (Match 5 W0men) will take on Canada in their opening game, while Japan faces Fiji (Match 6 W0men) in a challenging match-up.
Sarah Hirini, captain of New Zealand women added: "I'm really excited as it is my first time here in Cape Town and for a Rugby World Cup too, it is a pretty cool place to play.  I know there are a lot of kiwi supporters in Cape Town so we're looking forward to the fans coming out and cheering us on.
With the knockout competition, it can be hard to look beyond the next game but we hope we'll do well.  When you come to a pinnacle event you want to go all the way, we've done that a few times and it was pretty special for New Zealand."
Where to Watch the RWC Sevens 2022
World Rugby offers a live stream which will be available on the match centre in the territories listed here.
Rugby World Cup Sevens 2022 News
---
Trending Now