Argentina Win London Sevens 2023 While Canada Retain Core Sevens Status
---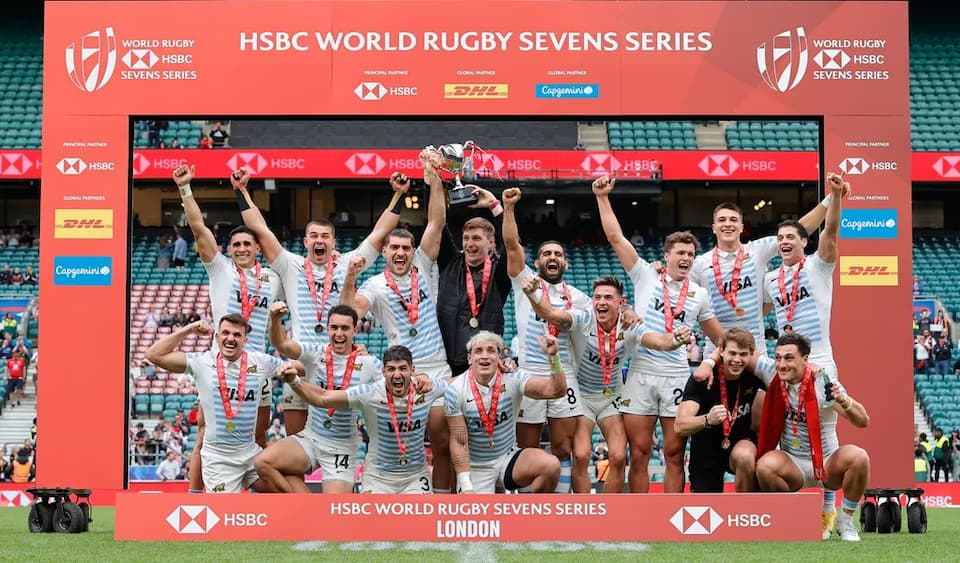 The three main outcomes from the past weekend's London Sevens 2023 were Argentina securing the title, Australia claiming the final automatic Olympics 2024 qualification spot, and Canada retaining a place in the HSBC World Sevens next season.
Feature Photo – Argentina celebrates the cup win on day two of the HSBC London Sevens at Twickenham Stadium on 21 May, 2023 in London, United Kingdom. Photo credit: Mike Lee – KLC fotos for World Rugby\
London Sevens 2023 Results
With NZ already wrapping up their 14th Series title as champions of HSBC World Rugby Sevens Series 2023 before the weekend's action, Argentina comfortably claimed second overall by winning in London (their third cup title of the season), putting away Fiji in the final 33-14.
The final result means Fiji also claimed series bronze overall as World Rugby said more than 75,000 fans packed the Twickenham Stadium over the weekend to see the close of the HSBC World Rugby Sevens Series 2023.
Samoa finally won an event bronze, they had not won a third-place final in their previous 10 attempts but did so by recovering from 14-0 down to the All Blacks Sevens to win 24-19.
Australia secured qualification for the Paris 2024 Olympic Games winning the seventh-place play-off against Great Britain to wrap up fifth place in the standings. "Today has been one of the biggest rollercoasters ever. We just got lucky by some miracle, had the chance to play for it there and there's been so much hard work gone into this time. We've never qualified automatically so it's a really big deal and [I'm] just so over the moon." said Australia captain Nick Malouf.
South Africa had another disappointing weekend to finish 7th overall in the Series and will need to qualify via the regional Olympic Qualification for Paris 2024.
You can see the final World Sevens series 2022-2023 here.
New Zealand
Argentina
Fiji
France
Australia
Samoa
South Africa
Ireland
Japan had already been relegated as a core team but again lost all their matches and ended up last in London:
Japan 12-43 Argentina
Japan 7-40 Ireland
Japan 7-54 Fiji
Japan 7-29 SA
Japan 12-28 Spain
Canada Win Promotion Playoffs – HSBC World Sevens Series
In the round-robin format which featured Tonga, Kenya, Uruguay and Canada, the North Americans did enough to confirm their core status for next season winning a tense decider 12-7 against Kenya at Twickenham.
Kenya had beaten the Canadians in pool play and ended above them in the standings. This means that Kenya, Uruguay, Tonga and Japan all fall into the Challenger Series next season.
Canada captain Phil Berna said, "It feels great, it feels like that's where we're supposed to be. We've been building towards this in the latter half of the season, and it all came together today. It was awesome."
All of the results from the London 7s can be seen here. The men's HSBC World Rugby Sevens Series 2023 Awards were also held in London after the Sevens and all of the winners were confirmed – Japan was awarded the Fair Play Award.
Sevens Rugby News 2023
---
Trending Now