Korea Men's Rugby Aspirations – Charlie Louw
Posted On September 27, 2022
---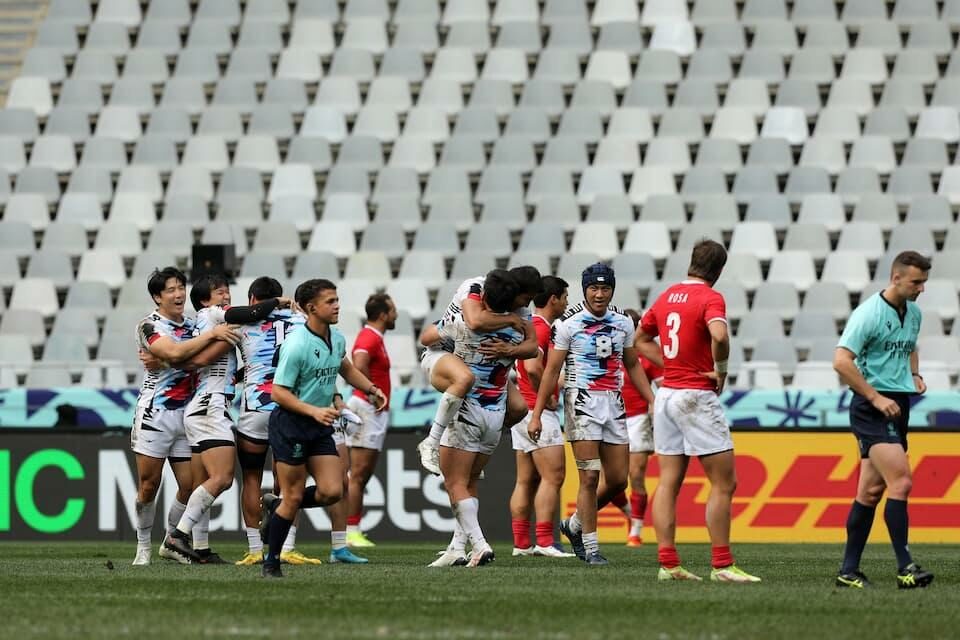 We spoke with South Korean men's XVs and Sevens Head Rugby Coach (as well as High-Performance Director / General Manager at the KRU) Charlie Louw following the RWC Sevens 2022 as he reflects on the team's learning experiences, aspirations and ongoing development.
South Korea struggled in Cape Town but finished on a high note by beating a tough opponent Portugal 12-10 to claim 21st place. The relief was there for the coach but those tangible "what ifs" thoughts were still fresh in his mind. Over the course of the weekend the team's results were:
South Korea

10-33

Wales

Korea

0-12

Uganda (Bowl QF)

Korea

21-19

Zimbabwe (Bowl 21/24 place)

Korea

12-10

Portugal (21/22nd place)
Read more from RWC Sevens 2022 with our recap of Day#1 and Day#2 and the final day.
Charlie: I think for us, that final game was a culmination of getting the players to understand what is required at a tournament like this. The level of play of all the teams was very very high, and teams worked exceptionally hard to get to the Rugby World Cup – there is no easy team at the tournament. 
For anyone to think there will be an easy game just because we are one of the top teams in Asia, forget it. This is a Rugby World Cup and every game is tough – if you don't do the basics and execute them really well you are in trouble.
Leading into the tournament you talked about the need to be clinical and the small margins and small mistakes cost you games. How do you feel overall with two wins and two losses – there were opportunities in the games the team lost?
Charlie: It's a good result but as a coach, well I'm happy for the players and the team and from a supporter's point of view that we have delivered for them and the country. But as a coach, one of the guys said to me "Are you never happy" (laughing) – I am always striving for the guys and the team to get better so I have these small goals I set for the players and team, and we reach those, I am already thinking what is next as I want to move the team on –  I don't want us to stay in one place. 
In some respects, I'm never happy as I want to keep getting better and I want the team to keep getting better.
But that filters through to the players and the mindset is important.
Charlie: Yes, the mindset is "well what's next?" We have finished this tournament and we did great, let's relax and appreciate what we have accomplished. When we come back again what is our target – well top 8? The format the way it is now, we are in the bottom 8, so we should target the middle 8, and then the top 8.
We have to set ourselves goals and we have to be realistic about how we will achieve those.
But there is not that much time to relax as you have the Asia Rugby Sevens Series starting on October 22 in Thailand. What will you and the players take away from this as you will again face a group of top-tier teams across the three legs of the ARSS?
Charlie: Yes that's correct and I think one of the key things we will take away is how important the basics are and how important it is that we stay switched on and implement those in the games. 
Another aspect is how to shut the game out – against Uganda for example, we had two scoring opportunities – it was a close game and we put ourselves in a winning position but we threw it away. 
So yeah, how to shut a game down, and how to control the clock. We had a scoring opportunity five metres from their try line and they were down to six players – our players were not thinking – they were tired and fatigued – so the brain switched off. But I changed their setup and created the space for the player to see the opportunity, but he didn't see it (sounding exasperated but laughing) there was a gap of about 30 metres!
Absolute coach-killers as they say, I remember seeing that space and being frustrated from the sidelines.
Charlie: Yes and from there we gave away a penalty and about 4-5 penalties in total and then a yellow card. But when we had the yellow card and we were a man down, that was nearly my happiest moment of that game – we needed to shut the game down and we had to show our smarts and that was real satisfaction as it was implementing a process we had practised.
Just tell us about the preparation and the choice to send a B team to the Challenger Series in Chile, while this core squad prepared in the USA for the RWC Sevens. Did you feel like it was a good decision in hindsight?
Charlie: Yes, an unbelievable decision. Korea does not have a great (sizewise) pool of players to choose from and the players we do have, we have to educate them. The Challenger Series was an opportunity to send a young group of players to experience playing at that level. I was not so concerned with the results at all. 
They say that coaches are results-oriented but I wasn't. If we can go there and with everything that we do, and we try our best, well then we win. If we try our best and we learn every match we are still winners – It's when we give up and don't try and don't fight – that's when we become losers. That's the mentality I wanted to get across to that younger generation of players who are going to be the group we take to the Asia Rugby Sevens Series. 
Out of this group we had at RWC Sevens 2022 there are some players who are retiring so we needed to start identifying players and giving them opportunities to play at that level so they know what is required. 
That's the key thing – if a player doesn't know what is required then they will never learn, and when they do learn it's too late. So the whole idea is to get them learning early and from there keep developing them and letting the team grow and everyone understand what is required of them.
I think we have seen growth even at the tournament in Cape Town.
Charlie: To be honest, I was disappointed with the Wales match, not because we lost but because of the way we played – we could have done better. And the reason was, we had practised certain things and they were not implemented. 
In the Uganda game – the guys were trying too hard when we just needed to do the basics. And once we created the opportunities we didn't finish them. 
With the final day games we also didn't clinically execute but credit to the guys, they defended exceptionally well and stopped a couple of tries. 
But it's a constant step up and if players can go away and have learned and developed what is required – then I am happy.
The Asia Rugby Sevens Series will take place in Bangkok (Oct 22-23 2022), Korea (Nov 12-13 2022), and in Dubai (Nov 26-27 2022).
Asian Rugby News 2022
---
Trending Now