Asia Rugby Sevens Series 2022 – Leg 3 Al Ain Preview
Posted On November 24, 2022
---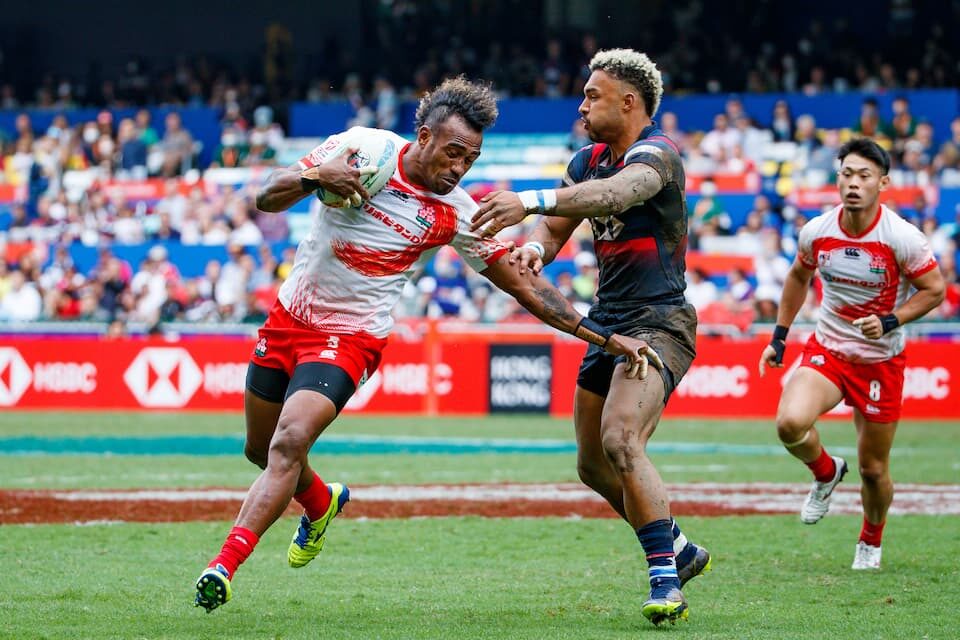 The Asia Rugby Sevens Series 2022 comes to a conclusion this weekend as the final leg takes place at the Al Ain Equestrian, Shooting and Golf Club in the UAE from 26-27 November 2022. 
The women's and eight men's teams by en large have had to travel some distance to reach the UAE this week for the final leg and all will be chasing the maximum points to claim their highest position on the Series log, with the winner of each leg earning 12 points, second place gaining 10 points and third place 8 points.
With Hong Kong having won both men's events, they are in clear pole position but the pack chasing them all have their own aspirations to try and finish in the top two and earn a spot at the Challenger event to compete for an HSBC World Series core spot in 2023.
Jake Letts from the Philippines Rugby Football Union told us "The series this year has been a challenge for us, in a post-COVID environment our national programs have had a number of challenges to overcome.
Results-wise we knew Leg 1 was always going to be the toughest, we expected an improvement in Leg 2 which we saw across both the men's and women's. A 3rd-place finish for the men was a big result for us Leg 2 in Korea, especially getting over Japan for the first time in our history.
Leg 3 is going to be even more competitive, the women once again having an opportunity to take on the likes of China and compete against our SEA rivals Thailand. Followed by what should be a closer match-up against Sri Lanka."
The Sri Lanka men will again be participating under the National Olympic committee banner while it appears their women's team will not be playing in Al Ain.
Otherwise, in the Women's section, it's more open at the top but Japan and China remain clear favourites, both having won one leg each and finished second in the other.
Thailand with two third places and then Kazakhstan trail them in the standings but there could be upsets as Japan and China also participate in the Emirates Dubai Sevens the following weekend and their squads are being managed.
*We were told at the start of this Asia Rugby Sevens Series that no team would be relegated but the top two from the men and women would earn a place at the Challenger Series event in 2023.
If more squads are confirmed we will update this article.
Asia Rugby Sevens Series 2022 Teams & Pools – Leg 3 Al Ain
Women ARSS 2022 Pool A – Leg 3 Al Ain
You can see the full match schedule and pools for the women here.
Japan
Hong Kong
Kazakhstan
Malaysia
Japan will be aiming to win the Series in Al Ain, but they also need to send their best possible team to the Emirates Dubai Sevens the following weekend and then to Cape Town the weekend after for the HSBC World Sevens Series. Their main opponents, the Chinese women are in a similar position though as they are also playing the Dubai Sevens as the Women's Invitational team.
Japan coach Takashi Suzuki has only kept two players from Incheon and Rugby Asie reports that of the eleven new players, four are university students.
Perhaps it's a chance for the likes of Thailand and the Kazakh Nomads to strike?
Nurlan Balbarakov from the Kazakhstan Nomads told us "We didn't win either of the first two legs and we know it will be difficult to match last season's third place.
But we are building towards the future as the Asian Games is held in China in 2023 and this is the start of our preparation as we have brought many U18 and U20 women to these three legs so they can earn good experience at the international level.
This is a very different team to the one we took to the Amsterdam and Algarve Sevens earlier this year (that did very well) but we have lost many key and experienced players due to injury. So we have built squad depth and have more competition for places in the squad moving forward.
We won't stop trying and I'm keen to see how these new players perform". He confirmed that as many as 85% of the players are from the U18 and U20 age grades and is confident this Series will help the team in the long term."
The HK Women's Head Coach, Iain Monaghan, has made just one change with debutant Sabay Lynam replacing  Cherly So Yee-kei. Stalwart sMel Li and Natasha Olson-Thorne are once again co-captains.
Japan Women Sevens Rugby 2022 – Al Ain
Mikasa Isogai (Nagato Blue Angels), Tomomi Kozasa (Nanairo Prism Fukuoka), Miyu Shirako (Nanairo Prism Fukuoka), Natsumi Takahashi (Nippon Sport Science Univ.), Yukino Tsujisaki (Nagato Blue Angels), Hana Nagata (Nippon Sport Science Univ.), Miho Matsunaga (Yokohama TKM), Sakura Mizutani (Tokyo Sankyu Phoenix), Kana Murokoshi (Otemon Gakuin Univ.), Sakurako Yazaki (Yokogawa Musashino Artemi-Stars), Sayo Yasui (Mie Pearls), Mayu Yoshino (Nippon Sport Science Univ.)
Hong Kong Women Sevens Rugby 2022 – Al Ain
Mel Li, Natasha Olson-Thorne, Sabay Lynam, Georgia Rivers, Julia Mba Oyana, Nam Ka-man, Jessica Eden, Jessica Ho Wai-on, Chan Tsz-ching, Vivian Poon Hoi-yan, Chloe Chan, Au Yeung Sin-yi, Shanna Forrest, Melody Li in.
Malaysia Women Sevens Rugby 2022 – Al Ain
Women ARSS 2022 Pool B – Leg 3 Al Ain
China
Thailand
Philippines
Sri Lanka (Not Participating)*
Jake Letts, again from the PRFU, said of the Philippines women "The women's program is improving with each game, this weekend the girls will have another opportunity to play top-level teams in Asia to see how best we can compete. Coach Taua'a and Brown have been preparing the girls all week for what looks to be another competitive weekend".
As mentioned, the China ladies, although they are chasing the title in Al Ain also have their minds on the Emirates Dubai Sevens the weekend afterwards.
Thailand remains the dark horse having secured consecutive third places and could be upsetting the top two if they are not fully focused on this weekend's sevens.
*According to media reports from Sri Lanka, their women will not be participating in Al Ain even though Asia Rugby has included them on the schedule. The Papare.com reported, "sources report that lack of finances has also contributed to the decision of only fielding the Men's team, Earlier this week head coach of the women's outfit, Saliya Kumar also tendered his resignation sighting personal reason."
Philippines Women Sevens Rugby 2022 – Al Ain
Asia Rugby Sevens Series 2022 – Leg 3 Al Ain Men's Sevens
Men's ARSS 2022 Pool A – Leg 3 Al Ain
You can see the full match schedule and pools for the men here.
Hong Kong
China
Malaysia
Sri Lanka
Hong Kong has been dominant, but the unfortunate national anthem debacle in Korea (which is no fault of the HKRU) has been a massive distraction and perhaps placed unnecessary attention on the players and management.
The HK Men will be looking to be razor-focused and achieve a clean sweep of the Series and have brought back powerhouse Max Denmar to the squad, while senior debuts are handed to Pat Joe Laidler and Juan Mba Oyana (his sister Julia is a member of the HK women's team). Fong Kit-fung and Eric Kwok Pak-nga also return to the squad in the UAE.
Hong Kong coach Jevon Groves told the SCMP "We know that all of the teams will be the best version of themselves this weekend, having been together and been training and playing together across the series. The challenge for us is to avoid complacency, remember the hard work that got us to this position, and to go out and find a complete performance where we control games from minute one to minute 14. I don't think that we have done that yet this series, so that is the goal."
The China men have been inconsistent but finished well in Korea and the coaches will be hoping the two legs thus far and the time spent together by the squad will pay off in the UAE.
Sri Lanka was impressive in their outing in Incheon, and Head Coach Nilfer Ibrahim told the Daily FT, "We started soon after the Korean leg and each day we trained twice with a lot of hard work put in and we want to reduce our errors. We mainly concentrated on re-start and safe collection of the balls and I am very confident about the team. We want to end the tournament on a high note, we are targeting to play in the final. Our defence is also good, safe keeping of the ball and attack will be the priority."
Malaysia will be looking for a better weekend results-wise in this final leg and try to rack up some wins and improved performances.
Hong Kong Men Sevens Rugby 2022 – Al Ain
Sri Lanka Men Sevens Rugby 2022 – Al Ain
(Subject to Ministry approval) –  Srinath Sooriyabandara, Tarinda Ratwatte, Kavindu Perera, Nigel Ratwatte, Mithun Hapugoda, Adeesha Weeratunga, Akash Madushanka, Chathura Senevirathne, Anjula Hettiarachchi, Darshana Dabare, Sudaraka Dikkumbura, Dinupa Senevirathne.
Malaysia Men Sevens Rugby 2022 – Al Ain
Men's ARSS 2022 Pool B – Leg 3 Al Ain
South Korea
UAE
Japan
Philippines
South Korea prepared for this weekend by playing a match against the Uzbekistan national team and conducting joint training with them. They were understandably disappointed by not winning at home in Leg 2 but have everything to fight for as the Japanese were by all accounts a failure in Incheon.
The Japanese men have the same issues facing them as the Sakura 7s (two more consecutive weekends of HSBC World Rugby Sevens ahead), and Simon Amor has made eight changes from the team that finished in 7th place at Korea 7s 2022.
The UAE at home will be relying on home support, but the team has already achieved amazing results this Series, with some best-Leg finishes and beating teams considered higher ranked.
Japan Men Sevens Rugby 2022 – Al Ain
Yuki Ishii (Urayasu), Yu Okudaira (Sagamihara), Yu Kurihara (Samurai 7s), Yoshiyuki Koga (BR Tokyo), Taiyo Sugino (Kyushu Kyoritsu Univ.), Timo Sufia (Hokkaido Barbarians), Kameli Soejima (JRFU), Shotaro Tsuoka (JRFU), Kazuma Nakagawa (Yokohama), Yoshihiro Noguchi (Secom Rugguts), Taisei Hayashi (JRFU), Moeki Fukushi (Hino), Takamasa Maruo (Tamariva Club), Koki Yakushiji (Yokohama)
Philippines Women Sevens Rugby 2022 – Al Ain
South Korea Men Sevens Rugby 2022 – Al Ain
Where to Watch the Asia Rugby Sevens Series Leg #3 Al Ain, UAE
Asia Rugby is streaming all of the action on YouTube and Facebook channels
Asia Rugby News
---
Trending Now