Best Asian Rugby Podcasts and Web Series
---
With all of the negativity around COVID-19, and the obvious disappointment in how sports and rugby in particular for us have been derailed, one of the shining lights has been the positive response and ingenuity from the Asian rugby community. One of the means in which Asian rugby has rallied is through a raft of new podcasts, web series and Instagram Live Series to promote and discuss the game in Asia.
We look at some of the best free Asian rugby podcasts and web series available. (You can also read our recent article on how Asian rugby has been reacting to COVID-19).
(Feature Photo Credit: Cambodia Tens)
Asia Rugby Live
Asia Rugby launched their Asia Rugby Live Web Series on April 29th and have hosted weekly episodes every Monday since then.  We think its a great initiative and as the organisation which controls rugby on the continent, they have access to a huge list of potential guests.
Its also to their credit they have tried to address a range of issues on the episodes thus far and hopefully the quality of the debate and technical aspects will only improve.
But there is some criticism of the Asia Rugby Live series too.
Rod Syed Latif as the host is adequate, he is passionate about the game, but his ability to steer the session to anything above scratching the surface is absent and as the show is organised by Asia Rugby, and all its guests thus far are involved with the organisation- there is little to no criticism of Asia Rugby. Rod also appears unlikely to ask any tough questions, which means the actual content of the shows doesn't offer much new information.
Let's hope the Series continues, and issue like technical problems and the guests are more varied some real debate and more insightful conversations can take place. Of course, they don't need to, if Asia Rugby wants to only use this as an opportunity to promote itself, which it has every right to do.
Thus far we have heard from the following guests:
Episode 1: Asia Rugby President Mr. Qais Al Dhalai
Episode 2: Asia Rugby Development Staff: Benjamin Van Rooyen, Ghaith Jalajel & Anatoliy Shirov
Episode 3: Asia Unstoppable Women: Nahid Biyarjomandi (Iran), Sweta Shahi (India) &
Norfarahana Aziz (Malaysia) and Rugby Indian Women's Captain Vahbiz Bharucha.
Episode 4: Women leaders of Rugby In Asia: Doris Chow (Hong Kong Rugby Union), Karina Soerjanatamiharja?? (Rugby Indonesia), Viengsamai Souksavanh (Lao Rugby Federation), & Rasika Warakagoda (Sri Lanka Rugby Official) This episode is due to be aired on 18th May 2020.
HKRU
Kelly Brown
The Hong Kong Rugby Union is hosting a Zoom session with former Scotland and Saracens player, Kelly Brown on Thursday 11th June. The show will be hosted by Robbie McRobbie and John Bruce but spaces are limited and you should contact the organisers to reserve a space.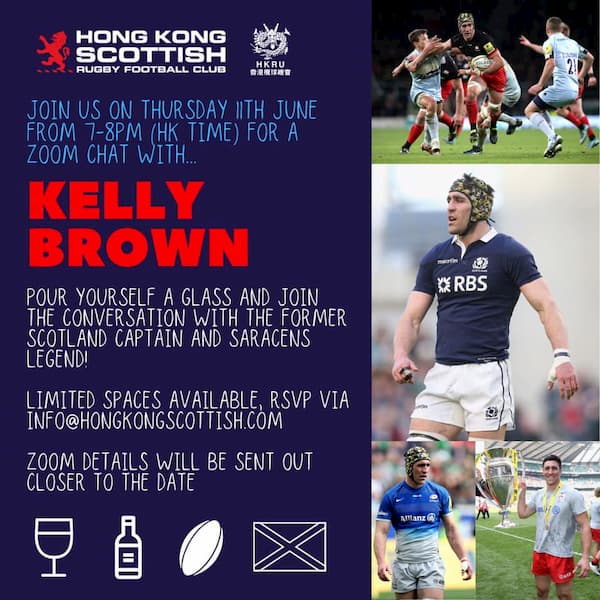 STATSports Webinar – Jordan Cassidy – Hong Kong Rugby
You can listen to Jordan Cassidy of the HKRU talk on Episode 4 of the STATSports webinar for free about the HKRU Elite Rugby Programme and more.
Malaysia Rugby – Instagram Live Sessions
Malaysia Rugby Union has been hosting Instagram sessions and the host is the same as the Asia Rugby Series, Syed Mohd Latif Syed Abdul Rahman (Rod. ).
On the 16th May 2020, they chatted to Malaysia Rugby head coach,  and former All Black, Brad Mika. Other guests have included their 7s Head Coach and national team players.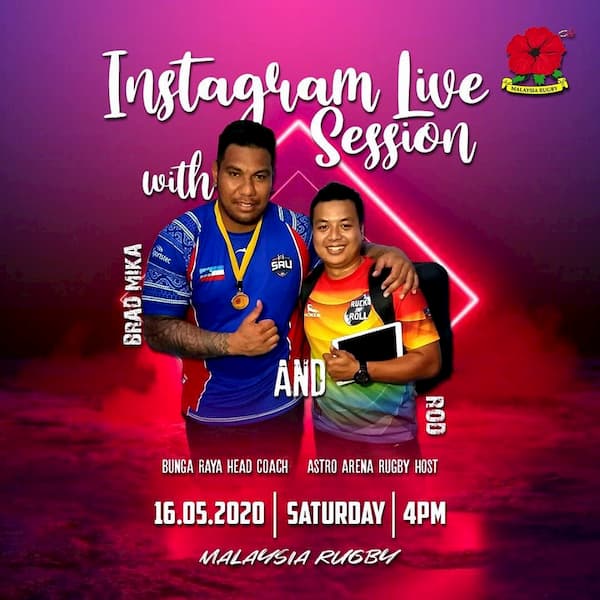 Rugby India – Instagram 360 Series
Rugby India started its Instagram Live Series on April 20th 2020 and they have had a great selection of Indian rugby and international guests on the show. Some of the guests have included Naas Botha (the former Springbok who coached the national Indian rugby teams in 2019) and Brett Gosper (World Rugby CEO).
Women in Sports (WINS): Vahbiz Bharucha & Stacey Waaka
Women In Sports aims to create social transformation through sports and "provide technical expertise and creating a platform to increase the standard and improve the performance of women in sports nationally & internationally."
On the 9th May, Stacey Waaka (NZ national rugby player) was Live In Conversation with Vahbiz Bharucha, the Indian women's national rugby team captain.
International Touch – Set of 6
The Federation of International Touch (FIT) – Set of 6 also started hosting weekly shows during the COVID-19 pandemic and there is an episode with a focus on touch in China. The show's guests include Jordan Zhu and April Jiang from China. who discuss touch domestically in China and throughout Asia.
International Virtual Rugby Football Club (IVRFC)
The International Virtual Rugby Club hosted an evening with Jedi, Byron Kelleher and Stephen Bachop in May 2020. The host, Jedi Thian is the creator of The Alternative Rugby Commentary and a well-known voice in Asian rugby.
What is IVRFC?
The IVRFC (International Virtual Rugby Football Club) says its "mission is to bring together, rugby players, ex-players, supporters, coaches, managers, referees and whoever enjoys a bit of banter together from around the world in this difficult time."
You need to request to join the group on Facebook.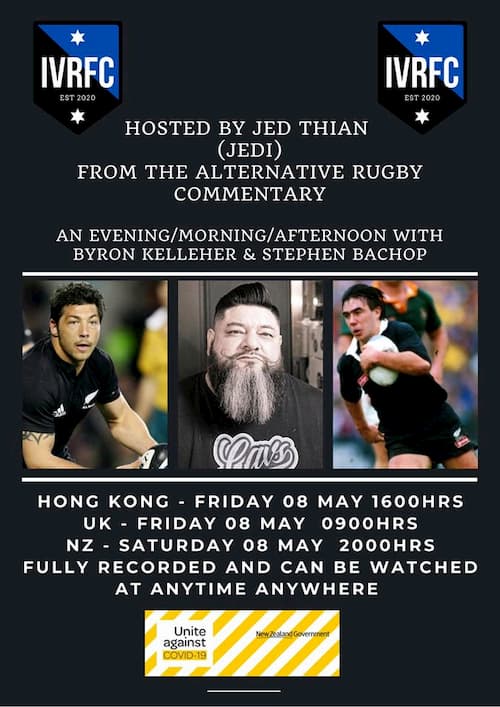 World Rugby Shows
There are a number of free shows being offered by World Rugby. These include:
Between The Lines: Hosted by Sean Maloney with guests Tom Shanklin and David Flatman.
The Feed: The weekly rugby show is hosted by pinup rugby analyst Squidge Rugby who reached some fame during the RWC 2019.
Rugby Podcasts
There are a number of other well known international rugby podcasts. Some of our favourites include:
Let us know if there are you feel should be added, especially from around Asia. Please get in touch.
Rugby in Asia
---
Trending Now