Steven Rodaway: Singapore Sevens GM
---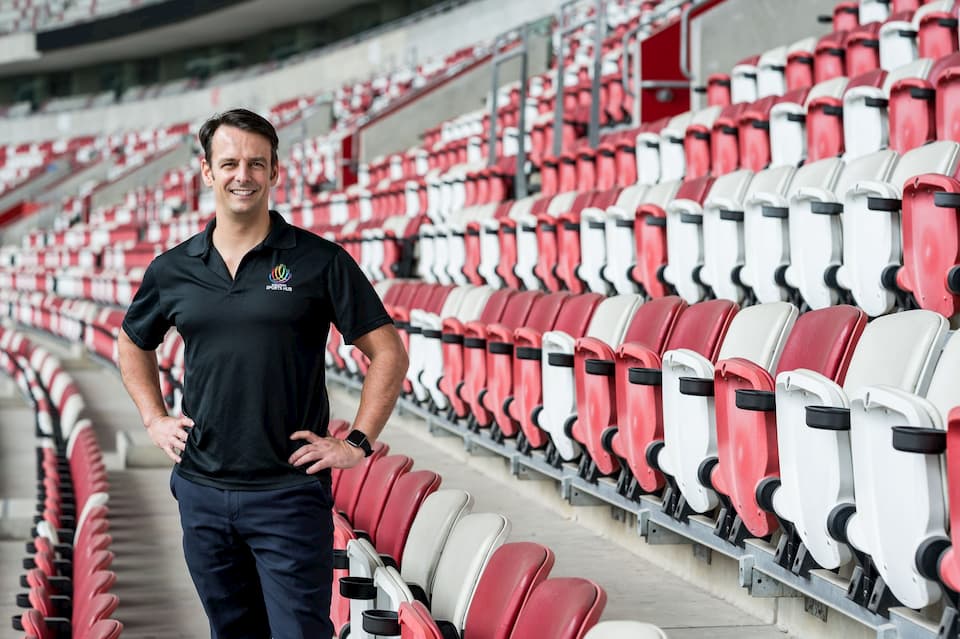 Earlier in 2020, Steven Rodaway was appointed as the new General Manager (GM) of the Singapore Sevens Rugby. With COVID-19 displacing rugby plans and forcing the postponement of the World Rugby Sevens Rugby calendar, Steven has had a challenging start to his role, to say the least.
We caught up with Steven as plans for the HSBC Singapore Sevens 2020 continue for the new dates of October 10-11, and what his main goals are in his role, and for the international sporting event.
Photo Feature Credit: Singapore Sports Hub
Steven Rodaway background
With over ten years of experience working as a strategic operations specialist, and having helmed key positions in major international sporting events across the world, such as at the London Olympics 2012 and the Rugby World Cup England 2015, he is used to challenges.
Steven also held a key role at the 2017 Asian Indoor and Martial Arts Games, which was the first major multi-sport event to be held in Turkmenistan and in 2019 at the Japan  Rugby World Cup,  Steven was the Tournament Services Director, where he oversaw the full range of tournament services.
In addition to his global events and sports experience, Rodaway comes from a background of working in the British Army, leading various operations and training roles throughout his decade of service in the military. These key roles have helped Steven develop strong leadership skills having had to lead thousands of men and women during various training exercises both in the UK and training sites worldwide.
Singapore Sevens GM
You were appointed as GM of the Singapore Sevens earlier this year (2020). It is not your first rodeo in Asia, so what are you excited about for this role and what unique challenges would you say Singapore and Asia have compared to other regions?
I am excited by the appointment and to be able to be a part of the Singapore Sevens team. Rugby is a fantastic sport and I am looking forward to having the opportunity to expand the game here in Asia and especially in Singapore. I would like to one day see Singapore become a rugby hub. 
Rugby has a lot to offer people, even when you are not competing at a professional level. The sport offers you values such as teamwork, integrity, respect, discipline, and most of all passion. These are values I wholeheartedly support, and values I want to promote. I think these are important attributes in any community. 
That is why I am excited about being a part of such a world-class event like the Singapore Sevens. There is a real interest in the game, and I am hoping to use my role to be able to expand the sport to the wider community.
The biggest challenge in Singapore and Asia is that they are not traditional rugby nations. It can be viewed as a complex game if you did not grow up playing and watching the sport. I believe it is about trying to introduce the game to those who are not necessarily your traditional rugby fan or haven't grown up playing the sport and showing them what a great fun game it is. 
How do you think your background and experience will help in this role?
Having worked on some of the largest sporting events in the world, namely the London Olympics in 2012 and the past two Rugby World Cups, I understand the make-up of a successful major event. 
For these events, I was managing numerous elements of the project – from being part of the international bodies themselves to the actual organisation of the event from start to finish. Due to the large-scale nature of these events, there were always challenges along the way that had to be managed for the event to run smoothly.
As the appointed Tournament Services Director at last year's Rugby World Cup (Japan RWC 2019), I oversaw the full range of tournament services. Holding a major event in a country where English was not the language of its citizens was indeed a challenge. It was crucial therefore to put proper systems in place, especially with vendors so that there were fewer hiccups along the way. While there is not that same issue here in staging the Singapore Sevens, I believe strongly in having proper systems in place.
I can bring all that experience to my role at the Singapore Sevens. I am confident I will be able to bring in fresh new ideas on how we can promote the Singapore Sevens and rugby in Asia and how we can work better hand-in-hand with our partners and stakeholders. 
HSBC World Rugby Sevens Series
Singapore has the rights to host a leg of the Sevens World Series until 2023. Do you have specific criteria to meet and how optimistic are you that the contract will be extended beyond 2023?
Like any other organisation, we do have KPIs set in place, of which some are challenging. We are in a positive situation where we have the rights to host the Singapore Sevens for the next four editions, which allows us to build strong foundations and constantly improve as we go along. 
We have a wider plan for the next four editions of the series, and we will address the set KPIs a year at a time. I believe if we can continually execute a great event and meet the expectations of stakeholders, Singapore will be seen as a viable prospect to host future legs of the Sevens World Series.

The Singapore 7s will now potentially be the penultimate leg of the Men's series this season. That adds an extra element of excitement to the HSBC Singapore Rugby 7s, which has had a fair amount of upset results in recent years. Can you tell us a little about what is planned for the event in October?
We are looking to stage a Singapore style world-class event come 10 and 11 October 2020. There is going to be entertainment for all audiences – from world-class rugby, to live music and fun-filled family activities – we plan to deliver a party atmosphere giving attendees an all-round good time over the Singapore Sevens weekend. 
Right now, everyone is at home and we hope once the situation improves, people will want to head out and be a part of the Singapore Sevens and thoroughly enjoy themselves. 
How much do you look at what the other World Sevens legs do? With only two Asian legs, Singapore prides itself as a family-focused edition of the World Sevens Series, will that remain the core focus?
Every leg of the Sevens World Series is different and has a unique focus depending on its customer base. The Singapore Sevens is known as the Family Sevens, with its wide range of fun-filled activities for kids as well as for parents. It is great because rugby is a family event. I witnessed it first-hand in Japan at the Rugby World Cup where you see families packed in the stadium and even little kids with headphones on!
The 2020 Singapore Sevens we are planning will be quite a party. While there is a family focus, we want it to be good fun for all attendees, whether you are looking to have a good time with your mates or love attending top-notch sporting events!
The crowd attending the Sevens in Singapore has a strong expatriate element. What plans are there to appeal to more local Singaporeans?
The event has attracted a strong expatriate crowd because they grew up with the game and are currently still involved with the sport in one way or another. However, over the years, we have established strong support from the local crowd, and they are crucial to the event and growing the game in Singapore. 
I believe strongly that once someone comes to the Singapore Sevens and witnesses the fast-paced, adrenaline-pumping action on the pitch, coupled with all the activities on offer throughout the weekend off the pitch, they will be hooked and want to come back again. 
I also believe it is important to build and promote the sport at all levels, especially at a school level. We are working closely with the Singapore Rugby Union on this and we hope we can do more in the local community.
For instance, with our Singapore Sevens Adopt-A-Country program, schools get to adopt a playing nation where they research the country and design a unique item that will be displayed during the week of the tournament.
They will also be provided tickets to attend the event and this, I believe, will go a long way in developing their love for rugby and provides an avenue for them to start playing the sport on a recreational or competitive level. 
The tournament involves a lot of stakeholders; the Singapore Sports Hub, the Singapore Rugby Union, HSBC, and World Rugby, etc. How would you explain those relationships and what aims are in place to promote rugby in Singapore?
There are several stakeholders involved, all of whom want the event to be as successful as possible. It is important to have that same mission and that we are all pushing in the right direction much like a scrum. We just need to bring everyone together and make sure we are all behind the main mission, which is to promote the Singapore Sevens and rugby in Asia. 
Singapore Sevens Rugby Winners
The past four events have each seen a different winner of the HSBC Singapore Sevens Rugby. You can read our interview with HSBC ambassador at the Singapore Sevens in 2019, Brian O'Driscoll.
2016: Kenya
2017: Canada
2018: Fiji
2019: South Africa
Singapore Sevens Rugby 2020
At the past tournaments, the Asian Sevens Series have been held and the Singapore schools have played their finals as a showcase game. There have even been touch and social tens tournaments played over recent years. Are there any plans to incorporate some local rugby or a social rugby element leading up to the tournament this year?
The Singapore Rugby Union (SRU) is a key partner for us in promoting and growing the sport of rugby in Singapore. On the Singapore Sevens' end, we want to do all we can to help with that. We are in talks with the SRU at the moment on how we can incorporate these local and social rugby competitions in the event planning.
We are even considering having the finals of these tournaments take place at the National Stadium, so these players have a chance to experience what it is like to play on the big stage. 
The COVID-19 pandemic has changed the world. From an organisational point of view, how stressful has it been and how confident are you that the Sevens will go ahead in October?
It has had its fair share of challenges, but we are just one of the many events and industries across the globe that has been impacted.
While it is a tough situation to be in, the health of athletes, officials and supporters are of utmost priority. We will continue to adhere to the latest guidelines from the Ministry of Health and World Rugby. 
At this stage, we hope to use the months we have leading up to the Singapore Sevens in October to plan the event adapting to the changing circumstances so we can provide attendees with a stellar weekend of entertainment at the Singapore Sevens. 
There are obvious financial concerns in rugby, and well, in every sector and in personal lives. How much do you think this will affect attend crowd attendances at the 7s and at sporting events generally in the short and long term? 
The pandemic has impacted the world economy and people's jobs and income. This might impact the attendance figures during the early stages of recovery as people re-evaluate what is important to them and how they prioritise their spending. 
On the other side of the coin, for sports lovers and those who enjoy attending major events, sporting events such as the Singapore Sevens, may fill a huge void and provide rugby fans, families and event-goers with something to look forward to. 
How are you using your leadership skills to help keep the team motivated and what advice would you give to other leaders in a similar position?
Having worked in the British Army for 10 years before stepping into the events industry, it was all about leadership. It was about setting clear missions on what the team needs to do and bringing the team forward with you. And this is similar to running a major event team where the motivation and commitment of the team to deliver an outstanding event is felt throughout.  
Right now, it is a challenging time as there is limited human contact and I believe that is essential to leadership. 
I think it is important to communicate a positive yet sensible message to the team. It is also crucial to establish open communication between everyone as they may be having difficulties meeting deliverables, but they should know they can rely on others in the team for their support during these challenging times. For me, it is about establishing a clear mission and set of objectives and keeping everyone on the right path. 
Impacts of COVID-19
What are some of your biggest takeaways from the impact of the COVID-19 pandemic thus far, personally, and professionally?
On the professional front, it is an uncertain climate right now but being a good member of your team is crucial. 
It does take a degree of discipline to complete tasks now that everyone is separated, but there still is a job that needs to be done. So, while it is challenging, I believe we all need to adapt to the changing circumstances and push through this difficult time. 
Personally, my biggest takeaway is to stay close to your family and friends. It is also important to try to be a good member of society and do the right thing such as staying at home during these difficult times. 
We would like to thanks Steven Rodaway for his time to do this interview with Rugby Asia 247.
Rugby news in Asia
---
- Advertisement -

Trending Now