Cathay/HSBC Hong Kong Sevens 2023 Ticket Sales Approaching 30,000
---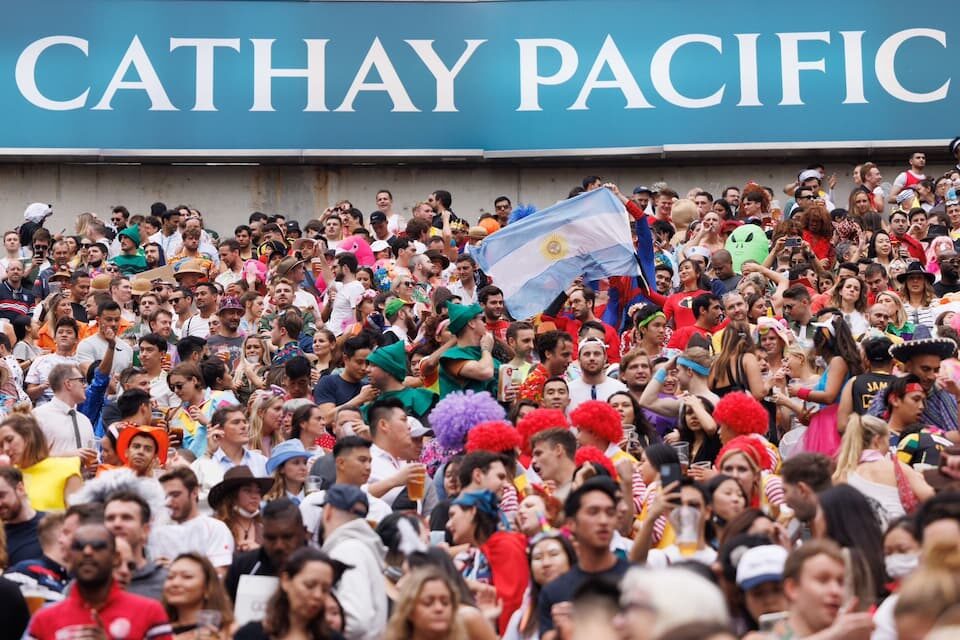 With just over a week to go until the Cathay/HSBC Hong Kong Sevens gets underway from 31 March to 2 April 2023, the Hong Kong Rugby Union has confirmed strong public demand and Hong Kong Sevens 2023 ticket sales with attendance figures already surpassing the 27,000-plus of the 2022 November tournament. 
This edition will be the first to feature both the women and men in the HSBC World Sevens Series
With over 29,000 tickets sold and a further 6,000 spectators set to be hosted on a Friday night  (31st March 2023) as part of the Sevens' community outreach programmes, full attendance is set to top 34,000 on the opening night and the organisers will be hoping for similar figures throughout the weekend at the Hong Kong Stadium.
Throughout the HK Sevens week, starting from Tuesday 28th March 2023, there are many events planned with guests from the sporting world.
Robbie McRobbie, Chief Executive of the Hong Kong Rugby Union said: "We are excited at the increased demand for the 2023 Cathay/HSBC Hong Kong Sevens, especially as it continues to come primarily from within Hong Kong. We sold more tickets locally in 2022 than ever before, and we are on track to top those figures in 2023. We are also seeing a welcome return in international interest for the 2023 and 2024 tournaments.
We can confidently expect attendance to be higher than November's pandemic-limited tournament and remain on track to reach our target of more than 30,000 spectators daily by the end of the month," added Mr McRobbie.
The union added that there has been significant take-up of corporate hospitality options inside the stadium. Event patron boxes on the main concourse level and fixed suites on the executive level are in high demand, maintaining the tournament's year-on-year take-up of corporate hospitality at over 90%. 
International Demand Strong for HK Sevens 2023
International demand is climbing back to pre-pandemic levels as well said the HKRO.  Over 20% of tickets purchased in the public sale have come from overseas purchasers.
Hong Kong Tourism Board Executive Director Mr Dane Cheng said "We are delighted to see the Hong Kong Sevens returning at full scale. As one of Asia's most popular sporting events, this year's edition will promise locals and visitors three thrilling days of high-octane match play, a festival-like atmosphere and exciting activities for all ages.
As part of our "Hello Hong Kong" campaign to send the biggest welcome to global visitors, we are giving out exclusive Hong Kong Sevens tickets to visitors to come to enjoy the game and the vibrant energy of the city. Hong Kong is set to return to its electrifying best and is ready to welcome back international travellers seeking world-class experiences."
The Cathay/HSBC Hong Kong Sevens 2023 an "M" Mark event that "helps enhance the image of Hong Kong as Asia's sports event capital."
Cathay/HSBC Hong Kong Sevens 2023 Ticket Sales
Tickets can be purchased via the official Hong Kong Rugby Union ticketing platform. 
Prices are frozen at 2019 levels with a three-day event pass at HK $1,950 for adults and $950 for children 12 and under while supplies last.
RugbyAsia247 will be in Hong Kong for the Sevens week and are confirmed so far to attend:
Tradition HKFC 10s 2023 –  Wednesday 29th March & Thursday 30th March 2023
SA Association (SAAHK) – Sevens Rugby Dinner 2023 – With the Bliztboks and Victor Matfield – Wednesday 29th March 2023.
HKRU/Laureus/NZ Consulate Value of Sport Luncheon – Thursday 30th March 2023 – four guest speakers – Sir Chris Hoy, Daley Thompson, Jodie Ounsley and DJ Forbes.
Interviews with HSBC's World Rugby Sevens Series Ambassadors & The World of Opportunity Programme (HK Sevens Weekend).
2023 Cathay/HSBC Hong Kong Sevens (all weekend!)
Come say hi and get in touch in Hong Kong.
HK Sevens Rugby Week 2023
---
Trending Now