Craig Hammond Appointed new HKRU Men's National Head Coach
---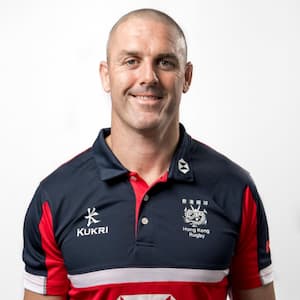 Craig Hammond has been appointed as the new Hong Kong Rugby Union (HKRU) Men's National Head Coach, effective 1st May 2021. He will simultaneously hold the Hong Kong Scottish RFC Director of Rugby role.
HKRU Men's Team
In March this year, Hong Kong Rugby Union (HKRU) former national rugby coach, and General Manager of Rugby Performance, Leigh Jones, left the HKRU to take up the role of General Manager of Rugby with Leicester Tigers in the UK Premiership.
Hammond said of Jones's departure: "A big thanks must go out to Leigh Jones my current boss/coach mentor for pushing me onto the next level on my coaching both on and off the pitch and Andrew Hall who I'm taking over from and I've worked with for the past eight weeks."
Rugby World Cup 2023
Hammond, affectionately known as Hammo, will lead the HK men's team's XV team into the Asia Rugby Championships, and aim for Rugby World Cup 2023 Qualification in France.
For an Asian team to qualify, they will need to win the Asian Rugby Men's Championship 2021 and then take on the Oceania runner-up in play-off games home and away.
The winner on aggregate will qualify while the loser will go to Final Qualification – Asia / Pacific 1 in the final qualification tournament in 2022.
Craig Hammond HKRU National Men's Head Coach
Hammo moved to Hong Kong in 2012 and has filled the role of the HK Scottish Coaching Officer, HKRU Assistant National Coach, and Head Coach of the South China Tigers Global Rapid Rugby team in 2020.
Hammo told his club's website: "I've worked hard over the years and have always said I'd love the chance to become Head Coach of HK. I had a taste when I was running the South China Tigers the past 2 years so I understand the challenges ahead and am truly looking forward to what lies ahead for the National Team.
Hong Kong is a very special place and the rugby community is like nothing I've been involved in so it makes it even more special to get the job and push HK onto the next level."
The HKRU said on social media: "Congratulations to Craig Hammond on being appointed as Hong Kong National Team's Head Coach, alongside Hong Kong Scottish RFC's Director of Rugby….Congrats!"
Hong Kong Scottish RFC added: "We are excited to announce our new coaching set up for the 2021-22 season which sees Craig Hammond take on the Club's Director of Rugby role, alongside the new Hong Kong National Head Coach position. Peter Jericevich will step up into the Head Coach position after impressing as Assistant Coach since his move from Scotland to Hong Kong in 2019."
Hong Kong Rugby News
---
Trending Now