Ben Gollings: Coaching Rugby in Asia
---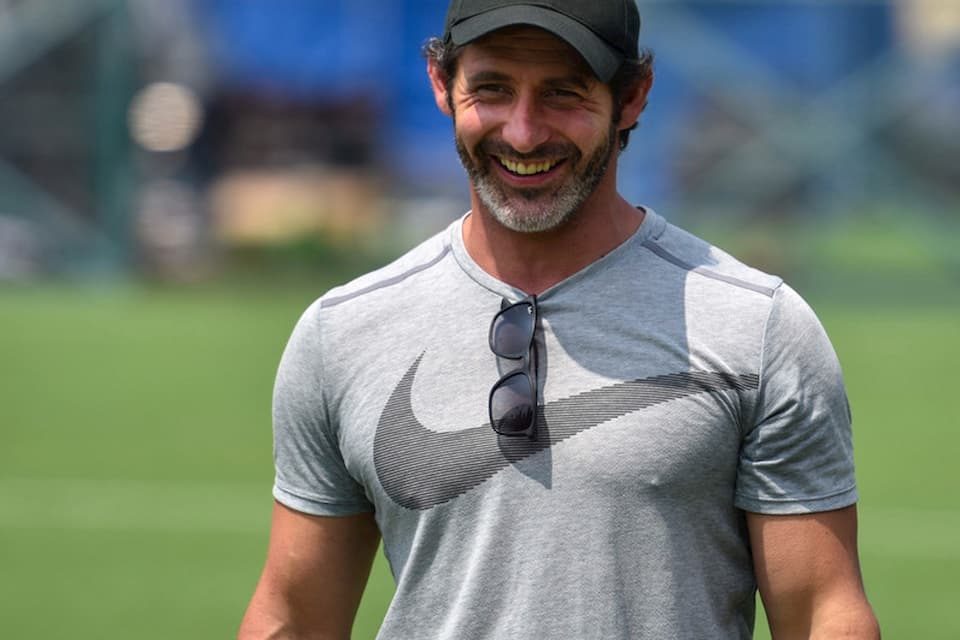 We recently had the pleasure of speaking with Ben Gollings, a sevens rugby legend who still has records to his name a decade after retiring from the professional game as a player for England. Over recent years, Ben has been honing his skills as a coach and mentor and has worked with the rugby unions in Sri Lanka, China, and Singapore.
We spoke to Ben about the impacts of the global pandemic on rugby, his experiences and thoughts on the growth of the game in Asia, and his own pathway to holistic coaching.
We also discuss rugby pathways and development, and of course, Rugby 7s and the Olympics!
(There is a video version of the interview at the end of the written version).
Hi Ben, what you have been up to recently, and how has the pandemic has impacted you?
The biggest effect for me has been work really. From a travel angle, that obviously came to a halt pretty fast. I have adapted for this period, as I imagine a lot of people have, and I'm looking to get back into coaching shortly. I'm kind of missing it.
What are your views on where the sevens game is going after COVID-19? With the Tokyo Olympics still having a question mark hanging over it, it's the same really for the Hong Kong Sevens and Singapore Sevens really. There is no certainty anything is going ahead.  
No, I mean players will be happy to play the Sevens, I get that, but it's not really an event without the crowd. They are a huge part of the whole show. An empty Hong Kong (Sevens) would be pretty different I imagine. 
Rugby Development
Let's discuss young rugby players and opportunities. You started professionally as a young player with England. What advice would you give to young players, especially for those in countries where rugby is not that developed, in terms of their drive and perseverance.
We have seen a few players from Southeast Asia make it into the Japanese Top League for example and that's been the bar so far. 
I think ultimately speaking, aim high – set your benchmark high. I think in the actual region itself, there are some really great opportunities and we're slowly starting to see the professionalism move into Asia, and the current climate (COVID-19) has put a pause to that. We have seen over the past 12-18 months an increase in that area of professionalism
But also there are a lot of opportunities globally and the opportunity to play in the US now with professional contracts. And in Europe, in England, and here in Australia.
The big key would be to not write yourself off or think that's not a possibility. Rugby is a game that suits all shapes and all sizes, and the key is to put in the work, work hard on your skills and develop yourself as a player and as a person.
Rugby will really embrace you and take you on a journey. The journey is different for everybody and generally speaking it's a pretty good journey.
You have obviously come from a very successful playing career and moved into coaching, post-playing over the past decade or so in the US, UK, Australia, Asia etc.
Ben Gollings Rugby Stats
12-year professional rugby playing career

Most points scored on the World Rugby Sevens Series – 2,652 (still a record)
Played at two Rugby World Cup Sevens tournaments and three Commonwealth Games
Won three Hong Kong Sevens with England
What do you look for in young talent? When you are coaching or consulting what strengths do you look for in a player. It's not just the quickest, the strongest – there must be something else?
Yeah, I think the obvious ones you have stated are key and there is no substitute for the likes of speed and certainly skill. Outside of that, it's also looking at players and how they read a game and trying to assess what they are seeing. It's not easy at times but it's certainly something you pick up. 
You will see how they make decisions and how quickly they make decisions – where they place themselves on the field and it comes from that awareness. I think that's a pretty key trait because you then know they have a really deep understanding, which often when you are coaching, they relate to what you are saying a lot easier. 
I think the other side of it is looking at a player and seeing where their ceiling is. With some players, you get that they may be tipping the ceiling at certain levels. But you look at another player and you think, well If I gave them that opportunity and more training and some of the benefits of a high-performance program – you may seem them rocket and really develop. 
Outside of that, where you try and meet potential is the attitude. Rugby is a team game, so somebody that really embraces the team (and you see that on and off the field) and how they go about their business and hold themselves – that is a big key factor I would look for as well.
Rugby Tens and Sevens
Your experience covers 7s and 15s rugby, and across Asia, Tens rugby is popular. With the landscape of rugby at the moment – is there room for another format like Tens? It's a format that suits some of the Asian countries when they might not have the depth for 15s.
Yes, I definitely think so, as rugby develops these opportunities, and tens rugby in particular just provides something else and another platform to develop both players and teams. Particularly in the developing nations, its no that fifteens rugby is a difficult game but you need more players. 
So as you are bringing players into your programs, having 7s or tens makes it more accessible from a game perspective.
Having seen what happened in Bermuda with the World Tens Series, I thought that was quite exciting and provided a different flavour with some of the rule changes, which I don't mind actually, I think it's nice to play around with it. There is a purist's view that some people have and there is no substitute for that, but having these other opportunities is exciting. It keeps the players thinking and there are different levels to which players can position themselves and that World Tens Series is quite useful for players that may be finishing, but also players that are stepping into it. It's a tool to be able to get seen and be exposed to a high level of rugby, which is great.
Sevens as well, obviously, with the Olympic tag it holds, and the World Sevens Series and under that the – Asian Sevens Series – and that second-tier series (Challenger Series) which was being set up.
I do think all of these parts of the game bounce off each other, and I think there is room for all of them.
I also look at that from the Women's game, which has really developed in Asia, and the likes of a tens game would really suit their development. The number of (available) players is key but it also allows the field to be more open, expose a bit more of the skill, and then develop into 12s or 15s.
Ben Gollings – Coaching Rugby in Asia
I think a lot of people globally dismiss how popular rugby is in Asia. There are some potential sleeping giants. China is stepping up its programme, while there is also Sri Lanka, Singapore, Malaysia, the Philippines – there are a lot of countries that are engaging with rugby more broadly, but especially in the women's game. 
Can you tell us about your experience working in Asia, culturally?
In Asia, there are some really passionate people behind the game that really want to see the success of it, and I think that's a good place to start. They are the catalyst.
I think Asia is great as it does have a lot of different cultures and it brings different flavours, which is what rugby is all about – it's about embracing the culture of rugby and also the culture of where you are playing. So I experienced that living and coaching in China and wow what an experience. I don't think there was anything that could have quite prepared me for it but it was fantastic to see how they work and try to bring together that rugby culture and bring the best of their own culture into it.
And then seeing the abundance of athletes they have there and many are raw but with a bit more time and that development cycle, I think in the next five years, especially in the women's side of it they really are going to develop. They have the numbers to do it and the men are the same with that range of athletes.
Japan speaks for itself – they have been incredibly professional about their approach and I think that's why you have seen a really quick growth, especially in the females but for the men, it's always been there. 
I think that's set the benchmark for other teams to aspire to, and you are seeing that. 
Sri Lanka Rugby
I worked in Sri Lanka (2012) and that was just another fantastic experience –  they have an amazing embracing culture and I had a lot of fun. The players, I just loved the way they give back, which sometimes when you are in a specific rugby area – takes for granted, and that's not to knock it, it's just a different experience.
And I didn't realise how much rugby history there was, in Sri Lanka at first, but Asia in general. There is over one hundred years of rugby in Sri Lanka, and that blew me away. And the rivalry in schools, I would have thought in cricket, but not in rugby. 
And all of that in Asia can provide a platform that can be built on. I experienced the Asia Series in 7s and 15s rugby and it's just a great rivalry. And off the field, they just embrace rugby and get together. It's great.
With Japan, like I said, setting the benchmark these other countries are aspiring and grow their game. Particularly the opportunities in the female game I would say the gap has not been as great but with the men, they are catching up now.
Hong Kong has a really professional program and with the different nuances, their biggest issue is trying to retain players who pick up professional contracts overseas and that is the quirky side of Asia. 
And I have kind of been missing it if I am being honest with you, and I look forward to getting back.
Your involvement with rugby in Sri Lanka – was at that elite national level or what was your involvement there?
In Sri Lanka to start with, you could argue I was Director of Rugby in a sense, but I was the Head Coach for the Sevens program and then I also oversaw the 15s rugby program. 
Phil Greening had been there briefly before but he was picked up by Scotland Rugby, so it was building on what he had set up but it was also developing the program further.
I think just adding a few mindset changes to those players was quite big. I certainly see them now and a lot of those players I was dealing with were youngsters and they have moved on to the senior setup. I can see their input into the game which is fantastic.
China Rugby
In China, I was originally brought in to oversee the program on both sides, for the men and the women. As we got closer to the Olympics (2016) I focussed more on the women and their opportunities, I focussed on the Head Coach role with them (Sevens rugby) and we just missed out to Japan in terms of qualifying that time round.
It was a really healthy level of competition, and for me as a Head Coach, it was a really great experience. 
Singapore Rugby
The other experience I have had of late is with Singapore, more of performance and development rather than as a coach.
(Ben has worked with the SRU to prepare the Singapore Rugby Union national men's and women's sevens teams for the 2017 SEA Games.)
I think that's also key in Asia, is to really support and develop local players to get better, especially from a coaching perspective as I see that is one of the bigger growth areas outside of getting players to play the game of rugby.
Tokyo Olympics 2021 
We still don't know if the Olympics will definitely happen this year in Tokyo but we are optimistic. If you look at Korea, China, Japan, and other Asian nations with the chance to qualify, will these Games in Japan have a positive impact on the sport in the region? 
I think it will help a lot. Where it would have a bigger impact is if a number of Asian teams could be represented at the Olympics. It would be fantastic to see them play because the fanbase really gets behind the reams – I know Japan would be coming out in force to watch the Japanese play, and I'm sure the Koreans and Chinese would be the same.
I think we need to track the fanbase as well as the players playing and it would really have a big knock-on effect.
The RWC in 2019 in Japan set the ball rolling and really put Asia on the map with rugby – people probably didn't see how much rugby there was in Asia until that point. This would be just another opportunity to build off it and hopefully, programs can be developed even further as that within another 4 years hopefully we will see more Asian teams qualifying as they will be more competitive. 
I say that in that second-tier competition (Challenger Series), the best thing for some of these teams is to go and play in a competition where the level is too difficult. It's a fantastic learning curve and maybe they will come off a couple of big losses but you learn from that, rather than just constantly playing at the same level you are used to in Asia.
So I think if those doors open you will see a projection of some of those teams quite quickly as they get used to that exposure of higher quality rugby. 
Rugby Coaching Consultancy in Asia
Can you explain a bit more about the roles and services you are offering now and what you could offer Unions and teams in the Asian region?
What I have been looking at is the consultancy role, so rather than going in and being the Head Coach, is going in there and developing programs and the people within them; the coaches, the performance team, the programs and content delivery. Sometimes it's supporting the players as well and I have found it to be quite useful to be that voice between player and management and to support that communication pathway.
It has also evolved around one-on-one mentoring of athletes. It's something I have done of late especially with the mental health space with the Optimisation Lab, and it just becomes another string in your bow to offer.
It is actually quite important and if I look back at my career, if I had some of those tools it would have been useful. I had a fantastic career, don't get me wrong, but just my decision making off the field to support the decisions, as a young kid I was under pressure to make, whether it was contractually or not. Also how to handle different types of coaches, it would have supported that. 
So being able to offer that is great and the holistic approach is about using my experience to develop that whole environment. Ultimately speaking it's going to benefit them in life which I think is quite exciting. If you see them grow and if they don't make it to dizzying heights then they can use that for whatever path they take.
It's about working within the needs and as I worked within Asia, those needs have changed. It's a different kind of challenge as well, there is a rawness to it but there is a great reward in seeing people develop as well.
How much do you rely on your playing experience in your coaching roles? I imagine a lot of players would like to hear about your playing experiences?
It's been interesting as it has been a journey being a coach. As you step away from playing you are very keen and eager and energetic, and you start to learn the nuances of coaching. The playing and experience is really helpful but it is about how you relate to people. How relatable you are with the athletes and the coaches. 
And maybe even more important is how you get your message across and how you create an environment in which:
They will learn.

They will enjoy themselves.
This is something I have really worked hard on and developed and gained knowledge outside of the game of how to just play on the field which is then creating that balance.
You know in my early years of coaching, after I stopped playing I was fortunate enough to work with someone who was there as an extra set of eyes and someone who would challenge you as a coach and question you and ask why you were doing things a certain way.
I really enjoyed that, if I am challenging myself or am being challenged, then I am going to challenge those around me, so I look to use that with coaches. And it's not necessarily telling someone they are doing something wrong or how to do it, it's opening their mind up and giving them options.
The beauty of coaching is everyone can bring something different and add a new spice to it. It helps add to that innovative and creative side of coaching. 
In your experience in Asia, have you encountered cultural barriers that have made it more difficult to impart your knowledge or advise?
Yes, definitely so. In China there was a big language barrier, in what you are saying could be interpreted quite differently, and I learned that early on and how to position the statements in what I wanted to say. 
I also understood there was a cultural way in which they do things. Some things were quite hierarchical – so when we try to get players to lead more so they can learn and develop, a lot of the athletes were used to being told what to do. So it was slowly trying to adapt with that and once you got the coaches onside, they were a little bit more open to it.
I also learned the hard way, as I went in there quite excited and energised, but then I had to sit back and understand that I had to blend the culture (in China).
In Sri Lanka, in their culture, they are actually quite creative, and they were a very skilful group of players. The beauty is, it's not always just coaching sport, which is good, and they were quite adaptable. 
For me, it's been a good challenge to adapt to those (differences).
Ben also told us he is discussing opportunities with Sri Lanka Rugby and Singapore Rugby Union and he is exploring opportunities post COVID-19. 
He also has roles with the Hong Kong Sevens and Singapore Sevens as an ambassador which he is looking forward to returning to, later in 2021.
If you would like to contact Ben for his consultancy work, he is developing a website and you can reach him by email here.
(The written interview in some parts has been edited for length and clarity).
The edited video of the interview is below:
Read Other Interviews on Rugby Asia 247
---
Trending Now