How is rugby engaging with its audience in Asia?
Posted On February 12, 2021
---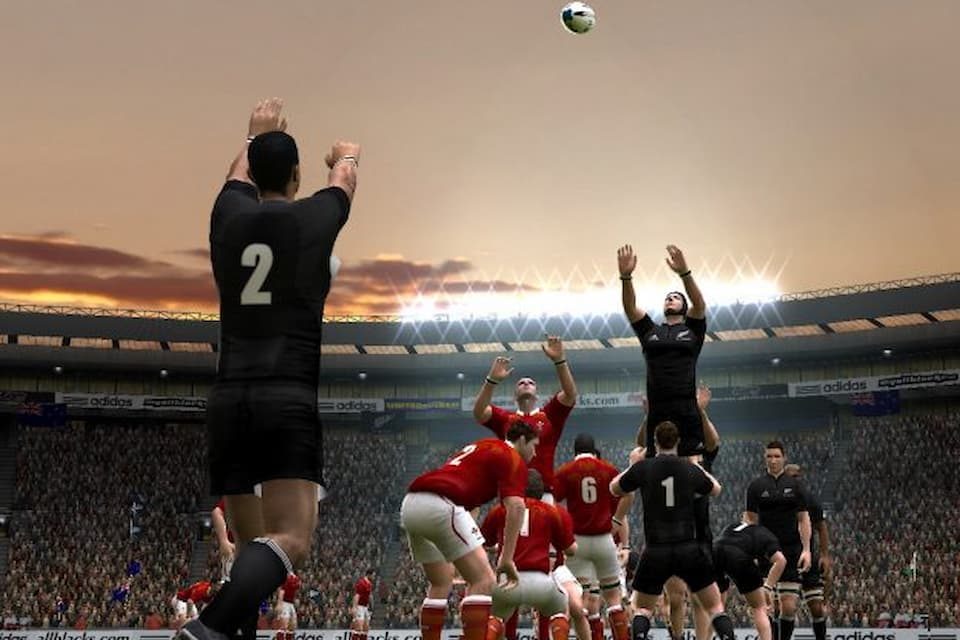 The 2020 BCW IF Social Media Rankings, placed World Rugby in the top five of the most followed International Sports Federations on social media. So how is rugby engaging with its global audience and what does 2021 hold? We look at how Rugby could throw off some of its traditional shackles and reach new audiences in Asia.
BCW Sports Ranking: International Sports Federations Social Media Activities 2020
The BCW Sports 2020 International Sports Federation Social Media Ranking report aims to "capture the social media footprint of international sports federations (IFs)."
One of the key findings was that due to the impact of COVID-19 in 2020, "social media, in general, has further increased its importance among IFs, with significantly growing followings and engagement rates across platforms."
Broadly speaking, the report found that "improving engagement, increasingly focusing on community building and opening up to new channels is the path to success."
Of all the social media platforms, Facebook and Instagram remained central but new platforms have been disruptors.
Of the 105 active accounts of IFs, a total of 63,565,590 users follow them which makes Facebook the most popular social media platform in the IF world.
The second most important platform is Instagram with 30,250,720 total followers – 93 active IF handles were on Instagram in 2020.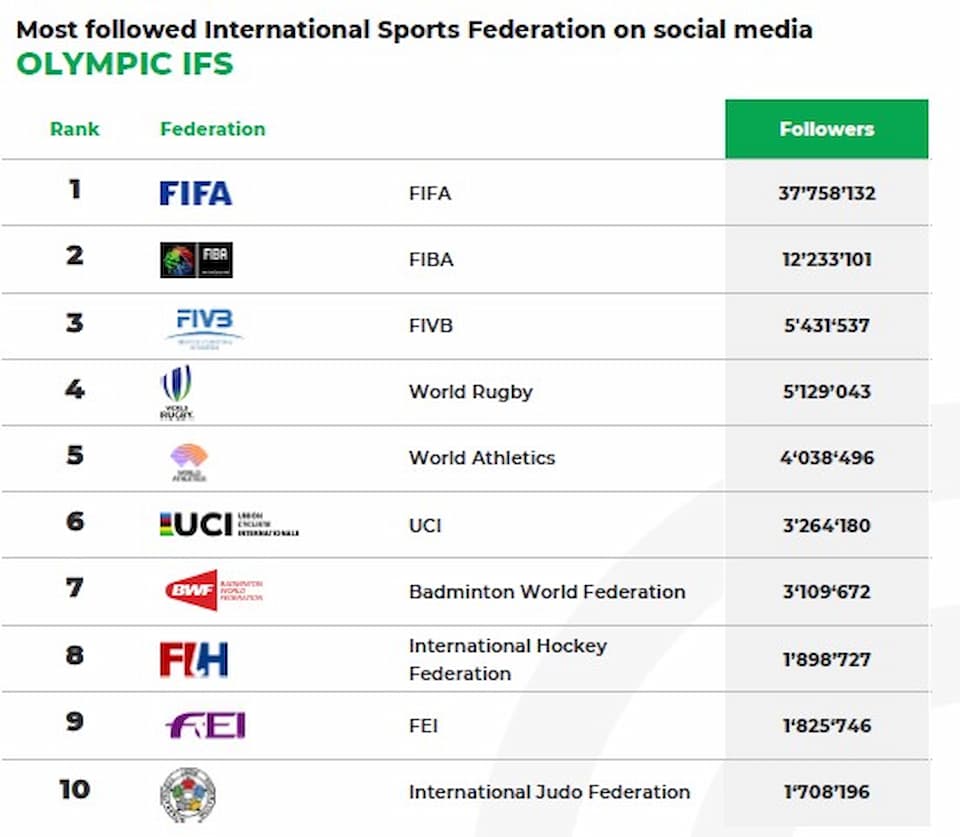 World Rugby actually performed very well and placed 5th of all sports (Olympics and non-Olympic) and 4th of all Olympic-represented sports.
Of all International Sports Federations, World Rugby was ranked second for Instagram for the number of followers and 2nd highest for Instagram growth.
For video content on Instagram and engagement, World Rugby placed 7th overall.
World Rugby placed 4th for Twitter on the number of followers.
World Rugby placed 4th for TikTok on the number of followers.
World Rugby placed 6th for YouTube on the number of followers.
On Facebook, World Rugby did not make the top ten for followers or growth.
World Rugby did not appear in the top ten for LinkedIn.
World Rugby and the Rugby Sevens also placed well on Periscope (3rd and 4th respectively) in 2020 but Periscope will be taken offline end of March 2021.
See more about the report here.
How to watch rugby in Asia in 2021?
There seems to be some uncertainty about what is the best model for offering rugby across Asia, and as a continent, there are several challenges in accessibility, languages and rights. From free to air/subscription-based/OTT (Over-The-Top streaming)/Facebook and other social platforms, and TV rights – the situation for fans is unclear and often complicated.
We also addressed the various OTT and streaming options recently. One update is that SANZAR has allegedly not given the rights for the New Zealand or Australia Super Rugby 2021 season to RugbyPass, who have streamed the competition over recent years. Neither SANZAR nor RugbyPass have replied to our messages to confirm how fans can watch the rugby competition in 2021.
YouTube Sports platform
On February 4th 2021, YouTube announced its Sports platform has undergone an overhaul. The company said "The way we watch video has forever changed. Not only are streaming platforms edging out linear TV as our primary viewing destination, but we're forgoing traditional primetime and immersing ourselves in content that's most relevant to us."
In the United States at least, YouTube is ranked the #1 preferred platform among sports fans in the U.S., higher than cable TV and year-on-year growth has increase 65% in 2020. The YouTube Sports platform is supposed to make it easier for fans can engage with the best sports content including clips and highlights from popular athletes and creators.
The publisher added that they are "expanding YouTube Select's connected TV (CTV) lineup, inclusive of the best sports content on YouTube, to new markets beyond the U.S. such Australia, Canada, India and Japan and more in 2021."
Will rugby in Asia be streamed more on the platform? Already YouTube and Facebook have been utilised by Asia Rugby, domestic unions and the World Rugby Sevens Series in recent years, streaming rugby for free.
Engaging with the Big Markets: China, India, Japan, Indonesia
Asia has several social media tools and apps that are very region-specific and rugby needs to embrace these if they want to engage with the younger Gen Z audience.
The most populous nations such as China, India, Japan and Indonesia (for example) have a growing rugby base.
Rugby India
We have previously discussed how Rugby India has evolved in 2020 in the face of the COVID-19 pandemic to deliver a range of online content with its rugby fans. They have also seen increased sponsorship and have set their sight in growing the game and competing at a higher level.
China
The Chinese women's sevens team have already qualified for the Tokyo Olympic 7s and their men's team still has a chance at the final repechage this year (assuming the 2021 Tokyo Olympics go ahead).
The Chinese women XV narrowly lost out on reaching the final qualifiers to represent Asia at the RWC 2021 in New Zealand.
Forbes outlined some key marketing tools for China. Referred to as the "YouTube of China", video platform Bilibili in Q1 of 2020, reported it had 172 million monthly active users – a 70% increase year-on-year.  Even Alibaba has been working on AI-powered avatars that help brands run live streams 24/7 which interact with audiences and answer their questions.
Chinese research firm iResearch estimated that live streaming will account for more than 15% of e-commerce sales in China in 2021, and more than 20% by 2022 – this a market World Rugby and Asia Rugby should tap into.
There is also a huge expat and Chinese social rugby scene in China with multiple leagues across the vast country and tens, 7s and XVs played.
Japan Rugby Football Union
It's our opinion JRFU has squandered many opportunities with growing the game of rugby on the back of a very successful commercially-run RWC 2019. Yes, COVID-19 impacted the globe in 2020 but the domestic Top League in Japan remains confusing for rugby fans especially, never mind attracting new fans to the sport.
Throw in the ongoing aged and traditional, isolationist views of the JRFU board, there are many cultural and complex issues to address. For such a tech-savvy nation, more should be done to broadcast the domestic game (not ignoring their competitive High School and University competitions) but with some big stars playing at the elite level, there is a growing demand for Japanese Rugby to be streamed or televised in the region and internationally.
The Brave Blossoms are on a high, and the team are many fans second choice international side, based on their exciting brand of rugby.
The Japanese XV ladies are in with a chance to head to RWC 2021 later this year in New Zealand if they win the much-delayed qualifiers. Will they receive the same support from the JRFU and the public?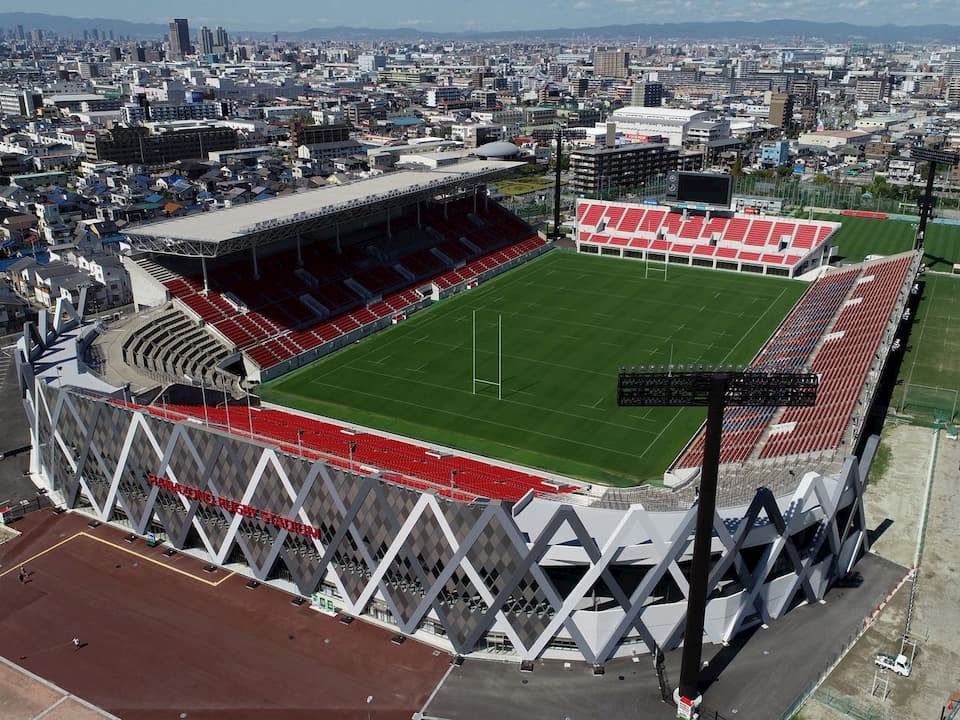 Tokyo Olympics 2021
The Tokyo Olympics are a gamble it seems but it appears as if the organisers are pushing ahead. It's not clear how the rugby 7s will be broadcast – but being hosted in the region, you would hope there are plans for the women's and men's rugby sevens to be showcased in Asia.
Of course, the resignation and undignified comments from Tokyo Olympics President Yoshiro Mori do nothing good to combat the stereotypes and stigmas rugby is trying to overcome in Japan and the region.
Mobile Consumption and Technology in sport
There is generally high mobile data usage, streaming, and consumption in Asia. SportsPro recently wrote that "with higher bandwidth, lower latency and network slicing bring the potential for an immersive media revolution".
Their report added that 5G is forecast to reach 45 per cent of the world's population by the end of 2024, and is expected to drive US$1.3 trillion in new revenues for the media and entertainment industry by 2028, according to Intel's 5G Economics of Entertainment Report.
Truly immersive viewing experiences are on the cusp and engaging with cutting-edge technologies such as VR (Virtual Reality), AR (Augmented Reality), and holographic technology are seen as the future for live sports consumption.
Is World Rugby and Asia Rugby ready to embrace change?
World Rugby, and rugby in general, still suffers from an image of being traditionalist, and at the top level, is still male-dominated despite efforts in recent years to address this.
The video game debate reared its topical head during the World Rugby Chairman elections in 2020, with the challenger, and eventual loser, Agustin Pichot urging for a new game to be developed to engage with a growing eGaming and eSports market and a younger audience.
In February 2021, Ugo Monye (former England international and current broadcaster in the UK) spoke again about the need for a rugby video game. Rugby World, in their article, pointed out that current EA CEO Andrew Wilson,  publisher of FIFA, Madden NFL and NHL, is an avid rugby fan.
A rugby video game, especially a mobile version, would potentially do great things for the exposure of rugby in Asia and globally.
Grassroots Rugby Still Key
However, all the technological inspirations and innovations aside, rugby at a grassroots level is key. Balls, coaches, playing surfaces, and commitments from schools, universities and the Unions are what drives the game and broadens the appeal and physical engagement of the rugby.
Across Asia, Pass It Back (run by ChildFund), as well as several other country-based programs seem to have overcome cultural, gender and other obstacles. These are the key drivers which saw the sport reach new audiences and growth in 2019.
Even current World Rugby Chairman, Sir Bill Beaumont said: "We have seen a phenomenal growth in interest, particularly in Japan and across Asia, and we are working closely together with our unions, partners and other stakeholders to build on that momentum to continue the strong development of our sport with progressive and sustainable change as we all adapt to the 'new normal' in global sport."
Rugby
---
Trending Now