Dialog Asia Rugby Sevens Series 2021 Day Two Preview
Posted On November 20, 2021
---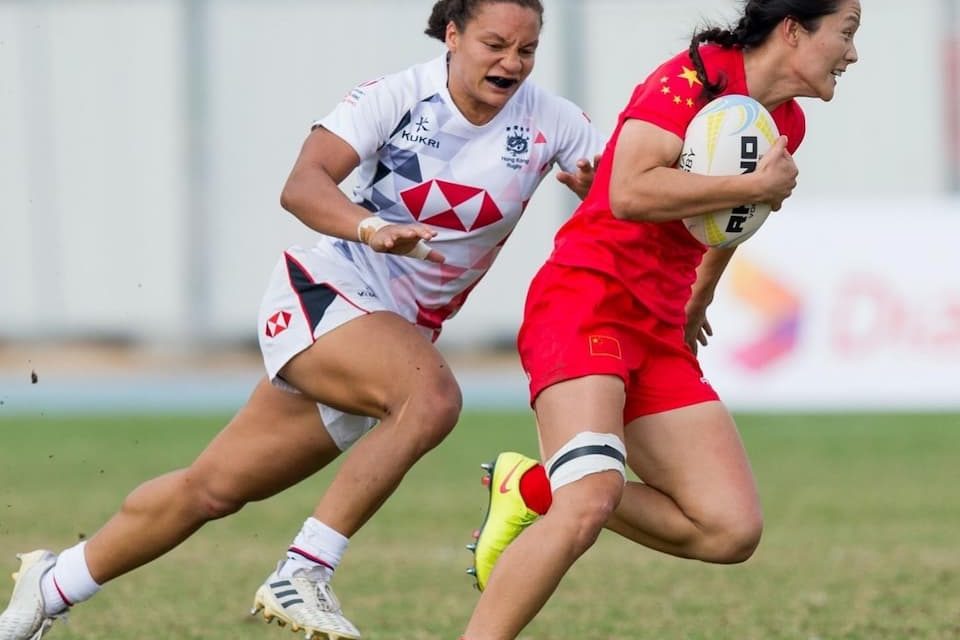 The first day of the Dialog Asia Rugby Sevens Series 2021 took place on Friday 19th November 2021 at Dubai Sports City, and ultimately the favourites came through on top. We look at some of our views of Day One and offer a Dialog Asia Rugby Sevens Series 2021 Day Two preview.
(Feature photo credit: HKRU)
Day One Review – Dialog Asia Rugby Sevens Series 2021
After all of the waiting for international rugby to resume in Asia, the tournament in Dubai offered a mixed bag from an organisational point of view, as well as players welfare and performance.
It was going to be a tough ask for the international teams and athletes to play a two-day event after having little to no rugby for 18 months, and in reality, only the top tier teams have seen some higher-level rugby in preparation for the Dialog Asia Rugby Sevens Series.
Hong Kong Men had appeared in two World Rugby Sevens events in Canada, while their women played in the Olympics Repechage not too long ago. Kazakhstan women were similarly featured in the same repechage tournament, whilst the Chinese women and Korean men attended the 2020 Olympics in Japan (in addition to the host Japan teams of course.). The UAE also men recently won the Trophy event hosted by Asia Rugby and played Russia in friendly matches.
Hong Kong Women's Coach Iain Monaghan said: "We started well against China, but dropped off and let them in with some inaccuracies, which was frustrating, but it was a good indicator for the girls of the levels we needed for the next two games."
The HK Men's 7s coach Paul John added "The boys had to dig deep today and showed good character. It was good to get the win against a very good Korean side and the other wins were also good, although we are not yet clicking. It is important that we are up for it for the China game. They played well yesterday and are on a very physical side. It will be a long day waiting for the game after five o'clock".
For Malaysia, Sri Lanka, the Philippines and Thailand, only local (and in some cases very recent preparation) was all they had to get ready for this event.
Although across the board there were some good games on Day One, and Japan and China men conceded several tries to teams late in games (although they were well on the way to winning), most results went as expected. Perhaps Thailand ladies drawing 5-5 with Kazakhstan was the day's upset but there were also some very one-sided scorelines on display.
Asia Rugby has pushed some core values including transparency and in their"return to play" campaign emphasising the need for player welfare. We feel there have been gaps in these areas-  and this was also evident on Day One.
These were other observations about the tournament and its leadup:
Very poor communication to media and fans about the entry to the tournament, whether restrictions were in place or even keeping the scores visible at the grounds.
No merchandise for fans at the grounds.
No scoreboards or screens for fans at the grounds (scores were tough to follow as even the Asia Rugby socials stopped updating the scores as the day went on).
Overall we felt the medical staff, the urgency in which they attended to injured players and the lack of stretchers all raised severe alarm bells. For all the talk of player safety, there was a very high injury count (which may have been expected due to lack of playing time) but it didn't sit well all day.
Simple things like not having hooters to indicate half time or full time at the ground.
Quite a clear bias towards promoting the men's games (we assume as only the UAE men were in action and games were broadcast on local TV). However, the first four women games had fans sitting in the ground with views blocked by pointless white advertising flags (removed for the first men's game).
For some context, the Emirates Dubai 7s is hosting a closed event at the Emirates Stadium next weekend before the main open to the public event at the start of December 2021. This week they even launched a very useful and fan-friendly app –  even in Dubai, you can see some visibility for the Emirates Sevens.
This is all lacking for the Asia Rugby event. If AR plans to make this bustling and expensive city the new home for the regional tournaments, they need more visibility to compete with all of the sporting and cultural events that are going on. And markedly improve their communications and keep fans up to date.
You can see all of the results from the men and women here for Day One – or on the Macoocoo site.
Day Two Preview – Dialog Asia Rugby Sevens Series 2021
We feel the most useful tool in the end for keeping tabs on the scores and the schedule for day two was the Macoocoo app.
As only the top two finalists for the men and women will head to Cape Town, South Africa next year at the Rugby World Cup Sevens 2022 – the Semifinals for both are in essence a final. However, all 8 teams from the men and women will be in action and compete in Plate and 7/8th spots.
The fixtures kick off around 3 PM UAE time on Saturday 20th November.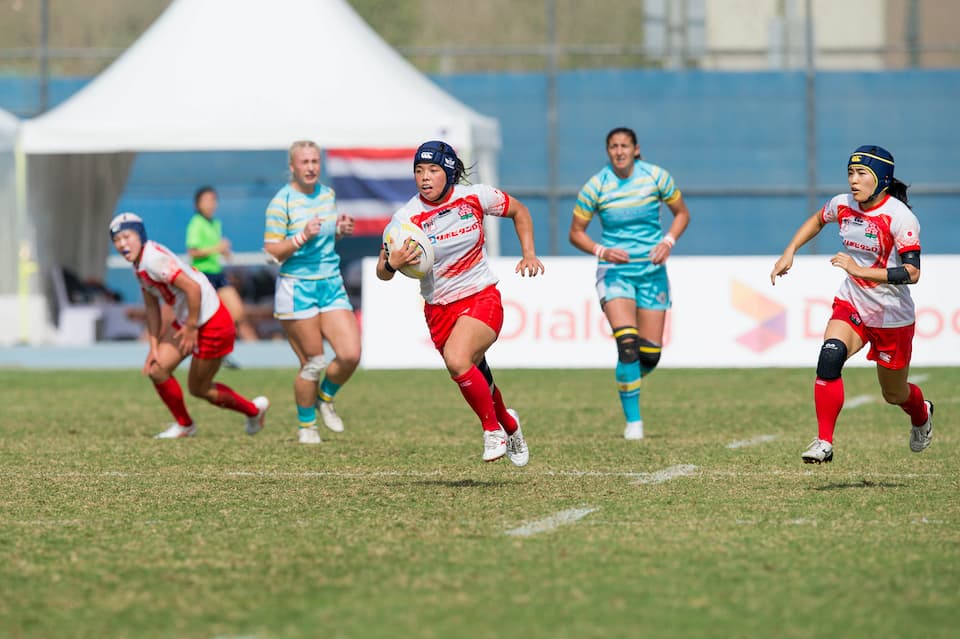 Women Cup Semi-Finals – Dialog Asia Rugby Sevens Series 2021
The top four teams more or less progressed to the Cup Semi-Finals and have a chance to qualify for the RWC 2022 in SA.
Japan won all three matches in Pool A and looked slick and fit on Day One. Kazakhstan also qualified from Pool A, but they had a mixed day with a win, a draw and a loss, only edging out Thailand on points differential.
In Pool B, the favourites China were undefeated and Hong Kong were the runners up, with the latter winning two out of three matches.
Semi-Final 1: Japan vs Hong Kong
Semi-Final 2: China vs Kazakhstan
In the Plate playoffs:
Thailand vs Malaysia
The Philippines vs Sri Lanka
Men Cup Semi-Finals – Dialog Asia Rugby Sevens Series 2021
Hong Kong (Pool A) and Japan (Pool B) came through Day One undefeated and looked to be the strongest contenders to qualify, but knockout games also spring surprises. HK will face their foes China, while Japan will play Korea in the semifinals, and both are rivalries that should result in physical and tough games.
Semi-Final 1: Hong Kong vs China
Semi-Final 2: Japan vs Korea
In the Plate playoffs:
The Philippines vs Sri Lanka
Malaysia vs UAE
(All photos credit to Asia Rugby)
Asia Rugby 2021
---
Trending Now