Fat Boy 10s 2021 Hong Kong
Posted On September 1, 2021
---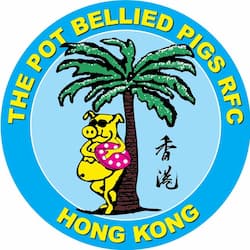 The Fat Boys 10s social rugby tournament was announced to take place in Hong Kong in 2021 instead of at the usual destination, the Philippines. The annual rugby tens tournament is a key fundraiser for rugby development and was cancelled in 2020 due to the coronavirus.
UPDATE: Initially scheduled for 14 February and then May 2021 – it was postponed due to COVID-19. It looks as if the Fat Boys Tens rugby tournament will take place on Saturday, September 11, 2021.
Fat Boy 10s 2021
The organsiers of the Fat Boy 10s, The Pot Bellied Pigs, have teamed up with the Hong Kong Rugby Union and said they were "pleased to announce that on Wednesday 19th May 2021 we will be hosting the Fat Boy 10s Hong Kong edition!"*
The statement from the well-known rugby touring team said "Usually held annually in Clark, the Philippines the Fatboy 10s brings together international rugby teams with the aim of Putting the Pink Back into Rugby and supporting underprivileged children. Together with the HKRU, we will be aiming to replicate this in Hong Kong."
the HKRU then announced in August 2021 "We are proud to support the Fat Boy 10s tournament on Saturday 11 September at King's Park in collaboration with the Pot Bellied Pigs RFC Hong Kong.
Featuring a Men's, Women's and Veterans competition, this will be a great social event and the whole family is welcome to come along and support. For more information, or to register a team, please send us a message."
What rugby teams will play at the Fat Boy 10s 2021?
The tournament will have a women's, men's and a vets section and will take place over Chinese New Year at the Kings Park rugby fields in Kowloon, Hong Kong.
Open Ladies Tens Rugby: 8 teams (Winner takes all format)
Open Men's Tens Rugby: 16 teams (Cup, Plate, Bowl, Shield format)
Vets Social Rugby Tens (over 40): 8 teams (Winner takes all format)
Interested rugby teams are able to register their interest now.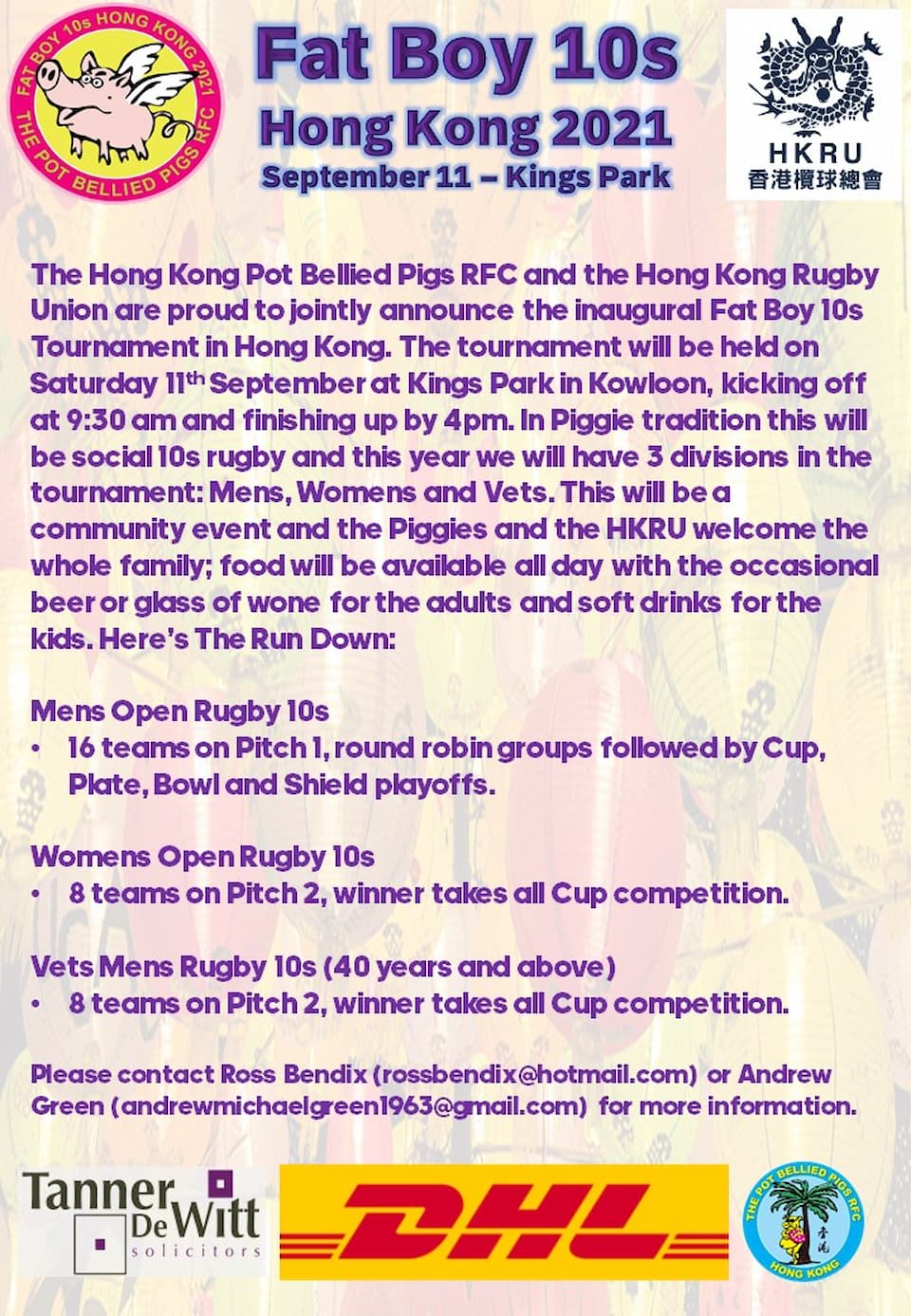 Date: September 11 2021
Venue: Kings Park, Hong Kong
Pot Bellied Pigs
The Pot Bellied Pigs RFC are an institution in Asian and SEA social rugby, with a base and "home" in Hong Kong, the touring rugby club formed in 1997 and have hosted a number of well-known rugby international players in their ranks. They also raise significant funds for the development of youth rugby and projects.
In October 2020, the social club also announced it had partnered with the Hong Kong Rugby Union Community Foundation.
You can read more about the Pot Bellied Pigs in our social rugby team spotlight.
Asian rugby tournaments
---
Trending Now