Hong Kong China Women's XVs Head To Europe For Two Matches
---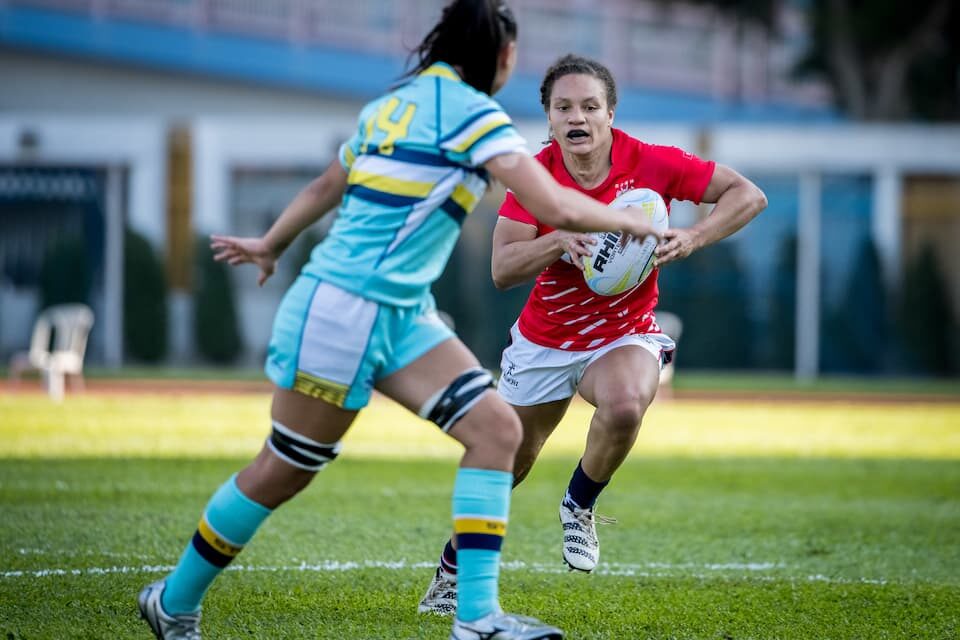 The Hong Kong China Women's XVs squad is departing for Europe to play two international test matches against Sweden on the 1st of May and The Netherlands on the 6th of May 2023.
We were told at the HK Sevens week that the squad was due to play these matches, which led to the HKRU not allowing their players to compete in the women's section of the HKFC Tens 2023.
Both of the Hong Kong China Women's XVs test matches are scheduled take place in Amsterdam, Holland and the trip is supported by World Rugby said the HKRU.
In total, a 32-strong squad will be making the trip which includes 8 currently uncapped players as Hong Kong look to further improve on their 15th-placed ranking by World Rugby following the two-match series win against Kazakhstan in December 2022.
Experienced players in the group include Chow Mei Nam and Lee Ka Shun, while several members have been unavailable to train as the Hong Kong China Sevens team has been in South Africa playing in the World Challenger 7s Series. The Union confirmed that some of these "players will be added to the mix once the World Rugby Challenger Series is completed this weekend. The likes of Natasha Olson-Thorne, Jessica Ho, Melody Li and Nam Ka Man are likely to feature."
Head Coach Royce Chan Leong-sze said: "We want to emphasise our strengths and focus on believing in ourselves. We got the job done in December (against Kazakhstan) now it's time to re-group and reorganize for the next challenge. This is a huge opportunity for a special playing group and we are looking forward to seeing what they bring to the table over the next few weeks."
"The two Sams" as Royce referred to her coaching team when we spoke with her in December are back to assist; ex-Plymouth Albion back row and Societe Generale Valley RFC Assistant Coach Sam Hocking, and Edinburgh Rugby & Dragons RFC centre Sam Beard oversees the attack.
The Hong Kong Dragons team played a World XVs team earlier in April to help them prepare for the tour.
Both matches are due to be played in the Netherlands at NRCA in Amsterdam and have a local kickoff time of 14:00 (GMT +2).
1st May 2023 –  Hong Kong China vs Sweden
6th May 2023 – Hong Kong China vs The Netherlands
The matches will be streamed here.
HK China XV Women Squad – European Tour 2023
Hong Kong China Women's International Training Squad: AU King To, AU YEUNG Sin Yi, BALTAZAR Chloe, CHAN Abigail, CHAN Chloe, CHAN Hiu Tung, CHOW Mei Nam, CUVELIER Nadia, DHAR Tanya, FONG Rachel, GOT Fion, HO Jessica Wai On, HO Tsz Wun, HEREWINI Kea, LAM Tsz Yan, LEE Ka Shun, LI Nim Yan Melody Blessing, LO Wing Yin, NG Ki Sum, NAM Ka Man, OLSON-THORNE Natasha, SO Yee Kei Cherly, PUN Wai Yan, QIAN Jiayu, RICHARDSON Megan, RYAN Aileen, SIU Wing Ni Winnie, TSANG Ching Man, TSANG Hoi Laam, TURNER Roshini, WRIGHT Rosanna, WONG Sze Ying
Asia Rugby Championship 2023 & WXV
Hong Kong China are in need of preparation as they play the Asia Rugby Championship 2023 which is set to include Japan, Kazakhstan, and China and the tournament is set to be held in Kazakhstan in May 2023.
The ARC 2023 is vital as it will also determine which teams and in which Divisions the national teams will participate in the first WXV which is also slated to start in 2023. Only the top two from ARC will qualify for WXV is our current understanding.
Based on the current details on the Asia Rugby website – the ARC 2023 will not be a full round-robin format. This means that both teams who win their first game will qualify to the WXV and the winner of the ARC final will determine who joins WXV 2 or WXV 3.
World Rugby has said that the host locations and dates for the tiers of the inaugural WXV competition will be announced after the TikTok Women's Six Nations which concludes on April 29 2023.
ARC Women's 2023 Matches – Almaty, Kazakhstan
23 May 2023 –  Japan vs China (China Withdrawn) / Hong Kong China vs Kazakhstan
28 May 2023 – ARCW Finals Japan vs Winner of Hong Kong China vs Kazakhstan
*This information changed on May 16 when it was confirmed China would no longer be involved.
World Rugby Rankings
Correct at the time of publishing based on World Rugby.
Sweden is currently coached by former England centurion Tamara Taylor who recently played in the Tradition HKFC Tens 2023.
Hong Kong China – #15
Netherlands – #16
Sweden – #20
Asian Rugby Tournaments 2023
---
Trending Now