Hong Kong Women's XV Head Coach – Royce Chan Leong Sze
Posted On December 12, 2022
---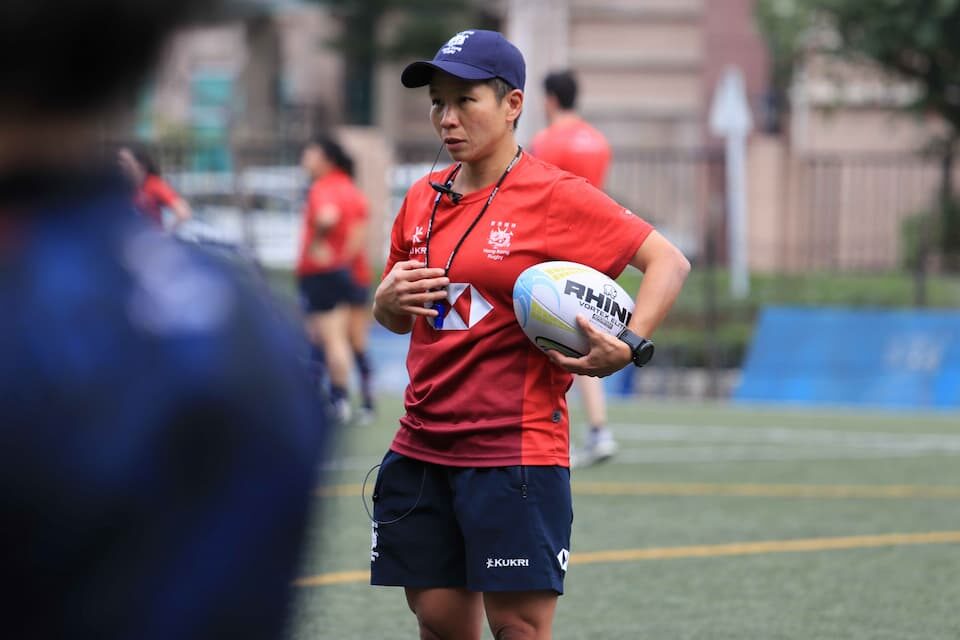 On the eve of HKRU hosting its first women's XV rugby international in several years, we spoke with the new Head Coach Royce Chan Leong Sze about transitioning from player to coach, the belief and confidence she has in the squad, and the excitement of competing in the WXV in the future.
Royce Chan Leong Sze – Excitement in Coaching
Tell us about the transition you have made from player to coach – has it been easy?
Royce: It has been quite a journey from retirement to trying to be a full-time coach, especially for a team that I so recently played for. I'm locally born in Hong Kong and I was a passionate player and proud to represent Hong Kong at any level. I was lucky enough to know rugby from a young age but I am not going to lie – there is some pressure being in this role but I was also really excited to be recognised and appointed to be the Head Coach as well.
What most excites you about being Head Coach – are you happy not to be on the field putting your body on the line?
Actually, (breaking into a broad smile) I miss holding the tackle pad and wanting to smash someone – but now you have to show the proper technique to the players such as in the tackle. How you talk to the players and frame how you want to emphasise something can change the entire mentality of the group.
This is a really great bunch of players so I know they will always give 100%. I will get satisfaction from them to see their success – this is the beauty of the role.
And you have a coaching team around you, and a support structure around you from the HKRU – so are there nerves and are you happy with the squad for your first international series as a coach?
The first time as a Head Coach, I think it's natural to be nervous and you are always unsure about what you are trying to achieve and asking "can I do it better?" – I ask myself this question every day.
I can say I am 100% confident in this squad, since day one. We have done the necessary work and video analysis and reviewed how we have improved. The girls are pushing hard and we have seen continual improvements. We have not had much time to prepare, maybe six weeks but that has been limited by the girls playing with their clubs and others playing with the national 7s team. The players have gone through a lot to get themselves ready.
From a coaching perspective, we have two new coaches – the two Sams (Sam Hocking Assistant Coach & Forwards coach, and Sam Beard, Assistant Coach and Backs/Defence Coach). Both are experienced coaches and have been amazing in supporting the girls and it's exciting to see how we bring different perspectives and drive the team forward in new ways.
It is a new generation, new vibes and a new environment for women's rugby in Hong Kong.
Women's Rugby in Hong Kong
Tell me about that spirit and excitement around the women's game, especially in Hong Kong.
We are quite lucky in Hong Kong, and through the HKRU, we have the player pathways starting from age grade groups such as U12-U14-U16 etc. 
The pandemic killed the rhythm and momentum that was building for all sports globally. Here in Hong Kong we managed to play some domestic games and matches – it was not continuous but we could engage a group to play and the league was disrupted. 
I think it's been motivational to see the game continue, such as the Hong Kong Sevens teams playing and we now have the women's XV happening in Hong Kong – we want to bring people together as we re-enter the international stage. 
Next year we have the WXV which I think is going to be massive and the women's RWC 2021 has been so successful this year-  we want to catch the wave and catch the bus as it grows.
You have many players in this Series Squad who played in the Sevens Series. Do you have a plan or blueprint of how you will manage the players as more international rugby returns to Hong Kong as there will be WXV and more tournaments to come, including the Asia Rugby Championship?
This is always something that comes back to us as a management group and us asking what we want to see in the future. 
The Sevens girls are great, and when they integrate into our XVs environment they offer us that speed and professionalism as they are full-time professionals. 
Long-term, we have a core XVs group and we want to drive more players to this and create great a larger group. How we develop more performance players and get used to that high-performance environment is key and this comes down to test matches.
In reality, Hong Kong is such a small place but so many do play sports and we want to recruit more players for 7s and XVs and open up people's perspectives to rugby.
The domestic league has been amazing and we can see how much talent there is, so we are lucky to have that in Hong Kong.
Playing Kazakhstan and WXV
On the Kazakhstan challenge – what are the key areas you want to see the team do well in and what are the challenges the Kazakhstan team pose?
We want to emphasise to the players to enjoy this journey. To play an international rugby game, which we have not done since 2016 at home and to do so without any limitations, is a big drive for us.
We know Kazakhstan will be physical and challenge us at the set piece. If we can get those two areas right I think we will have a good game. 
As a new coach with a new group of players – this is a chicken and egg question – do you already have a playing style in mind before the players' are assembled or is the blueprint you want for the team dictated by the players you have?
This is a good question, and I suppose as a coach you always have an idea or a dream style of play and how you will score the tries. In the real world, much of it is down to how you adapt the best – we don't even know how Kazakhstan will play the game as it's been so long since we have played them.
It will be a good challenge for the players and the coaches to adapt. We have been working hard in preparation and we have done the best we can – it will also depend on how the players manage and adapt under pressure.
When we talk about the blueprint, I can confidently say this group has a clear idea of our identity and they are very determined to represent Hong Kong well.
You mentioned those Sevens players, they are really determined despite playing so recently and the XVs girls have had games in the domestic league and putting in the work and extra training – they are here working hard for this and the work ethic is massive.
I think the effort and how much we respect the opponent is important but we need to respect ourselves too.
You mentioned adaptability, which has been a hallmark of HKRU for the past 24 months. How much do you lean on your senior players and co-captains to adapt during the game and the changes that are needed?
I think we need to rely on players, on how they play and how they adapt and be the best they can be. As a management group, it depends on how much we can support them and be 100% confident in their decision-making on the pitch.
We discussed the phrases "doing things right or wrong" or just doing things in a better way. It's not about right or wrong, we need better solutions and the results will come – and we can review things later.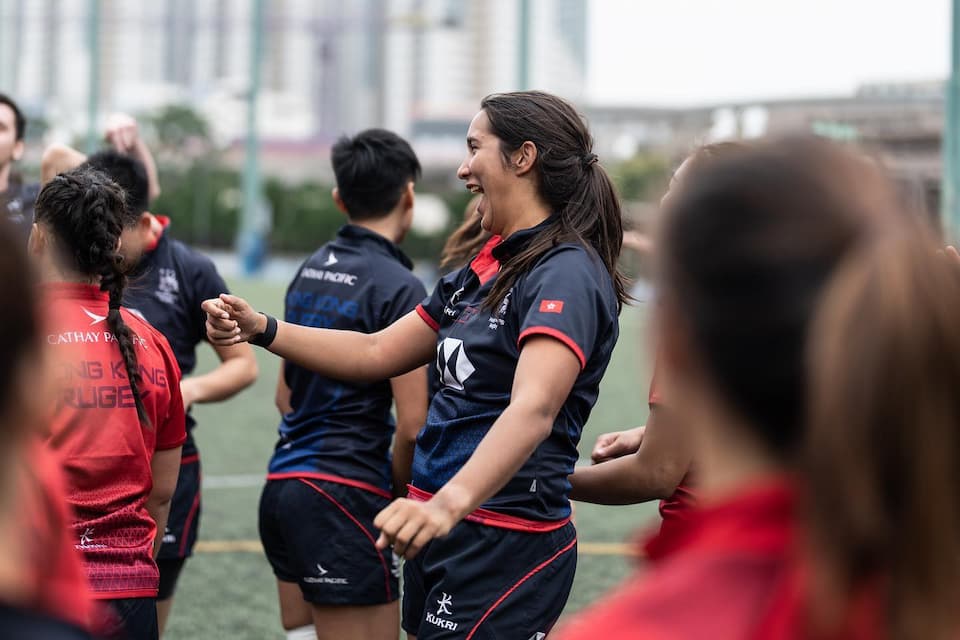 On the long-term plans with WXV – we are all waiting on the information from World Rugby on this but what are the plans after this Series?
As a management group, we have a plan and WXV is something we really want to target. The other teams in Asia have been playing while we have not.
Japan has done really well, even at the Rugby World Cup 2021 in New Zealand, also playing bigger teams – I really appreciated and respected how they represented Asia. I think they have done really well.
With Kazakhstan, we last saw them play Colombia – this was a close game and they only lost by a kicked penalty so we can see how they have grown playing different types of competition.
So I think we are the unknown and this December is a great opportunity to see how we are doing and to measure ourselves.
Hong Kong won the first match 31-17 on Saturday 10 December 2022 which meant Hong Kong rose four places in the World Rugby Women's Rankings powered by Capgemini as a result.
Hopefully, all of the Asian teams get to play different teams and are exposed to different styles – we have seen in the 7s game how important this is for teams to grow and develop and seeing the same teams play every year gets dull for the fans (and even though they might not admit, the players and unions too).
This Series between Kazakhstan and Hong Kong does not impact the Asia Rugby Championship or WXV but is a standalone series to allow the teams to get up and running after such a long period of inactivity in the Women's XV game. Good Luck to Royce Chan Leong Sze and her HKRU team and to Kazakhstan.
Hong Kong Rugby News 2022-2023
---
Trending Now