Hong Kong Proud and Ready For Final RWC 2023 Qualification Tournament Match Against Kenya
Posted On November 17, 2022
---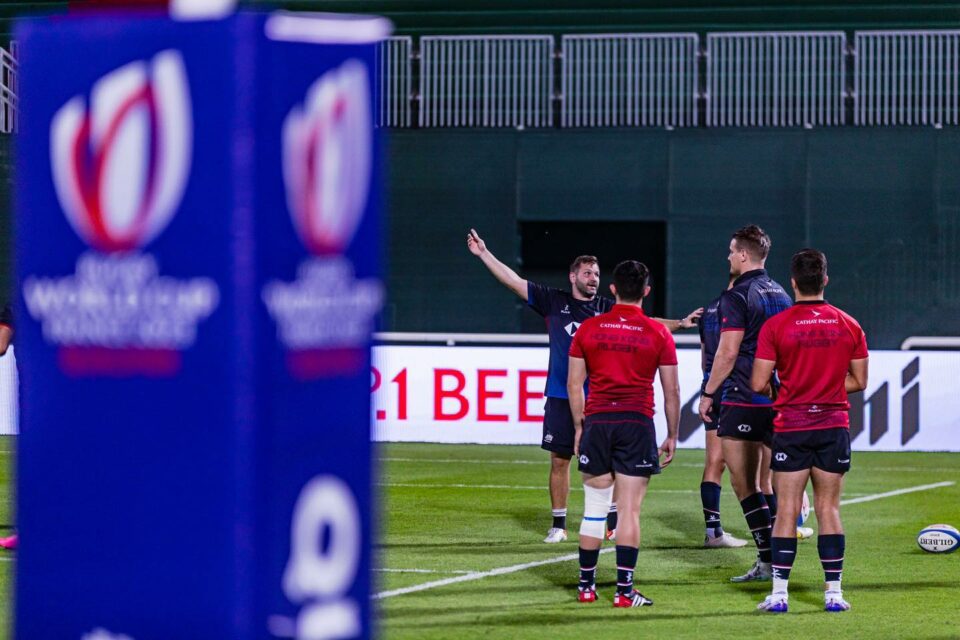 Hong Kong square up against the Kenyan Simbas on Friday 18th November in Dubai and the team is desperate to leave the RWC 2023 Qualification Tournament with a win before returning home.
Hong Kong Men's XV vs Kenya – RWC 2023 Qualification Tournament Friday 18th November 2022
HKRU Men's XV head coach Lewis Evans has put on a brave face while in Dubai but he is desperately keen to secure a win against Kenya, the team has maybe not quite delivered up to their ability in this tough tournament but have had to overcome much
Evans said: "There's obviously some disappointment in the group. We certainly believe that we were capable of challenging these teams. Full credit to both Portugal and USA. They both played and performed very well. But our job now is to beat Kenya and that's our room. So, we've had the two games to reflect on our own performances.
And also, we've had two games to prepare from Kenya's games as well. I think we're prepared and it's going to be an exciting game. As long as we play our game, I think we'll be successful. But the biggest thing now, and I've challenged all the boys, is to get the performance there and then the result."
For the squad against Kenya, he added "There are a few bruised bodies. But there are certain opportunities like this guy next to me now, Kyle (Sullivan), he's had a tough time after the last tournament having an operation. But he's now come on board and he's going to be starting number five for us and calling the lineouts.
We've had a fair few injuries throughout this entire campaign and it has been disappointing again for the score in general. But one positive thing is that we've got a good group of players, a good group of people. We've just adapted and reacted and carried on. There have been a few changes to the squad but we're confident that it is a team that can go there and win."
Player Tommy Hill added "Obviously, we came here to qualify, which we can't do, which is disappointing. But I think anytime you play for Hong Kong, you want to put your best performance out there. And when else will we have this opportunity to play in the Final Qualification Tournament?
So, I think we want to finish on a high, we want to beat Kenya and we are really looking forward to the weekend and putting out a good performance."
Kyle Sullivan who returns to the squad following injury re-iterated, that as a collective, the players in Dubai, the ones not there, and all of the staff – have been united collectively and are resilient – they have been proud to play for Hong Kong. He added they appreciated all of the support they have received, adding "I hope we have made Hong Kong proud."
The Head Coach also talked about the challenges the Union and squad have faced but said there is lots to be proud of with how everyone has handled all of the changes.
Captain Hrstich leads the side again (after celebrating his birthday mid-week) and Jak Lam will make his debut in the match.
Hong Kong Match Day squad
Hong Kong: 15-Nathan De Thierry; 14-Matt Worley, 13- Jack Neville, 12-Tommy Hill, 11-Guy Spanton; 10-Gregor McNeish, 9-Bryn Phillips. 1-Ashton Hyde, 2-Johnnie McCormick-Houston, 3-Zac Cinnamond, 4-Mark Prior, 5-Kyle Sullivan, 6-Josh Hrstich, 7-Gregor Ramage, 8-Luke van der Smit.
16-Jak Lam, 17-Ben Higgins, 18-Keelan Chapman, 19-James Cunningham, 20-Sam Tsoi, 21-Jack Coombes, 22-Nik Cumming, 23-Fong Kit-fung.
Kenya Men's XV vs Hong Kong – RWC 2023 Qualification Tournament Friday 18th November 2022
Kenya has suffered two big losses so far in Dubai (68-14 vs USA and 85-0 vs Portugal), and like Hong Kong, will be aiming to end the tournament on a high and break a record for an African team.
Paul Odera, Kenya's Head Coach said: "It's been tough to pick the players up, especially after the Portuguese score, but we've tried to get into the boys that we need to finish with some pride and dignity and see how we want to go home and how we want to be remembered from this repechage.
Obviously, it will be historical if we can get a win, because no African team has won a game at the repechage in the past. So, it will be something for us to aim for."
Of HK, he added "One thing with Hong Kong is they are very physical. I think some of the collisions we saw against the USA and against Portugal are quite brutal. So, you do expect the physicality. They've got a very strong rolling maul. That is something that we need to be very wary of. We need to make sure that we're playing the game in the right parts of the field. What we will have to do is probably be a bit smarter in where we play the game.
We had almost equal possession stats against Portugal but there were wrong parts of the field. So that's something that we need to be wary of and it's something that we need to play a bit better. If we can get into the right parts of the field and then get our place to run probably from a bit deeper – because we've been guilty of being a bit too shallow, and then we're not able to build momentum with our carries -maybe we'll be in with a chance of being competitive in the game."
Kenya "Simbas" Match Day squad
15. Darwin Mukidza, 14. Jacob Ojee, 13. Bryceson Adaka, 12. John Okoth, 11. Brian Tanga, 10. Geoffrey Ominde, 9. Samuel Asati, 1. Patrick Ouko, 2. Eugene Sifuna, 3. Ephraim Oduor, 4. Malcolm Onsando (captain), 5. Clinton Odhiambo, 6. George Nyambua, 7. Martin Owilah, 8. Bethuel Anami
16. Brian Waraba, 17. Andrew Siminyu, 18. Joseph Odero, 19. Thomas Okeyo, 20. Joshua Weru, 21. Samson Onsomu, 22. Peter Kilonzo, 23. Geoffrey Okwach
Match Official
Angus Gardner (Australia) will takes charge of his first test in the November window with this match. It will be the first time he referees Hong Kong, but he has overseen Kenya once before, in the final stage of qualifying for Rugby World Cup 2019.
The USA play Portugal after this match, with the winner earning the right to head to RWC 2023 as the final qualified team.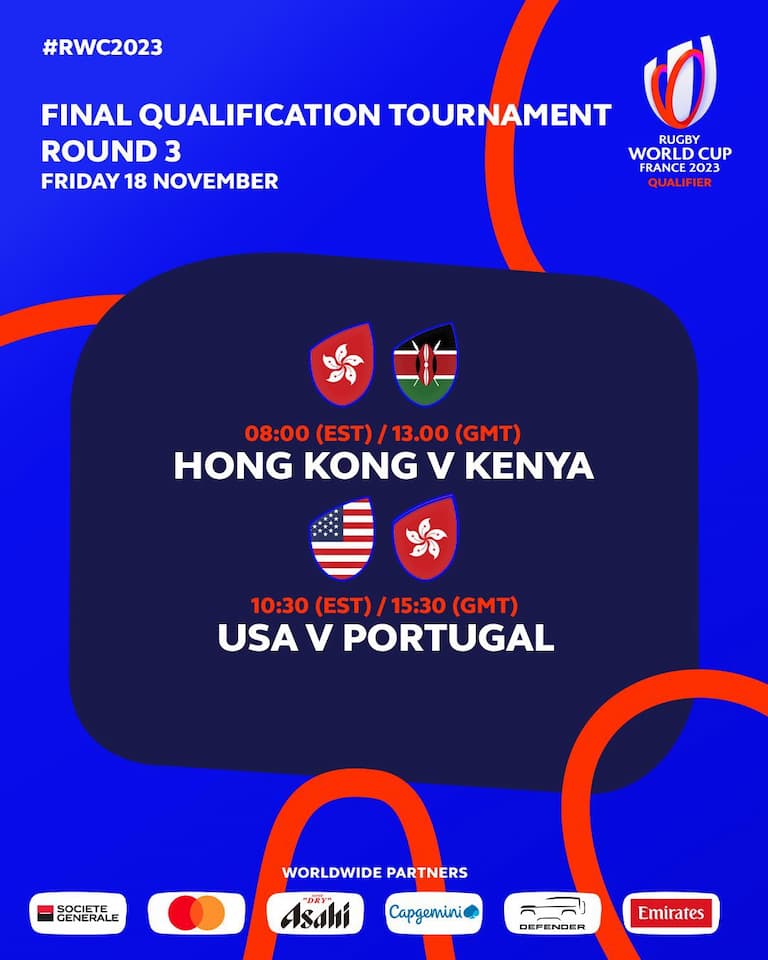 Match Permutations HK vs Kenya
If Hong Kong beat Kenya, they will climb above a beaten Namibia into 23rd place on the World Rugby rankings.
If HK loses, they will drop one place in the rankings to below Russia.
Kenya cannot fall from 34th in defeat, but a draw would see them jump three places to 31st.
A Kenyan win could potentially see them rise as high as 28th in the rankings.
Rugby World Cup News
---
- Advertisement -

Trending Now