Hong Kong vs Kazakhstan Womens XV Preview
Posted On December 9, 2022
---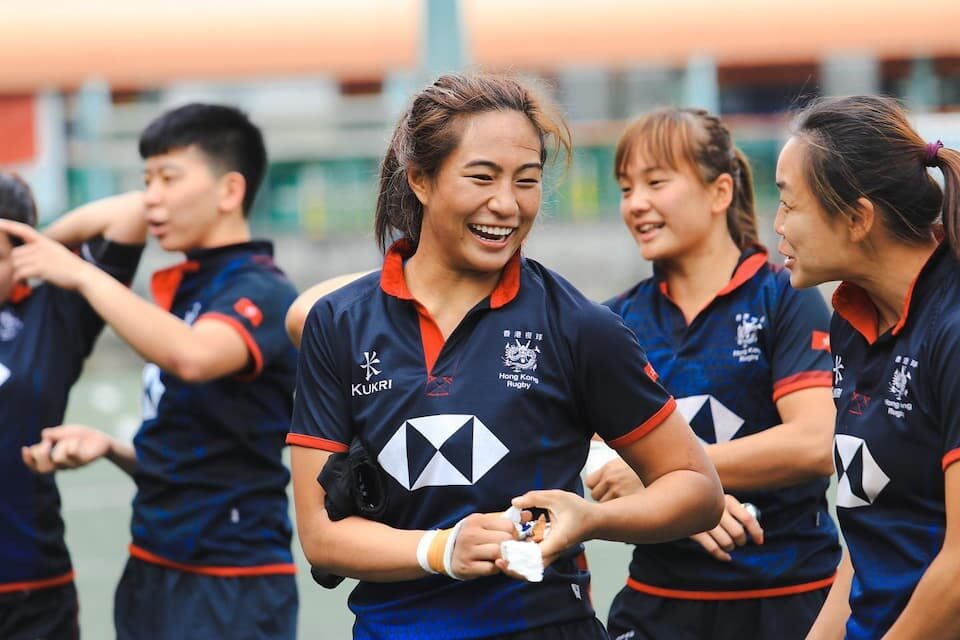 Hong Kong women's XV take on Kazakhstan on Saturday 10th December 2022 at the Siu Sai Wan stadium, which is the 100th womens XV test of 2022 but the first for the HKRU women's team ince 2019.
The Hong Kong Rugby Union announced their final 39-woman selection for the two-test series and the squad for the first matchday. The wider squad includes 15 players who are potentially on debut. Over 50 players expressed an interest in representing Hong Kong a few months ago, with the final selection made after an overnight camp this past weekend.
HK Head Coach Royce Chan Leong Sze has sought experienced leadership through prop Lee Ka-shun (with 26 matches is the most experienced player) as co-captain alongside Natasha Olson-Thorne – who also co-captains the Hong Kong women's sevens team and has racked up 25 XV tests for HK so far.
We spoke with Natasha Olson-Thorne about the balancing act of playing national team 7s and XVs but more importantly about the excitement of the match being played at home. She has not played HK XVs since the RWC 2017 but she can't wait for the matches.
"It is always a jump between 7s and 15s and getting used to the playing patterns but it has been quite smooth so far. Making connections with everyone has been quite good and we were only all together for a camp this past weekend….I think we have gelled pretty well so far, it is just now ironing out those patterns. It will be good to see where we are at on Saturday."
There has been a growing buzz around the women's game, especially since the Rugby World Cup in NZ this year and the ongoing growth of the sevens game. "I'm a veteran now as you said (smiling). Some girls that I have coached in the past are now playing with me now which really warms your heart because you know that the future of the game is there in HK Rugby."
Playing at home will be special for all of the HK players and the co-captain added "It always gives you an extra boost to run out in front of your friends and family but also to inspire the young girls in the crowd. They may be looking at us and saying 'I want to be out there one day'.
The HKRU WXV coaching team consists of Royce Chan Leong-sze Head Coach, Sam Hocking Assistant Coach & Forwards coach, and Sam Beard, Assistant Coach and Backs/Defence coach.
Royce told us in preparation for the matches (coming in as a Head Coach and coaching players who were teammates not long ago): "It has been quite a journey from retirement to trying to be a full-time coach, especially for a team that I so recently played for. I'm locally born in Hong Kong and I was a passionate player and proud to represent HK at any level. I was lucky enough to know rugby since I was young but I am not going to lie there is some pressure being in this role but also I was also really excited to be recognised and appointed to this role as well."
Royce had just informed the players who had been selected for the first game on Saturday when we spoke with her and added "I can say I am 100% confident in this squad, since day one. We have done the necessary work and video analysis and reviewed how we have improved.
The girls are pushing hard and we have seen improvements. We have not had much time to prepare, maybe 6 weeks but that has been limited by the girls playing with their clubs and others playing with the national 7s team. The players have gone through a lot."
The HK ladies played against the Netherlands on tour in 2019, and twelve of the touring squad are included in this Series in 2022.
Eleven of the 39-strong squad have recently represented the HK Sevens team two weeks ago in the Asia Rugby Sevens Series 2022 (ARSS 2022); Vivian Poon Hoi-yan, Olson-Thorne, Jessica Ho Wai-on, Agnes Chan Tsz-ching, Jessica Eden, Maggie Au Yeung Sin-yi and Nam Ka-man, Cherly So Yee-kei, Sabay Lynam, Georgia Rivers and Shanna Forrest, are all included.
Nine in the squad played the Rugby World Cup 2017 –  Flyhalf Lee Sze-ting and Olson-Thorne, are the only backs remaining from that team.
On the Kazakhstan challenge – the Head Coach told us: "We want to emphasise to the players to enjoy this journey. To play an international rugby game, which we have not done since 2016 at home and to do so without any limitations, is a big drive for us. We know Kazakhstan will be physical and challenge us at the set piece. If we can get those two areas right I think we will have a good game."
Kazakhstan is also expected to draw from its sevens rugby team, who finished in fifth place on the ARSS 2022 one spot behind Hong Kong.
Hong Kong XV vs Kazakhstan Squads – Saturday 10th December 2022
Hong Kong's most capped fifteens players Lee Ka-shun (26 caps) and Natasha Olson-Thorne (25 caps) are co-captains of the squad, which features two other senior players with over a dozen caps in; Chow Mei-nam and Jessica Ho Wai-on.
The rest of the group are in single-digit appearances or debutants with 11 players on debut for the first match on Saturday  Several players have represented Hong Kong in rugby sevens; Cherly So, Georgia Rivers and Sabay Lynam.
Coach Royce Chan added: "We had a lot of difficult calls for the selection and it was emotional for the players, which shows how much they care. The decision was hard and the coaches had to review tape from every session because some of the selections were so tight, but I have the utmost confidence in this squad."
Hong Kong XV Women's Team
Forwards: LEE Ka-shun (co-capt); CHOW Mei-nam; Roshini TURNER; Fion GOT Yuei Tein; Iris LAM Tim-yeung; Chloe BALTAZAR; Micayla BALTAZAR; Maggie AU YEUNG Sin-yi; Agnes CHAN Tsz-ching; Ball NG Ki-sum; Duc LAM Tsz-yan; WONG Yuen-shan; Rosetti TSANG Hoi-laam. 
Backs: Natasha OLSON-THORNE; Jess HO Wai-on; Jess EDEN; Aileen RYAN; Vivian POON Hoi-yan; Zoe SMITH; Georgia RIVERS; Cherly SO Yee-kei; Sabay LYNAM; QIAN Jiayu.
Kazakhstan TeamXV Women's
Yakaterina YUROVA, Kxenya KIM, Natalya KAMENDROVSKAYA, Marya GRISHINA, Karina SAZONTOVA (c), Lilya KIBISHEVA, Anna MELNIKOVA, Daiana KAZIBEKOVA, Alyona DROBOVSKAYA, Diana ABISHEVA, Veronika STEPANYUGA, Alina ASKEROVA, Lyudmila SHERER, Amina TULEGENOVA, Galina KRASSAVINA, Darya SIMAKOVA, Moldir ASKHAT, Karina TANKISHEVA, Svetlana MALEZHINA, Balzhan AKHBAYEVA, Milana ALAYEVA, Balzhan KOISHIBAYEVA, Anzhelika PICHUGINA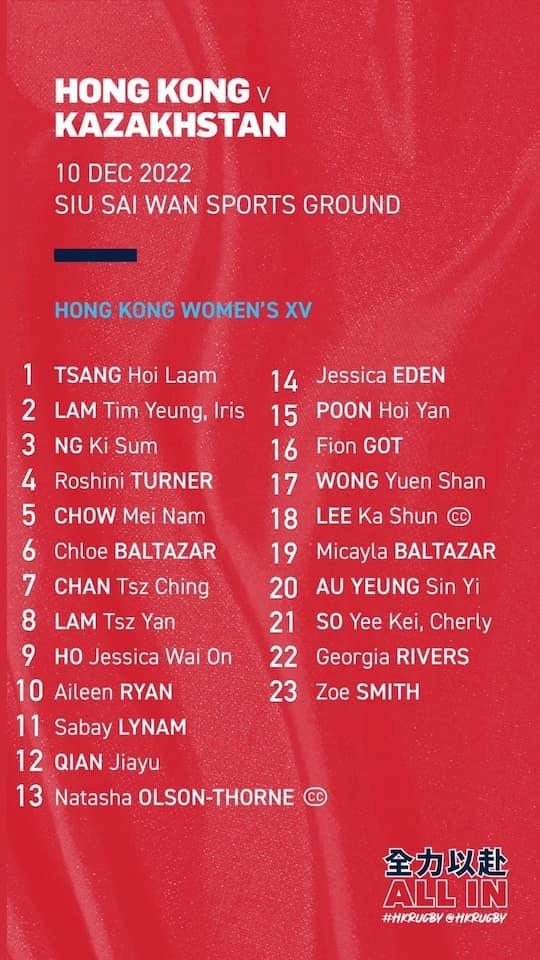 Hong Kong XV squad for Kazakhstan Series (2022)
Maggie AU YEUNG Sin-yi; Chloe BALTAZAR; Micayla BALTAZAR; Abigail CHAN; Agnes CHAN Tsz-ching; Lily CHAU Hei-tung; CHENG Lok-tung; CHOW Mei-Nam; Jessica EDEN; Rachel FONG; Shanna FORREST; Fion GOT; Kea HEREWINI; Jessica HO Wai-on; HO Tsz-wun; QIAN Jiayu; Iris LAM Tim-yeung; LAM Tsz-yan; LEE Ka-shun; LEE Sze-ting; LEUNG Choi-see; Vincci LEUNG Wing-yi; LIU Yuen-ting; Sabay LYNAM; NAM Ka-man; NG Ki-sum; Natasha OLSON-THORNE; Mila PANG Hiu-lam; Vivian POON Hoi-yan; Georgia RIVERS; Aileen RYAN; Winnie SIU Wing-ni; Zoe SMITH; Cherly SO Yee-kei; TSANG Ching-man; TSANG Hoi-Laam; TSANG Sin-yan; Roshini TURNER; WONG Yuen-shan.
Where to watch the HK vs Kazakhstan December 2022 XV Matches?
Entry to watch the matches is free for spectators, and the matches are due to be streamed live on the Asia Rugby social channels.
Games will be streamed LIVE on the Asia Rugby social channels, and free to view in Hong Kong on Cluch TV.
HK vs Kazakhstan Women's XV Match 1 – 15:00 Saturday 10 December, Siu Sai Wan Stadium
HK vs Kazakhstan Women's XV Match 2 – 18:15 Saturday 17 December, Hong Kong Football Club
Asian Rugby Tournaments
---
- Advertisement -

Trending Now