Hong Kong Women XV Celebrate Win Over Kazakhstan
Posted On December 11, 2022
---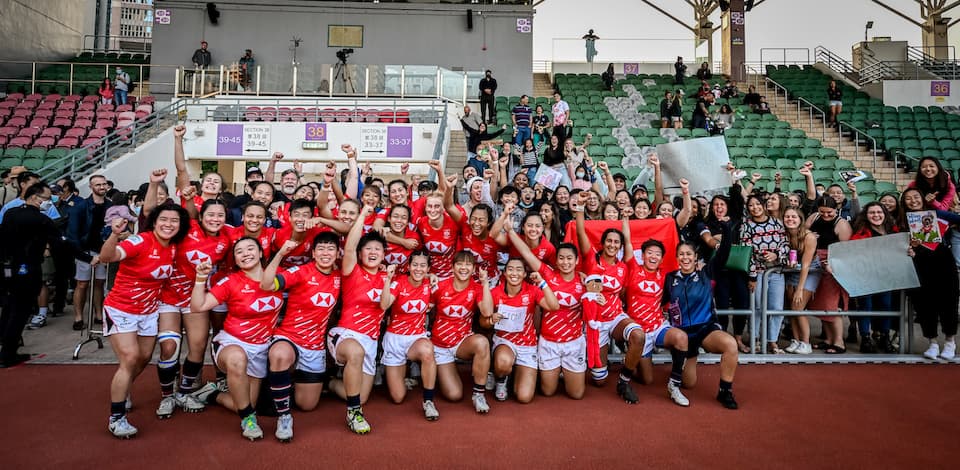 The Hong Kong Rugby Union Women's XV, featuring 11 players on debut and in their first test since 2019, produced an inspirational 31-17 win over Kazakhstan at Siu Sai Wan in the first of the two-match series on December 10 2022.
Hong Kong led 13-12 at the half, after erasing an early 12-3 deficit before the interval but had to fight back from a rusty start. The hosts never trailed after the break, producing three more tries in a blistering second half in which they were smart in exploiting the Kazakhstan weak blindside defence and the visitor's forward dominance never really materialised.
Head coach Royce Chan Leong-sze was delighted with the performance and the win in her debut match in charge, saying, "I'm so proud of the team. We have kind of held a grudge for years waiting for a game, and now we have had the chance to get that chip off of our shoulders. In the second half, we found our rhythm. At halftime we talked about emphasising our strengths, focusing more on ourselves and eliminating our errors. The girls really gelled and I couldn't even tell they have been training for such a short period of time."
Hong Kong tried to play fast to stretch the Kazakh defence during the course of the game, a strategy which produced dividends in the second half.
A few forced penalties at the scrum, helped Kazakhstan find their feet early on, the setpiece was known beforehand to be a key area ti decide the outcome of the match, and the visitors grew in confidence and scored two tries after HK had opened the scoring through a penalty. Both Kazakh tries were scored by regular sevens players (Lyudmila Sherer and Galina Krassavina) with six in total in the visitor's squad.
Kazakhstan led 12-3 after 20 minutes in which both sides showed some rustiness and kicking wasn't great from either side early on.
Despite conceding the early scores, Hong Kong looked more dangerous in attack, particularly fullback Vivian Poon Hoi-yan who entered the line repeatedly at pace and as the commentator said later in the game, must have covered every blade of grass on the field by the end of the match.
The perfectly timed insertion from Poon helped create space for fellow sevens star Jessica Eden to score in the corner and begin the host's fightback- with Ryan's conversion seeing the deficit reduced to 12-8.
Hong Kong's managed to force a number of turnovers and Poon wrong-footed the defence and crashed over for the try on halftime for HK to take the lead 13-8.
In the second half, Hong Kong showed near complete territory and possession dominance, if anything they will rue not being more clinical at times. Hong Kong mounted a series of phased attacks on the line with Kazakhstan, and it was co-captain Natasha Olson-Thorne who matched strength with strength to convert a half-gap into the full five points for the hosts, to extend the lead to 18-12.
The visitors only fielded 21 players in the matchday squad and they were tiring- even the Hong Kong pack who were lighter and small started winning collisions and scrums, with superior body height and better technique
The hosts converted a fourth-phase move when Jess Eden collected her brace of tries, scoring untouched in the corner as Hong Kong led 23-12.
Kazakhstan was not done and stayed in the fight with an excellent brilliant solo effort from the 18-year-old Amina Tulegenova charging down a kick, collected the ball and scored a converted try to make it 23-17.
HK turned it up in response and Agnes Chan Tsz-ching added another score to make it 28-17 and effectively put Kazakhstan out of reach as the minutes read by. Ryan added a late penalty to make the final score 31-17.
The Head Coach added after the final whistle, "For now, I want them to enjoy the next 24 hours. Then we can calm ourselves down and start our mental recovery because everyone is so excited now, which is great. We have done the first job, now our challenge is to do the second job better. We know Kazakhstan will come back hard."
Co-captains Natasha Olson-Thorne also said, "We are just very proud of the girls." Her co-captain Lee Ka-shun added "We had confidence but we did not think it would be like that. We just came in wanting to do our jobs and let the results come from there. Now we need to keep focusing on our strengths and improve our execution and accuracy for the next game.
The experienced Olson-Thorne summiting "This is a good boost for our confidence. We know we can do it now, and now we just need to take it to the next level. I think we will be even hungrier for the next one.
HK 31-17 Kazakhstan Women's XV Match 1 – 15:00 Saturday 10 December, Siu Sai Wan Stadium
HK vs Kazakhstan Women's XV Match 2 – 18:15 Saturday 17 December, Hong Kong Football Club
Hong Kong Squad Match 1 (10/12/22) versus Kazakhstan – December  10, 2022
Forwards: LEE Ka-shun (co-capt); CHOW Mei-nam; Roshini TURNER; Fion GOT Yuei Tein; Iris LAM Tim-
yeung; Chloe BALTAZAR; Micayla BALTAZAR; Maggie AU YEUNG Sin-yi; Agnes CHAN Tsz-ching; Ball NG Ki-sum; Duc LAM Tsz-yan; WONG Yuen-shan; Rosetti TSANG Hoi-laam.
Backs: Natasha OLSON-THORNE; Jess HO Wai-on; Jess EDEN; Aileen RYAN; Vivian POON Hoi-yan; Zoe
SMITH; Georgia RIVERS; Cherly SO Yee-kei; Sabay LYNAM; QIAN Jiayu.
This press release was supplied by HKRU and edited by Rugby Asia 247.
Asian Rugby News
---
Trending Now