Improved Second Day for Asian Teams at RWC Sevens 2022
Posted On September 11, 2022
---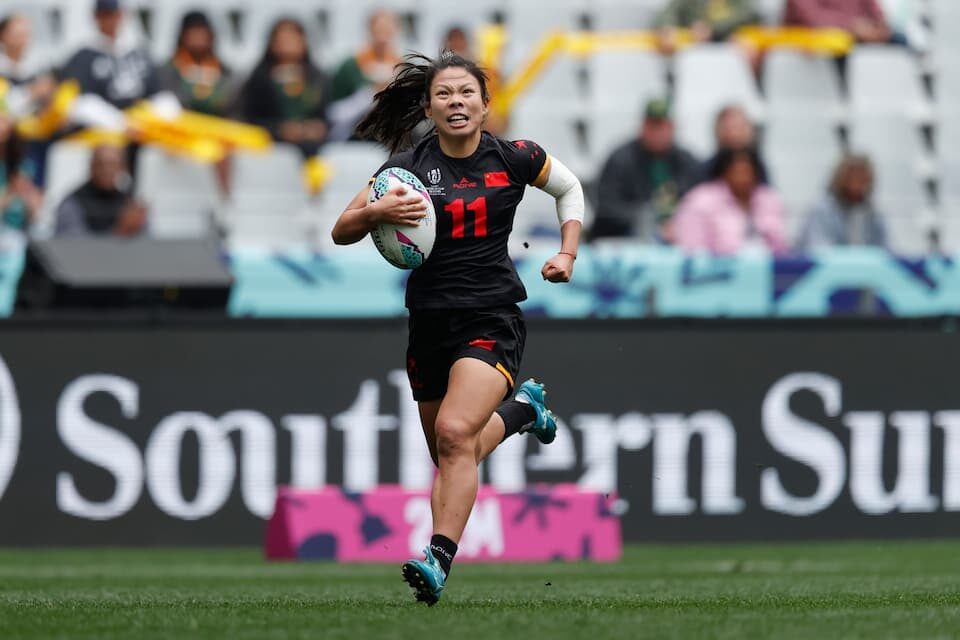 After a Friday which saw all four Asian teams lose their matches in Cape Town at the RWC Sevens 2022, Saturday yielded better results.
Although some mixed performances meant China, Korea, and Hong Kong are probably not playing for as high a position as they would have liked, the Sakura 7s went undefeated to setup a Women's Challenger Final on Sunday.
(Feature Photo credit: Mike Lee – KLC fotos)
(See the review of Friday's games here)
Korea Men – Saturday 10th September Results
Korea 0-12 Uganda (Bowl QF)
In the Korean men's opening match against Uganda, the opposition used kick-throughs effectively to turn the Korean players around and within a couple of minutes, Korea found themselves trailing 0-5. Even though Korea was doing all of the defending, it was Uganda that incurred a yellow card but the opportunities Korea did create with the extra man were wasted with some poor passes and handling. The score remained 0-5 at the HT break and the second half saw more of the same from Korea (yes it was a wet ball but the quality was not good enough). Uganda raced clear for a second try to extend the lead to 0-12 and shut out Korea for the match – the Koreans were just not clinical enough
Korea 21-19 Zimbabwe  (Bowl 21/24 place)
Hong Kong had put away Zimbabwe ruthlessly and Korea started in the same vein, scoring early on with a converted try to make it 7-0 through Jeong Yeonsik.  The crowd was buzzing more by now, supporting the South African neighbours but Korea turned defence into attack and an excellent long ball put ensured Yeonsik added a second try to make it 14-0 (and the 200th try of the tournament). There were still handling errors from Korea but following a messy passage of play, they added a third and a Yeonsik hat-trick (a first for an Asian player at a Rugby World Cup Sevens?). Zimbabwe scored a consolation try but Korea ran out deserved 21-7 winners
Korea vs Portugal 21-22nd place (Sunday 11th September)
Hong Kong Men – Saturday 10th September Results
HK 28-0 Zimbabwe (Bowl QF)
On an overcast and cooler day compared to Friday, Hong Kong got off to a great start and Nardoni put them on the board early before Yiu added a second to put them in control 14-0 up. The team was far more clinical than Friday's match and added two more tries by the half (from Webb and Brien and both converted) to lead 28-0 at the HT. The second period was more scrappy and there were no more scores but HK comfortably won the match.
Hong Kong started the match by conceding an early penalty and was forced to defend but a stolen ball and a kick chase up field saw HK go 5-0 ahead. The game was tight and HK exposed themselves by overcommitting players in their own 22m, Uganda scoring out wide to lead 5-7. Hong Kong again showed lots of patience and restraint but didn't get any rewards and the HT score ended the same.  The second half was spotted with some messy attacks and periods of play and Uganda intercepted to score a second try and secure the win 5-14.
HK vs Tonga 19-20th place (Sunday 11th September)
China Women – Saturday 10th September Results
Chima was their own worst enemy on Saturday. They played well against Poland to take the lead after a series of attacks foiled by good Polish defence and some poor handling. The Chinese were poor on the restart and Poland claimed the ball to score on the wing and make it 7.5 to China (the scorer, unfortunately, injured herself in the process). China nearly scored after the HT hooter but failed to do so. In the second half, China pulled away with another good try to make it 14-5 and looked in control but poor defence shortly after allowed Poland to claim a try and make it 14-10. China then earns two sully yellow cards (Sun Yue and Wang Xiao) and blew the lead – it is nearly impossible to defend with 5 players in sevens rugby and Poland earned the win 14-20.
China 36-5 Madagascar (Challenger 13/16 Place)
China's coach was fuming after they threw away the game to Poland, so the team came out firing against Madagascar, going up early 5-0 but Madagascar responded with their own try. China shut out the game in the second half and added four more tries to comfortably win 36-5 and ensure a final game against South Africa on the final day.
China Women vs SA 13/14th Place (Sunday 11th September)
Japan Sakura Women – Saturday 10th September Results
Japan 14-12 SA (Challenge QF)
Japan Sakura 7s had a tough challenge to silence the home crowd and they didn't start well, first with a  poor kick-off and then conceding a try from a scrum when the players were outpaced by the SA player Nadine Roos putting them up 0-5. Japan put together a great move and passed the ball well to allow Nakamura to score their try in response, which was converted, 7-5 to Japan. SA then scored again before HT to make it 7-12 but Japan had a chance to strike back after calling for a scrum when earning a penalty but the ball went out of play. The second half was close and Japan opened with an early score to Wakaba Hara and they held on to the lead despite a desperate last few minutes of the half in a nervy win 12-10.
Japan 19-10 Brazil Challenge SF2
Japan went up a team who just played the past HSBC World Series and will be there next season, Brazil. The winner would take on Poland in the Challenge Women's Final and Japan had to all the defending in the opening minutes with the South Americans scoring to lead 0-5. Japan responded with a length of the field try with excellent support play to take the lead 7-5 through Yume Hirano. Wakaba Hara added another try for the Sakura after the hooter to lead 14-5 at HT. In the second half, Japan started by adding a third try to make it 19-5 (again Hara). Brazil did not give up and scored a try to close the gap to 19-10 but this was a more assured display by Japan who closed the game out.
Japan vs Poland Challenge Final (Sunday 11th September)
See all the match results and fixtures here.
Rugby World Cup Sevens 2022 News
---
Trending Now