Integrated Brilliant Education – Using Rugby To Promote Inclusivity
Posted On January 11, 2023
---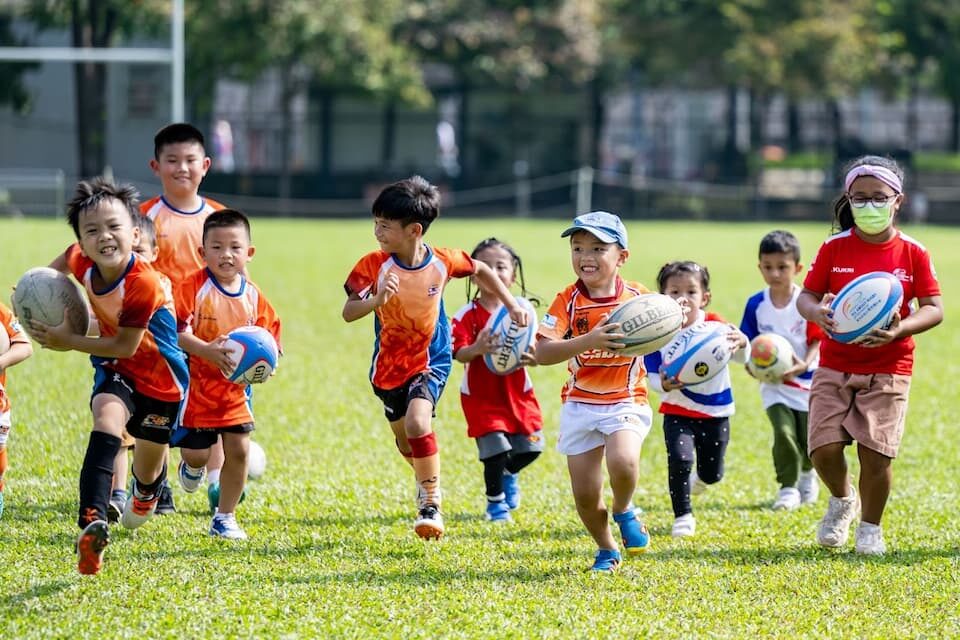 We spoke with Manoj Dhar, the co-founder and Chief Executive Officer of Integrated Brilliant Education (IBEL), a charity providing after-school care and academic support for non-Chinese speaking children, but which has also partnered with the HKRU Community Foundation to offer important sporting and integration opportunities. 
We discussed the work that IBEL does in Hong Kong, and how rugby offers these children and their families a pathway to inclusivity in Hong Kong, while also broadening their horizons, and aside from getting exposed to rugby, they better understand the benefits of an active lifestyle.
Feature Photo Credit: HKRU Community Foundation
Integrated  Brilliant Education – Using Rugby As a Vehicle For Change
Manoj came to Hong Kong to work in the finance and banking sector, and his first introduction to this beautiful sport of rugby was due to his daughter growing up in Hong Kong and playing the game at minis and youth level, 15 years ago.
At that stage, the girl's game was still in its infancy and there was a need for greater inclusion in the sport. Girls tended to drop off from the sport as they were not as well included as they could have been, but the core values of the sport were ones that Manoj respected and enjoyed.
He even took up the role a few times as Tournament Director of the All Girls Sevens event which preceded the Hong Kong Sevens week in the past.
Manoj transitioned from banking to lead the Integrated Brilliant Education programme which promotes inclusivity and integrates children into mainstream Hong Kong society, so we wanted to understand the use of the sport as a vehicle for positivity.
Manoj: Fortunately I came across how Nelson Mandela in 1995, and in the run-up to the Rugby World Cup 1995, used rugby and sport to bind everyone together. I thought, "he had a mountain to climb, and if he could succeed then perhaps rugby could be a good vehicle to try and help integrate these children in Hong Kong, especially with the infrastructure we have".
This sport actually symbolises, and its spirit, is all about inclusion, and not just about body size and shape or what part of the planet you come from and what language you speak, they matter very little. 
So very true. There are a lot of rugby development programmes we have spoken to over the years and many of these do have inspirational flashpoints.
One aspect I think we should cover – is that many readers – when they think of Hong Kong, don't imagine there is much of a poverty issue or a lack of access to sports compared to other regions.
So tell us more about the children you support and how you help them assimilate into the Hong Kong culture – and how does rugby help?
Manoj: You are right about that perception of Hong Kong and people associate it with the skyscrapers and it being a financial capital. In a recent study and report that came out, it was also confirmed that Hong Kong has among the highest concentration of millionaires on the planet
But in this city of seven million people, something like 21% of people lives below the poverty line, and that doesn't mean the other 80% or so are living well. So the social economic disparity does exist and that's the case with most societies as there are no perfect societies. 
Holistically speaking, the Hong Kong government has done a fantastic job as there is free schooling for 15 years for children, which is a great model, as it doesn't matter how rich or how poor you are, you get into a school and receive an education. 
The issue mainly comes with the language barrier as many immigrant children who are new to the country are placed in schools where Chinese is the predominant language. When some families move here, they don't have the resources to learn or teach their children the language, and from a child's point of view, they just need educators to educate them. This is where segregation happens.
Local and Chinese children will be learning at 100 miles per hour and benefit from their parents helping them at home. At the same time, there are international schools that don't have the same system but are too expensive for some families to send their kids to.
What we have done as an organisation, for the past 8 years, is accept these kids from Monday to Friday (they have to come in every day after their regular school) and we help with homework and the language translation of subjects such as Maths or Science from Chinese to English, for example. 
Over the past 8 years, we have on a cumulative basis helped 9,000-10,000 kids. They come are from Nepal, the Philippines, Pakistan, Indonesia and other nationalities. Some of them are not first-generation, and many have families that have been here a while in Hong Kong.
Our main objective is to educate the kids to a level where they do well enough at their regular school. 
How Does Rugby Help – HKRU Community Foundation
Manoj: We want a holistic approach, and education is important but we want them to go out and play sports and interact with each other. In 2022 we did a fair bit with the Hong Kong Rugby Union and we have been doing that for nearly five years, especially on the primary side.
We want the children to have an identity with the city and be part of the culture and learn the language – rugby helps with this as well.
There is that notion that you gauge a society by the way it treats its children – so if you nurture them and support them, they have hope for the future. 
Tell us about the exposure these kids get to rugby with the HKRU Community Foundation.
Manoj: The HKRU Community Foundation has been incredibly supportive in assisting us, and even during the pandemic, they helped where they could within the restrictions.
You need to understand, most of their daily existence is within 100 square feet – that's their living space in Hong Kong, it is an expensive place and many don't have the luxury of green space.
So rugby lets the kids play on full fields and allows them to understand more about their physical well-being, which is important, and the benefits of leading a healthy and active lifestyle.
Our secondary school kids were also allowed to be assistant coaches, they are 14-15 years old and that was fantastic.
They are in an impressionable stage and they start thinking "Oh hang on, I could become a sports instructor or a coach".  They start thinking about jobs and careers they didn't consider previously, and ones that may lead to a better career than some of their parents may have. It broadens their horizons.
We had around 100 kids involved in Summer break programs and the coaches started speaking to them in Cantonese so the kids would get used to the phrases, like passing left or right, or "pick up the cones". 
What Attending The Hong Kong Sevens Means
When Hong Kong hosted the Cathay Pacific/HSBC Hong Kong Sevens in November 2022, the HKRU provided us with around 250 tickets and we were able to invite whole families, so kids with their parents.
It was as good as Disneyland for them – they were not having an artificial environment created for them but the Hong Kong Sevens is a key part of the city's identity. 
They could also appreciate that although they are in an ethnically Chinese-majority city, the world is full of so many wonderful races, languages, and cultures. 
They could watch the Hong Kong national team and see the top teams from around the world and ask questions and see that the players don't look that different. They all asked questions, so it was education and entertainment. It made them feel included as part of society and people are inviting them to be involved with no political agenda.
So yes there are a lot of soft skills and societal benefits they have gained through rugby and the partnership we have with the HKRU Community Foundation.
HSBC Ambassador Brian O'Driscoll also spent time with the IBEL students at the Hong Kong Stadium.
Potential Rugby or Career Pathways
These are really valid and interesting points. I think too many times governing bodies from World Rugby to regional and national governing bodies, and to clubs, focus too much on data and statistics and forget about grassroots and players at any age just having fun and the enjoyment of playing the sport. 
What are the additional pathways for these kids and young coaches if they do enjoy rugby – what are the choices available to them if they want to get more involved?
Manoj: When I speak to some of the kids about the physical exercise they get at school, some of them tell me they have one PE lesson per week and in five minutes get asked to do as many sit-ups as they can – that's it. 
So sport doesn't really figure on the radar for many schools.
Rugby gives them an understanding of exercise and a healthy lifestyle and what can happen next is we want to introduce them to local rugby clubs, but education is our main responsibility. We are extending our resources and we need other people who understand the language Robbie McRobbie (CEO of HKRU) and I are speaking – they should step in and help. 
McRobbie, previously said of the partnership that both organisations' ideals line up, so working together was seamless. "The ethnic minority community here face a number of challenges, and he (Manoj) and his team are making a real difference in giving them a 'leg up'….we will continue to look at ways to help those members of society who need a hand – inclusivity is a value at the very heart of rugby."
The HKRU helped with a local club to get some sessions with the kids and we are trying to find more ways to promote the integration and open up pathways for them to get exposure to rugby and get the parents to understand the game – it will ultimately be their decision to take it further.
Over the past Summer, there were some first-time skills learning internship opportunities –  In total six (5 girls + 1 boy) from the IBEL secondary school had the experience of assisting the HKRU coaches with running the sessions for primary children which was a massive confidence booster as also a horizon-broadening one. At the end of these 5-6 sessions, they also received completion certificates.
That parent buy-in is really important for them to understand the opportunities for their kids and see the doors opening for them.  
Manoj: Everybody tries to deal with the symptoms but not many deal with the root causes. And when words get thrown around, like 'inclusion', people say this but they tend to not offer and appreciate how to do it. 
Rugby exists as a sport because children are interested in and fascinated by it and have their parents' support.
People need to understand the spirit of rugby, of inclusion, and it being a team sport. The reason why society all works is because we are all different, and rugby is the perfect reflection of this.

We want people to understand that these are the sons and daughters of Hong Kong.
Catalyst 2030 – Global 'Impact Stories' Showcases Integrated Brilliant Education (IBEL)
Manoj says "it is a matter of immense pride for IBEL, as the sole Hong Kong-based NGO, to be chosen for an honourable mention by a global platform of the stature of Catalyst 2030".
Catalyst 2030 is a global movement of social entrepreneurs and social innovators from all sectors who share the common goal of creating innovative, people-centric approaches to attain the Sustainable Development Goals by 2030.
The organisation showcases IBEL's daily frontline solution-providing model- 'Creating Brilliant Futures'.
You can follow IBEL online on Facebook, LinkedIn and Instagram.
Rugby Development News
---
Trending Now