International Inclusive Challenge: Japan RWC 2019
Posted On August 13, 2019
---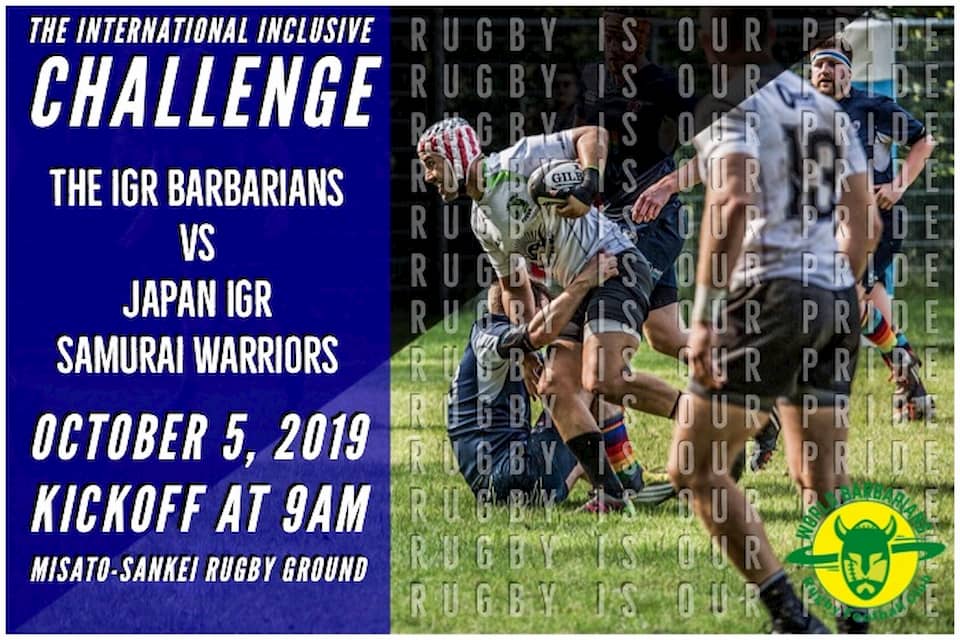 The International Inclusive Challenge (ICC) has been confirmed to take place during the Rugby World Cup 2019 in Japan. The unique event will feature gay, inclusive and traditional rugby teams composed of players from around the world.
What is the International Inclusive Challenge?
This rugby event is the "first openly gay rugby ever to be held in Japan" and the first-ever International Inclusive Challenge (IIC) organised by International Gay Rugby in partnership with the World Barbarians Foundation.
The rugby series will be comprised of gay, inclusive and traditional teams. "The International Inclusive Challenge will bring together teams from around the world in support of tackling homophobia in sport and supporting clubs participating from cultures that still hold negative views of the LGBT+ community."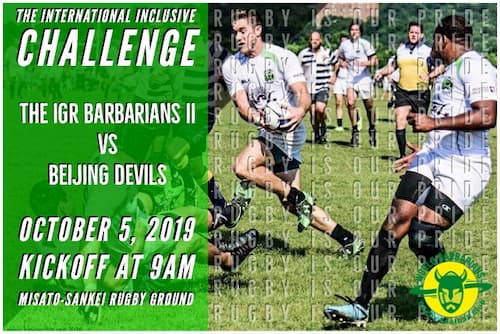 Which rugby teams will play at the ICC?
The teams will include rugby clubs from Japan, China, and an all LGBT club representing Japan, These Asian rugby teams will play 3 All-star teams comprised of the world's best gay and inclusive players represented by the World Barbarians Foundation.
The rugby games will be exhibition matches featuring:
World Barbarians Foundation (bringing 3 teams to compete)
Japan IGR Samurai Warriors
In addition, a press release from the organisers said a rugby clinic run by current and former professional rugby players "as well as various social and cultural events to celebrate rugby, Japanese culture and diversity" will be held.
Aaron Pokluda a player for the Japanese LGBT+ team (Japan IGR Samurai Warriors) added:
"The International Inclusive Challenge will be a first on many levels. From the social aspects down to the rugby, almost everything in this circumstance is a first. We can't wait for our Japanese and foreign counterparts to experience this event!"
Who are the Worldwide Barbarians Foundation?
The Worldwide Barbarians Foundation is a registered non-profit organisation "focused on inclusion in sports through advocacy, education, and involvement." The members come from more than 20 countries. The foundation uses rugby as a platform to "encourage teamwork and comradery within all the communities it works with.
The Worldwide Barbarians Foundation President, William Howell,  said:
"The players and organisers feel it is crucial to provide a platform for all members of the LGBT+ community to feel they are a part of something and that they are not alone.
These matches featuring both straight and inclusive teams allows them to showcase their talent and passion in an open and impactful way. This is especially important in cultures where the community may still be marginalized or shunned."
International Gay Rugby
International Gay Rugby is the Governing body for Gay and Inclusive rugby teams globally.  They work with other sporting governing bodies to address homophobia and inclusion in sports. In addition, they are an Associate Member of the Federation of Gay Games and we are recognised by the World Rugby as the representative LGBT organisation.
Date: October 5th, 2019 (9:00 AM kickoff)
Schedule of games: (Updated 2nd October 2019*)

9:00:

Barbarians II vs. Beijing Devils

10:20:

Barbarians I vs. Tokyo Crusaders 

11:40:

Barbarians III vs. Samurai 

Venue: Saitama Misato-Sankei Rugby Ground, Tokyo, Japan
(All IIC artwork and poster credit: Tres Cox, Texas, USA)
Other interesting reads on Rugby in Asia
Read our interview with Ada Milby (the first female member of the World Rugby Council as well as holding key roles in growing the game of rugby in the Philippines and Asia.) We talk rugby and gender-sport related issues as well as the growth of the women's game in Asia.
Find out about the courageous story of Hideyuki Sugita, known by his friends as Hide, who suffered a serious neck injury playing rugby. The injury resulted in him being almost completely paralyzed and he was told he would never walk again. In 2019 he overcame the tragedy by ascending Mount Fuji in Japan with support of his friends and teammates
Read more about the best rugby tournaments happening in Asia during the Rugby World Cup 2019.
---
Trending Now