Qatar Rugby – New Frontiers and Opportunities
Posted On January 7, 2022
---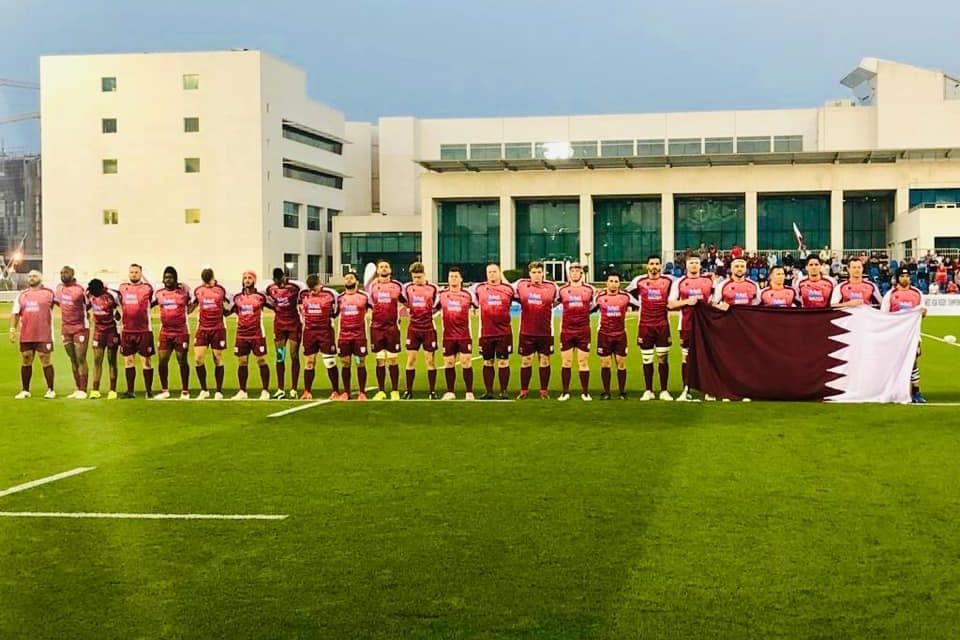 We caught up with Fred Moe (Head Coach for Qatar National XVs side) and Tim Newnham, the Chairman of the popular Qatar based rugby club Doha RFC to discuss rugby development in Qatar.
Rugby in Qatar in late 2021 hosted coach Ben Gollings from the 100 World Rugby Legends Project, which aims to make international players and coaches available to rugby programs around the globe but it is not just about the rugby – but using the sport and the high-profile players to help the local communities and rugby charities.
Doha Rugby Football Club
Can you tell us a little about your role and the background to the Doha RFC?
Tim: I currently fill the role of chairman for Doha RFC (previously I was the Club Captain, and I have been a member of DRFC for 23 years). At the moment, I have been helping the club navigate through COVID, having left our old ground (that was our home for 46 years) as we aim to build a new purpose-built facility.
It also requires running the business side of the company that supports DRFC, as the last 5 years have not seen DRFC turn a profit, and come very close to folding at the start of the COVID-19 pandemic.
As a business, unfortunately, with the part of the world that we are in, it is very difficult to run a volunteer only club, as there is limited scope for receiving income and growing the sport, without a facility to operate from, and in order to do so, we need to be a registered company.
Qatar National Rugby
Fred Moe is the Head Coach for the Qatar National XVs side and has been at the Union since 2015. He told us how he ended up in Qatar after playing and coaching in Asia.
Fred: We first arrived in Qatar back in 2014. Before that, we lived in Hong Kong for almost 15 years and that's where I met my wife in 2003 when I was one of the semi-professional players and she was an English teacher (from New Zealand).
I first went to Hong Kong from Wellington, NZ in 1997/1998 just after the handover to China and played rugby for DeA Tigers RFC. I was fortunate to play in a number of Asian countries but my first taste of coaching was in Hong Kong as a Club and Hong Kong Rep at age-grade level. Since then I've grown to love it. and I am still learning.
I got involved with Qatar Rugby through a friend from Asia Rugby who asked if I could maybe help out their National XVs. When I first arrived they had some good people helping on the ground. In 2017 I was asked to help with the Qatar National XVs senior Men's side and eventually became the Head Coach.
Can you expand a little on the ambitions of Qatar rugby within Asian rugby?
Fred: Qatar Rugby hopes to compete in Asia Rugby Division 1 in the next 5 years. Before that can happen, we have to look at our development plan for coaches and pathways for players. Grassroots rugby is such an important part of the game.
Qatar Rugby has so much to offer, and within the country, we have so many amazing sports facilities. Qatar Rugby hopes to implement a strong Rugby Strategic Program and a pathway for players and coaches.
Qatar Men's XVS won the last Asia Rugby Championship Division III West to take place in 2019 and Qatar Rugby was accepted as an Associate Member of World Rugby in 2020.
Qatar also hosted the Asia Rugby 7s Trophy West Asia in October 2021.
Qatar Rugby at the Emirates Dubai Sevens 2021
Issues aside, you both had several teams enter the Emirates Dubai 7s at the end of 2021 – how did they do?
Tim: Despite the lack of rugby played over the last 18 months and the lack of high-quality opposition over the last 3 years, due to the GCC blockade, the teams all performed quite well, with 2 quarter final appearances (Cup & Plate) and our ladies team reaching the Plate final!
Fred: Qatar Rugby Federation put in two 7s teams. The expectation was to compete in the Open Men's and Women's 7s group and to try to match some of the better teams. The players learned a lot from the experience. I think attending Dubai 7 in future events will be beneficial for our growth and development of the game.
100 World Legends Project in Qatar
The 100 World Legends had two teams enter the Emirates Dubai Sevens 2021, and with a number of former internationally capped legends in their squads, players made the time to interact with several clubs and programs in the region prior to the tournament, including in the UAE, Bahrain, Qatar.
David Higgins told us that all the players in the Dubai main vets team were capped by their countries – with 11 countries were represented! One of their goals is to have 1000 caps for each team event, and the 100 World Legends Rugby Vets were also victorious at the Dubai Sevens 2021.
Ben Gollings took part in development work (via the 100 World Legends) and Moe and Tim told us more about how that came about and what was involved from a rugby development point of view.
Fred: It was fantastic having Ben Gollings here in Doha. When David Higgins (from 100 Rugby Legends) looked at ways that could help grow the game here in Qatar, we thought bringing in Ben would lift the profile of the game, especially with what he's done with 7s rugby around the world.
We felt it was a no brainer. Ben helped with coaching at mini and youth levels, and talked with National team rugby coaches, also coaching sessions. We need more of this – coaches are the rock of the growth and development of the game. Having someone like Ben Gollings come and talk with coaches is going to help Qatar Rugby grow!
Tim: We were approached by the 100 Worlds Legends, through Fred who suggested the idea, and as a club it appealed to us as a way of boosting the image of rugby and assisting the coaches and players, especially leading up to the Emirates Dubai 7's.
It helped to have an ex-top professional visit and offer some guidance to all sections and visit some of the local schools.
The aim is to continue working with the 100 World Legends in the future, in order to promote the sport locally and use the knowledge of the players available, to enhance our own playing and coaching staff.
Aside from the advice offered by Ben Gollings on a coaching level, we believe it will help to promote the sport locally (currently rugby is still a very small sport in Qatar and only two British schools actually have it as part of their physical education curriculum).
(Editor's Note– Ben Gollings was recently appointed the Fiji National 7s Men's Head Coach).
How did the Legends involvement benefit Qatar Rugby – Is this a one-off event or will you have a long term involvement with the Legends?
Tim: Hopefully, this will be a long-term partnership that we can develop together. I'd just like to say a big thank you to David, Ben and the 100 World Legends.
Fred: Qatar Rugby needs an injection of international games. We need to build towards becoming a tier-two nation. But in order to do that we need to look at hosting international tournaments like 7s or 10s Social and Competitive games and having the 100 World Legends involved will benefit Qatar Rugby in a huge way.
Having regular fixtures with the 100 World Legends to play against the Qatar National XV will create a lot of interest from here and abroad.
You can also follow the 100 World Legends Project and events. We have spoken to the organiser David Higgins who mentioned a number of exciting projects for 2022 – with as many as 6 events planned including playing national teams in Malta (2nd March to 6th March 2022), as well as more development events and work in Asia.
You can follow the Doha RFC on Facebook or contact them via their website, and follow Qatar Rugby here.
Rugby News in Asia
---
Trending Now