Japan Rugby League One 2022-2023: JRLO Round 12 Preview
---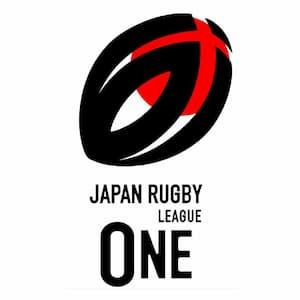 THE JRLO ROUND 12 SEES FIXTURES FROM FRIDAY 17TH MARCH TO SUNDAY 19TH MARCH,  BEING PLAYED WITH GAMES IN ALL THREE DIVISIONS.
JRLO Round 12  – Division 1
Friday 17th March 2023
All times shown are Japan Time (JT)
Tokyo Suntory Sungoliath vs Hanazono Kintetsu Liners – Prince Chichibu Memorial Stadium, Tokyo, 7pm
Tokyo Suntory Sungoliath's will be looking to avoid a third defeat in a row and try and rejuvenate their ambitions of reaching the playoffs. They still are six points clear of their Fuchu arch-rivals Toshiba Brave Lupus Tokyo, with five matches to be played, but Sungoliath still has to face second-placed Kubota Spears Funabashi Tokyo Bay and third-placed Yokohama Canon Eagles.
Their loss to undefeated Saitama Panasonic Wild Knights in Match Day 11 had Head coach Kiyonori Tanaka say "The players fought bravely with an attacking mindset, and in the first half [Sugoliath led 17-3 at halftime], the game was close to perfect…in the second half we made small mistakes and penalties in terms of who took control of the
game [who had the momentum]."
Hanazono Kintetsu Liners have conceded 595 points in 11 games and are in a fight to stay up, and while mathematically Kintetsu can still finish ninth, the formbook suggests such a result is highly unlikely. The team also has lost Wallaby halfback Will Genia for this weekend's match and countryman Quade Cooper is yet to become available.
Saturday 18th March 2023
Ricoh Black Rams Tokyo vs Shizuoka Blue Revs – Prince Chichibu Memorial Stadium, Tokyo, 2.30pm
Ricoh Black Rams Tokyo meets the unpredictable Shizuoka Blue Revs, and although a play-off spot now seems unlikely for Ricoh Black Rams Tokyo (14-point deficit to fourth place), their eight-point gap to fifth means that would be a realistic goal for the season.
The rejuvenation of ex-England backrow Nathan Hughes has been key for this weekend's home team but Matt McGahan's goal-kicking has also helped. The former Australian Super Rugby player is now the second-highest individual point-scorer in the league, just 18 behind Wallaby flyhalf Bernard Foley. McGahan's tally includes five tries while Foley has yet to score one.
Shizuoka Blue Revs keep losing games after getting into winning positions and last weekend the team lost captain Kwagga Smith at halftime due to injury so he is unavailable this week. The team are in 10th position on the log and will want to ease any relegation fears in the remaining matches.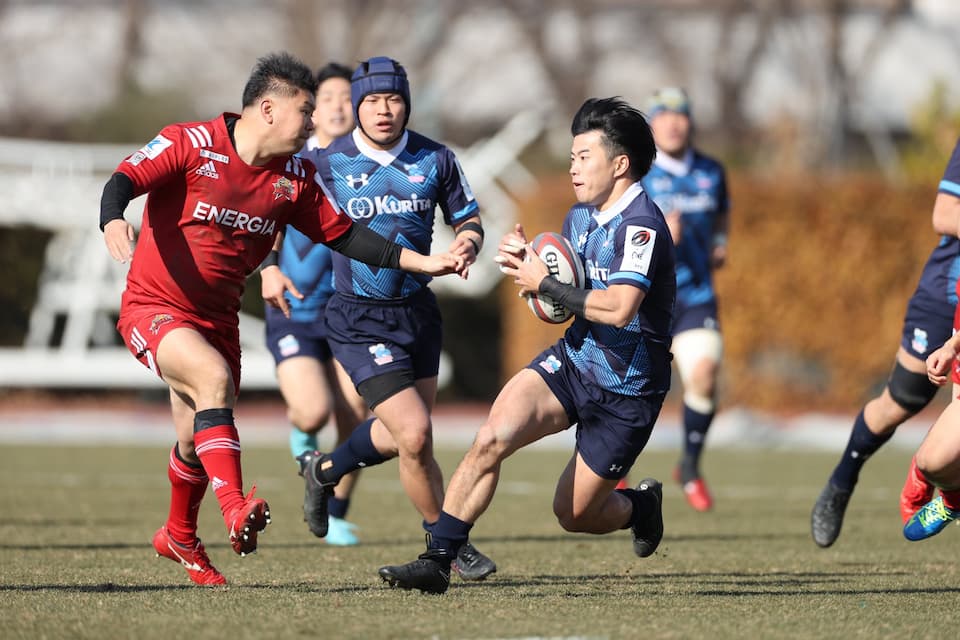 Kubota Spears Funabashi Tokyo Bay vs Yokohama Canon Eagles – Edogawa Athletic Stadium, Tokyo, 2.30pm
Second plays third as Kubota Spears Funabashi Tokyo Bay meets Yokohama Canon Eagles in a clash that will draw international interest with the players on show. A win for the second-placed Spears would increase the margin between the two teams to nine points (10 if it included a bonus point) and should bode well for a home semi-final.
Springbok coach Jacques Nienaber will see many South African stars in action. Halfback Faf de Klerk – who has played a big part for Canon this season – they have lost just twice since he joined the club, and teammate Jesse Kriel.
Meanwhile, Kubota boasts Malcolm Marx, with the hooker leading the line amongst a strong South African contingent at the Tokyo-based club. The club is also coached by the two-time Super Rugby-winning Bulls coach Frans Ludeke,
The home side has suffered just one defeat, and Yokohama only two – so the winner on Saturday will take second place on the ladder, but also receive a significant psychological boost as the competition begins its final phase in the run into the semi-finals.
Toyota Verblitz vs Toshiba Brave Lupus Tokyo – Paloma Mizuho Rugby Stadium, Aichi, 2.30pm
Toyota Verblitz Director of Rugby Steve Hansen and Toshiba Brave Lupus Tokyo Head Coach Todd Blackadder are friends but face off on Saturday as Hansen's Toyota Verblitz try dent Blackadder's Brave Lupus playoff hopes.
The last time these two met, Brave Lupus blitzed Verblitz 63-25 with eight tries. Since then, Toyota has won four of the last six and the side has been boosted by the return of England second-row Joe Launchbury, who hasn't played since he was injured during his Japan Rugby League One debut on Christmas Day.
Toshiba Brave Lupus Tokyo veteran halfback Takahiro Ogawa said "Everyone knows where we are in the standings, and if we can think more about how we can express our rugby and clarify our roles, we will have a good chance [to win]. Everyone on the team understands that and I think we're individually prepared [to make a run] for the playoffs."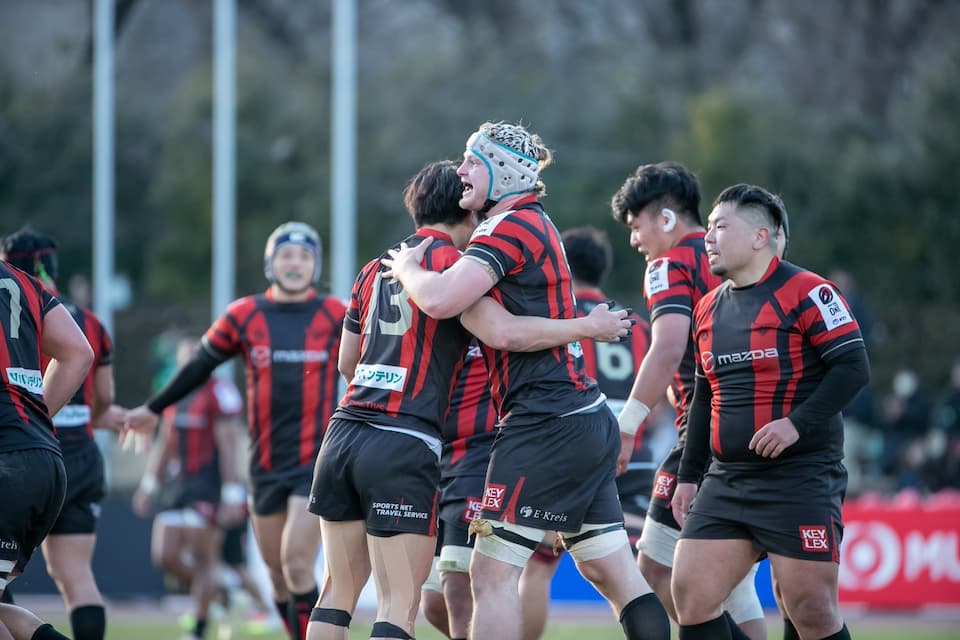 Sunday 19th March 2023
Mitsubishi Heavy Industries Sangamirha Dyanaboars vs Saitama Panasonic Wild Knights – Prince Chichibu Memorial Stadium, Tokyo, 2.30pm
Will Saitama Panasonic Wild Knights be beaten this season? The two-time defending champions are coming off back-to-back wins over championship rivals Kubota and Suntory, and they have only improved since key talisman flyhalf/fullback Takuya Yamasawa and centre Dylan Riley came into form.
The goal-kicking duties are shared between Brave Blossoms Rikiya Matsuda, who has 77 points himself, and Yamasawa who is just two points away from becoming the fifth player to crack 100 points this season. He also has seven tries – only four players in the league have scored more.
Mitsubishi has conceded 263 points in its last six games and Dynaboars coach Glenn Delany pointed out it is their first season in Division One. "We're still learning how to move up [to Division One] and beat the top teams, so we'll see how we move [on] from a tight game like this [last weekend's match with Yokohama].
While eighth, they are now just three points above the promotion/relegation zone in a congested mid-table.
Kobelco Kobe Steelers vs NEC Green Rockets Tokatsu – Kobe Sports Park Universiade Memorial Stadium, Hyogo, 2.30pm
Kobelco Kobe Steelers find themselves in a relegation battle, something the 2018 champions would not have expected this season. They come into the weekend following three consecutive losses (last weekend losing to the Black Rams).
Injuries are not helping the home team with Timothy Lafaele forced to operate as a makeshift flyhalf last week but head coach Nick Holten was not making excuses "We haven't been able to get where we should have been in recent weeks. So, we set precision as the most important focus point, but that didn't happen today. What we need to do is to look forward positively and improve our accuracy both offensively and defensively."
NEC Green Rockets Tokatsu sit two places and 10 points below ninth-placed Kobe on the ladder and Head coach Rob Taylor rue their discipline last week "It is important to play rugby with good discipline, not to play what you shouldn't do, and not to commit penalties." The Green Rockets are the second most penalised team in the league [behind Ricoh].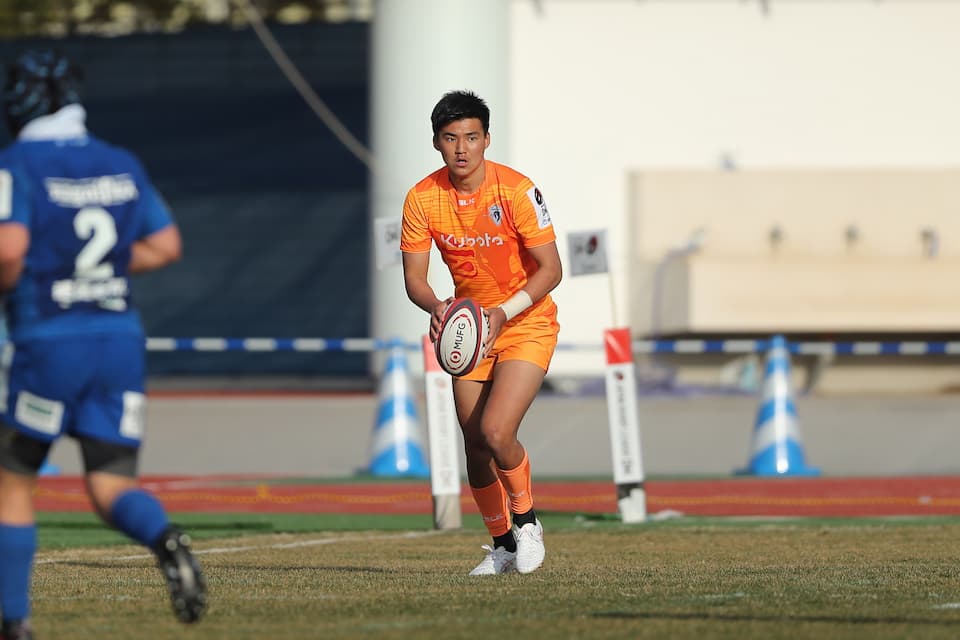 JRLO Round 12 – Division 2
The top three in JRLO Division 2 are settled as far as the promotion/relegation series is concerned with the Hino Red Dolphins pulling out and dropping to Division 3 (if they play next season).
Kamaishi Seawaves and Shimizu Corporation Koto Blue Sharks fight to avoid the bottom place on the table (well ignoring the fact that Hino is cemented to the floor now and will be relegated) while Mie Honda Heat must beat Toyota Industries Shuttles Aichi to keep the race for the Division Two title alive.
With league-leaders, Urayasu D-Rocks, limited to a four-point return from their cancelled game with Hino Red
Dolphins, Honda can narrow the gap by a point, if they claim a bonus point win in Aichi.
Kamaishi was smashed when Urayasu visited last weekend, losing by a mammoth 92-19 scoreline. Against the Blue Sharks, they will have the home crowd behind them, but they also earn an automatic four points in the final round, due to Hino's withdrawal.
The Blue Sharks still have a date with the Shuttles to come, and a loss to the Seawaves would confirm a bottom of-
the-table finish.
Sunday 19th March 2023
KAMAISHI SEAWAVES RFC vs SHIMUZU CORPORATION KOTO BLUES SHARKS at Iwate
TOYOTA INDUSTRIES SHUTTLES AICHI vs MIE HONDA HEAT at Aichi
JRLO Round 12 – Division 3
Top spot contention in Division 3 continues with both leaders in action in games they will be expected to win (NTT Docomo Red Hurricanes are #1 and Kyushu Electric Power Kyuden Voltex #2)
Kyushu Electric Power Kyuden Voltex has the tougher task, hosting a Kurita Water Gush Akishima side that lost
43-26 to the NTT Docomo Red Hurricanes last week, while the league leaders will be in Hiroshima to meet Mazda Skyactivs.
Saturday 18th March 2023
KYUSHU ELECTRIC POWER KYUDEN VOLTEX vs KURITA WATER GUSH AKISHIMA at Fukuoka
Sunday 19th March 2023
MAZDA SKYACTIVS HIROSHIMA vs NTT DOCOMO RED HURRICANES at Ehime
Japanese Rugby News 2022-2023
---
Trending Now