Qatar Ready for Asia Rugby Men's Division 3 West XV 2023
Posted On February 8, 2023
---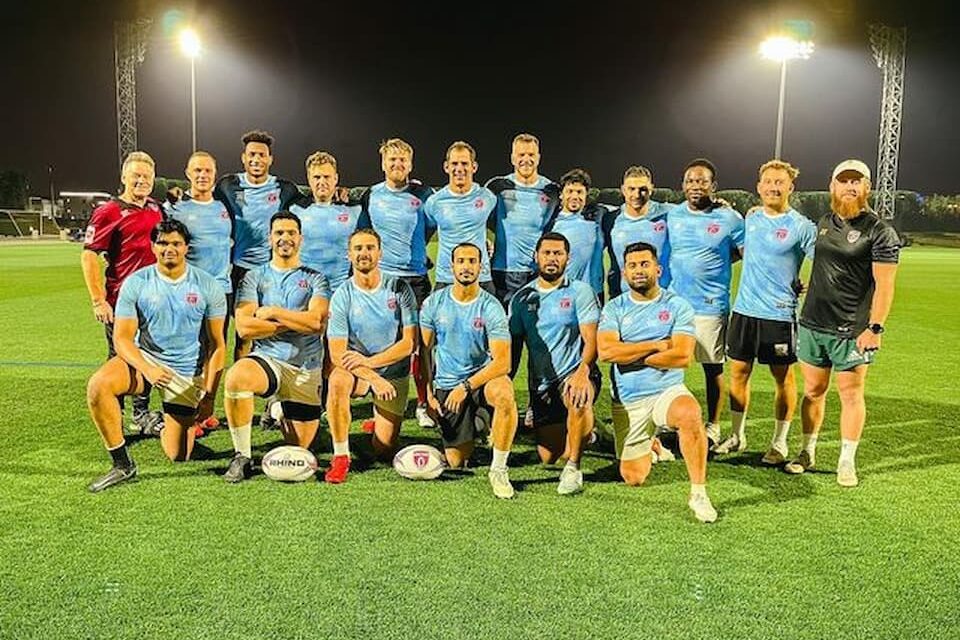 The Asia Rugby Men's Division 3 West XV 2023 match takes place on 10th February between Qatar and Iran, with the game being hosted in Al Ain Rugby Club, UAE.
The Asia Rugby Division III West was postponed from 2022 due to political instability in Iran and will feature a one-off game between Iran and Qatar. The winner of this men's XV match will earn promotion to the Asia Rugby Division III Playoff tournament in March 2023 against Kazakhstan and India for promotion to Division 2.
Iran and Qatar have played each other a number of times over the years in the West Asia Rugby Championships. Qtare Rugby won the last Asia Rugby Division III West held in 2019 with wins over Jordan and Lebanon but the last time they played Iran was in the 2018 Division 3 West (in Lebanon) with Iran beating Qatar 17-8.
Qatar since then joined World Rugby as Associate Members in May 2020, even though its first club was established in 1974 with international representation commencing in 2006.
We did try and contact Iran Rugby Association for more information about their team and preparation but had no response.
Qatar Rugby Preparation and Aspirations
We spoke with Hassan el Sabeh, the Technical Director for Qatar Rugby Federation who is involved in both men's and women's rugby, and he gave us insights into the team's preparation for the match and the hopes of the union following the pandemic.
"Since 2019 until now we have probably lost half of our Men's XVs squad but it has given an opportunity to the younger players to take those spots. The preparation for this match actually started last year before it was postponed, and we started again in early January this year" he said.
On the opposition, he added, "we have been playing Iran for 5-6 years and we know them well and they know us really well. I think the team that plays right up until the very end will come out on top." In describing the Qatar style, he added "we are a flexible team and play to the weaknesses in front of us and we have some experienced players and a good backline with fast and experienced players."
"We are all very excited. We are buzzing as it's been a while since we played a XVs game. Sam Weber is our backs coach and a very experienced player (and also the brother of All Black Brad Weber) – he has brought a lot of positivity and creativity to the squad and is very relaxed.
On the opposite side is Mark Jones who is one of rugby's toughest men and a former Welsh national player who is aggressive and impassioned with his approach and speeches. Player/Coach Abdulaziz Al-Dosari has been with the squad since 2006 and the experience he has in the pack makes a big difference & with the Arab players he makes it easier for the translations between the players."
Grassroots Rugby Still Key For Qatar Rugby
When we last had a look at Qatar Rugby, then national team coach Fred Moe (who has since left the role) said Qatar Rugby hopes to compete in top-level rugby in Asia within a few years and that grassroots rugby is an important part of the game. 
el Sabeh confirmed that as many as seven of the players for Friday's match have come through the grassroots systems and will make their debut against Iran.
'We really are trying to hit the grassroots side and in the schools. We have academies from Under 5 to Under 16. Following the match on Friday, 14 private schools will have their first rugby tournament at the national team pitches. So we are really excited for what the future holds and rugby in general in Qatar. If we do it and promote it correctly, it will be a very big game."
He confirmed that there is plenty of excitement around the rugby community in Qatar for the Asia Rugby Championship match. "I think the live stream will probably unite the whole community and one of the clubs will host an event and I think everyone will get down to watch together and support the team."
Boys, girls, men and women all have the same pathways and technical frameworks under Qatar Rugby, he added.
On the recent visit of former All Black star Sonny Bill Williams to Qatar, el Sabeh said that he himself had recently had surgery on his knee but the excitement of playing touch with the offloading legend was something he couldn't pass up on (despite pleas for him to get off the field and mind his knee!).
"I think everyone was really excited and Sonny Bill gave good lessons on how to handle yourself on and off the pitch which meant a lot to the boys and girls. One thing I admired about him,  was he spoke of always being thankful and to go on and learn from mistakes and be thankful for the blessing in life."
Qatar Wants to Host More Sporting and Rugby Events
The recent FIFA World Cup 2022 has put the spotlight on Qatar and its ability to host major sporting events.
"Everyone enjoyed the FIFA World Cup and it went so smoothly. It was safe and it was very enjoyable so I think it put the spotlight on and confirmed that Qatar can host these big tournaments really well," added el Sabeh.
In September 2022, the URC (United Rugby Championship) indicated its willingness to bring games to Qatar in the future for training camps or matches but Hassan el Sabeh says the Union has not been approached. He did confirm that a number of national teams from France, Argentina and others have held camps in Qatar.
He could also dismiss the rumours (for now) of Australia Rugby wanting to host a British & Irish Lions match in Qatar as a warm-up to the tour in 2025 "There is no talk of a Lions Tour to Qatar", he said laughing.
Qatar will host the 2030 Asian Games which includes Rugby 7s, and el Sabeh says they are working towards the Olympic Committee framework to target those Games. "We are trying to build a long-term player base and introduce them at the right stages to high-performance rugby".
Qatar XV Men's Squad 2023 – Asia Rugby Men's Division 3 West XV
The Qatar Rugby men's side is led by coaches Sam Weber and Mark Jones, who are supported by player/coach Abdulaziz Al-Dosari, while Dave Ford captains the team. The team selection from
Qatar Rugby
includes:
Match Officials – Asia Rugby Men's Division 3 West XV 2023
Ghaith Jalajel – Tournament Director
Jaco De Wit (UAE Rugby Federation) is the Match Referee
Tony Duminy (UAE Rugby Federation) and Azhfar Nor (Malaysia Rugby) are the Assistant Referees
Peter Hudson – Match Officials Performance Reviewer
Ramesh Lachmanan (Malaysia Rugby) – Judicial Officer
Chris Galea (Singapore Rugby Union) – Citing Commissioner
How to watch the Asia Rugby Men's Division 3 West XV?
Asia Rugby
has confirmed the matches will be streamed live on its social media channels.
Date: Friday 10 February 2023

Venue:

Al Ain Rugby Club, UAE
Asian Rugby News and Tournaments
---
Trending Now