Japan vs Italy – RWC 2021 Match Review
Posted On October 23, 2022
---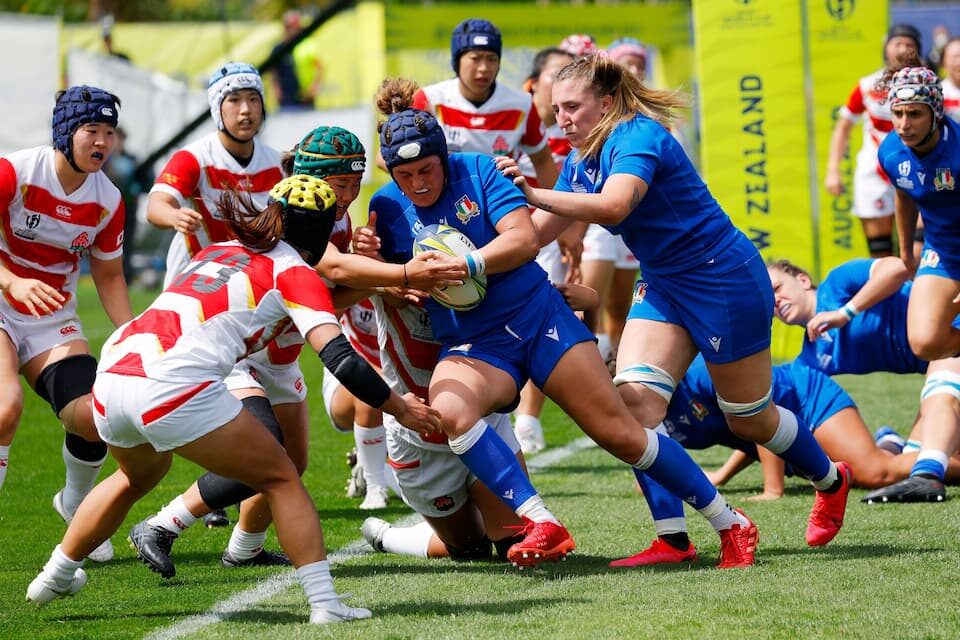 Japan succumbed to their third pool B defeat at RWC 2021 against Italy, losing 21-8 and hence are knocked out of the tournament in New Zealand. They played brave and were mighty in defence and turnovers – lots to build on towards qualifying for RWC 2025 in England.
You can read our full preview of the match here.
Japan vs Italy – RWC 2021 Match Review
Japan again put in a performance they can be proud of, hanging with the fancied and higher ranked Italiens – with the score  14-8 until the 79th minute. Although they will be disappointed to be bowing out of the tournament, there is much for the squad and Head Coach McKenzie to take away from and be pleased with.
McKenzie said: "It was a very brave performance from the girls. It was the kind of performance that we wanted to put on the field, minus a few things that I think we'll have a lot of reflection on later but I think that's what a Rugby World Cup is."
Credit to Italy who make the quarterfinals for the first time at the RWC- loose-head prop Silvia Turani said of the game:  "A win is a win and the most important thing here is that we responded to things within the game and found a way to get the victory. It means a lot for us to get through to the quarter-finals and we want to inspire people back home in our country."
It was the Europeans who opened the scoring with a try within ten minutes, but in a tight first half, Kyoko Hosokawa, scored a try for the Sakura Wave with the match tied at 5-5. in the 37th minute, a Sillari penalty gave Italy the slight 8-5 lead at the half (after some monster-like tackles in defence from the Japanese).
Otsuka levelled things with a 49th-minute penalty for Japan but a 55th minute Italien penalty and a yellow card to Winger Komachi Imakugi Italy extended the lead and the Japanese failed to catchup when back to full XV – and Italy ran over a final try in the final minute to seal the win and QF qualification.
Abe, Otsuka and Matsuda through the backline were creative and Japan played with some real pace. Their defensive work was outstanding and it was what kept them in the game, though they lacked a bit of power and game-breaking ability at times with ball in hand.
McKenzie added, "I genuinely hope that it's going to inspire belief in what we're able to provide on the world stage and especially for some of the younger players that we're hoping will stay in the game and take up the game in the 15s form."
The Italien coach Andrea Di Giandomenico was relieved to get the win and make history to be the first team from Italy to make the Rugby World Cup quarterfinal and he praised Japan: "We lost control of the match, so in that sense congratulations to Japan and their great performance."
"We knew Japan were going to push us until the 80th minute. They have nothing to lose but they never give up and we saw that when they played against the USA and Canada. They come out really hard in the first half and so at the start we know we have to take possession and get into their territory but we didn't finalise so Japan came back with their power and energy." he concluded".
Road to RWC 2025
Japan's Head Coach also talked about the roadmap to compete at RWC 2025 in England.
We came here to change the way the world thinks about Japan women's rugby and I believe that we could have got away with doing that, it's just really unfortunate that we couldn't get the result to stick that in the minds of the girls.
I think they're really frustrated but for me, the frustration also is a mark of achievement because they know how close they are and that the Italian team is a really good side and the Canadian and USA teams that we took on have all been top 6 teams in the past few years so for us to push and Italian team like that, I'm so pleased."
Japan's captain was praised by her coach post-match "I think our captain Saki Minami really sets the tone. She is intense and a huge driver in the changing room and on the field. I could not be more pleased with the way she has grown as a leader and a vocal one at that and also someone who managed the game with real impact so I think that's an impressive ability when we don't play a lot of big games domestically. We don't get heaps of internationals apart from leading into the world cup so for her to grow into that role in a leadership sense I am really proud of her."
Japan Sakura XV Captain Saki Minami also said about the growth of the game in Japan "I think in order to get more attention on women's rugby in Japan we need to show results. When it comes to a rugby world cup the only thing that matters is the final score and I think that's the main thing that would help women's rugby but we couldn't achieve it at this time.
When it's a close game we have to be patient enough and manage the flow of the game in our favour. I think that's something that other rugby nations are executing well but something that we have to work on for Rugby World Cup 2025."
Japan finished bottom of Pool B.  You can watch the full match highlights of Japan vs the Italy here.
Asian Rugby News
---
Trending Now