Japan vs Italy RWC 2021 – Pool B Match Preview
Posted On October 21, 2022
---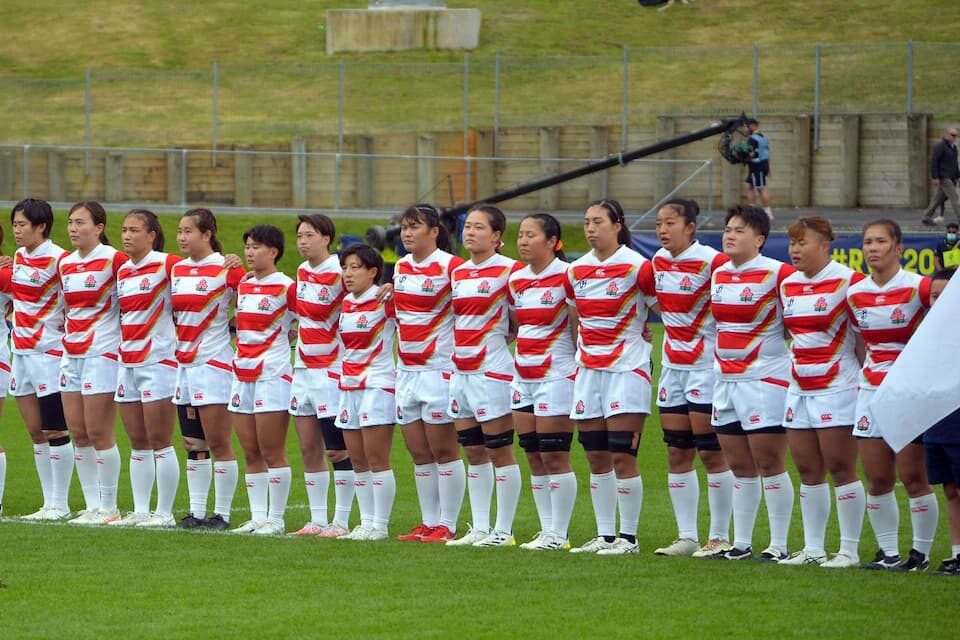 The Sakura Fifteen will be desperate to finish the pool stage at RWC 2021 on a high against Italy but they have struggled to put in a full 80-minute performance at the Rugby World Cup so far. The two teams line up on Sunday 23 October at Waitākere Stadium with the weekend set to determine the quarter-final positions.
While New Zealand, England and Canada have already guaranteed their place in the quarter-finals, all nine other nations are still in contention for the five remaining knock-out spots – so everything is at stake (you can find out more about the qualification rules here).
Japan vs Italy – RWC 2021 Preview
Japan – RWC 2021
Japan Head Coach Lesley McKenzie will hope the team can shed any fears and play with the attacking mindset they have shown glimpses of, while also competing at the set pieces and conceding fewer penalties.
She said of the match against Italy, "I think the game this week is going to be an entertaining match-up and a fascinating one from our perspective because they use a really similar play style to us. Historically they are a little but undersized when they play in the Six Nations and they come from a smaller playing pool and so they have a lot of really strong characters that have come through their recent history.
They are significantly more experienced than us due to their Six Nations experience and the longevity of that programme but the attributes of the team are similar. They have some very able athletes and some very good ball players. Their team is very passionate and is a team that we expect to go for 80 minutes so I'm expecting a really good match-up."
Positives have been the Sakura Wave defence on turnovers, with the side joint-second at RWC 2021, claiming 11 breakdown turnovers.  On the flip side, they are the second worst of all teams with conceding penalties – averaging 13 per game – many of those at the set-pieces.
The only positional change in the squad that lost to the USA, is Flankers Iroha Nagata and Kyoko Hosokawa swapping sides of the scrum. There are also four changes on the bench; prop Makoto Lavemai, second-row Masami Kawamura, flanker Sakurako Korai and centre Shione Nakamura all coming into the matchday side. Kawamura and Korai will earn their Rugby World Cup debuts if they play.
So much depends on the 9-10 combination with both Abe at scrumhalf and Otsuka at flyhalf in fine form but the pressure is really on the forwards to nullify the Italiens and give their star players a chance to break the line and they need to convert chances better than against the USA.
Captain Minami said of the clash and the squad's confidence: "Compared to the Canada game, I think the tension or nerves within the team has all but vanished.  Many of the members here are experiencing their first Rugby World Cup and because of that, I think they were nervous going into previous matches but now they are going into their third match with the experience of what this tournament is like.
The last game against the U.S. was a very important game, especially in terms of leaving our pool, so I think everyone was nervous there as well. We really have to win this match against Italy to make it out of our pool but I think we have been reminded that we are up for the challenge, so I think we will fight with a different mindset in this match compared to the first two matches."
(Follow all of the RWC 2021 matches here)
Japan Matchday Squad – 23rd October 2022
Image Credit: JRFU
Image Credit: JRFU
1. Saki Minami (captain)
2. Kotomi Taniguchi
3. Sachiko Kato
4. Yuna Sato
5. Maki Takano
6. Kyoko Hosokawa
7. Iroha Nagata
8. Seina Saito
9. Megumi Abe
10. Ayasa Otsuka
11. Komachi Imakugi
12. Minori Yamamoto
13. Mana Furuta
14. Hinano Nagura
15. Rinka Matsuda
16. Hinata Komaki
17. Makoto Lavemai
18. Otoka Yoshimura
19. Masami Kawamura
20. Sakurako Korai
21. Moe Tsukui
22. Shione Nakayama
23. Ria Anoku
Italy – RWC 2021
Italy is in strong contention to qualify for the RWC 2021 QF and earned a good win over the USA in the opening round before falling to Canada. They have not lost to Japan before (having won all three encounters) and will be looking to cement a top-two finish in the Pool.
Italy coach Andrea Di Giandomenico said of the team: "I have a good feeling with the squad. We are in a good position and despite the loss to Canada, I am not too worried as I think the performance was not so bad. We are confident in our game and we have worked hard this week to ensure we get the right result and move forward in the tournament. We are confident but Japan is a good team and we know that we must improve our intensity and attitude to achieve the right result."
He added of the challenge Japan will pose "Japan plays differently, have good power and technical ability and it will not be easy to play them. We have trained well this week but also gave the players a chance to recover some energy after two hard matches."
Italy Matchday Squad – 23rd October 2022
Di Giandomenico has made three changes to his starting line-up from the 24-12 loss to Canada last weekend.
Sara Tounesi returns to the second row, while blindside flanker Francesca Sgorbini will make her first start of RWC 2021. Sara Barattin has also been selected at scrum-half for what will be her 110th test for the Azzurre.
1. Silvia Turani
2. Melissa Bettoni
3. Sara Seye
4. Sara Tounesi
5. Giordana Duca
6. Francesca Sgorbini
7. Giada Franco
8. Elisa Giordano (captain)
9. Sara Barattin
10. Veronica Madia
11. Maria Magatti
12. Beatrice Rigoni
13. Michela Sillari
14. Aura Muzzo
15. Vittoria Ostuni Minuzzi
16. Vittoria Vecchini
17. Gaia Maris
18. Emanuela Stecca
19. Valeria Fedrighi
20. Isabella Locatelli
21. Beatrice Veronese
22. Sofia Stefan
23. Alyssa D'Inca
Match Official
Maggie Cogger-Org (New Zealand) will referee Italy for the first time, but she has taken charge of Japan on two occasions in 2022 – in their win against Australia and their defeat to New Zealand prior to RWC 2021.
Match Permutations RWC 2021 Japan vs Italy
On Qualifying for the Quarterfinals
In the World Rugby Report,  Italy knows that they must match or better the USA's result against Canada to make sure of second in Pool B.
If Italy and the USA end the pool phase tied on competition points, then the Azzurre will claim second on the head-to-head rule as they won the fixture between the teams on the opening weekend.
To advance as at least runners-up in Pool B, the USA need to better Italy's result.
Should the Azzurre beat Japan without a bonus point then the Women's Eagles would leapfrog them if they beat Canada for the first time since 2019, while scoring four tries or more.
In that scenario on Sunday, the Canadians would need a bonus point to claim top spot in the pool.
Japan retain an outside chance of finishing second but must beat the Azzurre with a bonus point (and by at least 26 points) and hope the Women's Eagles lose to Canada by a similar margin and also don't collect a try-scoring bonus point.
If Japan, Italy and the USA finish the pool phase level on five competition points, then they would be separated by points difference.
Were either Italy or the USA to win on the weekend to seal second place in Pool B then they are likely to start the quarter-finals as fifth seeds.
On World Rugby Rankings
The Sakura Fifteen will climb one place to 11th if they draw with Italy – a new high
Italy cannot improve their rating even if they win
Even a victorious Italian side could fall places if USA beat higher-ranked Canada
Rugby Tournament News
---
Trending Now