Ratu Meli Derenalagi: Eye on the Rugby Sevens prize
---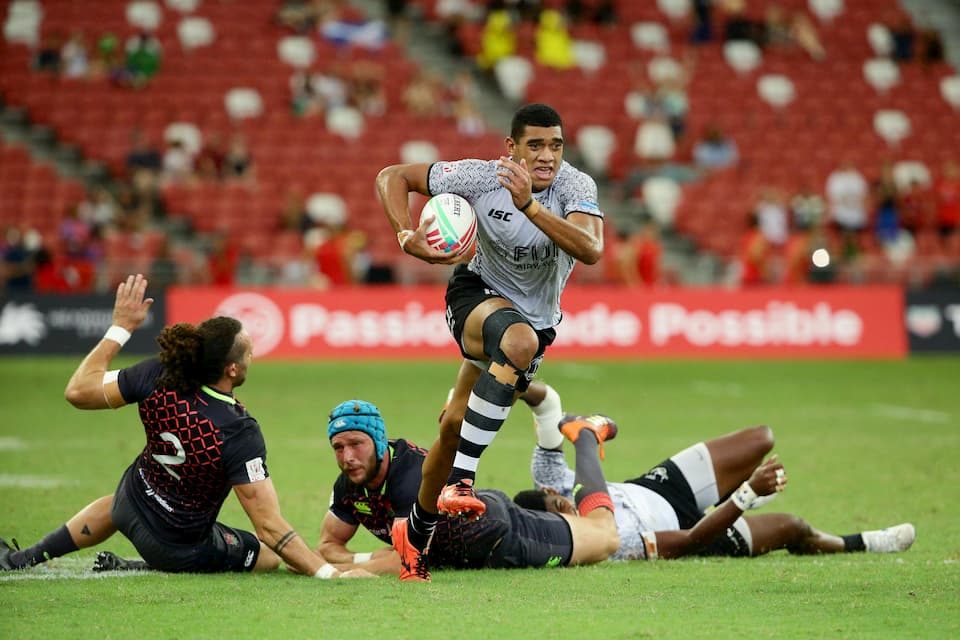 Ratu Meli Derenalagi has had a remarkable two years on the HSBC World Rugby Sevens circuit with the Fiji national 7s team. From being awarded the HSBC World Rugby Sevens Series Rookie of the Year in 2019, and this season, Meli is the current co-captain of the Fiji Sevens team. He is also only 21 years old.
Thanks to the HSBC Singapore 7s, we caught up with Meli while he is in Fiji, to discuss the sevens season, his goals, and staying focussed in the same week as Fiji was declared COVID-19 free.
Feature Photo Credit: Singapore Sports Hub
Meli Derenalagi dedicated his HSBC World Rugby Sevens Series Rookie of the Year in 2019 to his father Ratu Vuniani who represented Fiji in Paris in 1996. He also had a huge influence on Fiji winning the HSBC World Rugby Sevens title last year, with his 17 tries during the season.
HSBC World Sevens Series 2019-2020
When the 2019-2020 World Rugby Sevens was put on hold due to the global pandemic earlier this year, the Fiji 7s team were sitting 3rd on the World Rugby 7s Standings, but had just come off a win in Sydney, Australia and a second-place finish in Los Angeles. At the last tournament before the forced break, however, Fiji had a disappointing finish in Vancouver in Canada.
A number of tournaments have been cancelled for this season since then; London and Paris won't be going ahead but we are all hopeful Singapore and Hong King will proceed in their rescheduled October 2020 dates. The two events are scheduled for:
10-11 October 2020: National Stadium, Singapore – men's standalone event
16-18 October 2020: Hong Kong Stadium, Hong Kong – combined men's and women's event
For more information and to purchase tickets, please visit www.singapore7s.com.sg
Ratu Meli Derenalagi: Fiji Sevens Rugby
Staying focussed during COVID-19
Meli, as he prefers to be called, works in the Fiji Navy as a Naval Officer and during the COVID-19 lockdown, he said he and his colleagues had been assisting Fijians with taking care of their homes and well-being. He had also been conducting house to house screenings.
On the rugby front, Meli and his teammates have been following their coaching team's advice and exercising in isolation following the lockdown advice from the Fijian government.
Rugby training has been somewhat improvised but he has been staying fit and healthy.
"We have been taking things one step at a time and waiting for things to get back on track and for the lockdown to be lifted and then we can start training again with the brothers. Then we can refocus and we hope that the Singapore and Hong Kong tournaments can be held".
How are you handling the pressure of the co-captaincy this year?
In his rookie season in 2019, Meli said the support of his teammates was crucial.
"It was the other players that let me achieve the standards that led me to receive the rookie award. Being a co-captain this season was a challenge for me, and I felt the pressure. I had to step up and try to lead the boys. But I think with the help of the experienced guys like Jerry Tuwai (and others), they helped carry the team forward, so I thank them."
How would you explain your playing partnership with fellow skipper Jerry Tuwai?
Jerry Tuwai is a great leader and he always is leading from the front. Every time he controls the game, we know he can keep us moving forward and he stands up and motivates us all. No one is left behind with Jerry.
Tuwai had previously said that he had told Derenalagi to lead at tournaments this season and that he will see and direct him on what needs to be done during the tournament. Tuwai also believes Meli is a good leader and a product for the future.
What did you think of the change of format for the 7s at the New Zealand (Hamilton) and Australia (Sydney) legs this year?
It was new for all of us, as we have always played six games to the final, and if you lose in the group, you can still get to the quarterfinal. But it taught us to not to put yourself in a negative mindset, of having a second chance, and we treated each game as if it was a final and to win all the pool games.
Fiji won the Cup in Sydney, beating Soth Africa 12-10 but had a disappointing finish in Hamilton, NZ, finishing 9th – again defeating SA in the 9th place playoff game.
Fiji narrowly lost the final of the Singapore Sevens in 2019 but the Fijians won in 2018. Fiji has also won 7 of the past 8 Hong Kong 7s. What makes these tournaments such happy hunting grounds for the team?
When we are kids, we watch the Fiji sevens team play in Hong Kong. It feels like a home ground for Fiji when we play there and we have encouragement as its the 'mother of all Sevens' and we give our best there.
What are your memories from HK and Singapore last year?
For Hong Kong, it was a good journey for me and it was my first time there, after watching it only a few years ago on TV back in Fiji. For Singapore, we had some great sightseeing, seeing the Marina Bay Sands building and the Gardens By The Bay.
With the Singapore Sevens and HK 7s potentially lining up to be the series final rounds this season, if all goes ahead, what will it mean to you to win the Cup or Series in Asia which has a strong Fijian support base?
If the World Rugby Series finishes in Singapore and Hong Kong, we will try our best to win the two Cups as we know our supporters are there to cheer us on.
With the next few years, we have the delayed 2020 Olympics, the 2022 Commonwealth Games and the World Cup 2022 in South Africa. Is there one personally you would like to most win?
For me, it's about trying to stay focused on keeping fit and healthy and keeping myself away from injuries. So keeping my body healthy and safe.
What tools or techniques have you used to stay mentally sharp and ready during COVID. What advice would you give to others keen to play rugby at all levels?
You need to look after yourself when there is no training. Each of us has our home program from our trainers.
Always encourage yourself – that you are the best and be the best.
Rugby Asia 247 would like to thank Meli, the Fiji Rugby Union, Singapore 7s and Deborah at Roco Communications for making this interview possible.
Sevens Rugby in Asia
---
Trending Now