Support The Legends – 100 World Legends Dubai 2023
Posted On February 21, 2023
---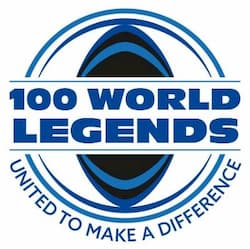 The 100 World Legends is hosting events "Support The Legends", this time in Dubai, UAE from 27th February – 5th March 2023 to raise funds to support two UAE-based charities; Gulf4Good and Heroes of Hope.
The 1oo World Legends organisation has held regular events to support local charities and grassroots rugby around the globe and has had members visits several Asian associations over the years including in UAE, India, Laos and more.
100 World Legends have also been inactive un raising funds and supplies for Ukraine since the war started.
The Legends said "While the Legends are in town, we are looking for kindhearted local businesses or people that would be interested to host a legend for an activity of their choice. The concept is to purely cover the cost of the Legends flights and accommodation so that the charities they are working with can maximise their fundraising efforts."
Some of the proposed events could include hosting a legend(s) for a game of golf, private BBQ, coaching session, dinner with customers, public speaking, Q&A etc.
Confirmed Events – Support The Legends (Dubai 2023)
There are only a couple of confirmed events so far that we could find:
Heroes of Hope and Al Jalila Foundation – 100 World Legends
A rugby fundraiser for Heroes of Hope and Al Jalila Foundation in collaboration with 100 World Legends is being held on Feb 24th 2023.
Rub shoulders with Rugby Greats – 100 World
All six confirmed 100 World Legends (see below) are confirmed to attend a "Meet & Greet" hosted by Gulf for Good and the 100 World Legends on Wednesday, 1st March 2023.
"Not only will you get to mingle with these Rugby legends, but you'll also get the chance to have your picture taken with them, ask them questions, and listen to their anecdotes."
100 World Legends – Support The Legends 2023
100 World Legends Members attending the events in Dubai include:
Norm Maxwell – New Zealand (36 caps) & Crusaders (75 caps)
Tamara Taylor – England (115 caps) – 2nd most capped player of all time (Coach of Sweden national Women's XV team).
Luther Burrell – England (15 caps) & 120+ Northampton.
Andy Vilk – England 7s (32 tournaments,  Sevsn RWC + Commonwealth Games Rugby 7s). Italian 7s Coach 2014-ongoing.
Frank Bunce – New Zealand (55 caps) & Samoa (4 caps)
Aaron Persico – Italian rugby union player who made his debut for Italy against Scotland in the 2000 Six Nations Championship.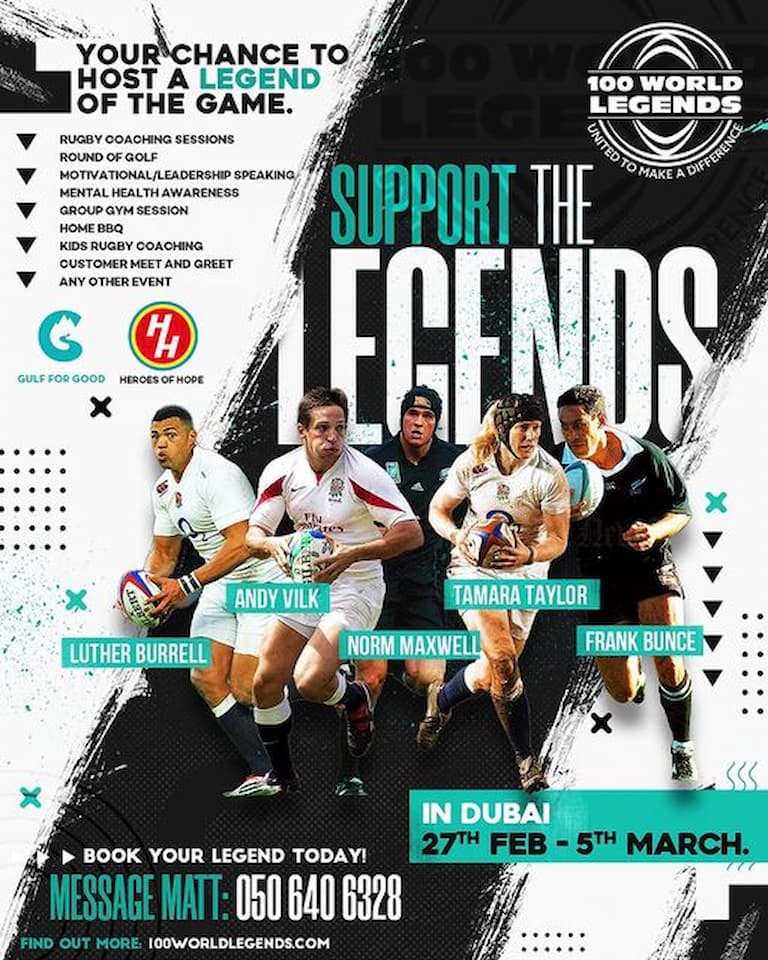 100 World Legends & Jungle Crows Foundation
100 World Legends member Fijian Legend Sireli Bobo is also flying into Kolkata, India from 21st February to support a partner charity the Jungle Crows Foundation.
"Sireli will be meeting a number of their members, players, coaches, and supporters before travelling on to Saraswatipur, being joined by Niall Stratham ex UAE national team captain and both will be involved in coaching and meeting the kids in a number of schools and coaching clinics before the Legends Junior rugby tournament."
Sireli will also head to Bangalore to meet the Jungle crow members and visit the Schools and finally another fantastic Rugby youth festival for 200 kids, before being joined by All Black Legends Frank Bunce and Norman Maxwell as well as England international Paul Sampson in Kalkutta.
Rugby Events and Tournaments 2023
---
- Advertisement -