The Best (and Worst) Rugby Movies And Documentaries (Updated 2023)
Posted On August 20, 2023
---
We keep updating our list of 'The best (and worst) rugby movies and documentaries' with some fun, informative and sometimes terrible rugby films and documentaries.
If you have some extra time at home, travelling to a major rugby tournament and have time to fill up at the airport, on trains, the bus or in the car, are now working remotely, or just looking for some good rugby to watch at home, we have you covered.
With the RWC 2019  there was a spate of rugby-themed movies and documentaries released, not only in Asia but internationally. 202-2022 also saw a number of great additions with documentaries focussing on the Asia-Pacific.
With the Women's RWC in 2022 and the Men's RWC 2023 taking place in France from September-October we have seen another range of paid-for and free rugby to stream.
We look at the best (and worst) rugby movies and documentaries you can watch while you practice social-distancing, and stream from the comfort of your home, or on the go.
We updated this article in August 2023.
Asian Rugby movies
Jungle Cry (India)
This film Jungle Cry, released in 2019, tells the true story of a rugby team from India (Jungle Crows) who went to the UK in 2007 and played in a tournament for disadvantaged kids, organised by the UK charity Tour Aid.
The film was shown at the 2019 Cannes film festival – see the trailer here. The movie had a full premiere in Wales in early 2020 and is due in UK cinemas in April 2020.
Read our interview with Paul Walsh who set up the Jungle Crows.
The Brighton Miracle (Japan)
The Brighton Miracle is the remarkable story of how Japan pulled off one of the greatest rugby and sports upsets, beating two-time Rugby World Cup champions South Africa at the 2015 Rugby World Cup. New Zealander Temuera Morrison (who more recently has played the character of Boba Fett in the Star Wars franchise series) plays Eddie Jones and Lasarus Ratuere plays Japan captain Michael Leitch.
The film was made available on Amazon Prime in the UK in 2020.
Release Date: September 2019
Salam Rugby (Documentary)
Salam Rugby is the story of the start of Women's rugby in Iran, which coincided with the election of Ahmadinejad as president of Iran.
Watch the trailer here.
Read our interview with Ridzal Saat, World Rugby Services Manager for Asia and his trip to Iran in 2019 to assess the rugby in the country.
ฮักบี้บ้านบาก  (Thailand)
Although we are not entirely sure what this new Thai rugby movie is about, its story centres around a group of school kids who learn to play rugby, in what probably will be a comedic but feel-good underdog movie. Whether the film helps or hinders rugby in Thailand, where the sport is already quite popular, remains to be seen.
Release Date: August 2019
A Guam Rugby Story (Documentary)
The surprise release of this three-part documentary series in December 2020, traces the roots, growth and future of rugby in the island of Guam, who competes in Asia Rugby. The series was free to stream online and very well produced, laying out similar rugby development issues that many Asian nations face with rugby.
You can find out more about the rugby doco here.
Release Date: December 2020
Everything In Between (Documentary)
The premiere of the rugby-related film "Everything In Between" was due to happen in late 2020, but was delayed to early 2021 by the global pandemic.
Everything In Between is based on the journey of duo James Owens and Ron Rutland who took part in the epic Race to the RWC 2019 project and travelled over 20,000km on a cycling expedition from London to Tokyo (across 27 countries) and had to arrive within 230 days in order to deliver the official whistle for the opening match of the Rugby World Cup.
Find out more here.
Release Date: January 2021 (TBC)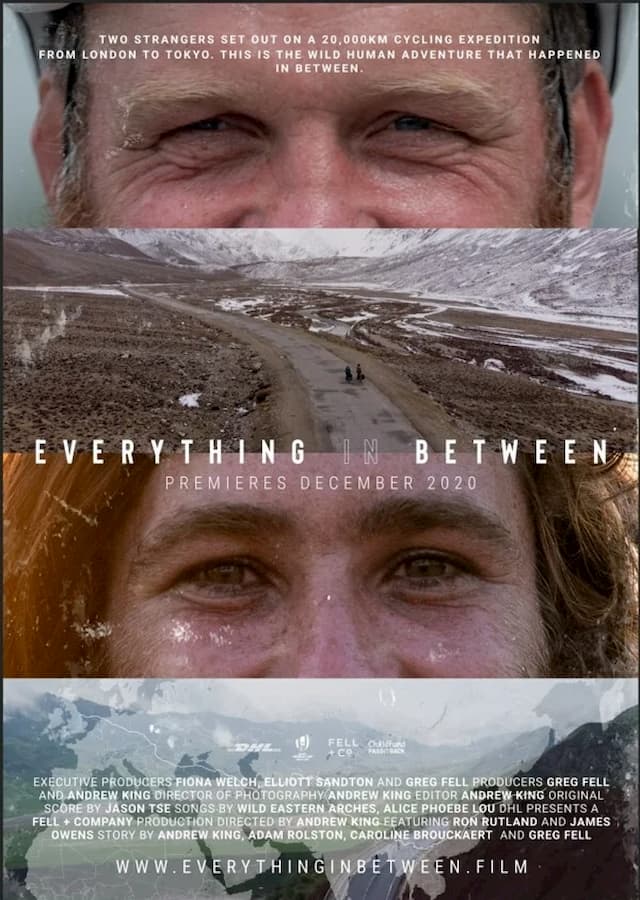 Famous rugby movies
Invictus
This film still has rugby fans split on whether to ridicule it or rejoice in the roles of Matt Damon as Springbok RWC winning captain Francois Pienaar and Morgan Freeman as Nelson Mandela Invictus (directed by director Clint Eastwood) focusses on a newly democratic South Africa and the now famous 1995 Rugby World Cup win in the 'rainbow nation'.
Alive
An "oldie but a goodie", Alive is a harrowing film based on true events as the survivors of a plane crash in the Andes mountains, members of Uruguay's rugby team, struggle to survive in extreme conditions and must make impossible decisions to survive and, well, stay alive.
Rugby Mini-Series: TV
Chasing the Sun
The docu-series covers the campaign of the Springboks and their ultimate victory of the Rugby World Cup 2019 in Japan, their 3rd RWC win. This is a 5-part series which was created by Supersport.
The series won gold in the branded content category at the 2021 Loeries Creative Week in Cape Town, South Africa.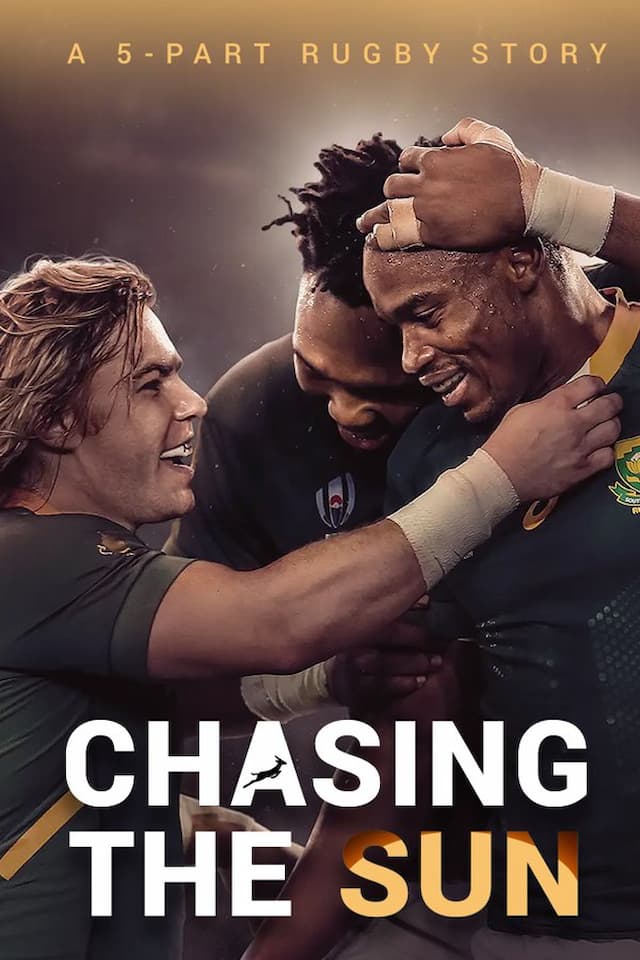 Lomu
This TV mini-series based on another Kiwi legend Jonah Lomu was released in New Zealand in August leading up to the RWC 2019 and "tracks the early beginnings of the legend of the game, from promising young athlete to a devastating international rugby player, and beyond" says RugbyPass.
Release Date: 2019 (New Zealand)
Best Rugby Documentaries
Rise: The Siya Kolisi Story
The documentary follows the story of the first black South African rugby captain, Siya Kolisi, "who against all odds led the South African national team to win the 2019 World Cup Rugby and in turn unites the country."
This South African production was facilitated by Roc Nation Sports International – The rugby documentary won the audience award at the International Tribeca Film Festival in New York in 2023.
MAP1MP1
MAP1MP1 is a documentary tracking the inspirational rise and life of Springbok winger and RWC 2019 winner Makazole Mapimpi. Although released in South Africa on SuperSport Rugby and SuperSport Grandstand and on ShowMx in 2022 it is not as easy to watch in other regions.
The Story Of Rugby
This six-part documentary series traces the social history and impact of rugby around the world. It was commissioned before the Rugby World Cup 2019 (Editors Not – I personally watched it on an Emirates flight late in 2019) and offers "memorable personalities and famous followers, learn its seismic moments on and off the field, to better understand why rugby is today played and enjoyed so passionately in more than 120 countries" according to DHL InMotion.
It's possible to stream on Youtube TV and Amazon Prime.
Dan Carter: A Perfect 10
The documentary on the "greatest 10 in rugby", Dan Carter: a Perfect 10, has yet to see a full release but should be out before the RWC 2019. Initial reviews are mixed, but if you admire New Zealand's top points scorer of all time and a 2 time World Cup winner, you might want to indulge.
Release Date: Across New Zealand from August 29th 2019
Chasing Great – The Richie McCaw Film
This McCaw documentary film is the story of legendary, and sometimes divisive, All Black two-time RWC winning captain Richie McCaw. Watch the Chasing Great trailer here and see if you agree the New Zealander is the GOAT (Greatest Of All Time).
Legacy: The Mark Bingham Story
World Rugby made a documentary about Mark Binghams life, legacy and involvement in rugby and is online for free. Mark Bingham was a gay man and a rugby player and "his heroic actions, together with those of his fellow passengers aboard Flight 93 on 11 September 2001, sparked a movement in the sport that he loved, spawning a tournament that 17 years on still bears his name." Read more about the Bingham Cup here.
Pacific Warriors
This Pacific Warriors documentary focuses on the rugby players from the Pacific Islands: Fiji, Samoa and Tonga. The film "explores the backgrounds of a wide variety of players, past and present" as well as other international players' appreciation of playing against and with the players from the Pacific.
Oceans Apart: Greed, Betrayal and Pacific Island Rugby
The release of this documentary late in 2020 caused a ripple effect across the rugby world, not only due to the controversial nature of the content (treatment of Pacific Island rugby players in the professional era) but also the high-quality calibre guests who appear in Oceans Apart. Podcasts, rugby websites and newspaper columns debated the points raised in the film but if there will be real change in the years to come will be interesting to see.
The film was produced by former Samoan international Dan Leo and it can be streamed on Amazon Prime as well as through their website on Vimeo.
Everybody's Game
The rugby documentary Everybody's Game from Bath and England prop Beno Obano streams on Amazon Prime Video with the aim of 'changing the perception of rugby union'.  "I think rugby has traditionally been a sport played and watched by middle-class white people. But, I've been able to benefit in so many ways from rugby and I obviously don't fit that description," said Obano.
Release Date: November 2020
The Unknown – Collegiate All American 7s  rugby
This was the first of a series of documentaries planned for theRugby 7s Magazine. The Unknown is the story of rugby "told through the incredible fight of the USA Rugby Collegiate All-American 7s team." The documentary can be watched in its entirety for free online.
Building Jerusalem
More for English rugby fans, but also for anyone who appreciated the hard-working endeavour of players like Johnny Wilkinson. Building Jerusalem tells the story of the Rugby World Cup Final in 2003 in which England prevailed over hosts Australia. From producer Victoria Gregory of Oscar-winning 'Man on Wire' and 'Senna', and Emmy-nominated Director, James Erskine.
Life After Rugby: Andy Powell
The RugbyPass Documentary was released late in 2019 and is only 28 minutes long but it is an enjoyable watch of one of modern rugby's favourite anti-heroes of the modern era (depending on where you are from). It also frankly discussed his problems and highs in rugby.
Murderball
The documentary Murderball brought wheelchair rugby into many peoples homes for the first time, and follows the US team as they "discuss the sport, their lives, and how they ended up in their chairs, to begin with." The journey takes them to the 2004 Paralympic Games in Athens, Greece. Find out more here on Murderball.
Web Series
Beyond the Pitch – A Women's Eagles Miniseries
In 2019, USA Rugby released a free 2 part miniseries on the culture of the USA Women's National Team XVs during the 2019 Can-Am Series. You can watch Parts 1 and 2 for free online.
Home Field Advantage
Home Field Advantage is a rugby documentary produced by Societe Generale, featuring legendary rugby players who were sent around the world to show what the sport has to offer on a personal and social level. There are several episodes that take place in Asia.
There are three seasons of the series by 2020 and season 3 is on Youtube for free.
Special Mentions: rugby films & documentaries
The Ugly: Rugby Scenes
These two rugby scenes have scarred us all, but still, they get put to good use for a giggle:
Sye: Bollywood Rugby Film
The hilarious but incredibly poor depiction of rugby in this Indian film did the social media rounds many times. We still don't have any idea what the film is meant to be about, and it probably didn't help Rugby India's cause.
Friends TV Series
Ross playing rugby badly in this infamous rugby scene in Friends S04E15 of Friends gets annual viral repeats on rugby sites and social media. Painful, but hilarious, there is a Red Ross in every rugby team.
Let us know if you think there is a rugby film or documentary worth watching.
Other Global Rugby News
---
Trending Now