World Rugby Sevens Challenger Series 2022 – Asian hopefuls
Posted On August 11, 2022
---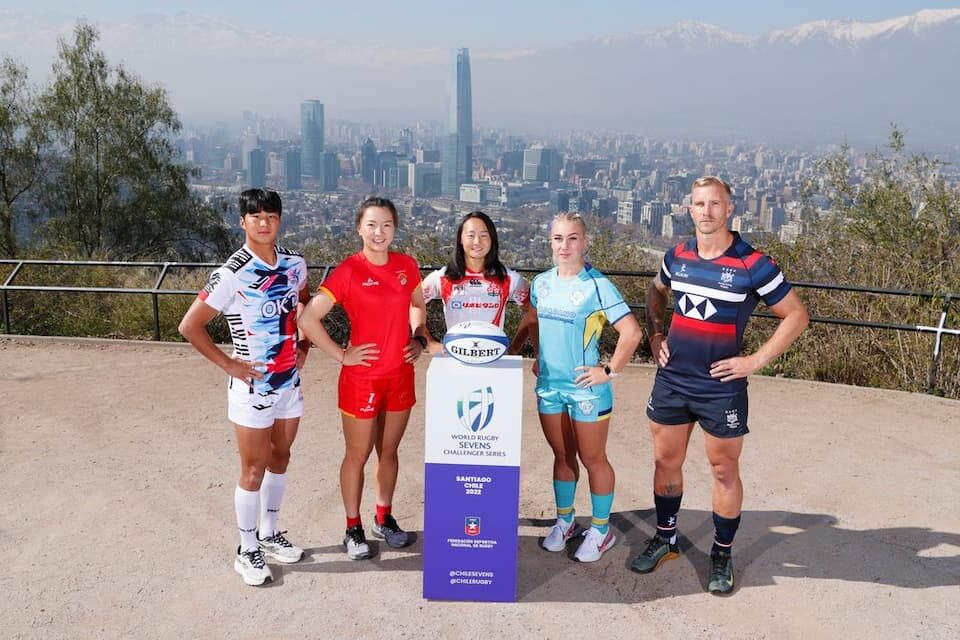 The World Rugby Sevens Challenger Series 2022 takes place in Santiago, Chile from 12-14 August and for all of the teams involved, including the Asian hopefuls – a place as a core team on the HSBC World Series 2023 is at stake for the women and men.
In total, 12 women's and 12 men's teams representing all six World Rugby regions will compete over three days at Estadio Santa Laura which sees the same competition format used at the Tokyo Olympic Games.
World Rugby Chief Competitions and Performance Officer Nigel Cass said: "The World Rugby Sevens Challenger Series is a vital component of our ambitious plans to develop the sport further across the globe, and with the prize of promotion to the HSBC World Rugby Sevens Series 2023 at stake for the winners, the competition across the three-day event is sure to be intense from start to finish."
From Asia; Japan, Kazakhstan and the Chinese women are in action, while the men are represented by Hong Kong and Korea. The action kicks off on Friday at 10:45 local time (GMT-4) when Kazakhstan play Colombia in women's pool C.
Five of the women's teams and nine men's teams competing in Chile have also qualified for Rugby World Cup Sevens 2022 which is played following the Challenger event for three days in Cape Town on 9-11 September.
*The HKRU match official Morgan White has been appointed as a referee for the World Rugby Challenger Series for the first time. Matt Rodden, Head of Refereeing for the HKRU, said: "We couldn't be happier to showcase another of our homegrown talents on the world stage. This is an opportunity that Morgan has worked hard for and that he deserves. Morgan's biggest strengths as a referee are his athletic ability, his calm nature and his accuracy – all things that come in handy on a 7s pitch."
World Rugby Sevens Challenger Series 2022 – Competition Format
The World Rugby Sevens Challenger Series 2022 sees teams from all six World Rugby regions represented in a competition format that features three pools of four teams for the women and the men.
The top two teams from each pool, along with the two best third-placed teams, will qualify for the quarter-finals, before the semi-finals and final will determine which teams secure a place on the upcoming World Sevens Series.
The schedule for the HSBC World Rugby Sevens Series 2023 was previously confirmed with the men's teams kicking off in Hong Kong on 4-6 November 2022, while the women's competition begins in Dubai on 2-3 December as part of a combined event.
Sevens Challenger Pools – Men
Max Woodward, Hong Kong men's captain told World Rugby: "As it's a one-off tournament, every single game matters. We have had good preparation and we're ready to get stuck in. We have come so close to reaching the World Series in the past and becoming a core team is really important to us. It would be fantastic to play in front of our home crowd in Hong Kong in November as a core Series team."
Head Coach Paul John said on the HKRU website: "Everybody wants to be on the World Series and test themselves against the best in the world. There's a lot of experience in the boys who got picked. They're the ones who have been consistently putting their hands up during training and the competitions we've had  recently."
Hong Kong Men's Sevens Squad: Max WOODWARD, Callum McCULLOUGH, Michael COVERDALE, Kane BOUCAUT, Alessandro NARDONI, Pierce MACKINLAY-WEST, Sebastian BRIEN, LEE Ka To Cado, Hugo STILES, Russell WEBB, Alex McQUEEN, Harry SAYERS, Max DENMARK, YIU Kam Shing
You can read more from HKRU Head Sevens Coach Paul John who spoke to us earlier in the year about the upcoming busy period for the Sevens Men's team.
The South Korean men have also been in camp and arrived in Chile earlier this week to take part in the Challenger event. Most of the information is not available in English but you can follow their FB and Instagram for more information.
Asie Rugby (a great French website covering rugby in Asia) has been reporting that it is the Korean B team (National army Team) which has been sent to Chile, while the A team has just returned from a training camp in the USA, a very odd choice by the KRU.
Pool A
Chile
Papua New Guinea
Georgia
Pool B
Hong Kong
Tonga
Jamaica
Zimbabwe
Pool C
Germany
Uruguay
Uganda
Lithuania
Sevens Challenger Pools – Women
Karolina Jaszczyszyn, Poland women's captain told World Rugby at the captains photoshoot in Chile "Recently we have played really good rugby and we want to try to win here, but there are also many strong teams such as China and Japan who have more experience of playing on the World Series than we do. We will do everything we can to make our dreams come true."
China and Japan have both been core teams on the women's Series, while another eight women's teams have played at least once in the Series.
There is no mention of the Challenger event on the JRFU website or social media at the time of publishing that we have seen which is odd.*
*The JRFU Media page (Japanese-only) updated the team news following our published content which we have now updated.
Japan Squad (Sakura 7s): Yume Ohkuroda (Tokyo Sankyu Phoenix), Fumiko Ohtake (Tokyo Sankyu Phoenix), Mei Ohtani (Arukas Queen Kumagaya), Marin Kajiki (JSDF Physical Training School), Mifuyu Koide (Arukas Queen Kumagaya), Michiyo Suda (Otemon Gakuin VENUS), Chiharu Nakamura (Nanairo PRISM FUKUOKA), Hana Nagata (Nippon Sport Science Univ.), Atecayumi Bativakalolo (Nagato Blue Angels), Wakaba Hara (Tokyo Sankyu Phoenix), Yume Hirano (Nagato Blue Angels), Haruka Hirotsu (Nanairo Prism Fukuoka), Sakura Mizutani (Tokyo Sankyu Phoenix).
Kazakhstan Nomads have revealed a new kit from the manufacturer STINGZ, who said online: "We are pleased to unveil the official Kazakhstan Rugby national team away jersey for 2022/23. The jersey will be worn by the Nomad ladies, who will be participating in the World Rugby Sevens Challenger Series this weekend in Santiago, Chile.
The away jersey comes in a predominantly white colourway, with light aqua blue collar and side panels, yellow side panels and navy piping, all inspired by the Kazakhstan flag. Watermarked as a monogram into the jersey's front, back and shoulder panels are traditional Kazakh patterns and motifs, including the national ornamental pattern "koshkar-muiz", which appears on the hoist side of the national flag and the Kazakhstan emblem."
(A new and official Kazakhstan home jersey will be announced soon they added).
You can read more from our interview with Kazakhstan International Relations Manager for the Kazakhstan Rugby Union, Nurlan Balbarakov, who spoke with us earlier this year.
As per usual it is tough to get any official information from the Chinese Rugby Football Association on their squad and preparation. The following Chinese women's 7s squad news comes from Asie Rugby: Ruan Hongting, Yan Meiling, Wu Juan, Wang Xiao, Dou Xinrong, Sun Yue, (c) Chen Keyi , Zhou Yan, Xu Xiaoyan, Gu Yaoyao, Liu Xiaoqian, Hu Yu (Debutants are Wu Juan, Sun Yue and Zhou Yan).
Pool D
Chile
China
Kenya
South Africa
Pool E
Poland
Belgium
Argentina
Papua New Guinea
Pool F
Where to watch the Challenger Sevens 2022?
Fans can watch every match of the World Rugby Sevens Challenger Series live on www.world.rugby, while in South America the action will be live streamed on ESPN's Star+ platform.
The full match schedule can be seen here.
Rugby Sevens Tournament News 2022
---
Trending Now