Asia Rugby Sevens Series 2022 – Leg 2 Incheon Preview
Posted On November 11, 2022
---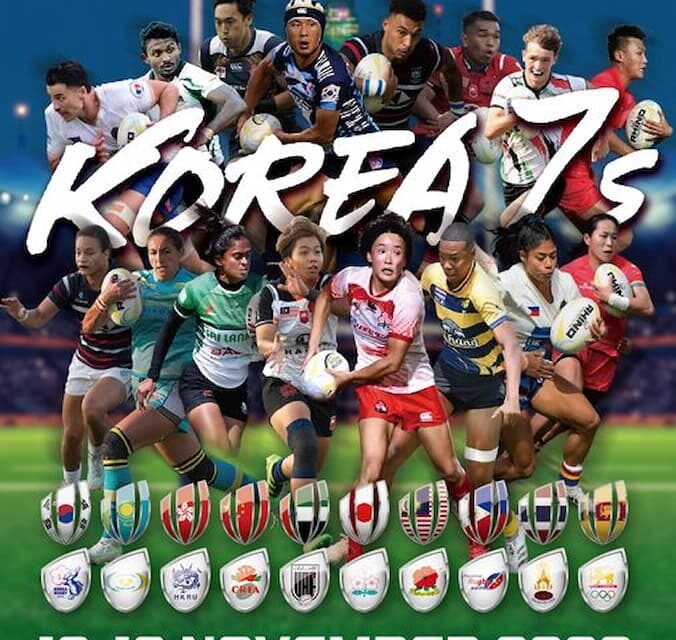 The second of three legs of the Asia Rugby Sevens Series 2022 gets underway in Incheon, South Korea this weekend from 12-13 November at the Namdong Asiad Rugby Stadium. The biggest change is the inclusion of the Sri Lankan women and men's teams bringing the tournament up to its full complement of sides.
It appears as if the Korea Rugby Union is charging fans to attend the event, which seems like a counter-productive move especially based on how successful the event in Bangkok was with the large crowds in attendance creating a real buzz and atmosphere a few weeks ago.
For the teams themselves, everything is on the line as they face the race to claim the top spots and secure qualification for the Challenger Series which is the pathway to securing core team status on the HSBC World Sevens Rugby Series which recently announced changes to the 2023 season.
Asia Rugby Sevens Series 2022 – Read Our Bangkok Leg #1 Review.
Sri Lanka Plays Under NOC Banner
Sri Lanka will have its women's and men's sevens rugby teams play in the second and third rounds of the ARSS but only under the banner of the National Olympic Committee (NOC).
We were told even before the first round in Bangkok by sources that Sri Lanka would be allowed but Asia Rugby only confirmed their involvement in the week leading up to this week's tournament – logistics and preparation dictate that the outcome had been known by all involved for some time, but the suspension of the Union and its President is still being dragged out.
Sri Lanka Rugby did confirm funds were approved late to allow the teams to participate in South Korea.
Asia Rugby Sevens Series 2022 Teams & Pools – Leg 2 Incheon
As is the case with far too many tournaments, we have had to dig around for relevant team news from online sources, with few Asian rugby unions providing proper team sheets or press releases (Thank you to the ones who do!)
Women ARSS 2022 Pool A Leg 2 Incheon
China
Hong Kong
Kazakhstan
Sri Lanka
You can see the full match schedule and pools for the women here.
China Women's Rugby Sevens
After winning the opening leg in Bangkok, the Chinese women will be looking to secure their grip on a top-two finish. Their victory over the closest rival Japan to win in Bangkok was a highlight for the team, but in Pool A they have stern challenges from Hong Kong and Kazakhstan – who will both be looking for improved performances in South Korea.
(c) Yan Meiling, Ruan Hongting, Zheng Wenyan, Wang Xiao, Wang Zhaojing, Sun Yue, Hu Yu, Zhou Yan, Xu Xiao Yan, Gu Yao Yao, Liu Xiaoqian, Zhao Ying
Hong Kong Women's Rugby Sevens
The HK Women fielded a relatively young team in Bangkok, but there were no excuses from Head Coach Iain Monaghan who acknowledged how tough it is between the top teams in Asia. In a compeitive pool, he will be looking for a more complete performance from his side.
There are only two changes for Korea from the opening round while Mel Li and Natasha Olson-Thorne return as co-captains.
(vc) Li Nim Yan Melody Blessing, (vc) Natasha Olson-Thorne, Chan Tsz Ching, Nam Ka Man, Stephanie Chan, Poon Hoi Yan, Chloe Chan, Jessica Eden, Julia Mba Oyana, Georgia Rivers, Cherly So, Au Yeung Sin Yi, Ho Jessica Wei On
Kazakhstan Women's Rugby Sevens
Kazakhstan was poor in the first round, and as one of the few professional sevens outfits in the ARSS, will be hard on themselves to make amends and keep their ambitions of a top-two finish alive this weekend.
(c) Alina Askerova (PRK Olymp), Veronika Stepanyuga (Asiasport), Amina Tulegenova (PRK Olymp), Galina Krasavina (Asiasport), Anna Melnikova (Asiasport), Anzhelika Pichugina (Asiasport), Maria Grishina (Asiasport), Balzhan Koishibayeva ( Asiasport), Diana Abisheva (Asiasport), Lyudmila Sherer (Asiasport), Alyona Drobovskaya (Asiasport), Gulim Bakytbek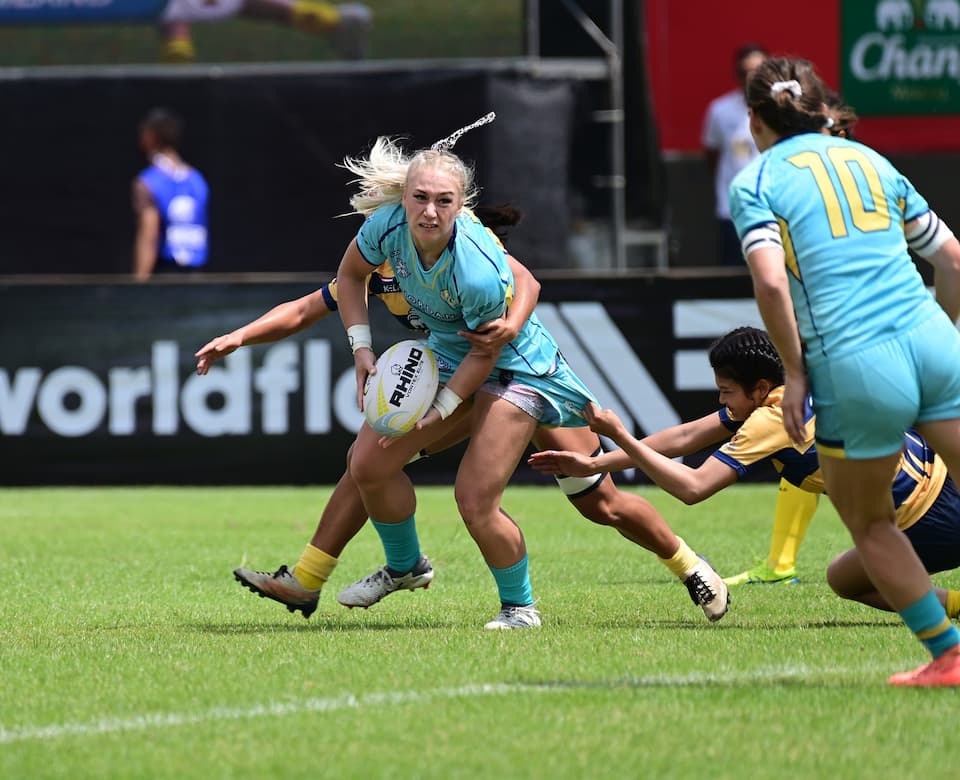 Sri Lanka Women's Rugby Sevens
It's tough to know what the Sri Lanka Women will be bringing to Korea, while their Union and Asia Rugby continue their political games, let's hope the players can deliver on the pitch.
Sri Lanka Women's Head Coach Saliya Kumara told the Daily FT that the squad had been training for 17 days, adding "In the Asian sevens last time we ended at number six and this time around we want to be in the top 4."
Jayanthi Kumari, R.S.H Kumari, Dilini Kanchana, Shanika Madumali, Theekshana Liyanage, Dulani Pallekondage, Ayesha Perera, Umayangana Thathsarani, Dilani Polhewage, Chamodya Madumali, Randika Kumudumali and Thanuja Weerakkody
Women ARSS 2022 Pool B Leg 2 Incheon
Japan
Thailand
Malaysia
Philippines
Japan Women's Rugby Sevens
Japan Sakura Sevens were gutted and visibly distraught at their close loss to China in Bangkok in the first-round final, but they showed they have the team and talent to be a force to be reckoned with and will be fighting to claim the title in Incheon. They also have the opening rounds of the women's HSBC World Series looming large.
Hanako Utsumi (Yokohama TKM), Mei Ohtani (Arukas Queen Kumagaya), Marin Kajiki (JSDF Physical Training School), Chiaki Saegusa (Hokkaido Barbarians Diana), Michiyo Suda (Otemon Gakuin VENUS), Chiharu Nakamura (Nanairo Prism Fukuoka), Atecayumi Bativakalolo (Nagato Blue Angels), Wakaba Hara (Tokyo Sankyu Phoenix), Yume Hirano (Nagato Blue Angels), Miho Matsunaga (Yokohama TKM), Sakura Mizutani (Tokyo Sankyu Phoenix), Sayo Yasui (Mie Pearls).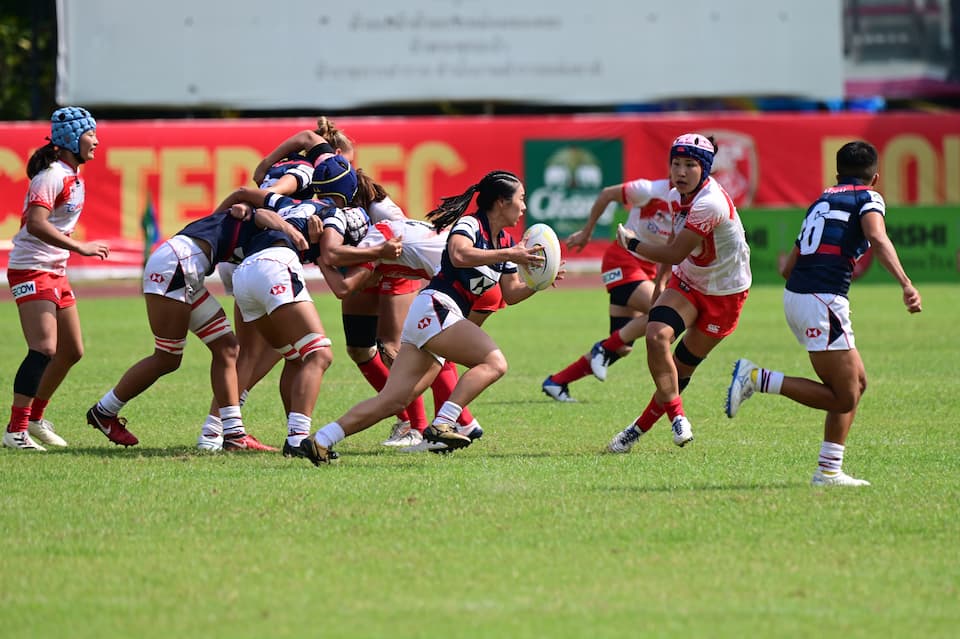 Thailand Women's Rugby Sevens
The heralded stars in Bangkok, after a string of great performances at home with great crowd support, it's now down to the Thai ladies to deliver away from home and try to better their third-place finish.
Panpassa Jaijarim , Laksina Nawakaew, Thanachporn Wandee, Jeeraporn Peerabunanon, Rattanaporn Wittayaronnayut, Nunchadtaporn Yodya, Wannaree Meechok, Uthumporn Liamrat, Phannarai Chaimongkhon, Jirawan Chutrakun, Thanaporn Huankid, Darin Jantamala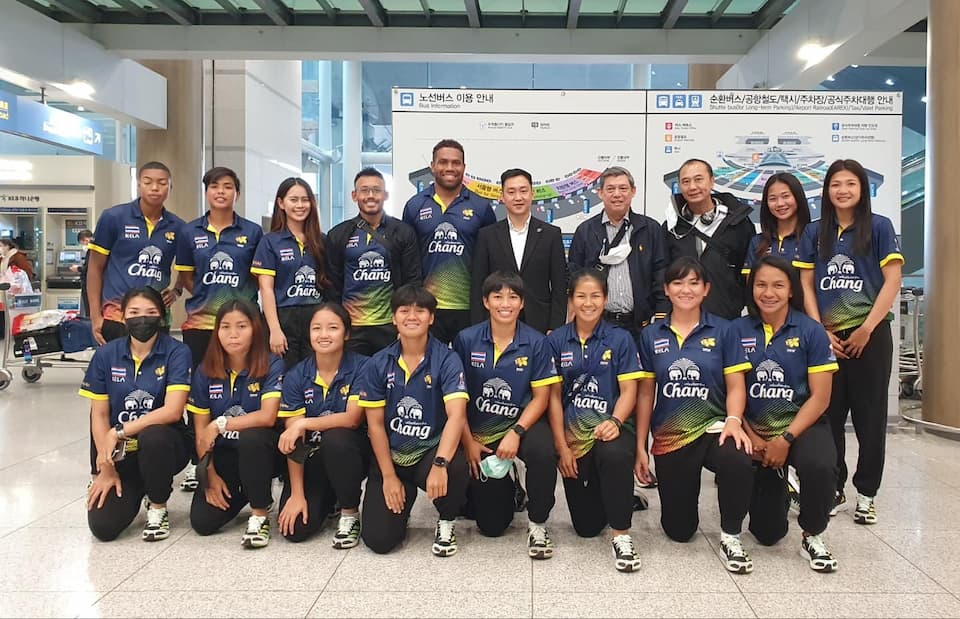 Malaysia Women's Rugby Sevens
Malaysia toiled and fought hard but there is a difference between the top teams in Asia and it's fair to say they sit at the bottom of the top tier. Nevertheless, they will be out to gain experience and look to score valuable wins in the second leg this weekend.
Philippines Women's Rugby Sevens
The Phillipines, like Malaysia, are a non-professional outfit and at times the class between them and the top-tier teams was all too obvious, but they never throw in the towel and will look to improve upon the bottom-place finish in round #1.
The Union (PRFU) said its teams have "been training out of PhilSports Complex as they prepare to face the top eight teams in Asia." They also confirmed the return of 2019 SEA games silver medalists Jacky Rodriguez Lyden and Erica Legaspi.
(c) Aiumi Ono (Eagles RFC), Jennifer Johnson (Memphis Women's Rugby), Erica Legaspi (Seattle Rugby), Rassiel Sales (Makati Mavericks), Dixie Yu (Eagles RFC), Lauryn Nazareno (Lifewest RC); , Vanessa Cifuentes (Toronto Nomads RFC), Jacquiline Rodriguez (?), Kate Palis (Hong Kong FC), Alana Grace (Redlands), Lillian Smythe (Edmonton Clansmen RFC), Tanya Bird (Lichfield RFC)
Men's ARSS 2022 Pool A Leg 2 Incheon
Hong Kong
China
UAE
Sri Lanka
You can see the full match schedule and pools for the men here.
Hong Kong Men's Rugby Sevens
HK was in fine form in the first round and put away all competition with relevant ease, but this past weekend at the HK Sevens, they struggled against superior opposition. They also lost their crucial match against Japan and these two sides look like the form teams in the ARSS. They will hope to secure the win in Korea to ease the nerves and avoid a must-win scenario in the final leg.
Eight of the Hong Kong team selected for the Cathay Pacific/HSBC Hong Kong Sevens will play this weekend in Incheon.  Captain Max Woodward will be joined by Russ Webb, Seb Brien, Mike Coverdale, Harry Sayers and Liam Doherty, Salom Yiu Kam-shing and Mak Kwai-chung (two caps). There are also five newcomers in the squad.
Men's coach Jevon Groves said: "The challenge for us on a quick turnaround is to integrate everyone and see how quickly we can come together and play as a team. If we focus on the team performance and get that right then the individual performances will come from there."
(c) Max Woodward (Valley), Kane Boucaut (Hong Kong Scottish), Callum McCullough (HKFC), Pierce McKinlay-West (HKFC), Sebastian Brien (HKU Sandy Bay), James Christie (Hong Kong Scottish), Jamie Hood (HKFC), Russell Webb (HKFC), Liam Herbert (HKFC), Harry Sayers (Valley), Mak Kwai Chung (USRC Tigers), Yiu Kam Shing (USRC Tigers), Liam Doherty (Hong Kong Scottish)
UAE Men's Rugby Sevens
The UAE secured their best finish in the ARSS and has a tough pool with HK and China, but they knocked over the Chinese in Bangkok and will look to do the same again. They are a very young team and each round is crucial experience for the side.
Emosi Vecanua (Dubai Tigers), George Hipperson (Dubai Hurricanes), Ethan Matthews (Jebel Ali Dragons), Robert Sproul (Dubai Exiles), Boris Finck (Dubai Hurricanes), Tobias Oakeley (Dubai Hurricanes), Niko Volavola ( Jebel Ali Dragons), Max Preston (Jess Dubai), Dylan Bevan (Dubai Exiles), Marcus Kruger (Dubai Exiles), Johannes Kruger (Dubai Exiles), Sakiusa Naisau (Dubai Hurricanes)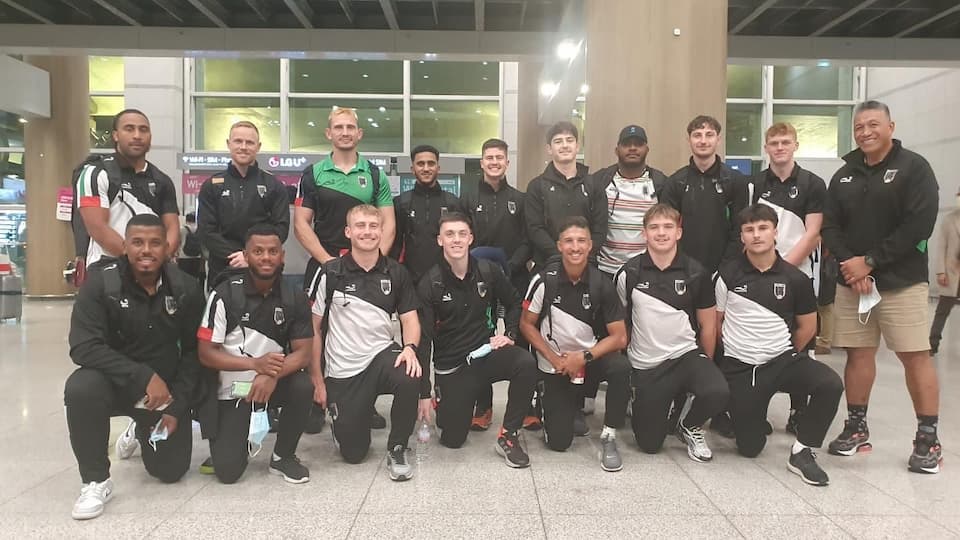 China Men's Rugby Sevens
China was poor in parts in Bangkok and their first up loss against the UAE came as a surprise but the team will know what is needed to perform in every game if they want to achieve a top finish in the Series. The star-studded coaches will be looking for an immediate bounce back form the side.
Xia Zhiyuan, Li Xuebin, Wang Bao, Ma Haoxiang, Chan Changshun, Yi Zhiwen, Huang Aoqi, Li Benshou, Gao Yinghao, Liu Luda, Xiatike Dawulietibieke, Xing Shilong, Jiangpeng Lyu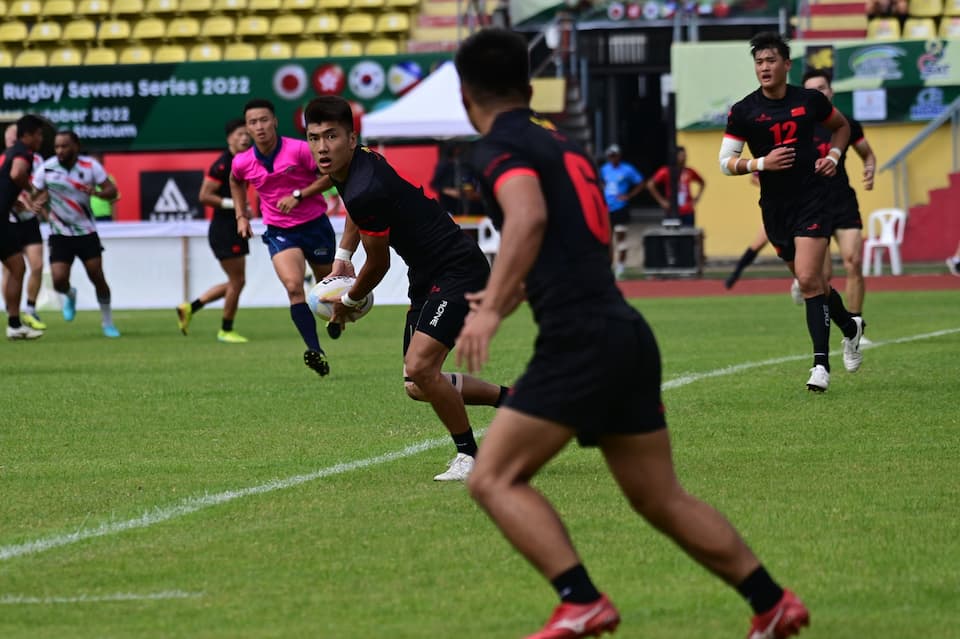 Sri Lanka Men's Rugby Sevens
The unknown quantity, with their last competitive outing together taking place at the Commonwealth Games earlier in 2022. The team will be tested but it will be interesting to see how they perform in Incheon.
The team has two debutants in the squad (Police Sports Club player Akash Madusanka and Old Mahanama College and Air Force player Darshana Dabare) reported Ceylon Today, while Srinath Sooriyabandara will captain the team.
Sri Lanka Men's Head Coach Nilfer Ibrahim told the DailyFT "We want to end in the top 4 in this event and be well prepared for the last leg in UAE."
Anjula Hettiarachchi, Chathura Senevirathne, Akash Madusanka, Adeesha Weerathunga, Mithun Hapugoda, Srinath Sooriyabanadara, Nigel Rawatte, Tharinda Ratwatte, Kavindu Perera, Ramesh Fernando, Darshana Dabare and Richard Dharmapala
Men's ARSS 2022 Pool B Leg 2
Japan
South Korea
Philippines
Malaysia
Japan Men's Rugby Sevens
Japan enacted some revenge on HK at the Sevens but will be looking for more composed performances and consistency in Korea. The squad is being rotated as they have a busy schedule with the 3rd round of the ARSS and the HSBC World Series events in Dubai and Cape Town fast approaching.
Yuki Ishii (Urayasu), Taiga Ishida (Urayasu), Yoshiyuki Koga (BR Tokyo), Taiyo Sugino (Kyushu Kyoritsu Univ.), Timo Sufia (Hokkaido Barbarians), Tumanawa Tawhai (Hokkaido Barbarians), Shun Tomonaga (Hino), Kazuma Nakagawa (Yokohama), Takamasa Maruo (Tamariva Club), Ren Miyagami (BL Tokyo), Chikara Morita (Tsugu & Co.), Taichi Yoshizawa (Osaka)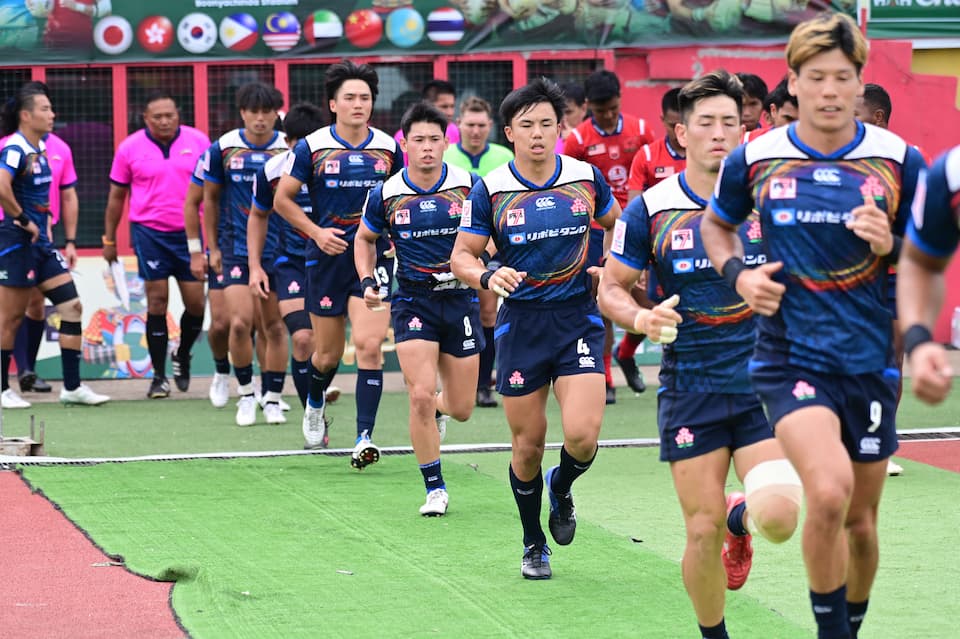 South Korea Men's Rugby Sevens
At home, the South Koreans will look to put in an improved performance and do better than their 3rd place finish in Bangkok – and Japan in Pool B will be a great challenge early on. Coach Charlie Louw is rebuilding the team following the RWC Sevens and will lean on home support to get the team going in South Korea.
(c) Park Wan Yong (KEPCO), Han Kun Kyu (KEPCO), Choi Seong Deok (KAFAC), Hwang In Jo (KEPCO), Kim Hyun Soo (KEPCO), Park Woo Bin (KAFAC), Jang Jeong Min (KEPCO), Kim Won Ju (Paichai HS), Chae Min Seong (POSCO), Yoo Jae Hyuk (POSCO), Kang Him Chan (KAFAC), Nam Yong Min (Dankook Univ.), Noh Myung Soo (KAFAC) ), Ha Su Hoon (Kyung Hee Univ.)
Philippines Men's Rugby Sevens
The PRFU confirmed the squad has been boosted by the return of Donald Canon Coleman, Harrison Carceller Blake and Nicholas Gaffud Robertson.
The union also made special mention of 'The Flying Jeepney' Villazor Coveney who will earn his 50th international cap (15s and 7s combined) saying "A remarkable achievement to attain under the Volcanoes National Program."
The side looked frustrated at times in Bangkok, and although it's fair to say they might not the force they were when they lifted the SEA Games Gold in 2019, they want to build the squad and experiences at an international level.
(c) Kai Stroem (Manila Nomads), (c) Tommy Gilbert (Souths Logan Magpies), Jerome Rudder (Worthing RFC), Jason Schirmer (Manila Nomads), Harrison Blake (Manly Marlins), Nicholas Robertson (Poneke RFC), Dylan Davies (Makati Mavericks), Justin Coveney (Eagles RFC), Donald Coleman (North Shore RFC), Rafael Phillips (Newent RC), Edlen Hernandez (Makati Mavericks), Raphael Barberis (Manila Nomads)
Malaysia Men's Rugby Sevens
Malaysia finished last in Bangkok and will want to climb that ladder in Incheon but they face a tough pool and will look at the Philippines match as one to win on Day#1.
Where to Watch the Asia Rugby Sevens Series Leg #2 Incheon, Korea
Asia Rugby is streaming all of the action on YouTube and Facebook channels:
Asia Rugby News
---
Trending Now