Birmingham Commonwealth Games 2022 – Rugby Sevens Pools
---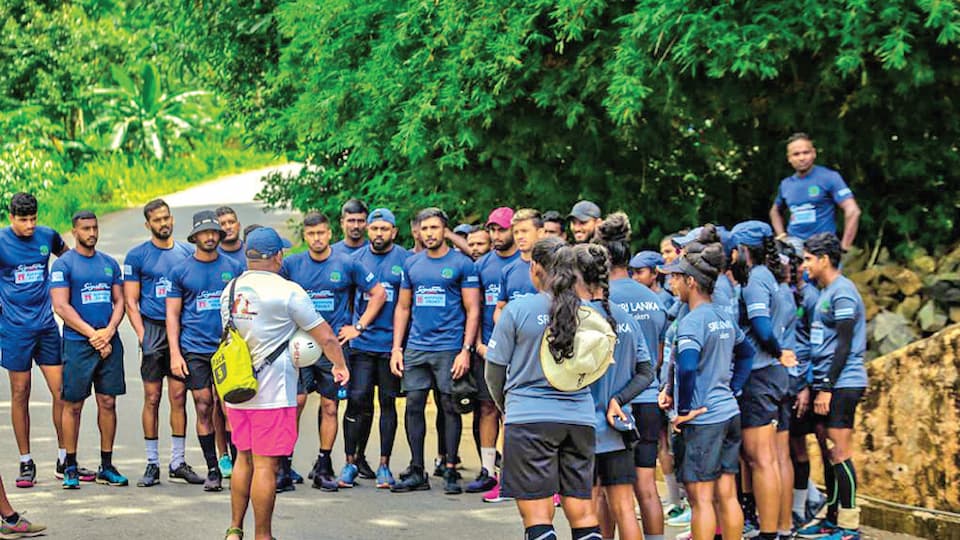 The teams and pools for the rugby sevens at the Birmingham Commonwealth Games 2022 have been confirmed. From Asia, the Sri Lanka women and men, as well as the Malaysian men are all involved.
(Feature photo- Sri Lanka Rugby 7s teams preparing for the Commonwealth Games 2022)
The rugby sevens at the Commonwealth Games will take place from Friday 29 – Sunday 31 July 2022 at Coventry Stadium, with all group matches to be held on 29 and 30 July with semi-finals, play-offs and medal matches to be played on Sunday 31 July.
World Rugby Chairman, Sir Bill Beaumont, said: "Rugby sevens has been represented at every Commonwealth Games since the sport was first introduced in 1998, with some of the biggest names in our sport having competed at this fantastic tournament. It has also served as a launchpad for young and aspiring talent across the global game where players have gone on to become stars.
Both the men's and women's Olympic champions will be in action as part of a strong lineup over what promises to be a thrilling three days of fast-paced, high-octane rugby sevens action in Coventry."
Commonwealth Games Federation CEO, Katie Sadleir, added: "Rugby Sevens and the Commonwealth Games have a proud history together and we have a fantastic competition set to take place at Birmingham 2022.
We are delighted to have the world's best men and women competing in our event at Coventry Stadium, in what will be a fantastic showcase for the sport. With a small number of tickets still available, I would urge all sports fans to seize the chance to get along to the tournament and be a part of history."
Full details of the draw and a full match schedule is expected to be unveiled soon.
Birmingham 2022 Women's Rugby Sevens Pools
Australia, New Zealand and Canada qualified via the HSBC World Rugby Women's Sevens Series, while Fiji (Oceania), Scotland (Europe) and Sri Lanka (Asia) and Rugby Africa Sevens winners, South Africa successfully came through their regional qualifiers. Hosts England completes the line-up.
This will be only the second time that women's Rugby Sevens has featured at the Commonwealth Games and NZ are the defending champions.
New Zealand (also the reigning Olympic Champions) are in Pool A with England, Canada, as well as the only Asian women's team at the Games  – Sri Lanka.
Pool B includes Australia (runners-up in the inaugural event in 2018), medal hopefuls Fiji (current Olympic bronze medallists), as well as Scotland and South Africa.
Pool A
New Zealand
Canada
England
Sri Lanka
Pool B
Australia
Fiji
Scotland
South Africa
Birmingham 2022 Men's Rugby Sevens Pools
New Zealand, Fiji, South Africa, Australia, Canada, Scotland, Kenya, Samoa and Wales all pre-qualified for the Games through their finishing positions in the HSBC World Rugby Sevens Series.
Tonga qualified via the Oceania qualifiers, while Sri Lanka and Malaysia will represent Asia after securing their places based on results of the Asian Rugby Sevens Series in Dubai in 2021.
Jamaica qualified through the Rugby Americas North qualification tournament, while Rugby Africa Sevens qualifiers are Uganda and Zambia.
Defending champions New Zealand have been pooled with England (2018 bronze medallists) in Pool A, along with Asian hopefuls Sri Lanka, and a highly-competitive Samoa.
Pool B of the men's competition sees Scotland drawn against South Africa, Tonga and the second Asian nation -Malaysia
Pool C  features the Olympic Champions and silver medallists from Gold Coast 218 Games, Fiji, who are pooled with Canada, Wales and Zambia.
The final pool D in the men's competition includes medal contender Australia, as well as Kenya, Uganda and Jamaica.
Pool A
New Zealand
England
Samoa
Sri Lanka
Pool B
South Africa
Scotland
Tonga
Malaysia
Pool C
Pool D
Australia
Kenya
Uganda
Jamaica
Rugby Sevens – Birmingham Commonwealth Games 2022 Tickets
Matt Kidson, Director of Sport for Birmingham 2022, said: "This tournament is going to be fantastic and will provide an opportunity for spectators to see the very best Rugby Sevens players compete in what will be fast-paced and thrilling matches.
"The sessions on the 29 and 30 July provide an opportunity to see every single team in the men's and women's competition play, so anyone with tickets for Rugby Sevens is in for a real treat."
Match tickets at the Coventry Stadium for the tournament can be purchased now at birmingham2022.com with prices for adults starting at £15 on Friday 29 July and £22 on Saturday 30 July and Sunday 31 July. Tickets for those under 16s start at £8 on all three days.
Asian Rugby News
---
Trending Now